In this post, we will help you choose the best MIG welder for doing some heavy weight metalwork. We have covered the top rated 110V and 220V welding machines with their features.
A MIG welder is a versatile tool to have in your workshop if you're into metalworking. It is preferred by both hobbyists and professionals to other types of welders.
Thanks to its ease of use, quality of the welds produced, and friendlier price point. But with so many models on the market, how to find the best MIG welder for the money?
There are many factors to consider when buying such equipment. From the thickness of the metal, you have to weld to the input voltage, duty cycle, and weight.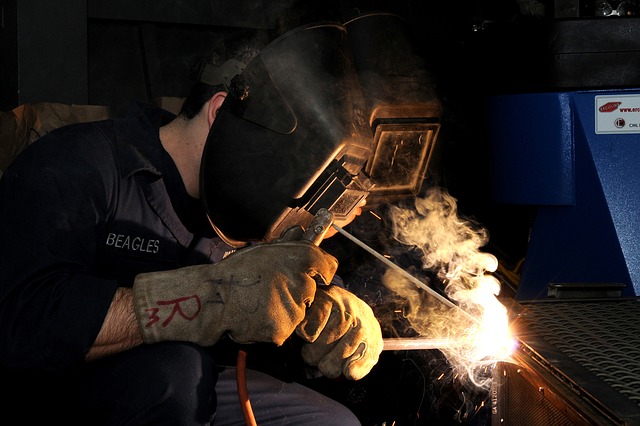 If you're already overwhelmed, know that we did the hard part for you. We've spent weeks testing and rating MIG welders, and only 14 have made it to our list.
Check them out in the table below, then read our extensive MIG welder reviews to find the one that's right for you.
14 Best MIG Welders
Types of MIG Welders
No doubt, the first thing to consider before even starting to look after a MIG welder is the type you need. If you didn't know it by now, MIG stands for 'metal inert gas.' But not all MIG welders were created equal, and some of them are self-shielding, also known as gasless.
Inert gas welders: Utilize a gas, typically argon, to shield the weld pool. Argon is often the go-to choice because it has no impact on the welding process. Thus it's safe to use. Thanks to the smooth shielding action of the gas, these welders are safe to use indoors.
Gasless MIG welders: Are majorly used by those who operate outside, where wind may blow the argon shield and create a hazard. But despite being commonly called gasless, they still use gas to protect the weld pool from oxygen. It's just that the process is self-shielding, meaning that the welding arc melts both the wire and the flux, producing a gas shield around the welding process.
Picking one type of equipment over the other, therefore, is a matter of where you usually operate. If it's indoors, go for a traditional MIG welder. If you prefer working outdoors in an area known for its gusts, the self-shielding type may benefit you more.
We recommend you watch this video to know more about the usage of the MIG welder:

Now that we've got that settled check out our detailed MIG welder reviews to find the right one for you.
Best MIG Welders in 2022– Detailed Reviews
Whether you're a professional looking for an affordable welder or an amateur searching for your first equipment, the Hobart 500559 could be the best MIG welder for you. Operating on 115V household current, this machine is perfect for working on auto body, small home repairs, and even for heavier duty farm work.
The Handler 140 boasts an easy set-up and comes with all needed to start welding straight out of the box. It's so easy to use that even a first-time welder will understand how to operate it, and it's ideal for DIY projects.
We like that it comes with a 10-foot work cable and clamp, dual gauge regulator and a gas hose. Sample spool of .030 flux-cored wire and 8-inch spool adapter are also included in the box, as well as a 10-foot power cord.
Another nice thing is that you can use the 5-position tapped voltage control selector to fine tune your arc and enhance performance on all thicknesses.
An industrial cast aluminum drive system and heavy-duty work clamp are also responsible of this welder's performance; you can use it for welding auto body panels, exhaust systems, lawn and garden equipment, and more.
With 20% duty cycle at 90 amps and a wire feed speed range of 40-700 IPM, this bad boy can tackle brass, copper, cast iron, flux-cored aluminum and magnesium alloys. No doubt, a great mid-range welder to have in your workshop.
Check on Amazon
If you want a MIG welder for your home workshop but are truly on a budget and can't afford to break the bank, the Lincoln Electric K2185-1 could be just right. Finding an inexpensive welder that can output some performance is rare, but this machine is quite promising.
Sure, you can't expect it to make heavy-duty welds. However, it's perfect for small home repairs and hobby projects.
It comes with an 8-foot power cord and clamp, but it doesn't have a regulator or gas hose included in the pack. You will still get adjustable wire feed speed control and will be able to weld up to 1/8-inch mild steel.
Compact and lightweight, this welder plugs into a 115V, 20-amp outlet and is so user-friendly that it makes a great choice for beginners.
The great thing is that you can choose from four voltage settings and even comes with all you need to start welding straight out of the box.
Check on Amazon
While you can trust the Super Deal in the title, you can't do the same with the pro or commercial. Nonetheless, this MIG welder is perfect for the amateur. We can safely say it costs peanuts, yet it's great for small jobs around the home.
Perfect for DIYers, this welder is made from resistant PVC, a choice of material that makes it a bit lighter and more portable than other units on this list. It also integrates a comfortable grip and is extremely easy to operate.
Thanks to its wave form control technology and adjustable inductor, you can easily adjust inductance to your welding requirements.
Furthermore, you'll get a bountiful range of current flow settings and well as the possibility to control the wire feed speed and temperature.
This unit comes with Flux-Cored wire and self-release metal-inert gas; it has a metal tip at the end of the gun, and you can easily ensure a soft electric arc to reduce splatter and increase fusion depth.
At this price point, welding performance is not excellent; nevertheless, this 110V MIG welder is great for small metal works, including welding jewellery.
Check on Amazon
Another mid-range welder that has made it to this list, the Forney Easy Weld 261 addresses contractors and hobbyists. It's ideal to use for home maintenance and repair, and also for light metal fabrication.
This 120V welder presents a flux-core – or gasless – design, which means you can use it in all safety even outside. It's also compact and portable. Outputting 140 amps, this welder impresses with its infinite voltage and wire speed control.
This feature makes it perfect for many DIY works, but also for welding pipes and tubing in a home.
It can weld steel from 24-gauge to ¼-inch thick using either .030 or .035 flux core wire, and it has an impressive duty cycle of 30% at 90 amps.
Compact and lightweight, this welder is also perfect for contractors who have to carry it on a daily basis. It only weighs 19 pounds and can help you perform most home maintenance and repair works.
Easy Weld also impresses with a rugged, all-metal case, big enough to handle either 2 or 10 pounds rolls of wire.
Ready to use straight out of the box, the welder comes with a MIG gun and ground clamp, integrated handle with torch wrap and a 20-amp-15-amp adapter.
Check on Amazon
If you're looking for a MIG welder that lets you switch seamlessly between gas and gasless operation, this wire welder by Lotos Technology might be it. This middle-range machine appeals to professionals, but it's also a great choice for the homeowner looking for versatility.
It can weld stainless steel, mild steel, as well as aluminum, thanks to its gas shielded welding and flux core ability; the spool gun is not included in the pack though, so you'll have to drop some extra bucks.
You can use wire range from .025 to .030 for solid steel, and .030 to .035 for flux cored, another feature that boosts versatility.
Another nice thing is its input voltage of 110/120V, a feature that allows you to plug the welder into your existing wall outlet. But this doesn't mean that it's weak. It has a rated output of 140 amperes and can easily deal with a metal thickness between 24-gauge and 3/16-inch.
Backed by a satisfaction guarantee and 1-year limited warranty, this machine is undoubtedly worthy of the best 110V MIG welder title.
Check on Amazon
Another promising unit in the 110V welder category is the LONGEVITY Migweld 140. Similar to the Lotos Technology unit above, this welder is capable of flux core and gas shielded welding, bringing versatility to your workshop.
It doesn't have quite the power to satisfy a professional, but it's great for hobbyists and beginners alike. Using consumables easily available in local stores, the unit comes with wire and is really easy to learn and operate.
The feed mechanism is very smooth, and the unit comes with a rheostat amperage control. It outputs 140 amps and is capable of welding up to 3/8-inch mild steel. Just perfect for most home maintenance and repair jobs.
Certainly, this welder's not perfect. You might have some issues tightening the wing nut or fixing the hinge point on the tensioner's swing arm.
Nevertheless, it's greatly priced, portable, and capable of performing most household or hobby tasks.
Check on Amazon
Whether it's light home repairs or heavy-duty job site tasks, the Hobart Handler 210 MVP MIG Welder can easily handle whatever you're throwing at it, and it's great for the professionals who don't mind to drop some bucks.
This dual voltage MIG welder operates at either 115V or 230V, letting you choose between energy efficiency or power, depending on the job.
Thanks to its heavy-duty capability, it can seamlessly weld through most metals. Use it for steel, stainless steel, or aluminum projects. It also has a duty cycle of 20% at 90 amps when used on 115V circuits, or 30% at 150 amps on 230V.
Seven voltage settings allow fine-tuning for precision welding of metals from 24-ga to 3/8-inch thick in a single pass.
It is designed to weld steel and stainless steel; it doesn't have flux-core capability, but you can still weld aluminum with the optional spool gun that attached directly to the front of the welder.
And even if it's built for the professionals, you shouldn't be intimidated by its power. This MIG welder is really easy to set up and is flexible enough to help you with heavier-duty DIY projects, such as auto body work, mower decks, metal sculpture, or lawn and garden equipment.
Check on Amazon
Another exceptional machine worthy of the best MIG welder title is the Lincoln Electric Powermig 210. This powerful machine works on both 120V and 230V, and is ideal for experienced users or beginners, giving the latter plenty of room to learn and grow.
It's rugged, simple to use, and comes with a stick, TIG, and flux-cored welding accessories. Digital controls and colored display make operation simple and intuitive. Furthermore, the all-metal wire drive and sturdy construction make it ideal for all jobs, either at home or in a workshop.
Whether you're working indoors or outdoors, this welder will unlikely let you down. Just keep in mind that you'll have to pay for all this versatility and features.
Despite its hefty price, it's hard not to like it though. It can weld up to 3/8-inch mild steel and up to 3/16-inch stainless steel or aluminum. Weighing only 40lbs, it's also highly portable.
Thanks to its dual voltage output, you can also plug it in any common power supply. This makes ideal to use with standard home circuits as well as heavier duty workshop ones. Intuitive digital controls and large display also ensure an easy setup.
Furthermore, the welder comes with all accessories, including MIG wire and flux core wire samples. All you need to start welding straight out of the box.
Check on Amazon
Next, on our list of the best MIG welder, the Lincoln Electric Easy MIG 180 is mid-way between the other Lincoln Electric welders mentioned above. It's not as powerful as the Powermig 210, but is less expensive, and it's also much more versatile than the K2185-1 Handy MIG Welder from the same manufacturer.
It is ideal for small contractors or anyone else involved in light metal fabrication. It also benefits homeowners and hobbyists, being perfect to use for farm or home projects, auto body work, and even metal sculpture.
Easy to operate, it works on industrial 208-230V input. This could or could not be convenient, depending on where you want to use it.
If it's a workshop with dedicated heavy-duty circuits, this welder is perfect. It's perfect to use in your home too, but you might have to build a new high-voltage circuit if your domestic power lines don't include it.
However, we can't call this a drawback; in fact, this is one of the greatest welders that you can use on 220V.
It even has MIG and gasless capability, a feature that makes it just perfect for welding both aluminum and steel.
Powerful enough to tackle harder jobs, it can weld materials up to 3/16 inches in MIG mode or up to ½-inch thick in gasless flux core mode. The tapped control allows you to make all necessary adjustments to weld thin steel too.
Check on Amazon
If you're looking for the best 220V welder, a nice unit to check is the Lotos Technology MIG175. Greatly priced for the amateur but powerful enough to tackle heavy duties, this is another versatile welder you can use for either MIG or flux core.
The main difference between this unit and the Easy MIG 180 above is the thickness of the material it can weld. Outputting up to 175 amps, this welder can handle mild or stainless steel from 18-gauge to ¼-inch and aluminum with a thickness of 3/8-inch or thinner.
It works on both 220V and 240V circuits, which means you can use it both in the US and in Europe if you have to travel with it. However, you might have to build a dedicated circuit in your home or workshop if you don't have it already.
Another nice thing is that you can use different types of wires for both solid steel and flux core welding.
We also like that it comes with all needed to weld straight out of the box, including a spool gun. Furthermore, the product is backed by a 30-day satisfaction guarantee and a limited warranty of 1 year, so you can simply purchase it without any risks.
Check on Amazon
The Forney 318 is another heavy-duty MIG welder that has made it to our list. It works on 230V circuits and outputs up to 190 amps, just what you need for general fabrication, farm, automotive, and home repair welding.
Ready to use straight out of the box, this unit's MIG ready and comes with a regulator and gas hose.
A thing we like a little less is the misleading description that advertises this unit as compatible with a spool gun. However, the 318 MIG doesn't have flux core capability, and it is only ideal for those looking for a MIG welder exclusively.
This doesn't hinder in any way the welder's performance, but if you're looking for a welder that incorporates both processes, this one's not it.
As far as welding quality's involved, you'll surely be satisfied with this machine. it can weld metals of up to 3/8 inches thick and works with wire diameter up to .030 inches. It is highly reliable and suitable for most jobs.
Furthermore, it's even backed up by a generous warranty, that can cover as many as 5 years, depending on whether you need it for industrial, commercial, or personal use.
Check on Amazon
One of the most versatile units on this list, ideal for amateurs and beginners, the Mophorn MIG Welder 220V, impresses with a variable output between 40 and 200 amps. It's suitable for most household and DIY applications, and it comes at an attractive price point.
The best part about this MIG welder is its multifunction. You can use it for MIG, MAG, MMA, and ARC welding for domestic or heavier-duty tasks. Thanks to its single-phase microprocessor-controlled operation, the welder is also very easy to use.
You can set it up in minutes and figure out its functioning really quick, even if you're a beginner. Furthermore, the hot start function ensures a welding start without sticking the electrode.
Another thing we like is the uniform welding pool and high-duty cycle, two features that guarantee excellent results.
Compact, portable, and ideal for a wide range of applications, this welder is suitable to work on low-carbon steel, alloyed steel, and stainless steel with a thickness over 20 gauge. It's also perfectly sized for transport and storage and comes with the accessories you need to start welding straight out of the box.
Check on Amazon
Another multifunction welder we truly like, the HITBOX MIG Welder comes with a host of accessories, and you can use it for MIG, ARC, or lift TIG welding. It works on 220V DC and is compatible with .030-.035 solid or flux-cored wire for welding either mild or stainless steel. Unfortunately, though, it can't weld aluminum.
Like most MIG welders on this list, this one from HITBOX comes with almost everything needed to start welding straight out of the box.
Performance is ensured by its 30% duty cycle at 200 amps; you can adjust the power to match the operation in the 30-200 amps interval.
We also really like the design. Simple and perfectly sized, the unit is easy to carry and fits even in tighter storage space. An intuitive control panel with large displays can also help beginners to set up the welder as required.
Even if it's great for the price, you should know though that it comes with a vague operator's manual, sharp plastic edges, and no spool gun connection. While these are not deal-breakers, you should know that you'll have to drop some more money to use the flux-cored welding function.
Luckily, the welder comes at a price that won't break the bank, and the spool gun is also readily available from the manufacturer.
Check on Amazon
Last entry on our list, the Goplus MIG 130 is perhaps the best MIG welder for anyone looking for a self-shielding unit. It doesn't use a gas cartridge, which may or may not be an issue, depending on your purpose. Ideal for the amateur, this inexpensive machine can weld through tough metals quickly and easily.
Undoubtedly, the best part of using flux-cored welding is that you can prevent the oxidation of the welded part. At the same time, this unit gives you the possibility to choose from four current flow settings, for adjustable welding speed.
It is ideal for welding thin steel and iron, just what you need for home repairs and general DIY work.
Compact and portable, this welder is also incredibly practical. It won't withstand professional applications, but it's great to obtain professional results on lighter duty jobs.
A thing we like is that it comes with all needed to start welding straight out the box. The instructions are not the most straightforward, and the included welding mask is barebones prehistoric; nevertheless, this is undoubtedly an excellent MIG welder for the money.
Check on Amazon
Why Buy a MIG Welder?
From all welder styles, MIG welders are among the most popular. However, they are more suitable for DIY applications and lighter-duty contractor work. So, the main question you might have is why to invest in such a machine in the first place.
To put it simply, you should buy a MIG welder because it's the most versatile welding machine for hobbyists, homeowners, and small contractors.
You can use it to weld ferrous and non-ferrous metals alike, it's easy to set up, and usually portable.
Regardless of the type of MIG welder you want (with solid or flux-cored wires), what makes MIG welders so popular is the way the wire feed spools are located.
Placed on the side of the welder, they are fed through a torch as you're operating. Due to this mechanism, you will only have to press the trigger to engage the wire and start welding, without worrying about feeding it.
Not only you'll get constant speed that guarantees the welding results, but the machine is also easier to operate, especially by inexperienced users.
Thanks to the operation ease, MIG welders are often used for
Light fabrication work
Arts and crafts
Automotive repair
Home maintenance and repair
Maintenance and repair of gardening and lawn care equipment
Manufacturing
Other fine welding applications
Features To Consider Before Buying
MIG Welder Type
Besides the gas or gasless MIG welders we already discussed, another thing to decide when choosing the right type for you is whether you want a transformer or inverter unit.
If you're new to welding, know that all units use either a transformer or an inverter to turn the alternating current voltage into higher voltage needed by the welding torch. Each technology comes with ups and downs, and choosing the right one ultimately depends on your purpose and budget.
Transformer welders: Use a standard copper wire transformer to amplify voltage. The technology is reliable, but transformers are cumbersome and heavy. While they will add a lot of extra weight and have a negative impact on portability, they are inexpensive and long-lasting.
Inverter welders: Use a silicone-based technology to do the same thing as a cumbersome transformer. This technology is also pretty inexpensive, although a bit costlier than the transformers. However, it gives you the possibility to use your welder with a power generator, so you can work outdoors or on job sites that are not yet connected to the main power supply. Just keep in mind that these welders have a shorter lifespan and are costlier to repair.
Voltage
You can easily say whether a welder is constructed for light- or heavy-duty work by looking at its voltage. Most entry-level welders work on home AC current, usually between 110 and 120 volts. Commercial and industrial-grade MIG welders usually have 220V or more.
However, don't be tempted to believe that more volts mean the welder is better.
Most homes don't have 220V or 240 V outlets, which means you might have to build a dedicated circuit if you buy such a unit for home use. Besides, 220V welders are also more expensive than their lighter duty counterparts.
To decide which welder is right for you, consider what you want to weld before investing. You should go for:
Amperage
Voltage isn't the only parameter that determines a welder's performance. The amperage is usually given by the gun, and you can choose from low amps for light-duty work or high amps for heavier-duty applications.
Low-amp guns: Usually provide a power output up to 300 amps, which is ideal for light-duty applications. A lower amp comes with a few advantages for the average user, among which a lighter and more portable welder. However, they have a shorter lifespan and need constant replacement.
High-amp guns: Are obviously a better choice for heavier-duty applications. Most guns in this category can output up to 600 amps, just what you need to tackle heavy metal. However, if you're a beginner, it's a better idea to start with a low-amp gun, as these are heavy and harder to maneuver.
Nozzles, Tips & Accessories
Besides the machine's power, there are a few other things to consider if you want to get the job done. Such as the nozzles and tips your MIG welder comes or is compatible with.
Starting with the nozzles, their role is to direct the shielding gas to the weld pool, and are of two types.
Threaded nozzles: Offer an excellent concentricity between the tip and the nozzle. They also attach well to the gun, but they are hard to clean and change.
Non-threaded nozzles: Don't fit as well as the threaded ones and offer a poorer concentricity between the tip and the nozzle, but they are easy to clean and change.
Despite being harder to maintain, we recommend threaded nozzles if you want to get the best results.
Welding tips can also be threaded or non-threaded, corresponding to the nozzles above, but they can also be divided into tapered and non-tapered.
Threaded contact tips are very easy to install and remove, quite the opposite of the threaded nozzle, and are ideal for DIY applications. Non-threaded tips, on the other hand, conduct heat and electricity better. As for the type, you can choose from:
Tapered tips: Have a long, slim shape and are usually used for precision welding or when working in confined spaces. They are ideal for pipe welding, but they tend to lose heat quite quickly.
Non-tapered tips: Are much shorter than the tapered. Thus they maintain the heat better. However, they are hard to use in narrow areas or for precision work.
Nozzles and tips apart, you might also want to check the other accessories your MIG welder comes with. Some manufacturers sell the machine alone, while others pair it with wire, guns, welding helmets, and even gloves.
While getting all these accessories is nice, make sure they are high-quality. Otherwise, you might pay a premium for useless items.
Safety
Another essential thing to consider is safety. Not only you should wear protective equipment, but you should also make sure that the MIG welder you like comes with thermal overload protection.
Most MIG welders overheat easily, especially during longer welding sessions. This type of protection stops the unit when it's too hot, preventing an accident and prolonging its lifespan.
Our Top Pick
It's quite hard to decide which is the best MIG welder; after all, it depends on your purpose. Nevertheless, our favorite is the Hobart Handler 210 MVP MIG Welder.
Despite its heftier price, this welder undoubtedly brings ideal value for money. It appeals to amateurs and professionals alike, boasting capabilities that withstand lighter and heavier-duty tasks.
Whether you want to use it at home or on the job site, you can conveniently switch from lower to higher voltage in the 115-230V range. Seven power settings allow for fine tuning of your precision welding, and you can even handle all metals from 24 gauge to 3/8 inches.
Weighing 87lbs, it's also portable, and thanks to the included user manual, it's also fairly easy to operate by a beginner.
Use it for home repairs, auto body work, metal sculpture, or other welding projects at home or in the workshop. Giving beginners plenty of room to grow and highly versatile, this MIG welder is a machine we truly recommend.
Besides the unit above, another one we truly like is the Hobart 500559. This is ideal for an amateur, and it comes at a more competitive price. You won't get dual voltage capabilities, but the unit plugs into a standard outlet and is perfect for a home workshop.
From small automotive repairs to repairs around your home and even some farm work, this MIG welder is up for any light-duty job. It also has flux-core capabilities and adjustable voltage control that can help you improve performance on materials of various thicknesses.
Great for homeowners, but also satisfying entry-level professionals, this is another MIG welder we truly like.
Last update on 2023-11-24 at 10:15 / Affiliate links / Images from Amazon Product Advertising API