If you are looking for an ice machine to make lots of ice at an incredible speed, consider buying an under-counter ice machine.
These units are designed to produce high quality ice and blend seamlessly into any kitchen or bar without taking up much space.
However, picking the best machine may not be a walk in the park due to the influx of numerous models in the market.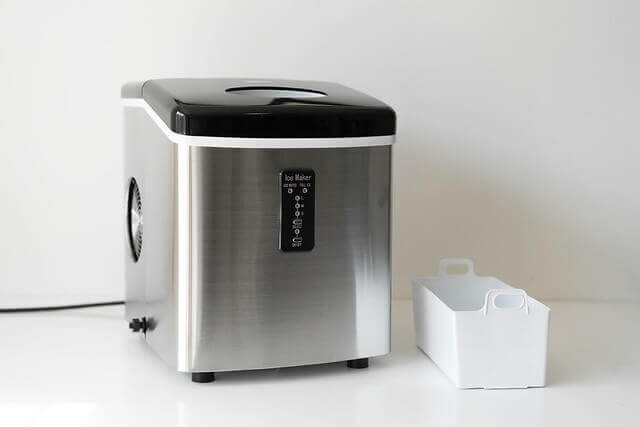 But do not overthink your options just yet because in this guide, we have carefully selected the 11 best under counter ice machines to make your shopping hassle-free.
11 Best Undercounter Ice Makers for 2022
Best Undercounter Ice Maker Reviews
The Scotsman Undercounter Ice Maker will add some fun in your bar or kitchen. Pretty more like a luxury item, this machine is a deal-breaker.
For the price, it's the ideal choice if you are looking for a product that will give you value for money and get the job done.
The Scotsman can crack out at least 65 pounds of ice per day. Also, the ice bin can hold up to 26 pounds of ice per day.
The heavy-duty application makes it convenient for commercial use. You are likely to find it in upscale restaurants and places where premium drinks are served.
It has unique features that make it extremely useful. For instance, the air conditioner makes it ideal for under the counter application. It also comes with a control panel that notifies in case of any change in the status of the machine. This helps protect the machine from any electrical malfunction.
The unit also employs water sensor technology to detect any traces of mineral or hard water. So it would let you know if your water softener (if you are using any) is working fine or not. This eliminates any worries you may have about the quality of your ice.
What's more, the ice produced maintains its natural flavor and is free from any contaminants. You will also notice that the ice cubes are harder and denser than ordinary types.
Unlike other similar machines which are a bit noisy, the Scotsman is relatively quiet. Nevertheless, since the ice cubes are quite large, you will hear them dropping inside the ice bin.
When it comes to durability, this machine is sturdy and will last for many years. The Scotsman is made from high quality stainless steel, which is easier to clean and corrosion resistant which means it can be used outdoors. However, it's essential to keep it protected from harsh weather conditions such as rain and snow.
Installation requires a certified plumber, and the built-in drain pump helps minimize the setup cost.
Pros
The power cord helps in easy setup
Made of high quality steel
Produces high quality ice
Suitable for outdoor functions
Comes with water sensor technology
Cons
Requires a certified plumber for installation.
Check Price on Amazon
If you are looking for a machine that you can have in your home to make ice pretty fast, you can narrow down your options and pick the Sunpentown ice maker.
The manufacturer of this remarkable device has made a name in the supply of home appliances and has won the hearts of many homeowners for many years.
The unit holds pretty well even during summer when you need quite a large supply of ice. It is a perfect upgrade from traditional ice makers that would produce cubed shaped ice. This unit produces unique crescent shape and look good in your glasses.
Moreover, the unit is free-standing. So if you have no additional space for cabinets in your home you will find this unit quite ideal.
Its size is also impressive and can make up to 12 pounds of ice every day. This means that are guaranteed of a limitless supply of ice for refreshing your fresh juices and cocktails.
The compact design also allows it to fit in small spaces without adding to clutter. Furthermore, you can place it on your countertop in a well-ventilated place.
When it comes to construction, this is just what you need for your ice project. It's made of high-quality stainless steel that's rust resistant and blends well with your décor.
It also comes with a detachable bin that can hold approximately 6 pounds of ice. However, you can still operate it without the need for a drain.
As far as set up is concerned, the package comes with an instruction manual on how you can set it up quite quickly. So you don't have to worry about that. However, if you are a first time user, you may need a plumber to help you fix everything together.
Pros
It's freestanding
Made of high quality steel
Has a manual defrosting function
Does not require a drain
Comes with an auto shut-off function
Check Price on Amazon
Standing tall at 32.8 inches is this adorable ice maker from STP. For a reasonable price, this machine offers some of the best features you'd expect from an under counter ice machine.
To begin with, this unit is a workhorse and can produce a maximum of 50 pounds of high quality and crystal clear ice cubes every day. If you have an addiction to crunching thin ice, then you can consider this excellent ice maker.
It works perfectly well, and you have a guarantee of a limitless supply of ice. The cubes are adjustable, though you can still get ice in sheets which you can easily scoop.
It's elegant, and the outer surface is made of stainless steel for easy cleanup and durability. The design also complements well with other items in your restaurant or kitchen appliances. Further the outer surface has a perfect finish that blends well with your room's décor.
This machine features ventilation at the front that keeps the air cool and prevents ice from melting fast. The bins are removable and can accommodate up to 25 pounds of ice.
Despite the free-standing design, you can also fix it under your counter if you have limited space. The door is also reversible and comes with a long handle to allow for smooth operation.
This machine uses less energy since it has an auto shut function that automatically switches off the machine when the ice is full. This means that your electricity costs will be low, and so will be your maintenance cost.
This unit is also build to last long since thanks to the water filter. The water filter helps in preventing any lime build ups, thereby improving the taste and smell of your ice cubes.
It is also an easy to use machine since it has automatic controls that makes its operation extremely easy. The package is all inclusive and comes with a drain hose, ice scoop and water supply hose. You may need the services of a licensed plumber during installation.
At half the price of most units on the markets, you will find it quite useful, and you can use it for making ice for your smoothies, Frappuccino, and much more.
Pros
It's freestanding and compact
Has removable ice bins
You can use water filters
Has front ventillation
Produces 50 lbs of ice
Check Price on Amazon
If you have been making trips to your grocery store to buy ice, you can make a change by purchasing the EdgeStar IB-120SS Icemaker.
This under counter machine is a perfect addition to your kitchen or home bar. It works great and looks elegant when installed under your counter.
It is a high performer and produces high quality ice at a steady pace. The ice cubes are notably different from those in your normal refrigerator and are quite smaller and elegantly shaped.
The ice produced is solid, free of flavors, and odor free. This is because it only uses filtered water.
While most portable units normally produce up to 26 pounds of ice per day; this machine can produce up to 12 pounds of crescent shaped ice per day. This is just enough if you are considering buying it for home use. Also to note is that the detachable bin can hold up to 6 pounds of ice.
This machine is fantastic and has cool and amazing features that makes it incredibly functional. It features a stainless outer cover and a reversible door for easy operation. The elegant stainless steel door has a long hand that offers a comfortable grip when opening.
This unit's compact and versatile nature allows it to work both as refrigerator and as a freezer while ensuring that your ice stays frozen. Furthermore, it has front ventilation that ensures proper circulation of fresh air and prevents your ice from melting.
Installation is easy, and you can connect it to your central water supply system. The water supply hookup is a snap since you can also put it in the reserve osmosis platform. You can also use it in a utility closest since it doesn't require any draining.
Small but powerful, this ice maker is a good investment that is worth every dollar. It is cost effective and will help you keep up with your ice demand.
Furthermore, it's the best home ice machine since it features a compact design that does not clutter your kitchen space.
Lastly, the EdgeStar ice is quite silent while in operation and comes with an auto shutoff function that makes it energy efficient.
Pros
It's freestanding and compact
Operates silently
Quick installation
Produces plenty of ice for home use
Comes with an auto shut off function
Check Price on Amazon
5. Whynter Ice Maker – Best High-Capacity UnderCounter Ice Machine:
When looking for an ice-making machine, there are two notable factors. These include the capacity to make plenty of ice and the quality of the ice.
This machine from Whynter meets this description perfectly. It rates highly when it comes to residential under counter ice maker reviews.
The Whynter is free-standing ice maker with an overall dimension of 24.5Lx15Wx32.5H inches. Its incredible height makes it suitable for use in a commercial set up. It also fits seamlessly under the counter.
This ice maker is a high-efficiency unit and features a powerful compressor. It also has a front vent that ensures a constant flow of fresh air for the production of high-quality ice cubes. The cubes are also denser when you compare to ordinary gourmets.
With this machine, you can produce up to 50 pounds of ice per day. This is a sufficient amount of ice if you have a restaurant and require large quantities of ice. Similarly, it can store up to 20 pounds of ice, and the auto-shutoff function notifies you when the ice bin fills.
This appliance is easy to use and has only one button for simple operation. The package comes with an ice scoop, grain horse, and water hose for all your needs. It's an excellent machine that works pretty fast and will produce sheets of ice in just a matter of minutes.
Although it does not entirely cut the sheets of ice, it's a good buy since you can make lots of ice. Besides, you can use the scoop and crush the ice to favorable pieces.
This unit is intended for indoor use and is a fresh addition to your kitchen or restaurant. It is the best under counter ice maker for home since it features a reversible door which you can swing depending on your room layout.
The front venting makes it easy for a neat installation under any counter. It doesn't require any clearance space for the sides and rear. Most importantly, the integrated freezer allows for storing of ice for long periods without melting.
One other significant advantage is that it saves water and there is less wastage. However, you may need to connect it to a water supply.
Pros
Has a reversible door
Stainless steel door that complements the décor
Makes ice pretty fast
Produces clear ice cubes
Compact design that fits well under the counter
Cons
The bin does not double as a freezer
Check Price on Amazon
The Orien Undercounter ice maker is a perfect choice for use at home and in any commercial set up.
It is a free-standing but can also be installed as a built-in unit. It features a reversible steel door that blends perfectly with your kitchen or restaurant decor.
This unit produces clear cubes that are suitable for use in restaurants and bars where demand for ice is high. It can make up to 44 pounds of ice daily and store up to 25 pounds. What's more, it comes with front ventilation that keeps the air around cool and therefore protects your ice from melting.
For you to achieve ice that's free of minerals and other residues, you may need to use a filter. The filter also ensures the machine operates efficiently and guarantees longevity. You can also install a gravity drain or a condensate pump that will direct water into a sink or drain.
One main selling point of this unit is the quality of ice produced. The gourmets are quite harder and a little bit denser than ordinary cubes from a freezer. This means that the ice produced melts slowly in drinks and is ideal for premium drinks that dilute gradually. That said, the cubes look elegant in a cocktail or martini glass.
Unlike some cube makers that produce stale ice, the gourmets produced with this machine have a clear taste with no odor whatsoever.
Installation is quite easy since it comes with the necessary hardware. However, if it's your first time, you may need a licensed plumber for the installation of the condenser pump.
The unit is also energy-efficient and features an auto shut-off system. This means it automatically shuts off when the bin is full.
Pros
Has a reversible door
Stainless steel construction for added durability
Makes plenty of ice hence suitable for commercial use
Produces clear ice cubes
Compact design that fits well under the counter
Check Price on Amazon
The U-Line is an elegant black Undercounter ice maker suitable for use at your kitchen. It's a beautiful addition, and you will enjoy having it under the counter.
Its sleek natures allow it to fit in small spaces and is thus ideal if you have a tiny kitchen. It promises a noiseless operation and is therefore ideal for use in the kitchen, office, small coffee shop or even in your bedroom.
This ice maker produces up to 23 pounds of ice, which is enough for your family. It also comes with a detachable bin that is quite useful for storage.
It's simply amazing and features an automatic function that stops the machine from running when the bin is full. Thus saving you on electricity bills. It also uses only 3 gallons of water which minimizes wastage.
Unlike commercial units that may require the installation of an internal pump for draining water, the U-line does not require a drain. This means it quite easy to install and maintain which saves you on replacement costs.
The material used in its construction is high quality stainless steel, and this makes it durable. The outer surface has a perfect finish which is resistant to scratches or dents. It will still look as good as new even after years of use.
To some, the quality of ice may not matter; however, this unit has the distinctive advantage of producing premium gourmets. The cubes are clear and melt slowly. Besides, they are free of odor or unpleasant taste and thus does not alter the taste of your drink.
Pros
Comes with an automatic function that stops the machine when the bin is full
Stainless steel door that complements the décor
Has an elegant blackish finish
Produces high-quality ice cubes
Compact design that fits well under the counter
Cons
Not ideal for commercial use
Check Price on Amazon
The EdgeStar IB450SS is a heavy-duty ice maker that can produce up to 50 pounds of ice at an incredibly high speed every day.
The ice produced is in sheets, and therefore this makes it ideal for use in a commercial set up. Also, it comes with a storage bin that can hold up to 50 pounds of ice.
There is more ice for the entire family, and if you are hosting a party, your guests will have more for the drinks. Also, the quality of ice produced is high quality, heavy and dense. It melts slowly to last up to the last drop of your favorite drink. It is odor-free and does not alter the taste of your beverage.
This model from EdgeStar features a premium grade stainless steel door. The door is also paired with a stylish looking handle, and this highlights a modern look that will complement your kitchen.
While this model comes with a reversible door, there are various options available depending on your room's outlook. However, this models reversible door allows you to swing it to the right or the left side.
Another outstanding feature is the adjustable legs that makes it extremely easy to use. They also ensure that the ice maker is always level and balanced.
This unit also has a detachable ice bin and an ice scoop that boosts its performance and convenience. The ice scoop is necessary since ice is produced in sheets and will need to be broken into small pieces.
Installation is a pure breeze and involves three major steps. However, since it requires draining, you may require the services of a certified plumber to help with the fixing of the internal pump.
The auto shut off function prevents an overflow of ice and hence minimizes on wastage. Besides, it has the manual defrost function that makes cleaning pretty easy.
There is also a front fan that ensures there is an optimal supply of fresh air, and this also allows the ice to stay solid for long.
This model rides on a computerized system, and this makes the ice-making process incredibly fast and easy. Also, it operates on gravity only drain mechanism, and therefore a condenser pump is necessary to pump water to far areas.
Pros
Has a reversible door
Made from high-quality stainless steel for extra durability
Comes with a detachable ice bin
Produces quality ice-cubes
Adjustable legs for leveling and balance
Check Price on Amazon
Hoshizaki is a renowned maker of high quality ice making machine, and this model is no exception. If you are looking for something with will give you remarkable reliability and functionality, then you place your bet on this machine.
Suitable for commercial applications, this machine produces up to 71 pounds of ice. Additionally, it comes with an ice bin that can accommodate up to 38 pounds. It is a perfect choice for restaurants, hospitals, and kitchens where the demand of ice is high.
The good thing about this model is that it produces high quality, clear and crescent-shaped gourmets. These cubes can move freely in the glass and usually pack tightly inside the bin. This incredible feature allows for optimal utilization of storage space.
The crescents stay freely in the bin due to the absence of air pockets. Their uniqueness makes them versatile, and therefore, you use them in soft drinks and other applications. They are quite useful in the commercial transportation of fish and laser therapy.
An outstanding feature is the stainless steel evaporator which helps produce perfectly shaped cubes. Besides, it's durable and will last long without regular maintenance. Cleaning is also easy, thus ensuring that there is maximum hygiene.
The cubes are of high quality and do not have any odors or bad taste. This machine is also energy efficient since it has an auto function that switches off when the bin is full. It also prevents the ice from overflowing and prevents wastage.
The computerized controls are effective in managing the freezing operation of the machine. You can also adjust the unit's settings for it to be compatible with any other factors that would influence the entire process.
In the front area, you will find the access panel for convenience. Also, there is ventilation on the front that ensures the ice does not melt fast.
Pros
Has a built-in ice storage
Stainless steel construction for added durability
Front ventilation for fresh air circulation
Produces high-quality and crescent shaped ice cubes
Compact design that fits well under the counter
Cons
Requires a licensed plumber for installation
Check Price on Amazon
Your favorite drink is nothing if you don't have ice cubes in the glass. Similarly, if you have many guests, you need a reliable supply of ice. To wet your wines during parties, weddings, and events, you may consider the Ice-O-Matic Undercounter machine.
This adorable machine is a commercial ice production unit that pumps up to 309 pounds of ice every 24 hours. The storage bin can hold up to 112 pounds of ice. It's, therefore, a heavy-duty machine used for large-scale ice production.
This model is made of high quality stainless steel that is rust-resistant. It is also fingerprint resistant and maintains its elegant appeal. There is also an evaporator which is nickel coated to ensure efficiency and reliability.
The machine has a compact design with a width of 30 inches. It is a space saver and will fit even in small kitchens and restaurants.
The sleekness complements your kitchen décor and is a perfect addition in your under counter space. Similarly, the low profile design saves on counter space.
This unit is much cheaper when you compare to most commercial ice-making machines. However, you get value for money since it's built to last and more importantly it produces high-quality ice cubes. The cubes are dice shaped and are ideal for mixing with carbonated drinks.
You can purchase a water filter to ensure that the ice is free of minerals and other residues.
Pros
Has a storage bin for holding ice
Has a nickel coating that protects from rusting
Produces attractive half dice-shaped ice cubes
Produces large quantities of ice cubes
Front ventilation ensures that ice does not melt
Cons
Requires professional installation
Check Price on Amazon
The Manitowoc ice maker is free standing and fits perfectly under your bar counter. It is a stable unit thanks to the adjustable legs which you can change from four to six inches.
This model is a powerhouse and produces a maximum of 350 pounds of ice within a day. Moreover, it has a storage bin that can hold up to a maximum of 50 pounds.
Due to the high production of ice, it is suitable for use in places where ice demand is high such as high-end restaurants and fish preservation.
Its door has a unique design that slides out and up, thus allowing for easy access. It's also made of stainless steel which is perfectly polished to allow for easy cleanup and added durability.
The front venting design allows you to install it under the counter, thus highlighting a seamless look.
It also comes with an ice scoop for removing the ice. The ice produced is of high-quality, and the flake ice is quite dense.
It also has an auto shut off feature that switches off the device when ice is full and switches on when ice has melted. This ensures the ice does not overflow and also helps in energy conservation.
Pros
Has adjustable legs for proper levelling and balance
Stainless steel construction for enhanced durability
Front ventilation for proper air circulation
Can produce 350 pounds of high-quality ice
Comes with an ice scoop
Check Price on Amazon
Selecting the Best Undercounter Ice Machine: What To Look For When Buying?
In this guide, we have analyzed the best under-counter machines available for your section. However, there are several factors you may need to look at to ensure you pick the best machine that will meet your ice demand.
Production rate
When buying an under counter machine, one key factor to consider is its production rate.
If the production rate is slower than your demand for then you obviously don't need that ice-maker. Consider an ice maker that meets your ice demands especially if you are in business.
Manufacturers provide the production rate based on the quantity of ice produced within a 24-hour period. For instance, the Hoshizaki Under-counter Ice Maker produces up to 71 pounds of ice per day.
Capacity
Besides the production rate, you need to know how much your choice of under counter ice maker can hold at a time.
If you need an ice maker so as to supplement the ice you need for your restaurant or bar, then you need one with a high storage capacity.
Extra space
Under-counter machines are best placed under the counter. Therefore, before parting with your money, ensure that you have an exact place in mind where you want to install the device.
This will not only help you avoid overcrowding your space but will also help you purchase an ice maker that is of the right size for your space.
Water filter
Although not all under counter ice makers come with built-in filters, you might want to put this factor into consideration. Water filters help remove contaminants and other sediments from the water before it freezes. This helps remove bad odor and improve the overall taste of your ice cubes. If your preferred model does not have a built-in filter, you can have it installed.
Installation
Most often, commercial under-counter ice makers may require connection to a drain, and this requires a licensed plumber to get the job done.
A professional will assess your structure before any installation is done. They also have the necessary tools and hardware to fix the internal pump.
Cost and value
Under counter ice machines are by no means cheap products. Commercial units may cost up to $5000. When buying, the best machine will depend on the amount you are willing to spend and one which will give you value for money.
Style and preference
These options come in different styles and colors. When picking one, it's essential to consider how the unit complements with your decor. The best machine is one which blends seamlessly with other items in the room without looking odd.
Energy efficiency
Making ice requires a lot of energy. So, if you're the type of individual who doesn't like seeing an uptick in your electricity bills or who is conscious about the environment, then you should consider a machine that's Energy Star certified. You might also consider a unit with an auto-shut off system.
Warranty
Of course, you do not want to buy a machine without a warranty. A warranty instills confidence that the manufacturer of the unit you are purchasing is willing to live up to his promise of durability and customer service.
How an under-counter ice maker works?
Have you ever wondered how an under-counter ice maker is able to make so much ice in such a short period of time? Well, the whole process is a bit technical.
Like all other refrigerators, under-counter ice makers use a refrigerant or gas. When the machine is turned on, the refrigerant is forced by the compressor through a set of small coils called the condenser and then into the evaporator where it expands.
This continuous cycle of condensation and evaporation causes an increase in pressure and temperature. As the refrigerant moves via the condenser, it loses heat forcing it to turn into liquid. The condensed liquid is then passed through an evaporator, where it expands to become gas.
As this happens, the water supply keeps the liquid flowing over the evaporator's top. This whole process draws in heat from the metal pipes so as to cool the pipes and the metal ice-trays.
The ice-maker is dependent on the water turning into ice at precisely 32oF. However, this can be altered if there are impurities in the water. It's because of this reason that these systems comes with filters.
Now, with the water already frozen, the ice falls into dispensers and then into a bin. The dispensers contain the pre-determined shapes of the cubes. However, it's important to note that ice-makers produce ice-cubes differently in the final process.
Conclusion
Undoubtedly, under counter ice makers are useful in kitchens, restaurants, and places where there is ice demand.
You can integrate them just like other appliances in the kitchen. They are versatile, and you can also use them in other areas such as schools and offices.
In this guide we recommend the EdgeStar IB-120SS Icemaker because of its compact and versatile nature, and its ability to produce odorless and high-quality ice cubes at a steady pace.
Buy on Amazon
The above factors will make your selection easy. We hope our evaluation will help you in making the best pick.
Lastly, we would also recommend you use a surge protector if you are living in a region which is prone to heavy electric lightening. This would help you keep your appliances like ice maker, printers, amplifiers safe from short circuit.
Best Undercounter Ice Machine Reviews
Scotsman Undercounter Ice Maker

Sunpentown Undercounter Ice Maker

SPT IM 600-US Under-Counter Ice Maker

EdgeStar IB-120SS Ice Maker

Whynter Ice Maker

Orien Undercounter Ice Maker

U-Line Undercounter Ice Maker

EdgeStar IB450SS Undercounter Ice Maker

Hoshizaki Undercounter Ice Maker

Ice-O-Matic Undercounter Ice Machine

Manitowoc Undercounter Ice Machine
Summary
Buying an ice maker that goes well beneath your kitchen countertop is a difficult task. Mainly due to so many so called brands coming up and introducing different kinds of ice machines.
In this post, we have tried to simplify the selection by uncovering the top eleven best undercounter ice makers in the market. The listed ice makers are good in term of portability, features, ease of use and maintenance.
Last update on 2022-05-13 at 20:44 / Affiliate links / Images from Amazon Product Advertising API