Whether you want to enjoy soft music while you're relaxing in a hot tub or create an outdoor disco area in your backyard, you need the best receiver for outdoor speakers to create an ambiance.
The only thing is that with so many models on the market it's sometimes hard to pick one that truly lives up to the expectations.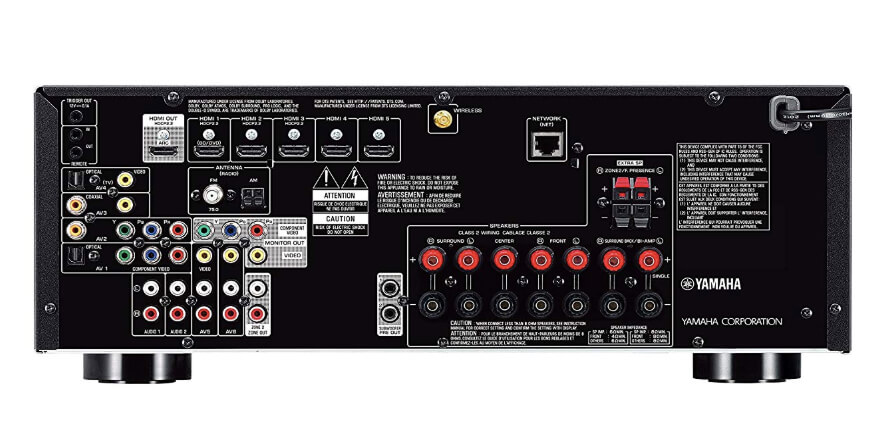 That's why we engaged in a quest of finding the best one for you. We've spent weeks testing and rating the most promising models, and only five have made it to our list. (FYI, since the products keep getting outdated, we have already updated this list like 12 times already so that you can buy the right product!)
Types of Receivers for Outdoor Speakers
The first thing to decide before buying is what type of receiver you want. Your choice will basically fall into one of the two categories below:
Stereo receivers: Are the simplest type, designed to operate two speakers at a time. Some of the most advanced models have multiple-room capability, and most come with satellite or HD radio tuners in addition to the standard AM/FM. Most of them allow smartphone integration via Bluetooth, and sometimes they even support high-resolution audio. However, many of them don't have subwoofer outputs nor digital audio inputs.
A/V receivers: These are a little different from the stereo receivers. They are much more popular nowadays, and often function as the core of a home theatre system. Their greatest strength is the surround sound capability alongside digital audio and video processing. Most A/V receivers have wireless connection capabilities via Bluetooth or Wi-Fi, and the vast majority supports streaming apps and services, including Alexa and Google Home. These are widely used with Bluetooth outdoor speakers
---
Best Receiver for Outdoor Speakers – Detailed Reviews
The Onkyo TX-NR838 is one of the best receivers for outdoor speakers. It's an excellent choice for hardcore movie and game lovers, combining analog power with high-resolution audio processing.
What makes this badass different from other options out there is the high-current amplification and the customized transformer that delivers the crisp sounds you were craving for. This makes it one of the best outdoor speaker receivers in the market.
Ready for 4K sound reproduction, this unit supports HDCP 2.2 copy protection.
It also comes with a powerful Zone 2 HDMI output for HD video in a second room and built-in certified wireless LAN capabilities.
What this really means is that you can have wireless audio outside without exposing your equipment to the elements.
The network also has a wealth of built-in apps and even gives you the possibility to define your own URLs for endless customization options.
It's also attractive from an aesthetic standpoint. A simple design with clean lines and straightforward controls make it ideal even for those who're not really tech geeks.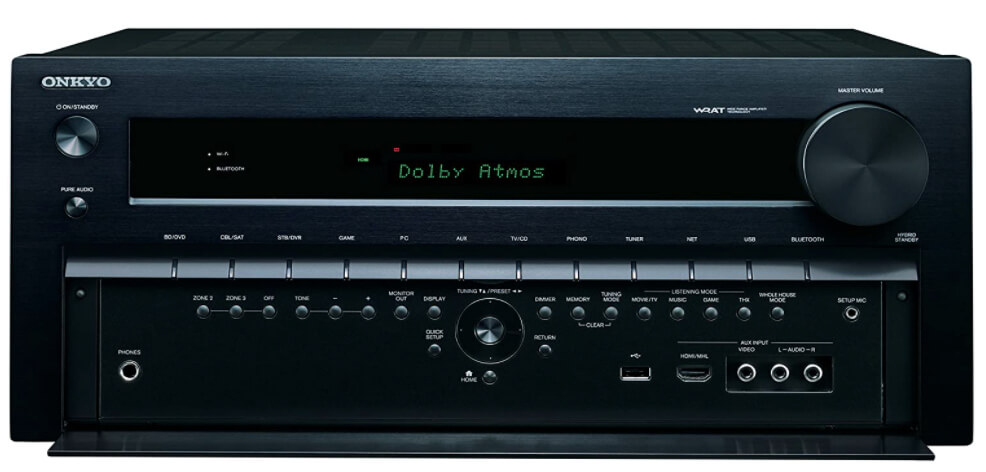 You don't have to be an engineer to make all necessary connections and configure the options, thanks to the intuitive user interface.
One thing lacking in this unit is an optical out, which could be an issue with certain sound systems. You may also lose some speakers when using it in the 7.2 modes.
On the other hand, it gives you the ability to calibrate sounds and gets along very well with 4-ohm speakers. No doubt, an excellent receiver to get your hands on.
Check on Amazon
The Denon AVR-S710W is an outstanding mid-range AV receiver and one of the best amplifiers for outdoor speakers.
It's not as feature-rich as many of the higher-end units, but it comes with all you need to get crisp sound quality in all ambiances.
You'll get wireless and Bluetooth connectivity, Airplay, and even Audyssey. It's Atmos-enabled, and thanks to its 2.2 HDCP feature, it's perfect for anyone with a 5.1 room setup.
This unit doesn't miss much when it comes to features, but it does miss analog to HDMI video conversion. You won't get any pre-outs for an external amplifier either.
However, you'll have plenty of IP control capability and the possibility to turn your sound system into a wireless zone with the HEOS link, which you will have to purchase separately.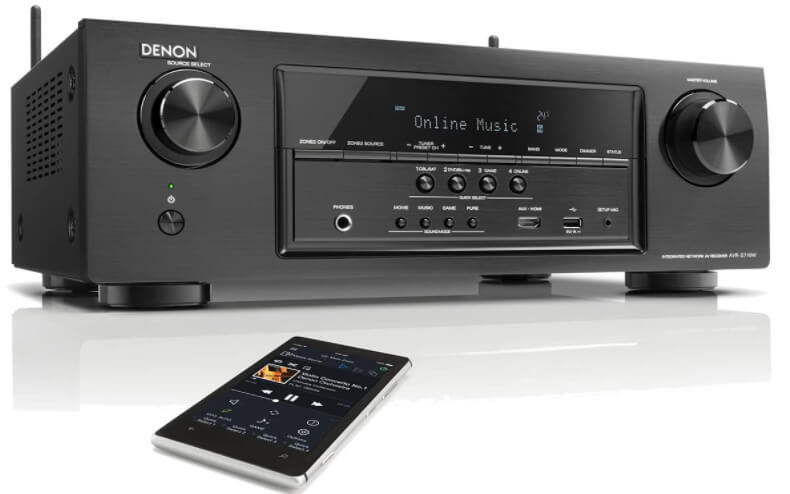 You can even play instant content from Airplay, Android Push, SiriusXM, Spotify, or Pandora, to name just a few.
Compatible with UltraHD devices, easy to use, and reliable, this is undoubtedly a great receiver/amplifier for your outdoor sound system for the pool.
Check on Amazon
Inexpensive but full of features, the Yamaha R-S202BL is an outdoor stereo receiver that brings satisfaction.
It has advanced circuitry designed to provide the versatility you'd expect from a high-class audio system. No doubt it will bring life to your average outdoor stereo system.
This unit comes with multiple audio ports, including one that lets you connect your system with Alexa.
The Bluetooth range is also impressive which is a plus point while connecting to the Bluetooth enabled device. Both the Bluetooth and the system's remote work without issues from 120 feet away.
Beyond Alexa, you can also pair it with Pandora or other music streamers, and you'll also enjoy the separate AM/FM antennas.
A speaker selector even lets you connect up to two systems.
The only slight issue is that the onboard Bluetooth adapter may make you lose some bass response and sound quality.
It's easy to solve this issue by using the system with an external adapter, but that's a further investment you'll have to make.
All in all, this outdoor stereo receiver and amplifier has decent performance, a sleek design, and is perfect for anyone shopping on a budget.
With thousands of positive reviews on Amazon, we can say that it is the best outdoor speaker receiver on a budget
Check on Amazon
Sony is renowned for the quality of its sound systems, but does the STR-DN1050 live up to the expectations?
The receiver is praised as one of the best outdoor receivers on the market, it throttles a power of 165 watts and delivers incredible audio performance.
You will hear no white noise or buzzing even when listening to your tunes at full volume, while the 10 HD inputs and two separate zones give you plenty of configuration options.
This would enhance your music like no one else in the market.
However, don't expect it to be as loud as other top-rated receivers out there. It also struggles to make use of all the watts it comes with, which results in a slight lack of power consumption.
Another thing to keep in mind is that Sony doesn't offer an app for Wi-Fi connections. You'll be able to control them with a remote connection to a TV, but you'll still have to go back indoors each time you want to change a setting to your outdoor speaker system.
We truly have mixed feelings about this; perhaps this AV receiver could be an excellent choice if you want crisp sounds and will only use the second room system occasionally.
However, if you're aiming to use outdoor pool speakers day by day and control it via an app, then this might not be the best receiver for you.
Check on Amazon
Another entry from Sony which throttles more power output than the latter and the last one on our list, the Sony STRDN1080 is undoubtedly a better choice than its brother above.
It delivers the same audio performance but comes with a bunch of extra features you'll love.
The feature we like best is the Phantom surround setting which lets you experience a 7-channel surround sound even if you only have a 5-channel speaker setup.
Its advanced audio adapts to your configuration automatically and in real-time, delivering excellent performance on all occasions.
Compatible with Google Home and adaptable to multi-room configurations, this receiver can be easily used for both your main living room and outdoor system. It's easy to control via Chromecast, and you can stream audio via Airplay.
As you would expect from such a system, it's also compatible with 4K HDR and HDCP 2.2. We also like its sleek design that lacks annoying blue lights.
The buttons may be tinier and harder to read, but you won't be using them much anyway thanks to the remote control.
Easy to set up compared with other Sony units and packed with a host of advanced features, this is another phenomenal receiver we truly like.
Check on Amazon
---
Receiver/Amplifier for Outdoor Speakers Buying Guide
What Features to Look For?
Beyond subjective considerations regarding a brand or specific functions, there are some objective criteria you should weigh in before buying a receiver:
Multi-room capability: Unless you want to use the receiver as an outdoor stereo receiver, get one that has the multi-room capability. These units send amplified audio and sometimes video signals to two or more rooms, allowing you to listen to a source in the main zone and another source in the second. If you don't know how to wire outdoor speakers to the receiver and don't want to learn to, know that many systems will play a digital source in the second or third zone.
Extra remote control: Some multi-room systems come with two remote controls, one for the main room and another for the second zone. Others may allow control from an app. Consider these features if you don't want to carry the main remote control with you or go back and forth from your outdoor party to the receiver each time you want to change an audio file.
Auto-calibration: The auto-calibration function can be a lifesaver if you're not quite an expert in setting up audio systems. Just make sure this function is compatible with your speakers to avoid disappointment.
User interface: Stereo or A/V receivers can be simple and intuitive to setup or a complete nightmare. The auto-calibration function above might not always be your best bet, that's why you should also check the user interface. Again, if you're not quite an expert, get a receiver that is intuitive to manage and easy to set up.
---
Frequently Asked Questions (FAQs)
Do you need a receiver for outdoor speakers?
To experience a truly amazing sound outdoors, you definitely need a good receiver for your outdoor speakers.
The reason being, when you are listening to your speakers inside, there are walls that reflect and contain the sound inside your home.
When you are using outdoor speakers, it is wide open and you would literally need to enhance the power output of your speakers roughly 2 times to truly have an amazing and good listening experience.
What kind of receiver do I need for outdoor speakers?
We would recommend that you go for a good A/V receiver for your outdoor speakers.
They have an amazing capability to give you an amazing surround sound experience by enhancing digital audio and video processing.
You can go for this Yamaha AV Receiver or the Yamaha R-S202BL if you are looking for a budget option.
How do I connect my outdoor speakers to my receiver?
Each receiver has a dedicated manual to connect to speakers. It depends on which outdoor receiver you are using, what speakers you want to connect with etc.
What is the best outdoor sound system?
We have already discussed a ton of options in this post. If you have a decent budget, you can go for this Yamaha AV Receiver or the Yamaha R-S202BL if you are looking for a budget option.
What size receiver do I need for outdoor speakers?
It depends on the area you want to cover. For an area less than 300sqft, 60-watt is pretty decent. For an area between 300-500sqft, you can buy something between 80-100watts.
How long do outdoor speakers last?
It is subjective, in the worst cases, we have seen speakers lasting for atleast 3-5 years. The better you maintain them, they will last for several years.
Can an Amplifier be too Powerful for Speakers?
It depends on the output power of your amplifier vs the maximum power your speakers could withstand.
You can compare the max power of amplifier vs speakers and know for yourself whether the amplifier would be too loud for your speakers.
5 Best Receiver/Amplifier For Outdoor Speakers Reviews
Onkyo TX-NR838 7.2-Ch Network A/V Receiver

Denon AVR-S710W 7.2 Channel AV Receiver

Yamaha R-S202BL Stereo Receiver

Sony STR-DN1050 7.2 Channel Hi-Res 4K AV Receiver

Sony STRDN1080 7.2 Channel AV Receiver
Summary
Choosing a good amplifier or receiver for your outdoor speakers could be a daunting task. There are so many options but hundreds of Dollars at stake if you make the wrong choice. To ease the situation, we have selected the top-rated options and calibrated their detailed reviews so that you can make the right buying decision.
Last update on 2023-11-22 at 07:05 / Affiliate links / Images from Amazon Product Advertising API