Choosing the best printer for cardstock printing can sometimes lead you to burn your pockets though, there are various budget options available in the market.
Especially in 2022, we have specialized printers for cardstock and heavy printing with minimum wastage of toners and inks.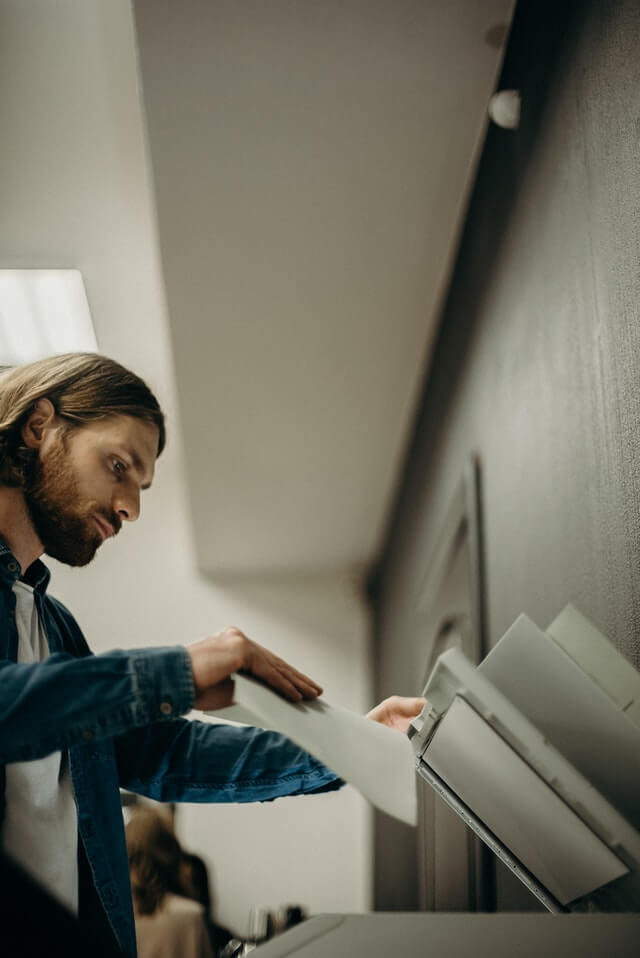 These printer could be used for printing invitation cards for a birthday, wedding or ceremony without breaking your bank.
In this detailed post, we have brought you some amazing high-grade cardstock printers which can print thick sheets without wasting your ink and toner as well, giving you a great finished printing quality.
For this post, we reviewed nearly 21 different printers on the basis of their customer reviews, features and printing quality, ink & toner life, and price.
Since we make sure that only the best products get landed in front of you, we finally skimmed down the list to the 12 best printers for cardstock that you can buy in 2022.
---
12 Best Printers for Cardstock – For Wedding Invitations and Cards
No products found.
---
Best Printer for Cardstock: Reviewing the Top Options
Cardstock is that form of paper stock which is thicker and more durable than the regular paper you use in your everyday printers.
Cardstocks are generally used to print visual delights like photos, invitation, cards, posters, artwork, etc.
While our standard printers may be capable of printing images and artwork just fine, the content can never match the standards of a cardstock printer simply owing to the dedicated mechanisms and the quality of finish that they can offer.
If you use your regular printer for heavy printing, you will find that not only would it use more ink and toner, but also, the quality of the print won't be that great.
Let's dive deep and check the detailed reviews of the top 12 cardstock printers of 2022.
---
1. Canon Pixma Pro-100: Best Printer for Printing Photographs
The Canon Pixma Pro-100 is what Canon outdid itself with. It is a professional wireless photo printer that uses eight dye-based color inks to give astonishing results in a semi-gloss finish.
No products found.
It has a clean, elegant yet understated look to it. The black color with aluminum surrounds brutally professional.
It is a color inkjet printer that is capable of printing breathtaking media primarily of sizes A3+, A3, A4, and more in a claimed time of 34 seconds, which is fairly good by high-end printer standards.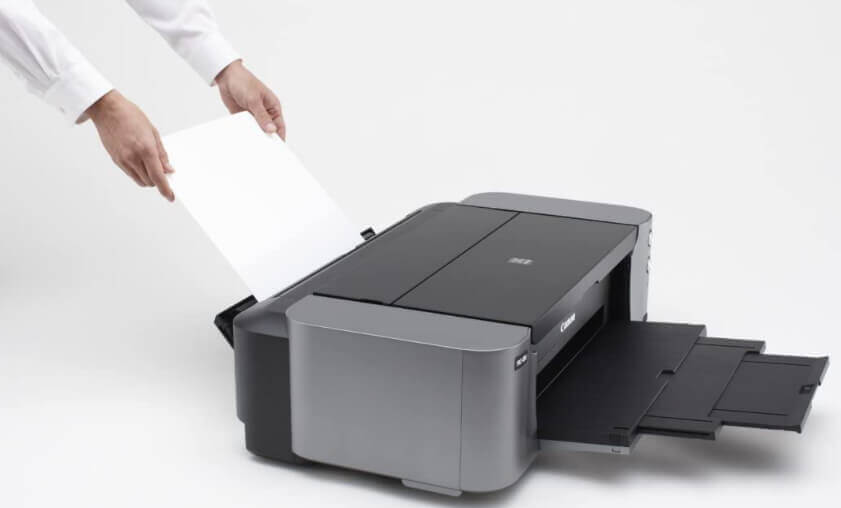 Let us now talk about its features:
Compatibility with Apple Airplay. While most of its users won't be affected by this considering the fact that it also features Wireless Printing like most modern printers, it is bound to give those hardcore Apple fanatics a moment of pride (sigh).
Gorgeous looks paired with a wide variety of on paper specifications is a cherry on top.
Pros
Top end performance
Superfast prints
Stunning looks with a promising build quality
Cons
Quite expensive for what it has on offer.
Suggestion: Pair the Canon Pixma Pro-100 with Canon 5d Mark II and take photographs like a pro.
Check Price on Amazon
The Epson Surecolor P400 is one of the best printers in this list. It is a wide format photo printer for as Epson suggests, creative individuals.
It can be used for art, wedding cards, DIY and photography projects.
No products found.
It comprises of an eight-color pigment ink set that has been optimized to give promising results when paired with dedicated channels for matte black and photo black inks with Unique Gloss Optimizer.
The Epson Surecolor produced vibrant archival prints on an impressive range of papers. It is certainly one of the best printers for cardstock and printing on card.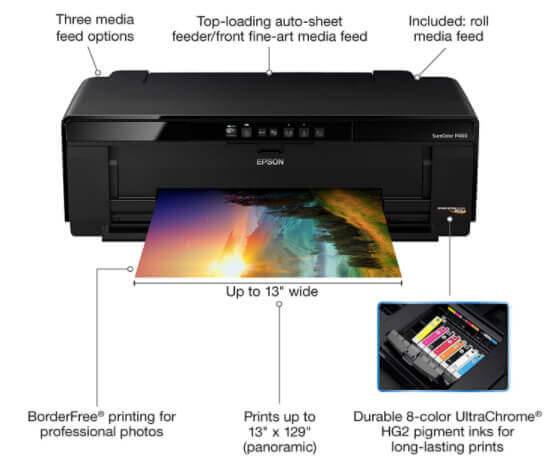 The printer is sure to awe you with its looks, and one could keep staring at this all-black, classy looking, modern piece of top-notch hardware that it is.
Let us now talk about its features:
The printer is capable of printing artwork on cardstock, which is incapable of being smudged, scratched or faded so that the greatest of artworks remain undiminished by puny pieces of matter.
This Epson is also fully capable of printing directly on the surface of your DVDs so that you don't have to make the efforts of labeling them manually in the era where technology has everything sorted for you.
Pros
Integrated CD/DVD printer
Prints immune to fades, scratches, and smudges
Individual cartridges that aren't only affordable but also easily replaceable as per requirements
Cons
Some people may have trust issues as far as Epson's history is concerned. Epson printers have been in the limelight for day to day issues like paper jams and problems with the sheet feeder.
Slower when compared to the Canon Pixma Pro-100.
Check Price on Amazon
3. HP Photosmart 6520: Best Commercial and Stock Printer
The HP Photosmart 6520 Wireless Color Photo Printer is another brilliant piece of machinery from the legendary house – HP. Talk about the first look? It impresses.
No products found.
All black treatment in a clean, elegant, and not so flashy avatar is what summarizes it the best. No unnecessary bits in the name of the design to speak of.
Its stealthy black appeal is bound to gel well with the typical office furniture of all fashions.
To this product, what actually excites is the list of features on offer. Wireless printing, hotspot connectivity, scanner, copier, a colored 3.45" touchscreen, and a lot more.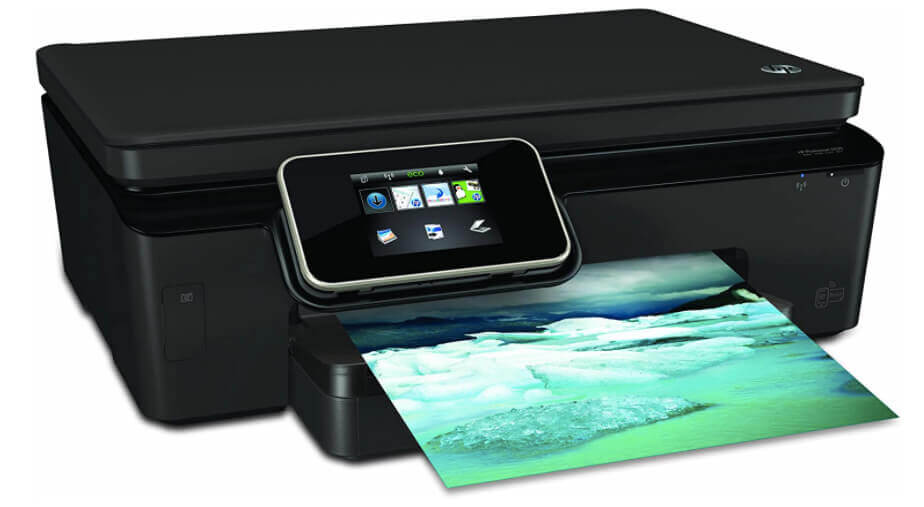 Overall, it is one of the best commercial printers as it supports scanning and copying.
What it has to offer:
It has a colored touchscreen that controls and displays an array of elaborate functions such as hotspot, printing, copying, the status of cartridges, and more.
It also has a dedicated setting for double-sided printing, which not only just saves cardstock paper but also saves manual efforts that one needs to put in to get such a task done.
A wide range of compatible products including smartphone, desktop, notebook, tablet and even surfing on the pre-installed touchscreen!
Pros
The phenomenally useful touch screen
Reliability of HP
Wide compatibility
Plenty of features on offer
Cons
The slightly overboard pricing
Check Price on Amazon
4. HP Deskjet 9800: Best Printer for Card Making
An old-school printer from one of the most reliable manufacturers in the lot – Hewlett Packard.
It has a tried and tested design which you would hardly find in any printer offering cardstock printing in the same price range.
No products found.
It is a clean looking printer that features various textures that meet the eye.
The black-colored translucent covering on top, the black body construction with the silver buttons and accents makes it look a bit too mainstream, but it is not a thing to dislike if it gets the work done, right?
While the HP Deskjet 9800 Wide Format Color Printer's features are nothing to brag about, the numbers do impress!
It is a fabulous printer for card making, postures, brochures, and newsletter printing. More importantly, the biggest feature would be using customized sizes and hassle-free printing, which enables printing onto card without paper jams.
Here is what you need to know about it:
It has a claimed duty cycle for about 5000 pages per month with printing speeds of 30ppm and 20ppm for black and white and color prints, respectively.
Capable of borderless printing in resolutions up to 1,200 x 1,200 dpi and 4800-optimized dpi color. It also includes USB ports.
Pros
An affordable and easily accessible price tag
Tried and tested old-school design language
Reliability of HP
Cons
It seems a bit too old now
No wireless printing support
Check Price on Amazon
Mitsubishi Electric is popularly known for its brilliantly engineered technology in various fields.
While Mitsubishi is not popularly acknowledged when it comes to cardstock printing, we will tell you exactly why this Mitsubishi cardstock printer may still be underrated.
No products found.
Two words that do not go well together are exactly what summarizes the appearance of this printer- boxy and compact.
This printer does not require acres of space, unlike most other printers of this price tag.
Instead, it fits into the smallest corner of your everyday desk and its minimalist design does not scream for attention.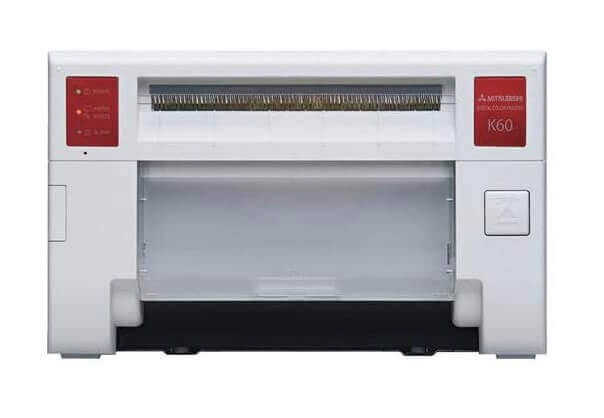 The looks are extremely debatable. While there may not be anything to hate about the design, the signature Mitsubishi red and white colors are not pleasing to everyone's eyeballs.
But since technology is much more than what meets the eye, we shall now see what exactly is this capable of.
What you must know about Mitsubishi's piece of tech:
The Mitsubishi K60DW printer for cardstock is capable of printing media in various sizes ranging between 4×6" and 6×8" with a resolution of 300 dpi.
This printer also features a unique rewind function, which is Mitsubishi's tech developed exclusively 4×6" printouts.
It has a claimed printing time of 11.4s which is roughly printing 5 pages per minute.
Pros
Extremely sleek and compact design which makes it capable of squeezing into even the tightest corners
One of the fastest printers of this segment
High printing resolution at 300dpi
Cons
The signature white and red color scheme is not exactly an eye candy and will not blend well with most office environments
The white color is reported to turn yellow in the long run due to the matte finish
No wireless printing support
Check Price on Amazon
Quite a mouthful eh? Nonetheless, we shall talk about it in the next few words. The Epson Stylus Photo R2000 looks absolutely admirable.
This matte black printer has neatly laid row of buttons which tells you that the design is very well thought of.
No products found.
It has this broad-brushed silver frame, which highlights the device really well. In terms of appearance, it ticks just about all of the right boxes.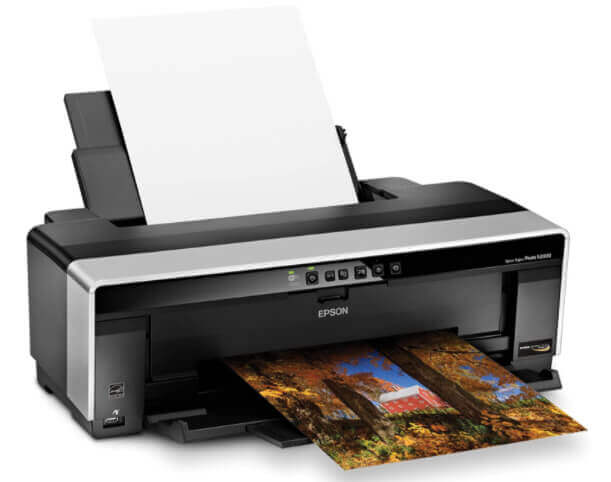 Here's everything we need to know about the gorgeous Epson Stylus Photo R2000:
For starters, the printer works on high gloss, bi pigment ink, which Epson proudly labels as Ultra Chrome Hi-Gloss. Well, Epson succeeds at the name game already.
It has individual ink cartridges which Epson claims are up to 50% more efficient in real-life printing scenarios.
It also works intelligently towards achieving optimal black density with the best possible contrast on glossy, matte, and fine art papers.
And since Epson likes to flaunt about its *unparalleled connectivity*, we would like to tell you what options are on offer (be ready for a mouthful, yet again). By the way, High-Speed USB 2.0, wi-fi and Ethernet are just for starters.
Pros
Distinct and stunning in terms of design, which is an absolute delight to just look at, even when idle.
A plethora of connectivity options, but what is the use of any hardware which does not support connectivity anyway?
Also accommodates cut sheets and roll papers in sizes up to 13" which should be more than enough for everyday tasks and beyond.
Cons
Feels a bit dated and an update would be welcomed.
Check Price on Amazon
---
The Canon MG7720 wireless is next in the list. Why is it in the list? Because there is no reason for it to not be in the list.
The MG7720 ticks a variety of right boxes which will be talked about in the upcoming words.
No products found.
For appetizers, it has all the connectivity options that we, as modern-day geeks dream of. This includes Apple Air Print, Google Cloud Print, NFC, Mopria, and the exclusive Canon print app.
It looks modern, classy, and straight out of a tech fest. Long story short, it looks way ahead of its time. And this printer makes a style statement for sure.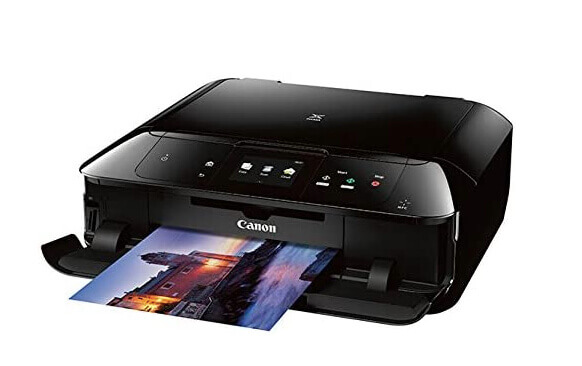 While we will all agree on the style part, it is hardly what we are here for, so below is the given list of highlights that one must know before they consider buying one of these.
What you need to know about Canon's beautiful creation:
Features all of the modern-day connectivity options and also the conventional ones, should you feel the need to use them.
The looks scream for admiration. Just a glimpse, and you'd want to stop doing whatever you are to take a moment for this eye candy.
CD/ DVD printing for our lazy selves who would keep procrastinating and suffering, but will never label the haystack of DVDs that we own.
Pros
It is absolutely gorgeous, and we cannot emphasize enough on that. And also, it comes in a variety of colors that will make you drool over them, and they might as well excite you to buy them all. We warned you, though.
The array of connectivity options will attract all sorts of audiences and will, for sure, spoil them with choices.
Trust and reliability pop into your mind as soon as you read Canon.
Cons
No provision for automatic double-sided printing is an absolute bummer when the product is so good but misses out on some basics.
We may be nitpicking here, but Canon has spoiled us with choices so more colors would be welcomed with the next update.
Check Price on Amazon
Another wonderful attempt by HP to sum up printing in a piece of tech. This printer has everything for making cardstock printing easier for you.
No products found.
The printer has been given this beautiful all-black treatment but with two different shades of black, which looks absolutely stunning.
The top consists of dual handles that open up the scanner, which may seem obnoxious at first.
Although you will get used to them sooner or later and when you do, they are very much likable and practical if you are to take our word for it.
Also striking is the colored touch screen that offers ease of functionality.
The little screen controls all functions of the printer while also displaying all the essential details which we find very useful.
What you need to know about HP Officejet Pro 8610:
While there isn't anything particularly striking about the looks, you can tell that it looks very purposeful and something you would love to have on your desk.
Connectivity options are plenty. Wireless Direct Print, Apple AirPrint, and of course, the superfast e-Print app by HP are all there apart from the traditional wired options.
With this, HP offers this clever and useful service which constantly monitors the activity of your printer and places order for your ink automatically so that you never run out of it.
Pros
HP's instant ink service is something that will never let you run out of ink.
The features on offer do excite. Scanner, copier, wireless printing, Apple AirPrint, colored touch screen, instant ink service, double-sided print, and whatnot.
Claimed duty cycle of up to 30,000 pages a month which is absolutely insane! Also insane is the variety of sizes you could print on- 4×6", 8×10', envelope, letter, legal etc.
Cons
The printer has been discontinued by HP for some reason best known to them. However, you could still find the remaining stocks in some stores if you are lucky enough or alternatively look for a pre-owned one on Amazon.
It is reported to function properly with the cartridges prescribed by HP only. This happens to be a bummer considering the fact that many of the users prefer using aftermarket cartridges.
Check Price on Amazon
Epson never fails to amaze us with their products and the Stylus Photo R3000 is no exception. It looks sharp and the buttons are well laid out.
No products found.
The brushed silver framing complements the deep black body very well, and there are no unnecessary bits to speak of.
The first thing you notice is the little panel on the right side that contains all the controls for the device next to a digital display.
While this layout does not necessarily excite, it is very handy once you start using them.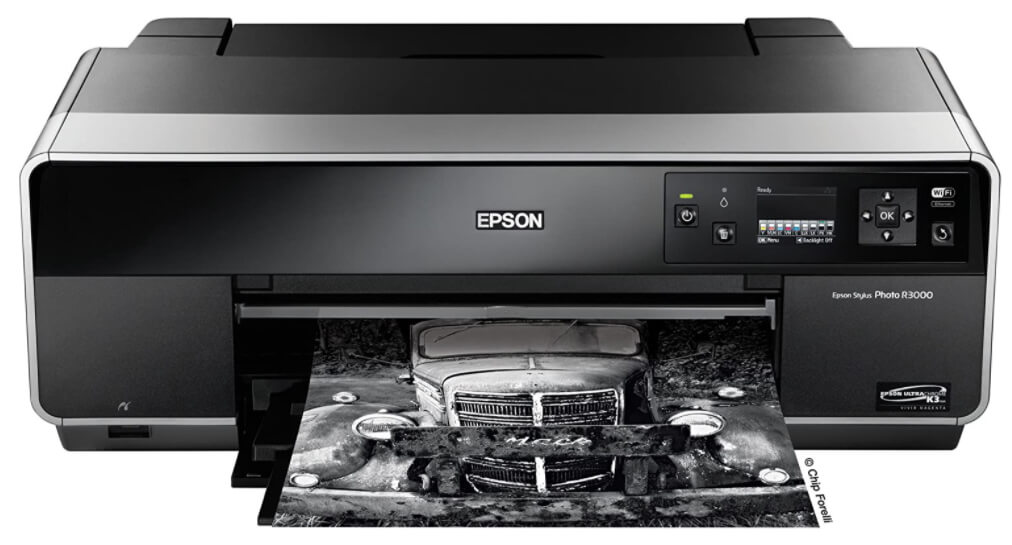 It has plenty of connectivity options for your convenience. What it also boasts of is nine large capacity individual ink cartridges with Epson's popular pigment ink technology.
Pros
Epson's pigment ink technology is impressive. It gives vivid prints with amazing colors and superior contrast with high gloss.
Media compatibility. It supports various forms of media including cut sheet, roll, fine art paper, boards of up to 1.3mm thick etc.
Cons
The cartridges are not refillable which makes the usage kind of expensive.
Check Price on Amazon
The Epson Stylus Pro is a beautiful bi-colored printer which in Epson's terms is engineered for professionals.
The looks are boring and outdated. While the black and silver contrast give it a premium appeal, Epson may have gone a little overboard with the silver.
No products found.
It also has a backlit display that didn't excite us simply because of the outdated feel and appeal that it gave.
Since we don't intend to judge the book by its cover, it will only be fair to see how it performs in the field where it matters.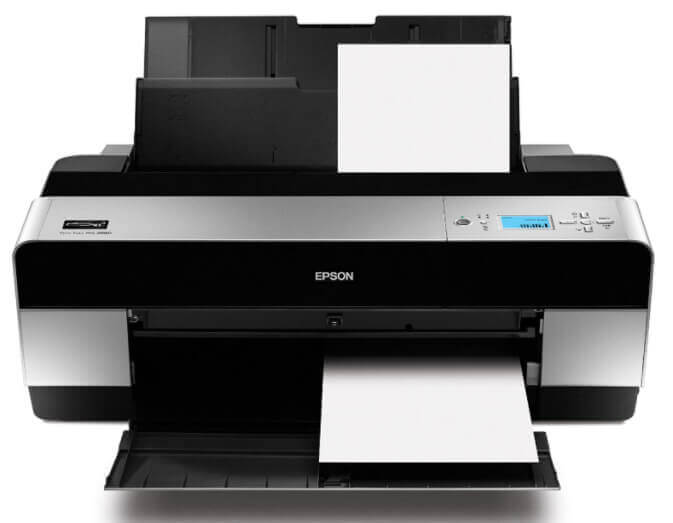 Here are some of its features:
It is also one of those creations by Epson that features the revolutionary pigment ink technology which we really like. And while it was nothing to brag about, particularly in the case of this printer, it certainly is nice to have.
Where it really specializes is while displaying the tiniest details thanks to Epson's incredible MicroPiezo print head with Advanced Meniscus Control.
Pros
Excellent print quality
Attention to detail on the prints
Ease of maintenance
Cons
The outdated backlit LCD display
A very non-exciting device
Limited connectivity options
Check Price on Amazon
11. HP CM1312NFI: Best Printer For 110 lb Cardstock
We got to see various queries on different tech forums asking about the best printer for 110 lb cardstock. Well, the HP CM1312NFI is your perfect companion in that case.
No products found.
This printer is an upgradation of HP's CM1312 printer series with some great improvements.
The best one is the internal memory jump from 128MB to 160MB, which is not much but, it still helps a lot in faster printing.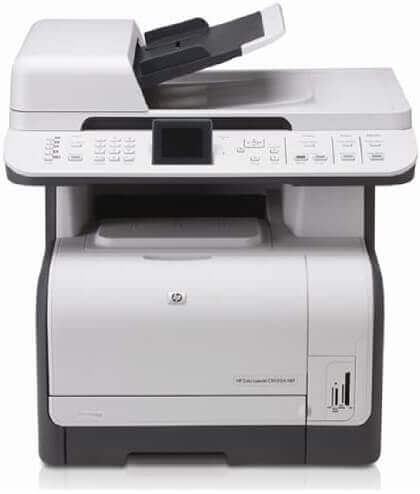 It comes along with an Ethernet port, colored display, memory card reader, an automatic document feeder, SD, xD, CompactFlash, and MMC.
Let's look into more details and check its features:
This cardstock printer features a single paper tray which comes with an input capacity of 150 sheets.
The extra front door helps a ton in case of rare paper jams.
The color toners are placed horizontally in a single pull out tray, which can be easily used using a front panel.
It can easily print photos. All of this is made possible as the HP CM1312NFI can easily handle paper up to 176gsm in thickness. The colored LCD panel helps in easy printing by selecting various modes and features.
Pros
Great printing for 110lb cardstock.
LCD panel helps a lot in easy printing.
Great after sale service. Parts are easily available.
Cons
Outdated design.
The high capacity paper tray is missing.
Cartridges cost on the higher side. Printing is also a little slow.
Check Price on Amazon
The Epson Workforce WF-7720 has a lot to love as compared to any other average printer. It offers a wide scope of capabilities for starters – you can scan, copy, print, fax etc.
No products found.
It's easy to add to a network, does quite a bit without a PC (using the small but effective screen), and supports various phones and tablets.
It enables you to do two-sided printing and scans. Also, it includes a super large 500-page paper tray, sigh!
Let's look into more features:
It is a typical office printer where you can easily work on PowerPoints.
It is highly economical and used upto 80% less power as compared to an average color laser printer.
The Epson Workforce comes with a large 500 sheet input tray,125 sheet output tray, and a 35-page document feeder for scanning.
Their motto is – performance beyond laser, the printer is Precision Core powered.
You can attain high print shop quality borderless prints upto 13″ X 19″.
Pros
Compatible with both Windows and Apple OS.
It is super fast as it uses pigment inks.
.
Cons
It only works with Original Epson Workforce cartridges.
You'll need sufficient knowledge to efficiently operate the printer.
Check Price on Amazon
---
How to Pick the Best Cardstock Printer?
Buying a cardstock printer is a race between different parameters – design, price, toner, paper thickness and what not. All this can lead to a lot of confusion.
Cardstock printers are heavy duty printers. They need to be sturdy as well as require less maintenance.
A standard paper ranges from 16lb to 36lb while the commercial printing paper ranges from 80lb to 100lb. On the other hand, the cardstock paper is a thick paper ranging from 67lb to 140lb.
Cardstock printers could be used for commercial printing of cards, brochures, scrapbooks, banners, invitation cards, etc.
Let's try to find how to choose the best cardstock printer.
---
Choosing the Printer: Laser or Inkjet?
In a common view, a laser printer prints in a fraction of time while an inkjet printer takes a good time in printing stuff.
That is why a laser printer would often cost more than an inkjet printer.
We recommend that you go for a laser printer if you are looking for a commercial level printer. For personal use, you can choose an inkjet printer that would come under your budget.
PS: Do go through the toner and cartridge price before making a wise choice.
---
Required Features in your Printer
Again, are you using the printer for your personal usage or commercial printing? How many prints would you normally need in a day? What is the acceptable printing quality? Would you need a USB port, memory card unit? Also, can you withstand paper jams?
These are some of the questions you should ask yourself before buying a printer for cardstock that can print on card and could be used comfortably.
---
Select the Right Cardstock Paper
For a fine print, you need to use a decently thick cardstock paper. Cardstock is thicker as compared to normal A4. It is a durable and flexible form of paperboard that is widely used for making greeting cards, invitation cards, visiting cards, or even playing cards.
Mainly, for cardstock printing, you will usually work with sizes like – 8x 8 inches, 6 x 6 inches, 12 x 12 inches, and 8.5 x 11 inches. The 8.5 x 11 inches is widely used for cards.
---
Image Quality
This is something where you might get confused. Overall, if your printing tasks are mostly related to textual content, you can go for moderate to fewer quality printers just to save your pocket.
However, if you are a photography professional or require creative prints, do check the image quality of the prints. More the dpi, better will be the print quality.
---
Printing speed
How many papers would you print? How often would you print?
Ask these questions to yourself. Mostly, our generation has gone impatient, to be frank, so, in most cases, you would want a quick print. Do check how many pages per minute can your printer print.
Take a rough "per minute printing" analysis to make a wise choice. Printing speed depends on the thickness of cardstock paper, its size, and whether you are taking a black and white print or a colored one.
---
What Should be the Size of the Printer?
Well, this is a question of prime importance. Printers can take up a whole lot of space so, do check before buying any printer.
---
Maintenance and Running Cost
Calculate how much a single print would cost you. What is the price of the toner/cartridge? How is the after-sale service, and how much maintenance cost would your printer incur during the course of time?
Though, all printers covered in this guide are highly durable and require less cost of maintenance until and unless used excessively for commercial purposes.
You can get all the above details from the product description section on Amazon.
---
Frequently Asked Questions (FAQs)
What printer will print cardstock?
Can you print on cardstock with a regular printer?
It depends on the printer. You can use a traditional printer and try it for a cardstock size of A4.
Though it is not recommended as the Cardstock printers use different technology and their structure is built to print on a thick gsm sheet rather than regular A4 paper.
Lastly, there is a lot of difference between the ink mechanism. A traditional PC will use more ink than a cardstock printer. You can also face issues like paper jamming etc.
Can Canon printers print on cardstock?
The Canon Pixma Pro-100 is a great cardstock printer that you can try. It is tried and tested by thousands of individuals and has a ton of positive reviews on Amazon as well.
Can laser printers print on cardstock?
Yes, they can. You need to check what type of paper type they support as if forcefully done could lead to paper jamming and program failure.
---
Our Top Recommendation
Canon PIXMA Pro-100
No products found.
No products found.
---
Canon Pixma Pro 100 is a highly efficient printer for printing invitation cards and cardstock. It is compatible with CLI-42 Ink Tanks and supports highly efficient printing.
The Optimum Image Generating System makes the printer smart as it chooses the most relevant color with proper placement and combination printing crisp and accurate pictures.
---
Final Words
Buying the right printer for cardstock is very important; otherwise, you would burn a lot of your hard-earned money.
Choosing the best printer for cardstock is not easy but highly possible once you go through the above guide.
We hope you must have gained some rightful insights about cardstock printing and how to choose the right cardstock printer.
Which one have you finally chosen? Do share it in the comments section below.
Best Printers for Cardstock Invitations and Cards Reviews
Canon Pixma Pro-100

Epson SureColor P400

HP Photosmart 6520

HP Deskjet 9800

Mitsubishi CP-K60DW

Epson Stylus Photo R2000

Canon MG7720 Wireless All-In-One Printer with Scanner and Copier

HP OfficeJet Pro 8610 Wireless All-in-One Photo Printer

Epson Stylus Photo R3000 Wireless

Epson Stylus Pro 3880

HP CM1312NFI

Epson Workforce WF-7720 Wireless
Summary
Choosing a perfect printer for cardstock printing is a confusing task.
We have researched and tested over 20+ printers, out of which we have listed the top 12 cardstock printers.
Do check the detailed reviews for making an informed buying decision.
Important: The images used in the post are taken from Amazon and stock photo sites (Flickr, Pixabay)
Last update on 2022-11-29 at 05:06 / Affiliate links / Images from Amazon Product Advertising API