Are you still struggling to decide the best RAM for your Ryzen PC? Well, we totally understand your situation.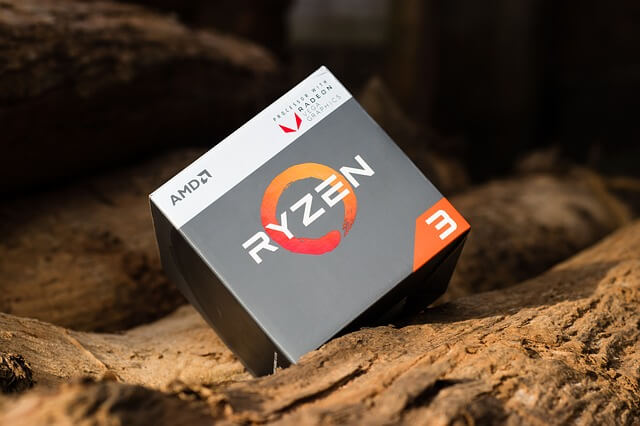 Ryzen has improved a lot as compared to its past versions due to an updated BIOS.
People still face an issue with the RAM speed, especially when you want to run it at a stable speed of 3200 MHz.
On some forums, people have complained that they are not even able to achieve a stable 2133 MHz with their Ryzen PC, which made us realize the issue due to which this detailed post covering the 7 best RAMs for Ryzen happened.
Just to give you the intensity of how this detailed review was prepared, we initially reviewed 17 different RAMs that are compatible with Ryzen.
Since, there are various options in the market, but only a few of them have got good reviews, which actually solves the speed issues, we picked the top 7 RAMs.
Before going into detail, let's check those 7 top rated RAMs for Ryzen:
---
7 Best RAM's for Ryzen Processors
Best RAM for Ryzen: Reviewing the Best Options
For the review, we have primarily looked into different parameters while choosing the listed RAMs for Ryzen CPUs.
Features like speed, design, color options, and heat management have been carefully analyzed so that you don't have to stress much while making up your mind.
Let's dive deep and check these out!
---
Corsair is widely known for designing the best computer peripherals and hardware components in the industry. The company has been building memory kit components for a long time and has achieved eminence for providing outstanding quality and performance.
The Corsair Vengeance series of RAM's has been highly recommended since it entered the market and why shouldn't it be, it delivers an excellent performance for a Ryzen computer.
The Corsair Vengeance LPX is specially engineered for overclocking Ryzen without any heat issues. The XMP 2.0 support in this ensures ridiculously easy automatic overclocking.
These sets of dynamic RAM kits are available in multiple colors to match the user's style or the elements on the motherboard. But there are no RGB lights, so you will have to adjust with no glow.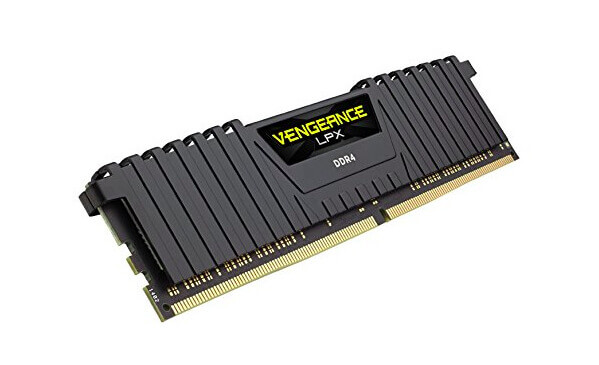 Now, let's talk more about the features of the Corsair Vengeance LPX:
In this kit, you will get 2 x (DDR4 RAM 8GB).
It is particularly designed for revved up overclocking. Its speed is overclockable up to 3000 MHz.
It has a pure aluminum heat distributor for quicker heat diffusion.
It supports XMP 2.0 for effortless overclocking. You just need to turn it on, and it will automatically adapt to the fastest safe speed.
It has an unheralded design, which lets it fit in smaller spaces.
It is readily available in multiple colors (black, blue, red, and white).
Pros
It's a simple yet elegant design. However, there are no RGB lights, but the construct looks refined.
You can barely complain about the performance of this mighty beast. It works well with both Intel and AMD Ryzen CPUs and brings the best out of both.
Overclocking can result in the RAM reaching higher temperatures easily, which can be a bit problematic. But, the extraordinary design of the Vengeance LPX and the heat distribution system helps in spreading the heat towards the system's cooling.
Its structure lets it fit in smaller spaces.
XMP 2.0 support is great. It helps in achieving the best overclockable speeds.
The available color options are competent enough. The options will surely go well with your PC.
Cons
The overclockable limit is not high enough.
People these days like to have RGB lighting in their computer setups. Sadly, the RAM does not provide any kind of glowing light.
Final Words: Corsair Vengeance LPX DDR4 is certainly the best RAM for Ryzen. It has got great response and reviews from the customers.
We highly recommend it due to its brand presence and after sale service.
Check Price on Amazon
---
G.Skill is widely popular brand for the high-end PC components. G.Skill RAM's are one of the best in the market and offer immense competition to the other brands.
The G.Skill Trident Z RGB Series RAM has an uncovered light bar sitting on the top, which gives it RGB lighting capabilities. This makes it different from the non-RGB model or the simpler TridentZ.
If we talk about the performance, we can say that it surely gives an arduous contention to the rest of the RAM models out there. It also supports Intel's XMP 2.0, which makes it easier to overclock this RAM.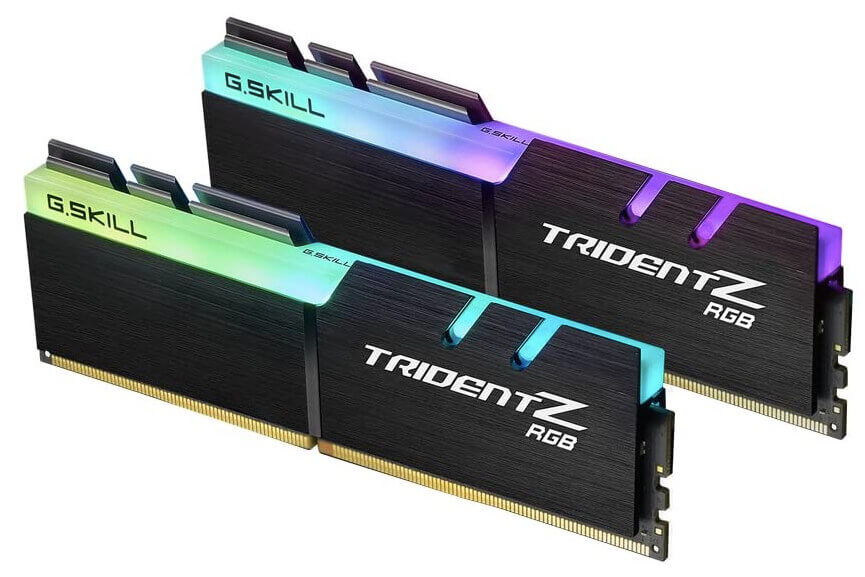 The RGB lights on this RAM are highly customizable. G.Skill provides its own software, which will let you try many amazing RGB lighting effects.
Altogether the G.Skill Trident Z offers the best blend of looks and performance. The RGB lights do not have any kind of negative impact on the overall performance that the RAM provides.
Time to check its features:
The kit includes 2 x (8GB RAM DDR4).
It is overclockable up to 3600 MHz.
It supports XMP 2.0 for painless overclocking. This helps in attaining the highest and safest possible overclock speed.
The main highlight is the RGB lights. It has completely exposed light bars on the top that change color.
Some LED light options are already available with it- Rainbow, Comet, Flash And Dash, Starring Night, Glowy Yoyo, etc.
It supports ASUS Aura Sync software which will allow you to easily control the RGB light system if you use an ASUS motherboard.
Pros
The entire RGB LED light system on the RAM kit is a visual treat. The looks of it will definitely draw all the attention. This is the best looking RGB LED light system we have seen on a kit to date.
Skill provides its own software for controlling the RGB lights on the RAM. The software is also easy to use and offers tons of customizations for the RGB lights.
The quality, the build, and even the cuts in the RAM are perfect. Even the RGB lights are perfectly vivid and polished.
The performance has also not been compromised. Everything has been kept in mind by G.Skill, and performance-wise this RAM would not disappoint you at all.
Sometimes, placing RGB LED light systems in RAM sticks decreases the performance as it interferes with the signals and also generates a lot of heat. This is not the case in this RAM. It still performs the same as other RAMS without any RGB LED light systems.
The price at which it is available is commendable. This is a true flagship-grade product and is available at the lowest price that you can expect for such amazing specifications.
A lifetime warranty has been provided by G.Skill with this kit.
Cons
There are no such flaws which we could find in this kit.
Check Price on Amazon
---
This is another high performing RAM made by the tech behemoth Corsair. This RAM stick is not much different from the Corsair Vengeance LPX DDR4 RAM which was previously covered in this list. To be honest, the only major difference is the presence of RGB LED light system.
This is surely a monster and has got all the top features that you can expect from a RAM for this price. RGB lighting was the only feature that the Corsair Vengeance LPX missed, and this variant of the RAM got it all right.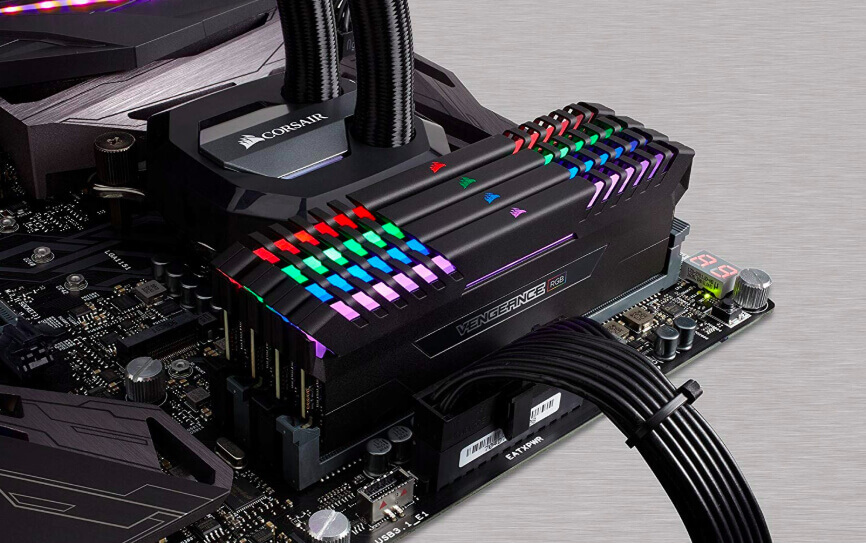 The performance and the looks are well balanced. The RGB lighting looks vibrant and has good color reproduction. The anodized aluminum helps in spreading the heat elsewhere so that there are no heat-related issues. This boosts the performance of the RAM.
Corsair Link support enables the users to fully program and control the lighting and transitions. It also assists in memory monitoring.
Now, let's focus on the important features:
In this kit, you will get 2 x (RAM 8GB DDR4). Best value for Ryzen PCs
It has boldly designed heat spreaders, which improve the thermal conductivity and gives a better look to the RAM stick.
It has dynamic RGB lighting and a broad range of colors to go with your system components.
Has full support of the Corsair iCUE software, which makes everything easy.
It is optimized to work with all the latest Intel and AMD Ryzen CPUs.
The support for Intel's XMP 2.0 enables it to select the zenith overclocking settings that are safe for the system.
This RAM stick is wire-free, so there is clean management, and everything is handled through the basic DDR4 memory socket.
Pros
Firstly, let's just appreciate its simple beauty. The perfectly symmetrical design and the smooth colors that come out of it are just stunning.
The overclocking abilities of this RAM are good enough and would not disappoint you much.
The XMP 2.0 support keeps the systems safe and, at the same time, helps in getting the best out of the device.
It supports all the latest Intel and AMD Ryzen CPUs.
Its anodised aluminum build helps insulate the heat.
Cons
If compared to the other competitors in the market, some DDR4 RAM's like the G.Skill Trident Z outperforms this device within the same price segment.
Check Price on Amazon
---
Kingston is another brand that comes to our mind when we are talking about computer peripherals, mainly storage components.
When we got to know that The HyperX Fury is compatible with Ryzen, we thought to test it out.
It is compatible with most of the Intel and AMD Ryzen CPUs.
This RAM has no RGB LED lights or any such lighting effects but still has a pretty good design and a fantastic build quality. With the sturdy build, it spreads the heat pretty well.
The price at which this device is offered is incredible. It offers all the good features at a price lower than that of the other devices on this list. Also, there are many color options available for this RAM stick.

This RAM kit also has the support of Intel XMP just like all the other RAMs on this list, offering the best value in the current scenario.
Let's dive deep into its features:
Includes 2 x 16GB RAMs in this kit.
It has an impressive design and has many color options that will easily go with your PC setup.
Has Intel XMP support for achieving the best overclockable speeds.
Has a Fury design that is asymmetrical and with a low profile heat distributor.
It is automatically overclockable up to 3466 MHz.
This kit is cost-efficient and is definitely a bang for the buck.
Pros
The support for Intel XMP is a good thing. All the other RAM kits on this list have it too.
The design looks fabulous, although it does not have any RGB LED lights.
The cost at which it is available to the customers is truly praiseworthy. The price is surely the most notable thing about this kit.
The overclocking limit is great.
It is readily available in many frequency and storage options.
Cons
It does not have any kind of glowing RGB LED lights.
Check Price on Amazon
---
G.Skill always amazes PC enthusiasts with its fine line of products. The Flare X Series is another mid-range high performer that every PC gamer would like to have.
It has a pretty bold design, but sadly, you will have to compromise on the RGB LED lights. It has a steely kind of design, which is quite different from the other memory sticks.
The good thing is that it has XMP enabled for Ryzen CPU's. Not all RAM's are compatible with the AMD's new lineup of Ryzen CPU, but G.Skill kept this in mind and took action.

It is specially designed for the AMD Ryzen CPUs and is a treat for the PC gamers as this combination will surely provide the perfect gaming experience and the power to conquer high overclocking limits.
Moving to the features:
Its speed is overclockable up to 3200 MHz.
It has a fairly distinct build, which is quite dissimilar from any other RAM stick.
It is specially made keeping the AMD Ryzen CPU in mind.
It supports Intel's XMP for better optimization.
Pros
The support for AMD's Ryzen lineup is good. It is specifically made for and marketed with the AMD Ryzen CPU.
The Intel XMP support is still present, which really affects the performance in a positive manner.
It has a fascinating, low heatsink structure.
It is available in various capacities and frequency options.
The overclocking capabilities of this RAM kit are marvelous.
Skill grants a lifetime warranty with this kit.
Cons
It is a bit costly seeing the limited features that it provides.
Comes wihout RGB LED lights.
Check Price on Amazon
---
This is another G.Skill kit that will offer all that you need from a standard memory (RAM) with a satisfactory price.
This is simply the non-RGB variant of the G.Skill Trident Z RGB Series DDR4 RAM. This, too, has a stunning look but just lacks the RGB LED lights.
If you are a fan of glowing lights or you simply want glowing RAM sticks in your PC that matches with your RGB radiator fan, then you might want to consider the other RGB Ryzen RAMs that we have covered above.
It has a special build that helps in heat dissipation. It is designed for gaming and overclocking, just like the RGB Series of the G.Skill Trident Z.
The price of the G.Skill Trident Z DDR4 RAM is also acceptable, and it provides all the important features on a budget.
Time to discuss the features of the G.Skill TridentZ DDR4 RAM:
This kit is overclockable up to 3200 MHz.
It is specially optimized for 6th generation Intel processors and Z170 chips.
It is dual-colored and looks stunning and has a fairly different fin design, which helps in dispersing the heat generated.
The kit works well with AMD Ryzen CPU.
A limited lifetime warranty is also provided by G.Skill with this device.
Pros
The build quality of the RAM stick is great. It has a dual-colored body with a sleek design.
It is engineered in such a way that the body dispenses heat easily.
It is supported by AMD's Ryzen CPU, which is a really good thing.
The lifetime warranty provided by G.Skill with this kit shows the company's confidence in the product.
Cons
There is not much price difference between the RGB Series of the G.Skill TridentZ and this product. So why would someone want to go for a non-RGB variant of the same product?
Check Price on Amazon
---
Most of the buyers must have not heard anything about GeIL and its products. This company is based in Taiwan and mainly focuses on constructing RAMs for PCs.
The best thing about this RAM is its thermal conduction and heat handling capabilities. It has specially designed MTCD technology. MTCD stands for Maximum Thermal Conduction and Dissipation.
There are no RGB LED lights and the design is a bit uncanny. The design does look a bit strange, unlike any other RAM stick in the market.
The performance is satisfactory and we cannot complain if we see the price of this RAM kit. The installation is also hassle-free.
Uncovering the features:
This RAM stick is equipped with good heat spreaders and has Maximum Thermal Conduction and Dissipation technology.
It is price efficient and offers decent performance.
The speeds are overclockable up to 2400 MHz.
It has decent looking heat spreaders.
Pros
The highlight of this RAM kit is the heat dissipation.
This product is not too costly and offers great value for money.
There would not be any heat-related issues while overclocking, so the performance while overclocking would be better.
This RAM stick has a decent design.
Cons
If we go by the reviews on Amazon, some people faced issues with the quality of the RAM stick.
There are no RGB LED light systems so people will have to adjust with the traditional look.
Check Price on Amazon
---
How to Select the best Ryzen RAM for your PC Build?
Now that we have uncovered the top 7 high-speed RAMs for Ryzen, choosing the best among them can also be a bit confusing if you are a beginner.
Ideally, for a high performing PC build, you should go for higher-end versions that can achieve at least 3200MHz. The funny part, many of the RAMs can't actually achieve the advertised speed until and unless you manipulate and play with the BIOS.
One more thing, always check the RAM kit for its manufacturer. Do make sure that the RAM kit you select is manufactured by the same vendor for your motherboard.
Use this table to refer:
Ryzen DDR4
| Speed | Model |
| --- | --- |
| DDR4 3200 | Corsair CMK16GX4M2B3200C16 v5.39 |
| DDR4 3200 | G.Skill F4-3200C14D-16GFX |
| DDR4 3200 | F4-3200C14D-16GTZR |
| DDR4 3200 | F4-3200C14D-32GTZR |
| DDR4 3200 | F4-3200C14D-32GTZS |
| DDR4 3200 | F4-3200C14D-16GTZ |
| DDR4 3200 | GEIL GAEXY432GB3200C16DC |
| DDR4 3200 | GAEXY48GB3200C16DC |
| DDR4 3200 | GAEXY416GB3200C16DC |
| DDR4 3200 | GAFR416GB320C16DC |
| DDR4 3200 | GAPB416GB320C16DC |
| DDR4 3200 | ADATA AX4U3200W8G16 |
| DDR4 3200 | AX4U320038G16 |
| DDR4 3200 | AX4U3200W4G16 |
| DDR4 3200 | AX4U3200316G16 |
---
Important Terminologies
CAS Latency: The Column Access Strobe latency or CAS Latency is the delay time between the READ command execution and the moment data is available. This is typically in nanoseconds. One can also understand it as the lag when the memory controller informs a node to enter into a particular position and the time data takes to exit from the output pins.
TRCD: Known as tRCD is the total number of clock cycles it takes to open a particular row and access a column.
TRAS: Known as tRAS is the minimum number of clock cycles a row has to stay active in order that we are able to extract the information out of it.
TRP: It is the number of cycles it takes to select a new row from an existing row.
---
Frequently Asked Questions (FAQs)
What RAM is compatible with Ryzen?
You can choose any of the above-discussed RAMs for your Ryzen PC. Just make sure that you check the compatibility of your motherboard with the RAM kit. We highly recommend Corsair LPX 32GB DDR4 RAM as it is a tried and tested product by thousands of PC enthusiasts.
Is 3200MHz RAM good for Ryzen?
Absolutely! The 16GB (8×2) 3200 MHz CL16 RAM is actually a sweet spot for an average buyer using a Ryzen processor.
Does Ryzen need special RAM?
No, you don't need a special RAM for your Ryzen CPU.
Just make sure you check the QVL list of your motherboard and see whether they have tested the respective RAM that you are looking to buy.
Normally all the RAM kits would have mentioned with what all processors they are compatible with.
What RAM is best for Ryzen 5 3600?
How to choose the best RAM for Ryzen 5600x?
You should consider factors like the RAM form factor, overclocking speed, capacity of RAM, Price and compatibility to choose the best RAM for your Ryzen PC
Our Top Recommendation
Corsair LPX 32GB DDR4 RAM
Buy on Amazon
---
Corsair LPX 32GB DDR4 DRAM certainly takes the top position for Ryzen PC. Being designed for high level overclocking along with an exceptional design, it will make your Ryzen PC ultra fast. It would support you to create a perfect PC build for editing and gaming.
---
Final Words
We hope that you have enjoyed reading this detailed post. Choosing the best RAM for Ryzen Desktop is not an easy task as it seems.
You need to first check your Ryzen CPU, motherboard details, and configurations before choosing any kit. Then only would you be able to drive the best value out of your PC build
Preferably, good RAM is one that can achieve the designated speed without changing the BIOS. You can also pair the RAM along with a decent sound card to enhance the gaming experience on your PC.
Share your thoughts in the comments section below. We would be happy to help you.
Important: The images used in the post are taken from Amazon and stock photo sites.
Best RAMs for Ryzen Processors
Corsair Vengeance LPX

G.Skill TridentZ RGB Series DDR4 RAM

Corsair Vengeance RGB DDR4 RAM

Kingston Technology HyperX Fury DDR4 RAM

G.SKILL Flare X Series DDR4 RAM

G.Skill TridentZ

GeIL EVO POTENZA DDR4 RAM
Summary
Choosing a perfect RAM for Ryzen could be highly daunting especially when you are not tech-savvy. In this detailed post, we have tried to give you a detailed experience of the top-rated RAMs for Ryzen CPUs. We have consciously selected just 7 RAMs which we tested and found to be the best in the current scenario. Do check the detailed reviews to know more.
Last update on 2023-11-22 at 12:14 / Affiliate links / Images from Amazon Product Advertising API