A radiator fan is one of the most important components inside your ATX case. To maintain a proper airflow inside your cabinet, you must use only the best radiator fans.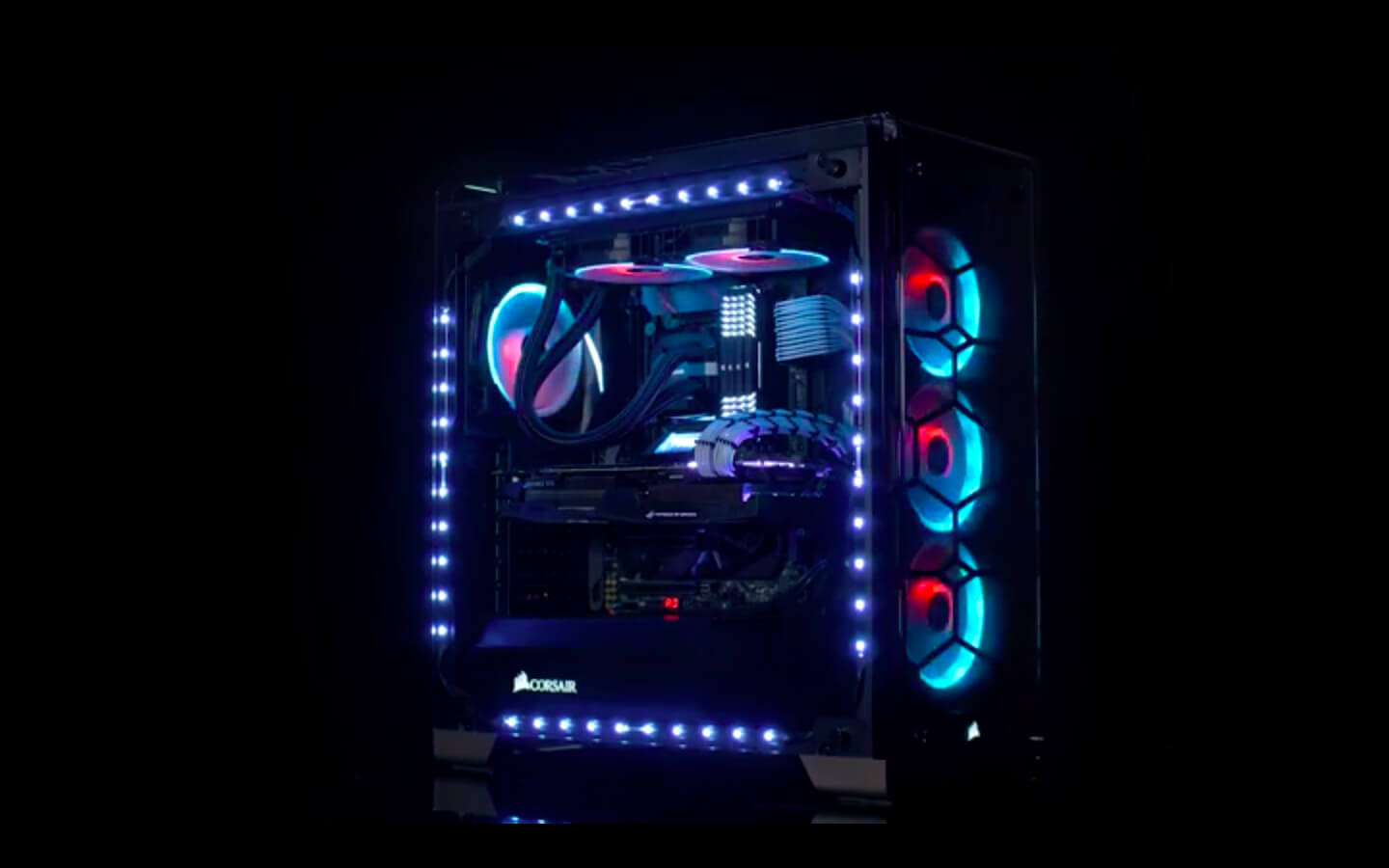 In this detailed post, we have covered the best radiator fans for liquid cooling so that your PC is never on fire.
Our team reviewed nearly 27 different radiator fans of different sizes and brands. After closely reviewing, we could only list the 10 best radiator fans which actually deliver high performance and have been tested and reviewed by thousands of customers.
The list includes 120mm, 140mm, and 200mm fans. You can choose the fan depending on your sizing requirements.
10 Best Radiator Fans for 2022
Best Radiator Fans: Top Options for Liquid Cooling
Comparing radiator fans can lead to a lot of confusion especially when you have no idea about technical specifications or fan aerodynamics.
The fan needs to support liquid cooling as well as produce as little noise as possible.
Though, there are various other features that you need to consider apart from the airflow and decibel ratings of the radiator fans. We have covered that all in the buyer's guide at the end of the post.
For now, let's dive and check the detailed review of the top 10 radiator fans available in the market.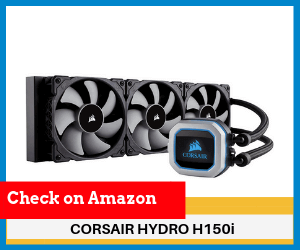 The CORSAIR Hydro Series H150i PRO is a beautiful all-in-one RGB liquid CPU cooler.
It comes with a 360mm radiator built for low-noise cooling and dauntless styling with an RGB LED pump head.
Corsair has decided to keep it clean and hence it looks premium.
There is just one scintillating RGB LED pump head that produces some striking lighting effects to match the build.
This monster is also powered by magnetic levitation. There are three 120mm PWM fans provided which work on magnetic levitation engines.
It is clearly designed for silent operation and good airflow. The fans produce just a mere 25dB sound while operating at the fullest.
Let's check more of its features below:
There are 3 low-noise 120mm of ML Series magnetic levitation PWM fans that deliver incredible airflow and produce just 25dB noise at full speed.
CORSAIR iCue is a mighty software that allows you to adjust the RGB lighting quite easily including the individual fan speeds, and pump speed while monitoring CPU and coolant temperatures.
The CORSAIR iCue software is supported by the Zero RPM cooling profile which allows the fans to stop entirely at low temperatures, eliminating fan noise.
Modular, tool-free mounting bracket for swift installation on most CPU sockets.
Pros
Gilt-edged build quality.
Top-notch performance.
Magnetic levitation PWM fans.
Exceptional Clearance.
Temperature Controlled RGB LED.
Ultimate silence operation.
Check Price on Amazon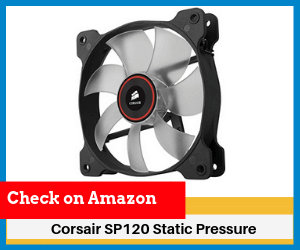 Corsair offers some of the best radiator fans in different price segments.
The brand keeps all kinds of customers in mind and tries to fulfill all their needs for different budgets.
This product is a highly economical option with some great specifications.
It melds efficacious high-pressure airflow with eye-catching LED lighting. It affirms less noise and turbulence than mediocre fans.
Overall, it is an awesome product made by Corsair which comes at a reasonable price. If you are confused as to which color to choose for your cabinet, we suggest you watch the video below:
Talking more about the features of the Corsair Air Series SP120 radiator fan:-
It has high pressure cooling paired with LED radiance.
It has slightly better performance than the standard fans provided at this price.
The fans are LED lit and look astonishing.
Corsair has particularly built the fan blades in such a way that there are less turbulence and noise.
This product is available in multiple color options.
Pros
This is the most superior radiator fan of this price segment.
The LED lights on this fan are fantastic and even the fan blades look marvelous as they are translucent and frost textured.
As already mentioned as one of the features, the motor blades are crafted in such a way that they create minimal or no turbulence and noise.
The quality is not cheap at all. This is the best build you will get for the price.
Corsair provides 2-year warranty with the product.
Cons
The fans are listed as they provide 1650 RPM but out of the box, they only provide 1500 RPM. The difference isn't much but it would still bother some of the buyers.
Check Price on Amazon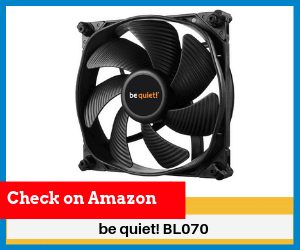 Be Quiet is a renowned brand and the fan Silent Wings 3 made by the company offers great power for heat dissipation.
It has an ameliorated surface structure on the fan blades. This helps with excellent airflow.
There certainly are other brands in the market you can opt for but be quiet! Silent Wings 3 is a perfect alternative for other radiator fans.
They are nearly silent at low speed and bearable at high speeds. They cannot be compared to the Noctua fans but they are definitely worth a shot.
The best thing about choosing this product over others would be that it consumes very little power and is also silent.
The only drawback you would find would be that these do not come with any kind of RGB LED lights.
Here is the detailed video review and noise test you can watch if you want to gain more insights into the fan:
Now, let's dig deep into the features of this high-speed cooling fan:
It is a 120MM PWM model.
It produces a noise of 28.6 dB.
It rotates at 2200 RPM.
Has modified, special texture fan blades that improve airflow and static pressure.
It has a rubberised fan frame.
Pros
They are essentially silent and if the fan speeds up then also the noise produced is bearable.
The power consumption of this product is negligible as it saves a lot of energy.
Despite working so efficiently, the Silent Wings 3 does not miss out on performance. It still offers great performance.
The Silent Wings 3 is economical too. The price is agreeable if compared to other devices in this price bracket.
It looks classy and the fan blades are also textured so it adds up to the overall look of the fan.
Cons
This radiator fan does not come with any kind of RGB LED lighting.
Check Price on Amazon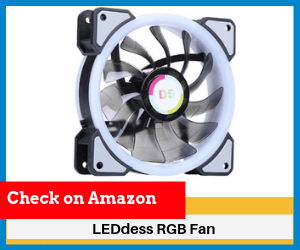 This is something different!
This is not just a radiator fan. It's a complete package and it serves us 3 RGB fans, 2 RGB LED strips and a remote to control the lighting effects.
The whole bundle is easy to install too.
The overall look of the fans and RGB LED lights is great and quite colorful.
Talking about the performance, altogether the fans are pretty silent and powerful.
Performance is not compromised at all and the fans also look great so it definitely is a complete bundle.
The pricing is also totally amenable. The contents provided in the bundle are absolutely worth the money.
Here is a brief review of this case fan:
Let's check the features of this beautiful budget RGB case fan:
The radiator fan speed is 1000-1300 RPM.
The sound generated is of 23.5 dB.
It is has a wide carousel of colors to choose from.
The fan is 120mm.
The bundle includes mainly 3 RGB fans, 2 RGB LED strips and remote control to manage the illuminating effects.
Pros
The product pricing is the major reason why we or anyone else would like this product. It offers so much at such a reduced price that you'd love it.
The radiator fans have a sleek body and look great.
The RGB lighting effects are delightful. The colors produced are vivid and totally brilliant.
No compromise has been made on the performance sector as the fans give decent performance for the price.
A good balance has been maintained between the performance and looks provided in the limited money asked for.
The whole bundle is worth buying as it gives great value fot the money paid.
Cons
Some of the customers found that the product delivered was defective or separate components had some kind of defect in them.
Check Price on Amazon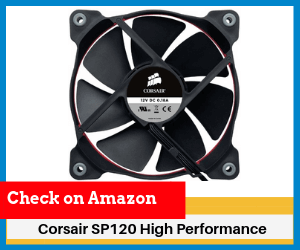 By now you must have understood which brand easily owns the list of best radiator fans.
Corsair clearly shows how it is a winner in making high quality cooling fans for PCs in not just one or two, but all the price segments.
The Corsair Air Series SP120 PWM high-performance edition fan has an extensive body and it the blades provide remarkable static pressure and airflow.
No, it does not come with RGB LED lights but the box contains three user interchangeable colored rings which can be used to match the fan color with the rest of the cabinet and motherboard components.
The fan is not so silent as other fans in this segment. If silent operation is your priority then you should cull this product and prefer Noctua fans over this.
Keeping this problem aside, the Corsair Air Series fan is a great choice. The pricing is also fair, it is neither too expensive nor cheap.
Here is a quick review video you can watch:
Let's check the features:
It has a 4-pin PWM support.
It has seven blades in total.
Packed with three color rings to attach to the fan system so that it gives a better look to the overall arrangement.
The three-color rings are of RED, Blue and White color.
Has rubberized corners for sound dampening.
Pros
First and foremost, it gives us a balanced and satisfactory performance and if not compared with other choices then it would be a great buy.
It offers high airflow and static pressure and has good quality blades.
It does not provide any RGB LED lighting but still appropriates by bundling colored rings so they add up to the overall looks of the fans.
The product is also not too exorbitant, it delivers all the important features at an acceptable price.
Cons
It does not come with RGB LED lights so it does not go with the trend.
Many customers reported issues of the fan making buzzing or rattling noise when it reached the top speed or near top speed.
Check Price on Amazon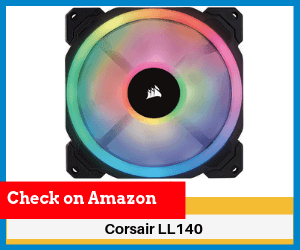 This is one of the most beautiful looking PWM fans in the list.
The Corsair LL140 has 16 brilliant, independent RGB LED lights in every fan which are split between two separate light loops.
"Just Glow With The Flow" would be a perfect line to describe this RGB radiator fan.
It an optimized 140mm fan blade and PWM control. You can easily set the fan speed anywhere between 600 RPM to 1300 RPM in order to control the noise and airflow adjustment.
It is a very good combination of looks and performance and it would be a perfect product if your priority is the overall look of your computer system. The RGB LED lights would definitely go well with your expectations.
Do check this video to gain more insights on the product:
Time to check the features of this beautiful 140mm radiator fan:
It has a wide array of vivid lights that will definitely steal the show. It boasts of 16 autonomous RGB LED lights in each fan which are further split between two light loops and have incessant customization. This product is software controlled so you can alter RGB lighting effects accordingly anytime you please.
You have the complete PWM control in your hands. You can vigorously control fan speed from 600 RPM to 1300 RPM.
The 140mm fan blades are designed for low noise action.
Pros
This radiator fan is a show-stealer as Corsair is mainly focused on making it look better than the other fans in this range and even in the higher price segment.
The RGB LED lights are resplendent on this one. It is a true consonance of lights and colors.
The fan blades are engineered in such a way that they create minimal, in fact almost negligible amount of noise.
Coming to the basics, it does all the work that it is made for. It offers good performance with great looks.
Cons
We hoped that the fan should have provided a little more airflow at the given price.
Check Price on Amazon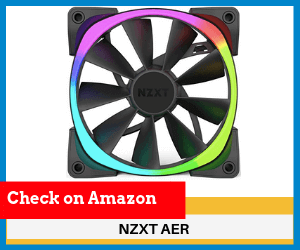 NZXT is another brand that would come in our list after Corsair if we are talking about Gaming PC hardware.
NZXT AER RGB 140mm case fan is a pretty competitive product and offers supremely powerful performance for the price.
Filling into the trend, this computer case fan also comes with some terrific RGB lights.
The pattern of lights and colors can be easily set by the user with the help of the software bundled with this.
The fan has a nine-blade design and it excellently manages airflow. We can say that it is pretty quiet as it produces sound at only 22 dB.
Here is a funny review of the NZXT AER fan:
Coming to the main features of the NZXT AER 140mm computer case fan:-
These fans are HUE+ and CAM accordant for coherent software controls and modulation.
It has a nine-blade design and a colored band of LED lights running around the fringe of the fan.
The noise generated by it ranges somewhere between 22 dB and 33 dB which is not loud at all.
Pros
It is utterly chill and tranquil at the same time.
It has florid RGB lights that are downright striking but ultimately gives a good look.
The noise produced by it is also negligible and it would not be a much of a problem.
NZXT promises nest in-class performance and also a great after sales service as it is a renowned brand.
Cons
The RGB lights are single sided. There is nothing on the back of the radiator.
The wiring system is a bit knotty. It can be hard for some users to set it up by themselves.
Check Price on Amazon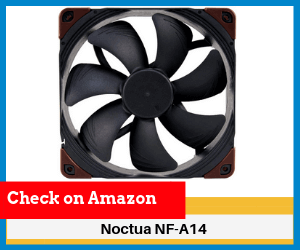 This is one device that clearly displays great efficiency.
It is a bestseller cooling fan for PCs and it surely won't disappoint you all.
Noctua is pretty confident about this product as it gives a 6-year manufacturer warranty.
This is an award-winning A-series fan that has a supreme cooling mechanism. It is a classy looking radiator fan but the only shortfall is that it does not have RGB LED lights support.
It is definitely well-formed but still, people want to have RGB lights in their rigs these days.
Performance is one thing that matters the most to most of people and Noctua surely paid a lot of attention to the overall performance that this beast provides.
The fan is also anomalously quiet. Noctua has clearly put in good sound dampening techniques.
If you all expect is a splendid performance from the device that you have bought, then the Noctua NF-A14 is the perfect radiator fan for you.
Here a detailed review video including the Noise test:
Let's take a look at its features:
It has a 140mm fan size and SSO2 bearing type.
It is a 4-screw heavy-duty fan.
It has an 800 RPM to 3000 RPM broad speed range.
It is IP52 certified water and dust resistant.
It is backed by a 6-year manufacturer warranty.
Pros
This radiator fan has won more than 100 awards and recommendations.
It is super silent and is super sophisticated.
It offers intense cooling performance.
It has a magnificent build quality.
The company provides a 6-year warranty with the product.
Cons
It does not offer a stylish look as it does not go with the trendy RGB lights and all.
Check Price on Amazon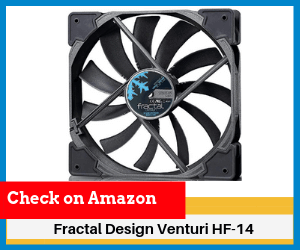 Firstly, Fractal nailed it with the unprecedented and sturdy build of this device.
The design is aerodynamic so that air easily passes through the fans and the noise and turbulence is also curtailed.
The design is modified in such a way that it offers splendid performance and looks great at the same time.
A lot of attention has been paid towards engineering the fan in such a way that it boosts the performance of the fan, surely a smart move by Fractal.
This also helps in holding a balance between the extreme airflow and the static pressure. The noise levels are also not too high and are bearable.
This fan has a major drawback. It is not a PWM fan so the fan blade speeds cannot be controlled. That's it! This is the place where this fan loses the game.
If we talk about anything other than this, then this product is surely a win-win. Also, there are no RGB LED lights present with the package.
Here's a short preview video:
Time to discuss the features:
It has true FDB-bearings.
It is made with high-grade glass fiber reinforced thermoplastic polymer.
The device is built aerodynamically as a whole.
This 140mm fan comes with a supplementary sound and vibration dampening corner that also fits into the 120mm fan cases.
It has a 3-pin connector.
Pros
It has a paramount build quality and a marvelous aerodynamic body which helps in keeping the system cooler than ever.
The vibrations and turbulence on this have been taken care of by the company. So, it does not vibrate much which further helps in lessening the noise created.
The noise produced is also as low as it could be in a budget radiator fan.
The appearance of the fan is also outlandish.
This device is decently priced.
Cons
The fan is not a PWM fan and thus you cannot manage its speed.
It only comes with a 3-pin connector system.
There are no modern day RGB LED lights present.
Check Price on Amazon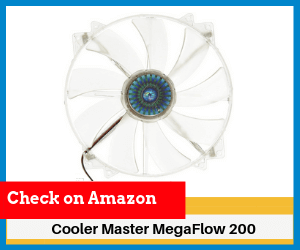 This is the cheapest radiator fan on the list right now.
Though, this doesn't mean that this device is weak in performance or lags somewhere as compared to the other radiator fans.
The Cooler Master MegaFlow 200 is the only radiator fan on the list which is sized at 200mm.
Bigger fans are the modern-day solutions for reducing the heat in a computer system. This 200mm fan works twice as much as a 140mm fan.
Also, this is by far the most silent radiator fan that you can buy, it is cheap at the same time it produces just 19dB noise.
Considering the price of this silent gargantuan, it is definitely worth buying because no other radiator fan matches its performance and features at the price this device is offered. Also, it is the only 200mm case fan on this list.
Now coming towards the main features:
The diameter of the fan is 200mm.
It rotates at 700 RPM.
The noise produced by it is of 19 dB.
It has a 3-pin connector system.
It has RoHS compliance for the protection of the environment.
It has RGB LED lights present.
Pros
It has a much bigger size than the other fans on this list which surely adds up to the overall performance provided by the radiator fan.
The noise produced is so much lesser than the other fans which you would get in this price bracket and even in the price brackets higher than this.
It is available in color options and yes it does follow the latest trends of RGB LED lights in computer systems.
It is RoHS compliant. So, the safety of the environment is taken care of.
You get all these useful features at such low price. Cooler Master has definitely taken care of honest pricing and customer satisfaction.
Cons
It only comes with a 3-pin connector system but we cannot complain because of the low price.
The rotation speed is low at 700 RPM, as compared to the other radiator fans.
Check Price on Amazon
Buying the Best Radiator Fan in 2022
Now that you have already checked the latest and top rated radiator fans which support liquid cooling, it is time that you understand how to choose the best radiator fan for your cabinet.
Factors to consider
Here are some of the main factors you must consider before buying your next radiator fan:
PWM support
Connection Type
Size
Noise
Difference Between PWM and Normal Case Fans
PWM stands for Pulse Width Modulation. It means, that you can control the speed of the fan using an integrated circuit. The speed changes depending on the inner temperature of the cabinet.
To use the feature, you would have to use a motherboard that supports a PWM header. Once that, you can use software to control the functioning of the fan.
Compared to normal DC voltage fans, they run on 100% capacity but you still can control the speed of the normal fan using the BIOS. Though, you cannot really control the speed on the basis of inner component temperature like the PWM fans.
Here is a great video to understand the topic in more depth:
3-Pin vs 4-Pin Connection
For connecting to a motherboard, the radiator fans would either have a 3-pin or a 4-pin socket.
The difference between the two is the same as normal and PWM fans.
The 3-pin connection helps in running the radiator fan at a designated speed. You can alter it using the system BIOS or any third party software.
The 4-pin is available in PWN radiator fans. It helps in altering the speed of the fan depending on the cabinet temperature.
Note: You should check the slot on your motherboard. If it has the 4-pin option, we would recommend that you go with a PWN radiator fan as it consumes less power in the long run.
Common Radiator Fan Sizes
Before buying a radiator fan, you would need to check your ATX case/cabinet for its compatibility. Depending on the space and size of your ATX case, you can use fans of sizes- 120mm, 140mm, 200mm, etc.
120 mm: It is a standard size that is found in almost all new style cases.
140 mm: It is found in both new as well as old-style cases.
200 mm: It is the biggest fan size.
Noise
Ideally, your fan shouldn't make noise over 50 dBA. Above that, you would certainly notice the sound in a silent environment.
Though, when you are overclocking, the sound can go as high as 130-150 dBA.
Our Top Pick
Buy on Amazon
Best Radiator Fan with Liquid Cooling

Product Name: CORSAIR HYDRO Series H150i
Product Description: It is a RGB fan that offers great performance for gaming and high end activity which produces a lot of heat in the PC cabinet. The fans offer a perfect airflow for maximum heat dissipation in order to maintain the inside temperature of your PC cabinet.
Airflow

Performance

Price
Summary
CORSAIR HYDRO Series H150i is a great radiator fan that supports great airflow with stunning RGB lighting.
A little expensive but it also offers a complete package of an unmatched performance along with style and durability. There are thousands of satisfied customers including professional gamers, music producers and animators who have integrated this fan with their PC build and have experienced great performance. 
Final Thoughts
Choosing a perfect radiator fan is not so easy just like going for a perfect RAM or sound card. The reason why we prepared this detailed guide was to help people like you to make a wise choice and not just fall for visual traps (LED lighting and fan design).
Keeping a check on the performance is a must and can't be avoided. In the end, you would want your PC to work fast without any glitches. That seamless design or LED lights won't help you achieve that.
You need to pay a lot of attention to the above details if you really want to purchase the best of the best radiator fan case.
We hope, this post must have helped you gain a lot of insights about radiator fans and how to choose the best one.
Do share your views in the comments section below. We would be happy to know your views.
Important: The images used in the post are taken from Amazon and stock photo sites (Flickr, Pixabay).
Last update on 2023-09-25 at 20:27 / Affiliate links / Images from Amazon Product Advertising API