There's nothing worse than having to stay in the dark because of an occasional power outage in your area or staying without power while on a camping trip.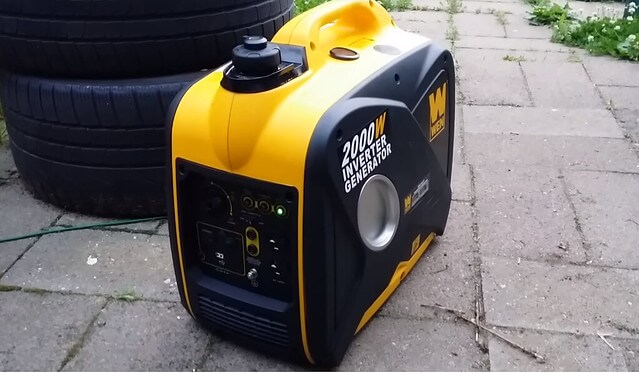 These situations can seem like an eternity. Luckily, with modern technology, you can live with unlimited power even while living off-the-grid power. Thanks to portable generators.
In this guide, we will review the top seven smallest portable generators of 2022 and provide you with the pros and cons of each. So buckle up as we take you through this tour.
The Yamaha EF1000iS is a perfect definition of what a portable generator should look like.
No products found.
Weighing just less than 30lbs, this generator is ultra-portable and can be carried around without much difficulty.
While it's not your most powerful portable generator, it offers just the right temporary solution to your specific needs.
First, it has a power rating of 900 Watts and can go up to 1000 watts when operating at maximum power. This is enough power to operate a single heavy machinery and power anything in its capacity for a solid 12 hours on full-tank.
Its fuel tank capacity is 0.66 gallons of unleaded gasoline and runs on a 50cc 4-stroke gasoline engine that's CARB and EPA compliant.
The generator's design features an inverter system that lets it generate sine waves. Because of this, it's able to produce more power from little fuel.
As for noise reduction, the Yamaha EF1000iS does a very impressive job. Thanks to its Noise Block Acoustically designed sound reduction system that features a glass wool construction that dampens the noise levels.
On a final note, the Yamaha EF1000iS is a perfect pact if you love camping or experience short power outages in your home.
Pros
Ultra-portable and compact power solution
The excellent noise reduction system
CARB and EPA compliant
Exceptional fuel efficiency and run-time
Comes with 12volts DC outlets to recharge a few batteries
2-year warranty
Can be used in your RV
Cons
Does not have parallel connection receptacles
No electric starter
Check Price on Amazon
Westinghouse iGen 1200 is another small portable generator that offers a myriad of premium features at a great value.
With a power rating of 1000 Watts, the iGen 1200 can go up to 1200 Watts when operating at full power. Making it a great generator choice for camping and powering small projects around your home.
You also don't have to worry about fuel since this generator comes with a 0.8-gallon gas tank that's able to generate power for a period of up to 10 hours without stopping when full.
The generator is also quite compact and lightweight. With a weight of 33-lbs and a built-in carry handle, you can carry it anywhere with minimal effort.
When it comes to noise minimization, the iGen 1200 utilizes low mufflers, cooling fans, and a twin insulated acoustic enclosure that ensures that it operates with minimal noise. At quarter load, it only makes 52dB, which isn't that bad.
What's more, this tiny generator offers parallel compatibility and you can plug it through a parallel cord to any other Westinghouse iGen model to boost your power.
It's also overload protected and comes with a low oil automatic shutdown feature that protects the engine when it's low on oil. You also get an easy to use control panel, two 5V USB ports, and two 120V power outlets.
Pros
It's lightweight and compact
Enhanced fuel efficiency
Comes with warning lights
CARB compliant.
Excellent noise minimization
Cons
No electric start button
Lacks an electric start button
Check Price on Amazon
When it comes to generators, the discussion is not complete without mentioning the WEN 56310i.
Just like its small sister the WEN 56125i, this model is a great choice of a small inverter generator that's energy-efficient and powerful.
With a power rating of 2800 Watts, the 56310i has the capability to reach up to 3100 Watts when operating at full capacity. With this much power, this device is able to power even the most sensitive electronic devices – thanks to the total harmonic distortion.
When it comes to fuel consumption, this device comes with a 212cc 4-stroke air-cooled overhead valve (OHV) engine that's powered by a 1.85-gallon gas tank. This is quite economical, considering the amount of power this generator is capable of delivering.
You can also be able to switch this "bad boy" into eco-mode. The eco-mode allows the generator to adjust its fuel consumption hence maximizing on fuel economy automatically.
Moreover, the WEN 56310i offers parallel compatibility. So if it's 3100 Watts is not doing the trick, you can get extra power from other WEN generators through its parallel connection kit.
Moving the generator around is also a breeze. Thanks to the built-in wheels and collapsible handle that maximizes portability.
Last but not least, this small electric generator is extremely quiet when in operation. You also get 2 5 volt USB ports, three-pronged 120v receptacles, and one AC 120V RV plug.
Pros
Operates silently at 57 decibels
It's CARB compliant
Very fuel-efficient
24-months extended warranty
Ultra-portable design
Check Price on Amazon
Going on a camping trip without a reliable power station can be the worst decision you can make. But with the Jackery Portable Power Station Explorer 240Wh, you are well covered. It is a great tiny portable generator that you can even utilise inside your travel trailer.
With a power rating of 240 Watts, this small solar generator delivers pure sine-wave power via the AC output. This uninterrupted power can literally power any electronic gadget in its capacity for a reasonable amount of time.
If you are on a camping trip, for instance, the Jackery 240 can power your 5W LED bulb for more than 40 hours. This should be enough power to last you on a weekend camping trip and charge the rest of your devices more than a few times.
Best of all, it's solar rechargeable, which is good news for serious campers. With a 60 watt solar panel, you can charge the Jackery 240W for 7-hours (full-sun) or from a wall AC in 8-hours which is quite commendable.
The Jackery 240 also comes with a big 67,000mAh lithium-ion battery, so you should not expect any vibrations or emissions coming out of this generator.
The device also offers many in-built safety features that Jackery calls its BMS (short for Battery Management System). This system offers protection from overcharging, excessive voltage, short circuit, and excessive current.
In terms of construction and portability, the Jackery 240 weighs slightly less than 7 pounds, which means it's very light. It's also constructed from heavy-duty plastic material and all the ports are found on one side making it easy to identify the correct port to plug your electronic cables.
Pros
Lightweight and easy-to-carry
Environmentally friendly- No fumes
Totally quiet
Light-up LCD window for quick monitoring
Very energy-efficient and also produces sufficient power
Cons
Not water resistant
Excludes solar panel
Check Price on Amazon
Champion 3500 is a true definition of a portable generator that's designed with power, versatility, and convenience in mind.
No products found.
With a running power of 3500 watts, the champion 3500 is capable of achieving peak load output of 4000 watts. With such a good deal of power, you'll be able to run a refrigerator, TV, Microwave, and have no issues running a 15000 BTU air-conditioner on this generator.
In terms of engine and performance, the Champion 3500 sports a powerful 196cc 4-stroke single-cylinder overhead valve engine (OHV). Furthermore, it's able to deliver up to 12 hours of uninterrupted power on a full tank of gasoline at half load.
Beyond the performance, the generator features excellent aesthetics and is fairly portable. It weighs just about 140 pounds which is in range with most other generators in its class.
The generator is also RV ready and features a standard 30A RV outlet. This means that you do not have to go through the hassle of carrying extra cables when you want to connect power to your RV. All you have to do is plug the outlet to your RV.
By now you are wondering, how can such a powerful generator not produce a lot of noise? Fortunately, this generator is quite silent and has a noise rating of 68 decibels. This is similar to the noise produced by a normal vacuum cleaner or a conversation between people.
Lastly, it has numerous control functions that are conveniently located on one side and also comes with an electric remote control that let you run it remotely.
Pros
Very powerful and fuel-efficient
Comes with numbers safety features one of them being the Volt guard
It can run overnight
It's not noisy
EPA approved hence good for recreational purposes
Cold start technology allows it to work in extremely low temperatures
Check Price on Amazon
When shopping for a solar generator or any generator, one vital thing that you must do is consider its ease-of-use.
The Jackery 440Wh does not only offer power but, it's also simple-to-use. This top-end variant of the Jackery series comes with a decently powerful 122400mAH of lithium-ion battery and sports a 300 Watts of pure sine wave inverter with a peak power potential of 500 Watts.
Weighing only 12.57 pounds, this tiny solar generator is very easy to carry and ideal for outdoor purposes such as camping or fishing.
Just like the Jackery 240Wh, this model does not vibrate or produce any fumes when in operation. For this reason, you can use it with medical equipment such as the CPAP machines.
In terms of design, this machine comes with an ergonomic plastic handle with a firm grip that's located on the top side. Controls are also located on one side, making it easy to identify the port that you want to use.
To sum it up, the Jackery 440Wh is a versatile solar generation that boasts all the features you'd expect when purchasing a device of this class.
Pros
No noise or fumes
Very portable
Solar rechargeable
Classy design
Multiple safety features
Cons
Long charge time (8 hours on AC wall socket)
Solar panel board sold separately
Check Price on Amazon
The Webetop 155Wh is another of our top picks that has attracted a lot of attention on Amazon.
Weighing just about 3.5 pounds, this little guy has a power generation potential of 42000mAh. This makes it quite powerful and efficient, considering it's the smallest in this rundown.
While you cannot use it to power large electronics, this device serves a good backup power source for various needs such as powering your laptop or charging your smartphones and tablets.
The Webetop solar generator is user-friendly, and all the controls and power outlets are easy to access. It comes with a 110V AC outlet for powering your TV or hairdryer, three 12 volts DC outlets for any car powered devices such as car vacuum or a car refrigerator, and three 5 volts USB ports for charging your smartphones.
What's more, the Webetop is easy to recharge. All you need is to connect it to a wall outlet or use a 50 Watts solar panel. It takes 5 to 8 hours to charge fully depending on how strong the sun is.
Another amazing feature with this device is the built-in LED flashlight that shines very bright in the dark and can last for up to 125 hours on a single charge.
Just like the Jackery models, the Webetop comes with a special battery management system. This system helps protect against power surges, low-battery protection, and other vital safety features.
Pros
Compact design and lightweight hence great for camping and emergencies
Three-way recharging: Wall AC, solar, and car charger
Runs quiet and no heat
Stable power supply
Comes with an LED flashlight
Cons
Solar panel sold separately
Check Price on Amazon
Wrapping Up
Do not just buy the first portable generator you lay your eyes on. Although all of these generators that we talked about are undeniably top rated, it is up to you to do your own due diligence, and ensure that you're paying for the specs that best suits your needs.
When shopping, consider factors such as:
Durability
Noise levels
Power capacity
Fuel economy
Parallel compatibility
The size
Various output types
Powering options (for solar generators),
In this guide, we will recommend Westinghouse iGen 1200 as our top pick. But the other 9 options are also great.
Buy on Amazon
We hope that you'll find these review useful and you can share it with your buddies.
Best Smallest Portable Generator Reviews
Yamaha EF1000iS Portable Generator

Westinghouse iGen 1200 Portable Generator

WEN 56310i Super Quiet Generator

Jackery 240,240Wh Portable Generator

Champion 3500-W Portable Generator

Jackery 440Wh Portable Generator

Webetop 155Wh Portable Generator
Summary
Choosing a portable generator is a confusing task, especially when you have a ton of so-called brands in the market. Sometimes the confusion is related to whether you want to go for gas power, electric-powered or a solar-powered generator.
In this post, we have tried to bring the most relevant smallest portable generators that will occupy less space but give immense power output. Check out their detailed reviews and check their features for picking the right portable generator.
Last update on 2023-09-27 at 03:14 / Affiliate links / Images from Amazon Product Advertising API