In this post, we will help you choose the best chair for Scoliosis and other back problems. These chairs are comfortable but will also keep you back in the right posture when you are working for long hours.
Research indicates that an average office worker sits for a shocking 6 to 9 hours every day working on their computer.
Contextually, this is more than the number of hours most of us spend sleeping at night.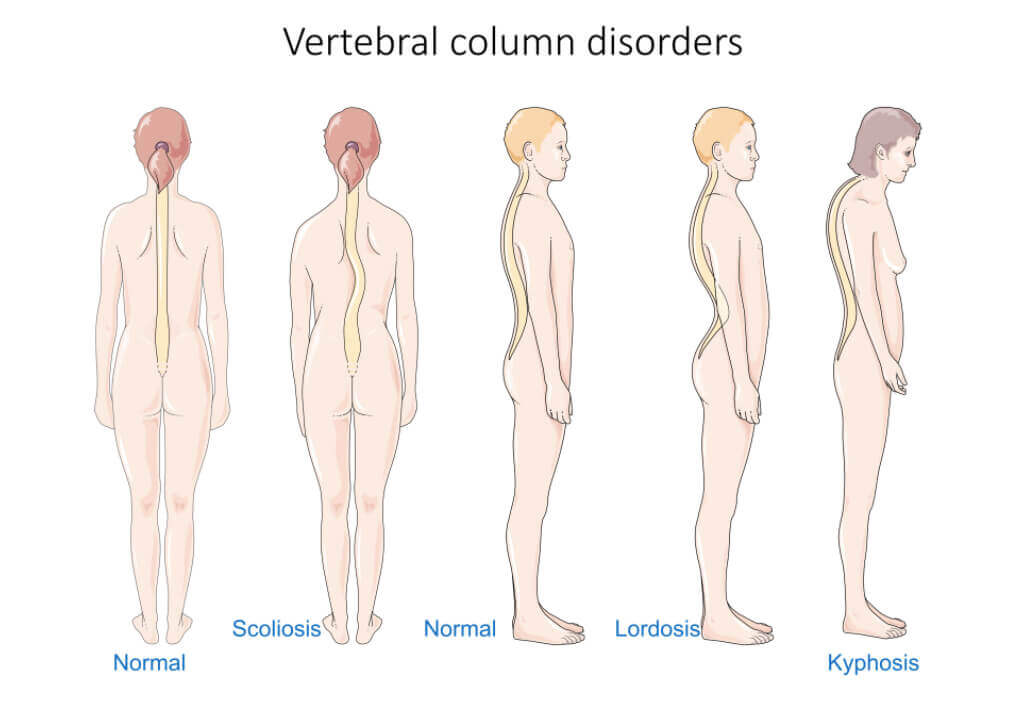 According to the CDC, sitting for such long periods can lead to various health risks including obesity, high blood pressure, stroke, and heart disease.
On the other hand, this means constant spinal discomfort and back pain for people with underlying conditions such as scoliosis.
As such, this can become problematic, making it hard to get things done at the office especially if you have to keep struggling to find a comfortable sitting position.
What is Scoliosis?
Before choosing the right chair for scoliosis, let's try to understand more about it first.
Luckily, with the best ergonomic office chair, you can achieve amazing comfort, posture, lumbar support, and modern practicality, especially when dealing with a condition like scoliosis.
While there are virtually endless options to choose from, this guide will help you find the best office chair for scoliosis. Read on.
How to Sit in a Chair with Scoliosis?
Note that even the most expensive ergonomic office chair will not help with your back pain problem if you practice poor sitting habits such as sitting in a slumped position or craning your neck forward.
Such positions restrict blood flow and lead to tension buildup in your back and neck. According to spine experts, the best way to sit in an office chair entails:
Avoid leaning forward. Ensure that your back aligns with the chair's backrest.
Both of your legs should comfortably touch the floor surface. This helps in improving blood circulation.
Your knees should be level with your hips. That is, they should form a right angle.
When sitting, keep your arms bent at an angle of between 70-90 degrees. Consider a chair with adjustable armrests.
Avoid sitting for long hours. Alternate by taking short breaks and standing.
Here is a detailed video from Yogaberry for your reference.
Best Ergonomics Chairs for Scoliosis in 2022
No products found.
Best Ergonomics Chairs for Scoliosis – Reviews
1. Sihoo Ergonomics Office Chair
When it comes to choosing the best office chair for scoliosis, you don't have to pay top dollar.
Some models such as Sihoo offer some very good value bargains helping bridge the gap between comfort and affordability.
No products found.
First off, this ergonomics office chair is remarkably lightweight, which makes it easy to move around.
Recommended by the EAA (Ergonomics Application Association), the chair's ergonomics are inspired by the human dynamic digital model.
This means that the chair is designed to offer you maximum comfort without compromising on quality.
The chair features an adjustable pedal comfort where you can comfortably rest your feet when working for hours at the office. Thus, it is one of the best office chairs for scoliosis as well as a great option for working professionals working long hours on the screen.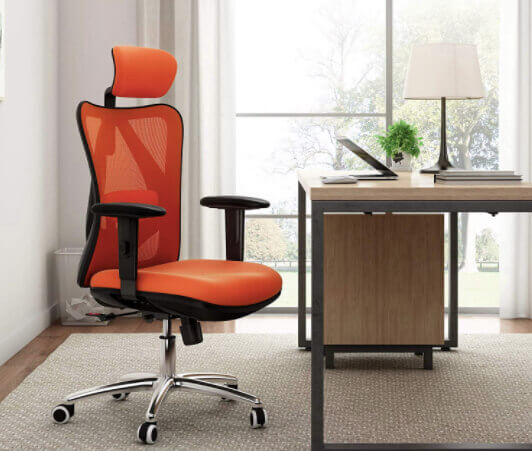 This together with the adjustable ergonomic headrest allows your head to rest easy while you work. The headrest has a 45-degree swivel that allows you to adjust it to your liking.
In addition to that, its lumbar support is adjustable and comes with lumbar pillow protection that helps you maintain a stable posture hence preventing you from developing degenerative back problems such as scoliosis.
As if that's not enough, the Sihoo ergonomics office chair has adjustable handrails. You can, therefore, raise or lower the handrails depending on the height of your desk ensuring that you do not develop wrist problems.
Another feature that impressed us is the high-quality net mesh cloth material used to construct the backrest.
The mesh does not only offer high tensile strength but is also flexible, breathable, soft, and durable. Along with that, the chair is considerably wide to fit people of different sizes.
Other interesting features that this office chair offers include aluminum chair legs, PU covered casters for silent and smooth gliding, and the comfortable seat cushion that disperses thigh and hip pressure thanks to the wave-contour design.
Pros
Every aspect of the chair is adjustable including the height
Solid mesh backing and lumbar support
Great overall build quality
Amazingly comfortable for most people
Great value for money
Cons
The assembly instructions are not clear
Check Price on Amazon
2. Serta Style Hannah Microfiber Office Chair
When it comes to comfort, Serta is truly a world leader. The brand is known for its innovativeness when it comes to making mattresses for people who suffer from back pain.
However, one thing you didn't know is that the brand makes some of the best ergonomic office chairs. One of their top models is the Serta Style Hannah I.
No products found.
Attractively inviting, this executive office chair brings all the coziness to your office. Firstly, the chair is dressed in a soft and silky microfiber fabric that's filled with generous amounts of conventional block foam padding, adding a delightful level of comfort.
The armrests are also padded but are not adjustable like those of the Sihoo. Nevertheless, the chair's ergonomics are still top-notch.
For instance, the chair features a waterfall edge style seat design. The design helps in relieving the pressure on your legs thus promoting blood circulation.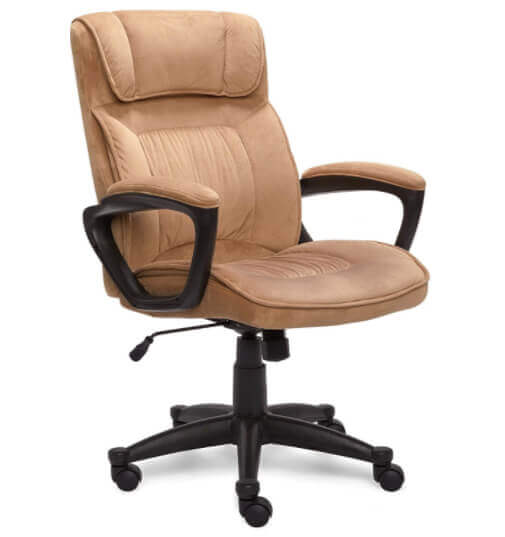 What's more, the chair offers excellent head and lumbar support thanks to the pillowed headrest and the extra lumbar backing. Both of these features help in providing enough compression and support for the lower back.
As with most sumptuous office chairs, the Style Hannah has robust seat height adjustment and recline.
Height adjustment ranges between 18-inches to 20-inches while the maximum recline is 120 degrees. It's also wide to fit different sizes of people and can hold a maximum weight of up to 250 pounds.
Pros
The deeply layered body pillows deliver unimaginable levels of comfort
Excellent head and lumbar support hence a great option for people with scoliosis
Very durable and fantastic chair ergonomics
A good fit for shorter, smaller, and lighter people
Easy to assemble
Cons
Not for people whose weight exceeds 250 pounds
Check Price on Amazon
3. Modway Articulate Ergonomic Mesh Office Chair
If you are on a tight budget and you are looking for a decent, comfortable, and solidly built office chair for scoliosis, then look no further than the Articulate Ergonomic mesh office chair from Modway.
No products found.
Simple and with a touch of modern style, the Modway office chair features a high upright backrest with a breathable mesh that allows air to circulate freely.
Not only does this help prevent your back from excessive heating that comes with leather seats but it also ensures that you stay relaxed.
Moreover, this office chair has a plush vinyl seat that's heavily padded to ensure maximum comfort, especially when working for long hours in the office.
The chair is also adjustable to easily fit your needs. You can easily adjust the armrests, the chair's height, or recline the backrest thanks to the tilt lock function.
One thing we liked about this office chair is its wideness. It can easily accommodate people of big statures with a maximum weight of 331 pounds. It also has a 360 degree swivel and comes with five dual caster wheels that allow for easy mobility.
Pros
Generously padded plush vinyl seat offers incredible comfort
Passive lumbar support. Great for people with scoliosis
Incomparable chair ergonomics
Accommodates people of varying heights and weights
Available in a wide range of colors
Cons
Problems with the locking mechanism
Check Price on Amazon
4. Steelcase Gesture Chair
The Steelcase Gesture is one of the best office chairs for scoliosis. Inspired by the human body, the chair is engineered to support a wide array of technologies, user sizes, and postures.
No products found.
To begin with, the chair is designed using 3D LiveBack technology. This means that it adjusts automatically to mimic the natural movement of your spine hence enabling it to contour to your back regardless of your sitting posture.
It has a torsional spring that powers the core equalizer. The spring adjusts with the chair's angle to offer extra lumbar support in an upright position, and less lumbar support in a deep-recline position.
On top of that, this ergonomic office chair comes with two easy-to-operate controls that respond accordingly based on your needs. There is a front knob that adjusts the seat's depth and height while the rear knob fine-tunes tension and back-stop.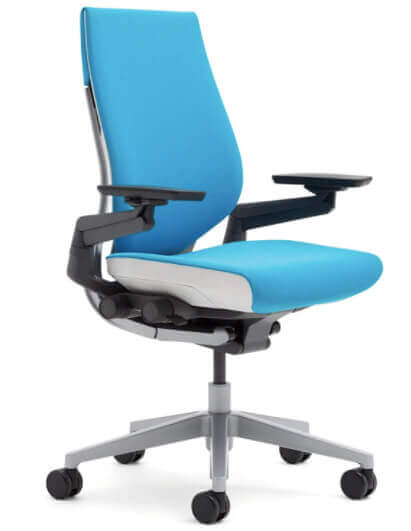 Comfort is also a top feature on this chair's agenda. That said, the seat is well-padded with adaptive foam that's filled with air pockets underneath it to give extra support and consistent comfort to people with spine problems.
What's more, the chair has soft seat edges and arms that are placed near the back to allow and support a greater range of postures.
Overall, the Steelcase Gesture is a highly ergonomic office chair designed to perform in any work environment. Its ambiance is also pleasing and it's available in various trendy colors.
Pros
Cool, futuristic, and generously padded
High-quality materials throughout
Contours with your spine hence good for scoliosis
Adjustable armrests positioned at the back to allow different sitting postures
Pleasing ambience. Blends well with your office décor
Cons
Non-adjustable lumbar support
Check Price on Amazon
5. AmazonBasics High-Back Executive Swivel Office Chair
The AmazonBasics high-back executive office chair from Amazon has become extremely popular in numerous offices recently, and for a good reason.
No products found.
Firstly, the seat is very durable and comfortable. Unlike traditional office chairs, this chair does not deflate easily thanks to the durable polyurethane faux leather ribbed upholstery that cushions the seat and the back to ensure your all-day comfort and support.
The sturdy five point base provides easy mobility to the chair. That means you can swivel and slide from one cabin to another.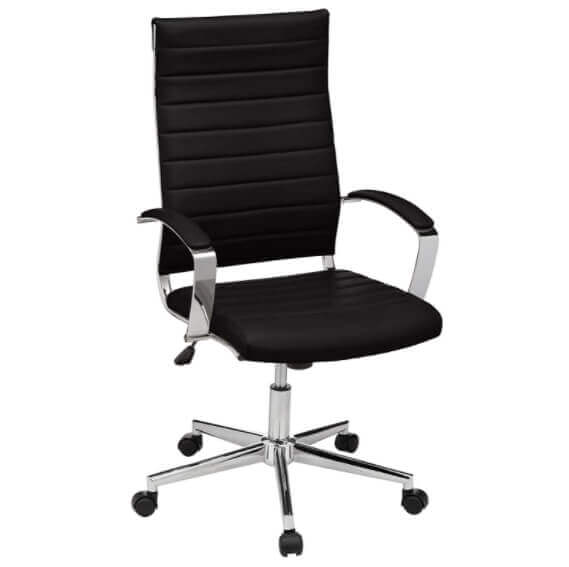 It is also equipped with a one-touch height adjustment feature that allows you to modify the height of the chair. This really helps on those long work hours shifts when you cannot afford to go to the loo. Jokes apart, it helps in reducing the strain from your areas of neck and back.
For people in busy office environments where multi-tasking is inevitable, this chair comes in handy. First, it has a 360-degree swivel which offers a versatile range of motion. Along with that, it has smooth-rolling durable nylon casters that allow mobility from one place to the other.
Pros
Sleek, professional design
Multi-tasking convenience
Backed by AmazonBasics 1-year limited warranty
Can handle upto 275 pounds of weight
Check Price on Amazon
6. BERLMAN Ergonomic High Back Mesh Office Chair
Ergonomic chairs are characteristically linked with high price points. However, this particular ergonomic office chair by Zenith has beaten all odds to prove wrong this fallacy.
No products found.
Reasonably priced, this chair is futuristic and offers a plethora of several ergonomic features. For one, the chair features an integrated framework that makes it feel sturdy and durable.
It has a heavy base and a wide seat area to accommodate persons with weights of up to 250 pounds.
Its back features a breathable mesh that prevents your back from overheating. The mesh is made from a durable material to ensure that it does not succumb to pressure.
For maximum comfort and support, the chair comes with a generously padded headrest and seat as well as padded armrests.
One thing about the armrests is that you can flip them up when not needed to allow more freedom of movement.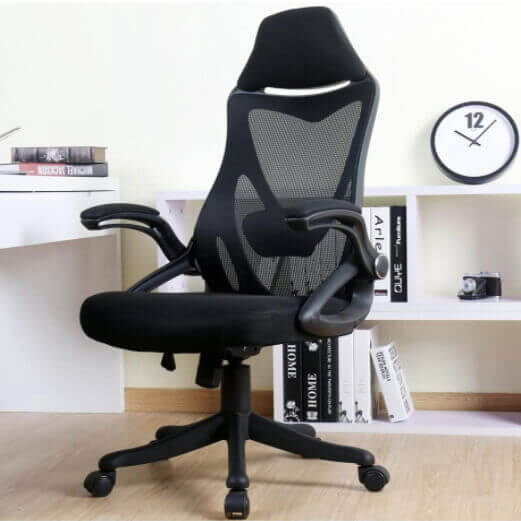 Additionally, the chair has built-in lumbar support that mimics the curvature of the human spine. The support is somehow adjustable making this one the best ergonomic chairs for people with scoliosis.
In terms of adjustability, the Zenith Berlman office chair features pneumatic controls for height adjustment and a tilt-tension knob for the tilt-lock mechanism. Last but not least, this chair rolls smoothly thanks to the silenced casters.
Pros
Futuristic design
Meshed back support
Padded and flappable armrests
Silence PU casters
Low price
Cons
Headrest is not adjustable
Check Price on Amazon
7. La-Z-Boy Delano Big & Tall Executive Office Chair
The Delano is undoubtedly one of the most popular and highly rated ergonomics office chairs by La-Z-Boy.
It's essentially the big and tall version of La-Z-Boy Bellamy. Like all La-Z-Boy products, this chair comes with several chair ergonomics and features.
No products found.
For starters, this is a classically styled ergonomic office chair. It comes with chestnut brown bonded leather upholstery and has an intelligently crafted, rich mahogany-stained wood frame that adds a touch of class to your office.
Along with the premium craftsmanship, the chair employs advanced ComfortCore and Memory Foam padding technology.
The technology features five support layers of foam padding that are strategically placed throughout the chair's support system and are designated for particular purposes.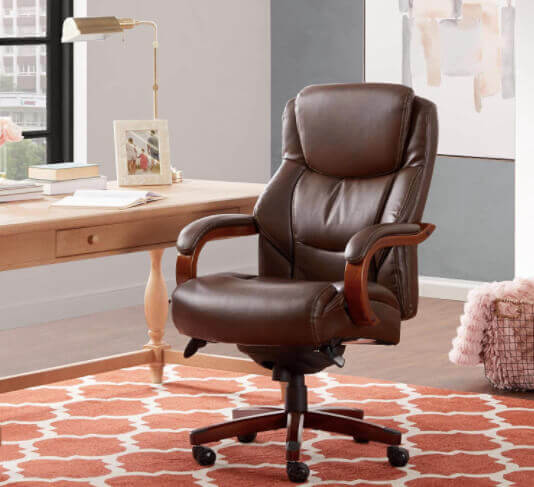 This unique support system enables the chair to conform to your body's curves, which helps reduce pressure points as well as promote healthy postures.
Besides, it helps in preventing scoliosis as well as alleviate neck and back pain.
Moreover, the chair comes with a waterfall seat-edge design that most office chairs overlook.
This feature helps promote blood circulation in your legs, which helps reduce fatigue or that afternoon slump. Best of all, the chair has adjustable ergonomic settings for both height and tilt.
Pros
Stylish chestnut brown color with mahogany-stained wood
Unequivocal support and comfort levels
Padded armrests
400 pounds weight capacity
High-back with integrated headrest
Cons
Lacks pivoting, Air-Lumbar technology like other la-Z-boy models
Check Price on Amazon
8. Alera Elusion Mid-Back Series Meshed Office Chair
The Alera Elusion mid-back model is hands down one of the most versatile office chairs for scoliosis in the market today. It's an excellent mid-tier office chair with excellent ergonomics and specs for the price.
No products found.
For one, the mid-back Alera Elusion model is a multifunctional office chair for people who are always super busy at the office. It sports a robust adjustable setting profile that includes height and tilts adjustable functions. Both of these functions ensure that you achieve a comfortable posture.
To take it a step further, the chair's armrests are height and width adjustable and are padded with soft polyurethane pads for support and comfort.
Also, the seat features a glide mechanism that allows you to move it back and forth. This feature is helpful especially because it can be adjusted to fit different sized bodies.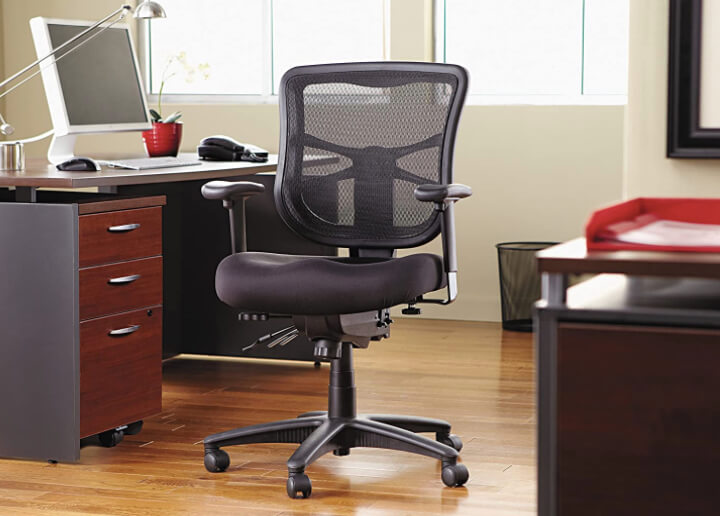 What's more, the chair is fairly light and features a breathable mesh at the back that allows the free circulation of air. It also has built-in lumbar support that conforms to the curving of the spine. The main idea behind this is to ensure solid back support as well as help in promoting healthy posture.
Pros
The contoured seat cushion offers extra comfort
Premium fabric upholstery
Padded and adjustable armrests
The waterfall edge design helps in relieving leg pressures
Great value for money
Check Price on Amazon
9. Ticova Ergonomic Office Chair
It would be an offense to talk about ergonomic office chairs without mentioning Ticova. This professional company thrives on the aphorism of innovative designs, quality, and affordability. And that's exactly what this chair offers.
No products found.
The chair features a durable, sturdy, and flexible nylon back frame with a high tensile strength breathable mesh.
The flexible mesh back is quite comfortable and ensures that your back stays cool and comfortable during longs hours at the computer.
Still, the chair features uniquely tilted armrests and a well-padded seat, which is resilient, thicker, and comfortable. The armrests are adjustable and offer a wider and softer PU surface.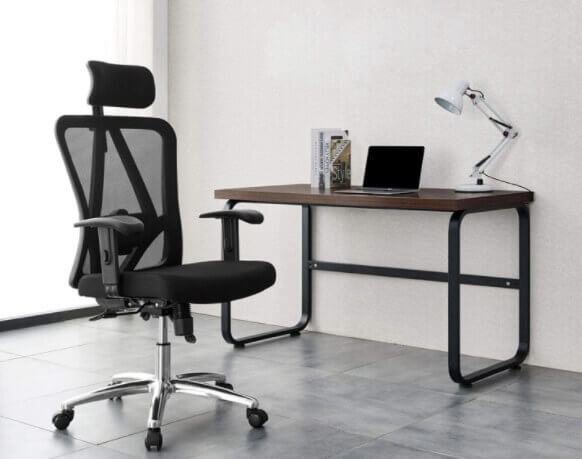 The chair's unique design makes it quite versatile. You can adjust the angle and height of the headrest, height of the seat cushion, the tilting angle of the chair, and depth and height of the lumbar support.
One of the most fascinating features we liked about this chair is the thickened pillow at the back that contours with your spine to help ease pain and fatigue. Apart from that, we liked the padded headrest due to the comprehensive support it offers to your head and neck.
Pros
Adaptable chair
Incredibly comfortable
Durable nylon back frame
Tons of adjustability
The lumbar cushioning provides excellent back support in office chair
Check Price on Amazon
Factors to Consider When Purchasing an Office Chair for Scoliosis
Before committing your hard-earned bucks to purchase an office chair there are some essential elements that you need to consider.
Overall comfort
When it comes to choosing the best office chair for scoliosis, comfort is, of course, a despicable factor.
As such, you need a chair that's sturdy with a well-padded seat, headrest, backrest, armrests, and whose adjustment profile includes both height and tilt functions. With that, you can minimize neck and back pains as well as boost your performance at the office.
Lumbar support
Lumbar support is undoubtedly one of the most important features that people with scoliosis should look out for.
Most ergonomic office chairs provide excellent lumbar support. Some come with height adjustable lumbar while some come with tension adjustable lumbar.
Since upper body sizes vary from one person to the other, being able to adjust the lumbar support can help improve posture and comfort.
Headrest
Some office chairs come with headrests while some do not. However, if you are dealing with spine problems and back pain, a headrest is an invaluable addition as it can help to keep your head in a more neutral position. A headrest can also help in ensuring that you are always maintaining a good posture.
Material
Another vital feature you need to look at is the upholstery material. Normally, ergonomic chairs are made of bonded leather, faux leather, mesh, or fabric material.
While all the materials have their pros and cons, it's up to you to decide which one suits you best. Note that ergonomic office chairs made from leather are more expensive than fabric and meshed chairs.
FAQ's on Best Office Chair for Scoliosis
What makes the office chair for scoliosis so unique?
Office chairs especially designed for scoliosis are made of the finest materials to give your back a comfortable posture for log hours of sitting.
Most of the chairs designed for scoliosis and back pain patients are made of mesh for better airflow. The lumbar support is great in such chairs as they have to provide you comfort for long office hours.
What to know when buying an office chair for scoliosis?
Always check the existing customer reviews before making the purchase. This will give you an actual idea about what the existing customers have to say about the chair.
Secondly, go for a chair that has good lumbar support and made of the best of the best materials. Even if you have to spend some extra bucks, we'd suggest you go that extra mile as a good chair would not help you with productivity but would also protect your back from future back pains, slip discs and other problems.
What is the durability of the office chair for scoliosis?
The answer will be subjective depending on your weight, how many hours you'd be using the chair and whether you take care of the same or not.
As per market standards, a good chair for scoliosis should last for at least 4-6 years minimum.
Wrapping up
Without a doubt, prolonged sitting can hurt your health sometimes leading to mild scoliosis or severe cases of the spinal curvature. As such, you should consider an ergonomic office chair as a worthwhile investment for your comfort and health.
For a more economical office solution that won't run your pockets dry, we recommend the Sihoo Ergonomics Office Chair.
The chair is not only affordable but it also comes with a plethora of fantastic features such as an adjustable footstool, headrest, armrest, lumbar pillow support, and many more.
Note that this is solely based on our opinion. Of course, there are other outstanding models that we have outlined above that offer excellent features and are affordable.
Important Note: The images used in the post are taken from Amazon and stock photo sites.
9 Best Office Chair for Scoliosis
Sihoo Ergonomics Office Chair

Serta Style Hannah Microfiber Office Chair

Modway Articulate Ergonomic Mesh Office Chair

Steelcase Gesture Chair

AmazonBasics High-Back Executive Swivel Office Chair

BERLMAN Ergonomic High Back Mesh Office Chair

La-Z-Boy Delano Big & Tall Executive Office Chair

Alera Elusion Mid-Back Series Meshed Office Chair

Herman Miller Executive Side B Office Chair

Ticova Ergonomic Office Chair
Summary
The biggest drawback of a desk job is that it makes your back vulnerable to ailments like Scoliosis, sciatica pain, disk slip, and whatnot.
In this post, we did a very deep study to select the top-rated office chairs that would help you if you have any of the above-listed issues, especially scoliosis. These chairs provide great lumbar support so that you can focus on your work and work comfortably for long hours.
Last update on 2022-08-07 at 12:25 / Affiliate links / Images from Amazon Product Advertising API