We get it, Varidesk is an expensive option for a standing table with automatically adjusted height. The good news is, there are some great Varidesk alternatives which you must explore before making the right purchase.
Mind you, we won't be listing those ultra cheap options which doesn't solve your purpose. We know that you need a height adjustable desk that you can use for working while sitting as well as standing. All this for a decent budget but not as pricy as the Varidesk!
Since Covid has anyway forced most of the workforce to work from home, we recently researched some great options for standing desks which you might would like.
Most often, your ordinary office desk may be rigid. It may only allow you to assume a single sitting posture while working on your computer.
However, if you were to stand, you might have to bend to reach your keyboard. These ordinary desks are hence not the best for working long hours.
You might be thinking to go for Varidesk. Though to be frank, their hype in the market is due to the large chunk of money that they have spent on TV ads and marketing.
We have come across multiple reviews on the internet where the Varidesk users have claimed that the product is overly hyped and that it doesn't even support proper height adjustments.
This is the main reason why we thought to write this detailed post covering the best alternatives to Varidesk.
There are many great options available in the market which would prove a great replacement for Varidesk.
These standing converters are desks similar to Varidesk and come in a variety of design and sizes and with different operating modes. Here are the 6 best Varidesk alternatives and its competitors.
6 Best Varidesk Alternatives to Look for in 2022
The Best Varidesk Alternatives in 2022
Consider any wooden furniture in your home, you would consider even little intricate details such as the type of wood used, is it moisture resistant, has the same been treated to avoid termites and what not.
The same scenario is with the standing desks. You would not only be keen that the desk solves your purpose but, you's also make sure that it is sturdy, easy to store, has a great finish, could be assembled easily, etc.
Time to check the best Varidesk alternatives!
The Fancierstudio Riser standing desk comes with a fantastic height and a clearance of up to seventeen inches from your desk. This flexible product offers you eight height levels to choose from. You use its hand-operated levers to shift between your sitting and standing position.
The desk is good for people with different height as you can adjust the desk pretty easily. You will experience a whole new-self working while standing. This desk will keep you active and focused.
This design has a spacious top layer for placing your standard-sized monitor and a few more items such as a pen holder, mouse and notebook.
The lower tier also allows you to switch from the keyboard to mouse swiftly. Therefore, you will not feel displaced from your usual desk.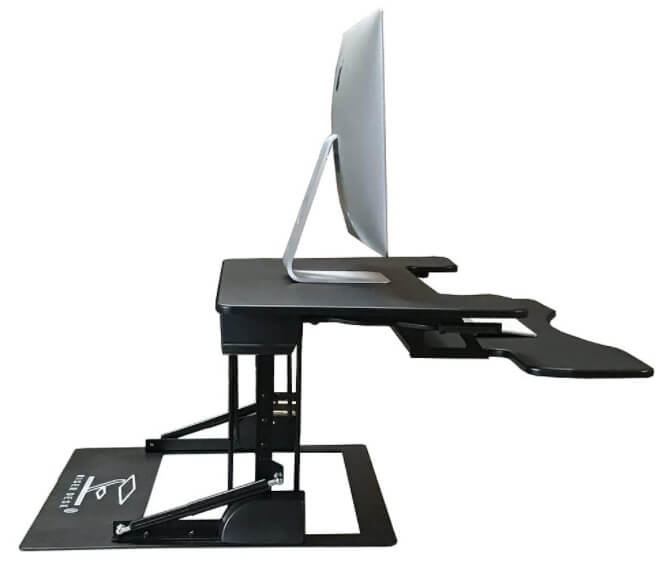 The standing desk comes in a heavy-duty steel structure that will not easily bend under load. It is, therefore, highly durable. The steel is also finely polished with a shiny gloss to give it a stunning appeal. It is additionally heavier, and it may feel hard to lift.
However, it is for this reason that makes it more stable to hold your equipment in place. We also picked it since it comes fully assembled, hence there's no need to look for installation tools or look for a technician to fix it.
Better still, you can easily fold it back to its compact size for ease of storage and carriage.
Pros
Spacious top.
Very durable.
Easy to adjust heights.
8 height levels to choose from.
Folds back making it easy to store.
Cons
Doesn't rise straight up.
Check Price on Amazon
The VIVO desk converter is a unique and a better Varidesk alternative compared to the manually adjustable models. This desk converter lets you adjust its height electronically by the press of a button.
It is a better choice if you do not like pulling levers with your hands every now and then.
This deck can rise to nineteen inches above your standard desk to adjust to your height. It can also drop as low as six inches so that you can use the same in the sitting position as well.
Additionally, it features a locking system to hold the desk firmly at your desired level; hence, it will not drop accidentally.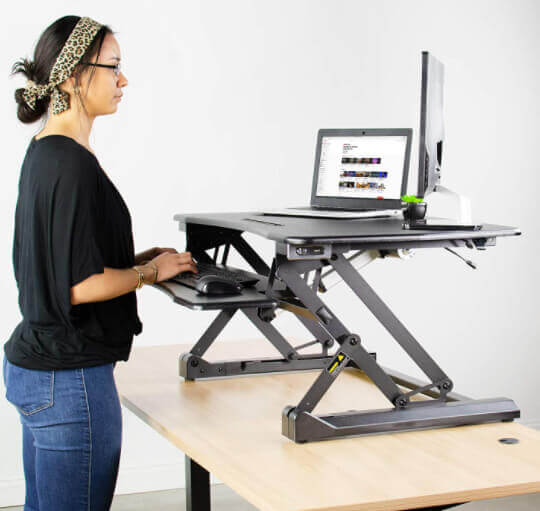 This creative design is very comfortable to work on. Unlike other models, it rises straight up and not forward but slightly backward. Hence, it does not displace you from your office desk.
Its top tier deck is impressive and spacious. It is enough to accommodate your desktop monitor, laptop, mouse or any extra accessory. Therefore it will facilitate access to critical working tools on one surface.
The lower deck is also spacious to hold your keyboard and mouse and to allow free movement of your hands. Both decks have curvy front edges to align with your body perfectly.
The framework is solid and made of high-quality steel to offer maximum stability. It does not swing when loaded with your items or make funny noises when adjusting heights.
The finishing is stylish and with finely curved edges for your safe handling. The steel surfaces are smoothly polished to give your office an added decor.
Pros
Spacious working top.
Very durable.
Adjustable height levels.
Does not lean forward.
Minimal assembly.
Cons
Prone to electric failure.
Check Price on Amazon
If you are looking at maximizing on your working space, the FlexiSpot M2MG standing desk riser will help you do just that. This brilliant X-design moves straight up and down.
The design ensures it does not slide towards you but folds vertically. Hence it will not interfere with your sitting or standing space. You will feel like it is your office desk that is changing position.
Though you need to adjust its height manually, the X-design makes it very easy. You can smoothly and safely adjust your desired height.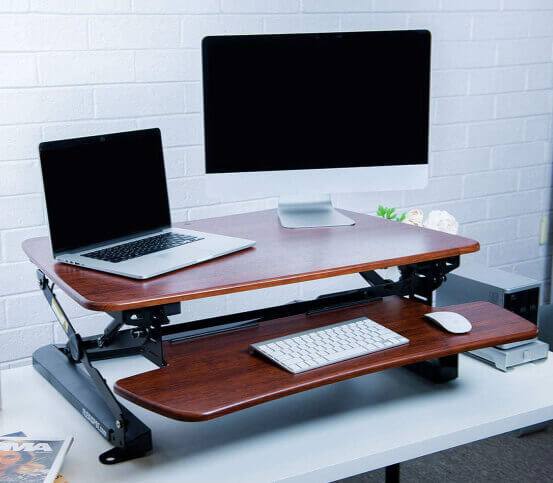 The framework also ensures that the desk is stable and stands firmly on its base. It is not likely to fall when you place heavier equipment on the deck or lay your hands on the keyboard deck. Thanks to the high quality stainless steel frame.
You will also enjoy the comfort of typing on your keyboard or writing on a notebook. This desk converter has zero movements or swings.
The upper deck can comfortably take up your standard size monitor and laptop, and accommodate your iPad or writing material. Its lower deck features a detachable and wider keyboard tray.
You may remove it when you opt to lower the desk and work while seated.
The edges are curved to prevent bruising your wrist when typing or using the mouse. If you care too much about your home decor, then this aesthetic desk has a beautiful finishing. The steel framework has a glossy smooth finishing and shiny wooden decks.
Pros
Spacious working top.
Very strong base and rigid frame.
Adjustable both up and down.
Beautiful finishing.
Minimal assembly.
Cons
Takes some muscle to adjust the height.
Check Price on Amazon
Improve your health by reducing fatigue associated with sitting for too long with the AmazonBasics height adjustable standing desk converter. This model has the simplest operating mechanism.
It features a hand-driven lever to adjust the height of this desk. By pressing the lever, you easily raise or lower the decks to your desired level. You only release the lever to lock it firmly ready to work.
This desk converter is less likely to fail as compared to electric operated desks. It has a table clearance of up to twenty-one inches. Hence, it is a good option for tall as well as short people.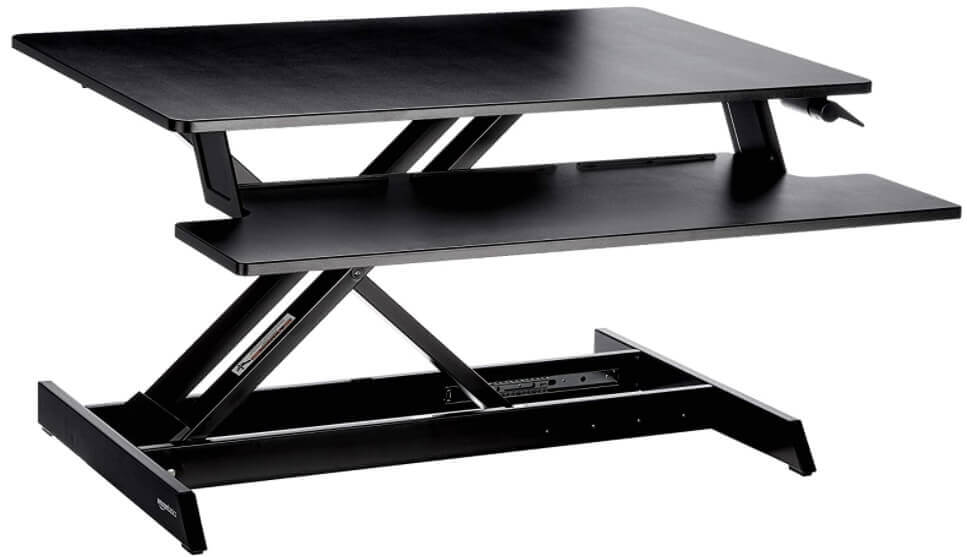 When fully lowered, the height of this converter will be very minimal. It will serve you better than your ordinary office desk.
It also makes the transitions much more comfortable to require you to change to a higher seat.
The framework adopts the x-design to facilitate vertical movements for the lower and upper decks. Therefore, this provides it with more stability.
It does not lean backward or forward to lose its stable ground. More so, it is not going to tilt when your hands exert pressure on the keyboard deck.
The upper deck of this desk converter has a spacious working surface to accommodate a laptop, monitor, and an extra tool of work. The lower tray is longer and wider to use your keyboard and mouse comfortably.
You can also use the lower deck for writing by sliding the keyboard deeper inside. Don't worry that your keyboard will fall on the other side because stopper is in place to take care of that.
Additionally, the lower deck has a cable channel to route your computer cabinet, printer and accessory cables smartly.
Pros
Comes with a keyboard tray.
Very strong.
Adjustable both up and down.
Large work surface.
Cable management channel segments.
Cons
You need a large and sturdy desk to use this desk converter.
Check Price on Amazon
The iMovR ZipLift standing desk converter is a sturdy design that features the Z-framework. This framework is not clumsy or bulky but comprises of a heavy-duty Ziplift on a single strong bar that supports and lifts the working space.
This mechanism is much safer than most of the other products as it is less likely to clip your fingers.
The entire system of lifting is operated with a release paddle. It also secures your desired level of elevation firmly.
The beauty of it is that you can lift and set it at your desired height at many endless points. This heavy-duty ziplift is resistant to office wear and tear even when handled carelessly. Thus, it will last for a lifetime in your office.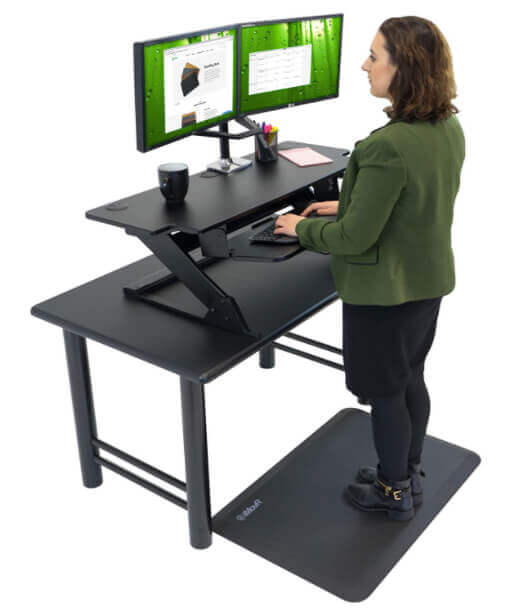 Additionally, the base is of solid steel, lightweight but steady to hold every piece together. The chances of equipment failing are also very slim. Moreover, the style is elegant and will add a nice picture to your office decor.
This desk converter also utilizes high quality gas struts. They are very calm and will not click or disturb your workmates when adjusting their height.
The upper-tier space is generous enough to hold two large monitors comfortably. It will also support and accommodate your laptop, tablet, and a few other accessories that you need.
The tilt-adjustable keyboard tray will give you a better and healthy typing posture. Your upper hands and especially the wrists are kept off the tray hence eliminating unnecessary pressure that causes bruises. This allows you to type conveniently for longer hours and becoming more productive.
Pros
Comes with an ergonomic keyboard tray.
Very strong; comes with a steel base.
Adjustable both up and down.
Quick and silent lifting tray.
Spacious work area.
Cons
Springs toward you when raised hence can cause injury if not careful.
Check Price on Amazon
The Cooper standing desk converter features the X-shape design to provide maximum stability. The framework is robust and professionally assembled to make this desk user friendly. It is a very convenient design when changing from a sitting to a standing posture.
It utilizes a single press button to release and lock the framework. There are no cracking sounds from the moving joints.
When you are adjusting to your level of comfort, this converter moves smoothly vertically upwards or downwards.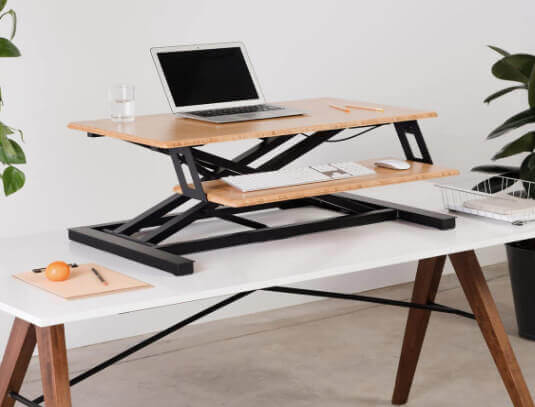 There are no side or forward swings with this converter. It is, therefore, very stable and firm to hold your equipment safely together.
More so, you will not experience forward tilting when you exert pressure on the keyboard tray what many other models do.
Talk of durability, this converter will be of service to you for may years to come. The metal works are of high-density steel and will not bend or twist under pressure. It is also smoothly polished with a gloss coating to prevent it from any rust.
The Cooper standing desk converter has important ergonomic features for your comfort.
The edges of the top and lower trays have a curvy design meant to align with your body when working. The keyboard tray has sloppy edges to rest your wrist comfortably without undue pressure.
Both trays have a bamboo finish to compliment the steel framework and give the desk an aesthetic look. You will not need tools or have to hire a technician to fix this converter for you. The setup comes fully assembled and ready for use.
Pros
Comes with a large space for monitor.
Spacious keyboard tray.
Raises vertically not towards you.
Great for tall people.
The bamboo inspiration blends well with decor.
Cons
Safety concerns with base design.
Check Price on Amazon
Features To Look For In A Desk Converter: Buyers Guide
Now that you have read about some of the best desks similar to Varidesk, there are features to need to consider before making a final choice. Many of these products come with different features. Most importantly is to get a product that you are comfortable to work on. This depends of multiple factors like the mentioned below:
Adjustability
A standing desk converter is supposed to give you the freedom to work easily in a seated of standing posture. In this case, your best desk converter should be easy to adjust the height level. More so, the transition from one position to the other should be effortless.
Additionally, the desk should allow you to lock the height at any level you feel it is convenient for working.
Ergonomics
These desks are meant for home or office work. They will form part of your existing furniture. Therefore, when choosing a standing desk converter, you might need to access your working environment.
Establish a design that will best fit your working space. You may also check on your interior décor and determine which model will blend well. Additionally, an excellent standing desk converter must be user friendly and occupy less space.
Design
The design will determine how the standing desk converter will be operated. Some models are more mechanical than others. Some utilize electric power or gas struts for flexibility.
Generally, you might be looking at a product that you can manage to operate and is also pocket-friendly. Additionally, the design will affect the way the product appears. Some may have shapes that you like or dislike.
Working space
In a working environment, space utilization is essential. A right product should maximize your limited space. It shouldn't bother you. Shifting from your usual desk should not mean taking up more space.
When you compare, vivo vs varidesk, the varidesk takes the mantle when it comes to space availability. Also, some standing desk converters allow you to have more accessories on them while some are versatile. The excellent choice should also allow you to work freely in between your keyboard and mouse.
Durability
A standing desk is an investment that should give you good returns in terms of quality. Therefore, it should be crafted with high quality material. It should not be easy to break or bend when loaded with equipment.
Similarly, it should also resist some environmental factors that accelerate wear and tear, such as moisture. The finishing should be good and which does not peel off. Otherwise, it will look ugly; you might have to get rid of it.
In terms of warranty period between ziplift vs. varidesk, you will note that varidesk has typically a one year warranty. However, the Ziplift may have two or three years warranty.
Portability
A standing desk converter is not supposed to be a permanently installed furniture. It should be easy to move from one table to another or the next room. Therefore, a lightweight converter is ideal but should not compromise on quality.
It should also be strong and stable. Additionally, you may opt for one that is easy to detach and assemble back some or all part.
Ease of Installation
You may not be good at mechanical or technical stuff. Finding a desk converter that is fully assembled might be the best idea. Otherwise, if you do not mind, you may also choose one that you can assemble yourself.
In this case, the product needs to have a user manual and include all the necessary tool you might requite.
The Best Varidesk Alternative
To find the right Varidesk alternative for a laptop can be tricky, especially now that the market is awash with a plethora of options.
After going through multiple rounds of brainstorming with our team which included atleast 12 days of hard work and research, we have finally chosen the best Varidesk alternative.
The Fancierstudio Riser standing desk certainly takes the top position in our list. To justify the same, we primarily looked at three points – value for money, customer satisfaction, quality of product. The Fancierstudio stands out on all the three points. This is the major reason why this is tagged as "Amazon's Choice" while writing this review.
Buy on Amazon
Adding to the features, the Fancierstudio standing desk has a sturdy structure, stable transition, monitor compatibility, and more importantly – it truly offers great value for money.
Wrapping Up
Choosing a good standing desk is a tricky process. First of all, there aren't many options in the market. Even if there are, it becomes really difficult to choose the best one from the segment where primarily all the brands boast being the best.
We hope you enjoyed reading this post. Do share your views about these Varidesk alternatives in the comments section below. We would be happy to help you.
Best Varidesk Alternatives
Fancierstudio Riser Standing Desk

VIVO Black Electric Standing Desk Converter

FlexiSpot M2MG Standing Desk Riser

AmazonBasics Height Adjustable Standing Desk Converter

iMovR ZipLift Standing Desk Converter

Cooper Standing Desk Converter

Standing Desk Desk Converter

EleTab Standing Desk Converter
Summary
Check the reviews of the six best Varidesk alternative options that are both budget friendly and help you to raise the height of your desk so that you can work both while sitting and in standing position.
To choose these products, we did a deep research to know the quality of these standing desks, ease of use and value for money.
Last update on 2023-09-26 at 13:17 / Affiliate links / Images from Amazon Product Advertising API