8 Best Generators for Travel Trailers – Ultimate Buyers Guide
Looking for the best generators for your travel trailers? You are in the right place.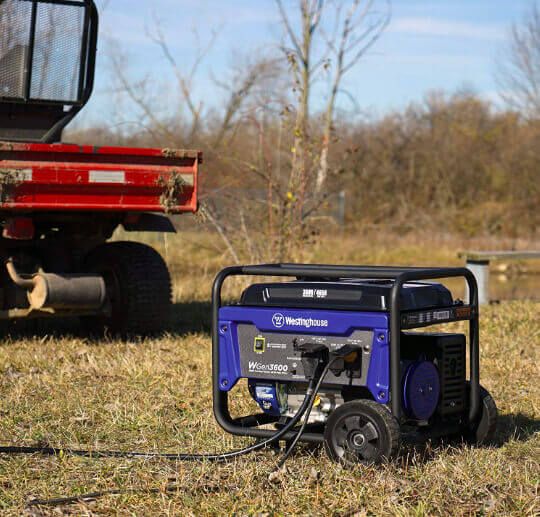 Many travel trailers come with a small portable generator which can power the basic utilities like your electric stove, lights in a case of power outage.
Though most of the travel trailer does not have that option and you would have to buy a travel trailer yourself. In this case, there are various options in the market but in the end, it could become a hectic task in choosing the right generator for your travel trailer.
In this post, we have done rigorous research to bring the 8 best generators for travel trailers.
To prepare this list, we researched over
27 different brands
and portable generators in the market. Considering all the major factors like:
Fuel Source
Noise
Durability
Portability
Price
So before starting with the detailed reviews, let's take a look at the top-rated portable generators for travel trailers:
Best Generators for Travel Trailers: Quick Overview
Best Generators for Travel Trailers: Detailed Reviews
Travelling can be a lot more fun when you do not have to worry about unexpected power cuts. Talking more about the generators for travel trailers, you would need one which is portable, easy to carry, makes less noise and runs for a longer period of time.
In this detailed post, we have covered numerous generators for travel trailers including inverters so that you can make a wise choice while buying.
Let's dig deep and know in detail about the listed top generators for travel trailers.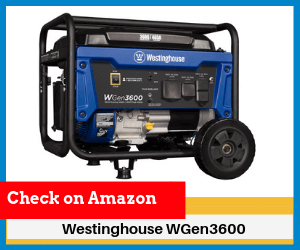 Westinghouse yet again dazzles us with their Westinghouse WGen3600 Portable Generator. This is the most versatile generator you can find out in the market.
As for the company, Westinghouse is very confident about its line of products as it promises a 3-year warranty with the product. The price-quality relationship of this product is genuinely very nice.
The Westinghouse WGen3600 Portable Generator pushes out 3600W constant power which easily makes it ideal for supporting your home/travel trailer during a power outage or a total blackout. Also, the Westinghouse WGen3600 Portable Generator can go for a peak load of 4650W.
This portable generator is a bit on the heavier side but its weight would not be a much of a problem as it has wheels attached to it.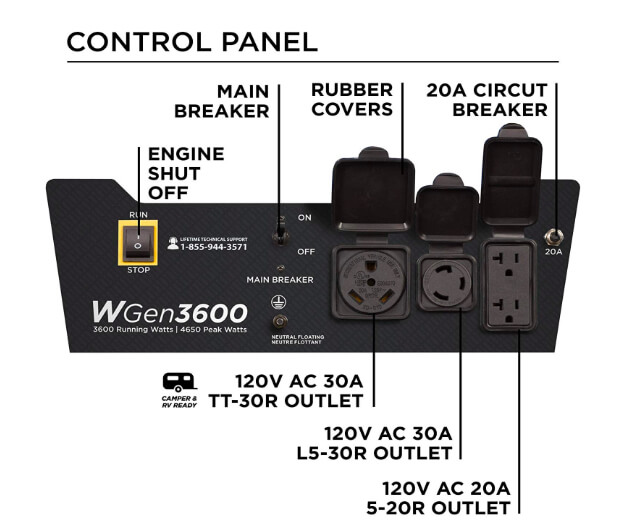 Our final word is that this is the perfect machine you will get for the price you are paying.
Here, check out this video to get a better idea:
Here are the main features of the Westinghouse WGen3600 Portable Generator:-
The Westinghouse WGen3600 Portable Generator produces 3600 Running Watts and 4650 Peak Watts.
It has a recoil start.
It has a four gallon fuel tank with fuel gauge and it can run up to 18 hrs per tank.
The Westinghouse portable generator features one 5-20R 120V Household Duplex Receptacle, L5-30R 30 Amp Receptacle, and RV-Ready TT-30R 30 Amp Receptacle.
The WGen3600 Generator comes with oil, an oil funnel, one toolkit, and a user manual guide to get you ready right out of the box (minimal assembly required). So you just have to plug-and-play.

The generator is powered by a 212 cc Westinghouse 4-stroke OHV engine featuring a pretty durable cast iron sleeve with an automatic low oil shutdown.
The Westinghouse is EPA, CARB, and CSA compliant.
It is also backed By a 3-year warranty and nationwide customer service.
Pros
It is one of the quietest conventional portable generators in the market today. It operates on as low as 69 dBA.
The generator has an immense fuel capacity. With its 4 gallons (15 L) fuel capacity, the WGen3600 will run for approximately 18 hours on a single tank.
It is very easy to maintain. It has a robust 212cc 4-stroke OHV Westinghouse engine with automatic low oil shutoff and built-in fuel gauge.
The WGen3600 generator is a highly powerful generator as it pushes 3600 running watts and be overpowered to 4650 watts.
Best part, it comes with a 3-year warranty giving a delight to their customers.
Cons
The generator is a bit heavy as compared to other portable generators.
It can turn cranky after 5-7 years (pretty common when the machine turns old).
Final Words: So, the bottom line is, Westinghouse WGen3600 Portable Generator is one of the most affordable and powerful portable generators that you can find in the market. The consumer ratings on Amazon are well justified for this product.
Check Price on Amazon
2. WEN 56200i: Best Portable Generator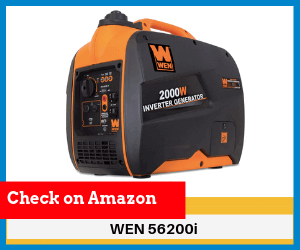 As the name suggests, the WEN 56200i super quiet 2000-Watt portable inverter generator is really "super quiet" and probably the most inarticulate portable generator that you can find in the market right now.
The generator produces clean energy without any voltage fluctuations.
The highlight of the WEN 56200i generator is that it is extremely quiet. The portable generator is rigged with a 4-stroke 79.7 cc engine that produces just 51 decibels of sound when operating at 25% load capacity and 55 decibels at 75% load capacity.

The WEN 56200i is also EPA III and CARB compliant, which generates clean environment-friendly energy.
Check out this video where they have shared the essentials and what one must do after buying the generator:
Now coming to the main features:
It has an extremely quiet operation. According to the US Department of Health and Human Services, you could compare it to the sound produced during a normal conversation.
It is EPA III and CARB-Compliant.
The WEN 56200i is powered by a 79.7 cc 4-stroke OHV engine that produces 2000 surge watts and 1600 rated watts.
It produces clean power to operate in a safer manner.

WEN 56200i, the 2000-Watt Portable Inverter Generator is equipped with a low-oil indicator and automatic shutdown when the fuel runs out.
Pros
The WEN 56200i certainly has the quietest operation making it the best generators for travel trailers.
It is fuel efficient as it offers eco-mode which allows the generator's motor to automatically adjust its fuel consumption.
It is parallel connection capable generator, i.e if more than 2000 watts is necessary for the job, simply connect two generators together with the WEN 56421 parallel connection kit.
Highly portable as it is small in size and lightweight when compared to the majority of the generators in the same segment.
Contributes towards protection of the environment as it provides clean and safe energy without any fluctuations.
Cons
Some users may find pouring oil into the generator a bit difficult.
Check Price on Amazon
3. Duromax XP4850EH: Dual Fuel Electric Start Portable Generator
The Duromax Xp4850EH is a dual powered portable generator that can run on either liquid propane or gasoline. It features a 7 Horsepower air-cooled engine and is designed with a low-oil shutoff sensor to safeguard the motor.
It is also very affordable and very fuel efficient. Therefore, bringing a greater value for money, for the customers.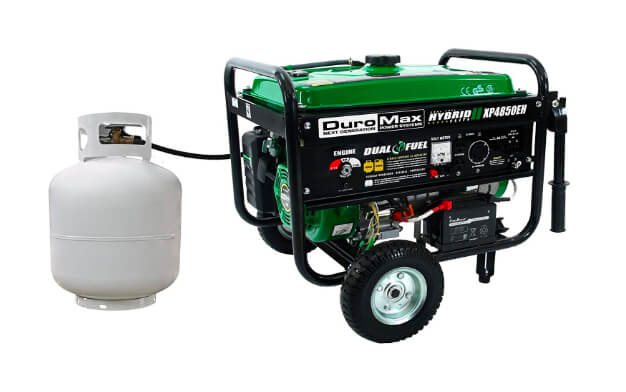 Now coming to the highlighting features, let's check them out:
The generator is equipped with a 7 HP 210 cc, 4 strokes, air cooled engine. This engine lets this generator deliver 3850 watts of continuous power while being able to gush up to 4850 watts.
The Duromax XP4850EH is a dual fuel generator, as suggested by its name. It can run on liquid propane or gasoline.
It has a gasoline fuel tank capacity of 4 gallons which can run it for 8 hours at half load capacity.
It produces 69 dB of sound while running.
The Duromax XP4850EH has a full power panel with advance oil warning light, key start switch, volt meter, circuit breaker, and power outlets
It also has a low oil indicator lamp and shut off.
Pros
It is powerful enough for average use. It has a 7 HP engine with a cast iron sleeve and it produces up to 3850 watts of continuous power and surges up to 4850 watts.
It can run on both, liquid propane and gasoline. This makes the product very convenient to use.
It is portable as it comes with a wheel kit and folding handles which make it easy to move around.
It has an electric start system so this makes it easy to start.
It has a Voltmeter and low oil shut down feature.
Cons
It may be difficult for some users to fill the engine oil.
Check Price on Amazon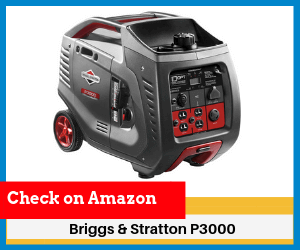 The Briggs & Stratton 30545 P3000 PowerSmart Series portable 3000-Watt inverter generator has a large, one and a half gallon fuel tank that can easily run the generator for up to ten hours on a 1/4th load.
It's powerful enough to run all your appliances and electronic items. It even has in built plugs and switches that you can use to connect your appliances.
The generator comes with a display to indicate how many watts are being pulled out. It has twin handles so that two people can simultaneously carry it around sharing the weight of the generator, a wise option to be frank.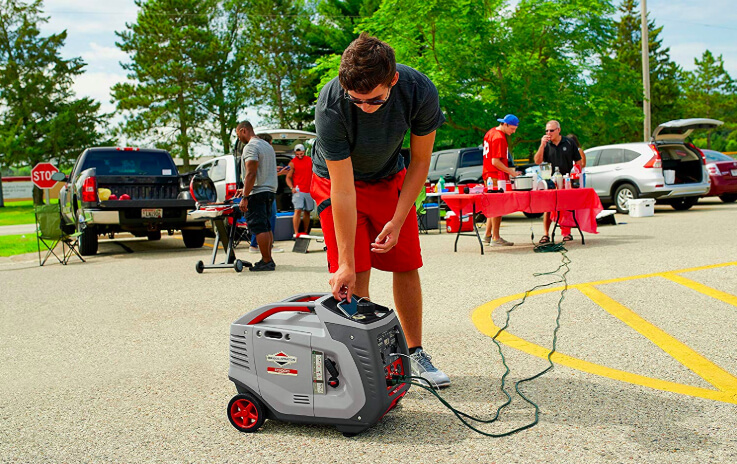 It also has a telescopic handle so that it can be pulled along like luggage.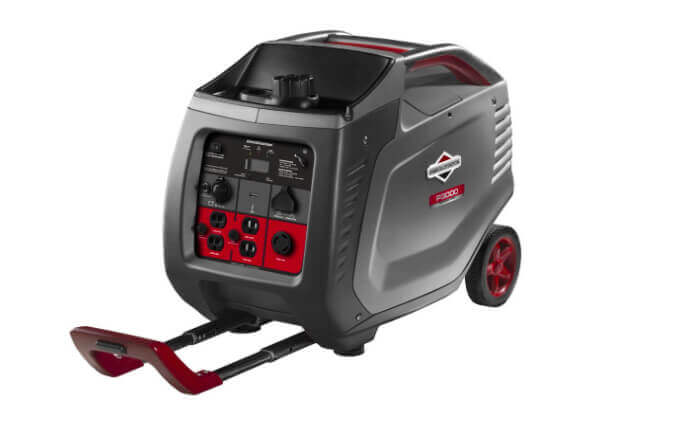 It is truly one of the best portable generators for travel trailers, mostly because it is so easy to carry.
Let's talk more about the features:
Has a 1.5-gallon fuel tank which is pretty big as compared to other portable generators.
It can run up to 10 hours when loaded at 25%.
It delivers clean and instant power to keep appliances and other important electronics running during a power outage
The 30545s engine speed abbreviates noise, fuel consumption, and emissions.
LCD screen displays important performance statistics & maintenance reminders.
24-month limited consumer warranty.
Pros
The Quiet Power Technology will automatically adjust engine speed to diminish noise, save fuel and run longer.
It produces only 58 decibels at a quarter load.
It is highly portable as it has twin handles and a luggage-type telescopic handle with wheels which makes it highly mobile and easy to carry.
The generator has an LCD display which shows all the important statistics on the go.
The Briggs & Stratton 30545 P3000 has parallel capabilities. A dedicated parallel connector port allows you to connect two PowerSmart Series inverter generators together to pull more power without giving up a household outlet.
You can also control the appliances powered by it as it has inbuilt switches.
The generator comes with a 2-year warranty.
Cons
The generator is more expensive than an average portable generator.
The P3000 can be a bit loud as there is not much sound insulation provided in the casing.
Check Price on Amazon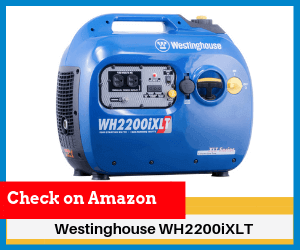 The Westinghouse WH2200iXLT is an economical choice and offers various features that make it an ideal choice for travel trailers. The generator is small in size and easy to carry. This makes it highly convenient to use.
It comes with both electric start and pull start. If the battery doesn't charge up, you can still pull start it.
Overall it is an affordable inverter generator that can be used to run your campsite or with the help of a parallel connection, can be used to power your RV.
We recommend this model by Westinghouse as it is the best compact and portable generator for travel trailers.
Let's delve deep and know more features of the Westinghouse WH2200iXLT:
The generator pushes 1800 Rated Watts and 2200 Peak Watts and it weighs only 43 lbs.
It is gas powered and has two 120V 20 amp outlets.
Talking about the noise, the Westinghouse WH2200iXLT produces 52 dB noise and has up to 13 hrs of runtime on a 1.3-gallon gas tank. It also features "Efficiency Mode" for maximum fuel efficiency.
The Westinghouse WH2200iXLT has parallel connectivity capability. Now easily combine the WH2200iXLT with another WH2200iXLT to increase available wattage and amperage.
Three year warranty and free lifetime technical support.
The WH2200iXLT is lightweight and portable. It weighs only 43 pounds and is much smaller than all the other traditional inverter generators.
Embellish your wattage by combining two of these little devils. Just plug them and watch them play their part.
It can be used in situations or places which are sound sensitive. Works at 52 dB at 25% load.
The Westinghouse WH2200iXLT super quiet portable inverter generator has two starting mechanisms. It can be either charged and then electrically started or it can be started by a lever pull contrivance.
The generator comes with a 3-year company warranty backed by all the technical support that Westinghouse can provide.
[/su_list][/su_box][/su_column]
Cons
It cannot be used to run heavy machinery.
[/su_row]
Check Price on Amazon
6. Honda EU2200i: Best Honda Generator for RV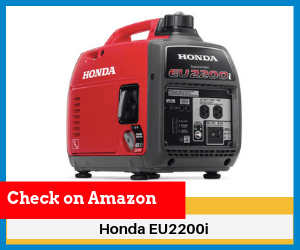 The Honda EU2200i makes noise equivalent to a walking cat but works like a beast. If you have been searching for a highly rated and reviewed generator for your travel trailer, you must have heard about the Honda EU2200i.
It offers top-notch performance and only produces the sound which is less noisy than a normal conversation.
The generator gives customers some user-friendly features. One of those features is the fuel shut off valve that allows the engine to run with the fuel supply off.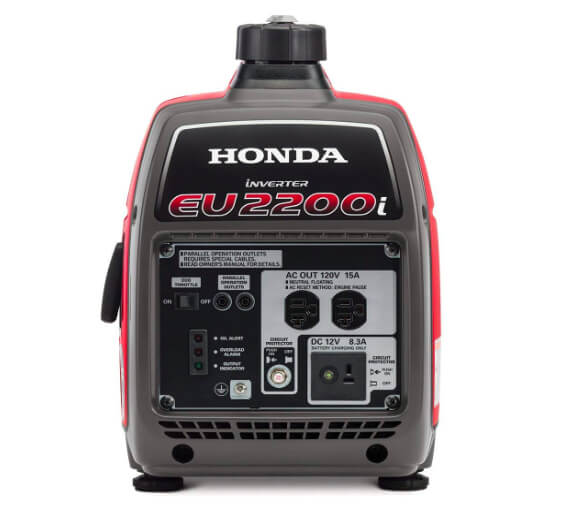 The Honda EU2200i is easily a stupendous creation. Its price is non-negotiable. You may find a large number of generators in the market but truly none like this perfect portable generator. In our list, it is the top rated generator for travel trailers.
Let's dive and learn more about this beautiful generator:
It produces running wattage of 1800 Watts and peak wattage of 2200 Watts.
It is gasoline power sourced and runs up to 8.1 hrs on less than a gallon of fuel.
You can parallely run 2 generators for more power.

Its weight is less than 47 lbs. Thus it features easy mobility and transportation.
It operates at 48 to 57 dB, which is less noisy than an ordinary conversation.
Pros
This 2200 watt generator can conduct a wide variety of appliances, making it perfect for portable use at home, camping, or travelling.
The Honda EU2200i weighs less than 47 lbs.
It is fuel efficient. It offers up to 8.1 hours of performance on 0.95 gallons of gas.
The generator is as sneaky as a cat but simultaneously powerful as a dragon.
You can use the Honda EU2200i parallely with another generator if you want to run more appliances.
It is the best Honda generator for RV.
Cons
Honda comes with a high price tag, mainly because of the brand name and trust customers have due to the after sale service.
Check Price on Amazon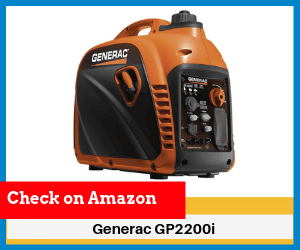 The Generac 7117 GP2200i portable inverter generator is just like any other inverter generator that you will find in the market. It has got mostly all the features that you would want from a standard inverter generator which could be used in your travel trailer quite easily.
It is compact and weighs less in comparison to many generators in its league. This makes it easy to transport and carry from one place to another.
Just like all the inverter generators, the Generac 7117 GP2200i 2200 Watt Portable Inverter Generator also has a parallel working mechanism.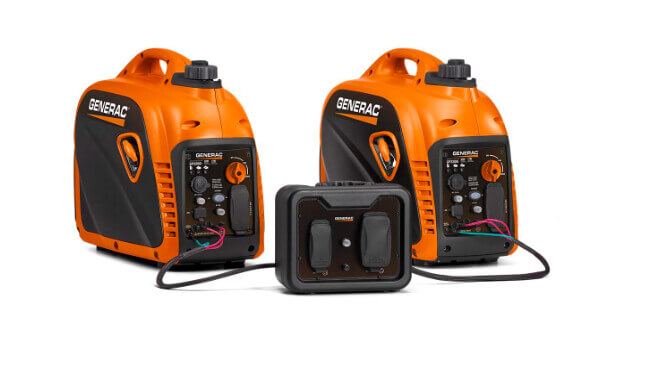 We would say that Generac 7117 is just another good choice if you want to buy a portable inverter generator in a mid-range price segment.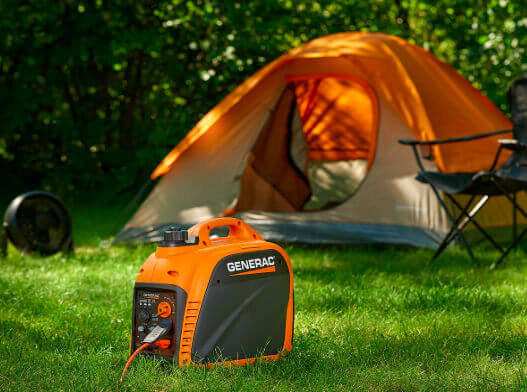 Now coming to the main features:
The generator throttles 1700 running watts with maximum output being 2200 watts.
The Generac 7117 GP2200i has a 1.2-gallon fuel tank that allows 10.75 hours of run time at a quarter load.
Economy mode gives fuel economy and noise reduction while the LED status lights alert you on low-oil, overload, and power.
Parallel ready allows you to connect 2 inverters together to push twice the amount of power.
Pros
This inverter generator has a visceral design that makes it really easy to operate.
The Generac 7117 is great for a variety of endeavours like camping and outdoor cookouts. It is one of the best generators for travel trailers.
The generator runs on True Power Electric Technology which enables it to generate stable and clean power.
The Generac 7117 GP2200i is a petty, little inverter generator that is truly portable as it weighs under 50lbs.
It has all great features like economy mode which saves fuel when turned on. It also has LED lights which display all the important metrics.
Just like most of the other portable inverter generators that we have covered till now in this post, Generac 7117 GP2200i is also parallel ready.
Cons
Some of the users may not be impressed with the after sale service.
Check Price on Amazon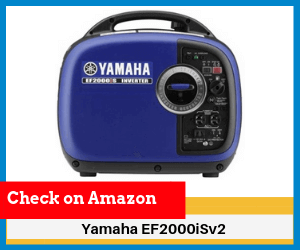 The Yamaha EF2000iSv2 is definitely a little brute of a machine. It is super small, quiet and hugely packed with power. It has a quite unique design that resembles a retro styled radio.
The Yamaha EF2000iSv2 gas powered portable inverter is super silent as it produces only 51.5 dB of noise on a 25% fill. This makes it an ideal generator for tailgating and camping.
Nevertheless, further, you would get to know why it makes to this list of the best generators for travel trailers.
The inverter offers a fair amount of power keeping in mind that it's a portable inverter. It pushes 2000 starting watts and 1600 running watts. It has a fuel capacity of 1.1 gallons and it runs for approximately over 10 hours on a quarter load.
Play this video to get more info about this generator:
Now coming to the key features:
The Yamaha EF2000iSv2 inverter has 1600 watt rated AC output, and 2000 watt maximum AC output.
It has a Fuel tank capacity of 1.1 gallon.
It is equipped with a super-quiet muffler with USFS-approved spark arrestor – 51.5 dBA at a quarter load.
Smart throttle controls the engine speed based on the load – improves fuel economy and reduces noise.
Best part is that the inverter is CARB compliant so we can say that it is environment-friendly.
Yamaha EF2000iSv2 has an inverter system with Pulse Width Modulation (PWM) control.
It is parallel ready so another inverter generator can be connected to it to produce more power.
Pros
This gas powered portable inverter produces clean, high-quality power. It features Pulse Width Modulation (PWM) control so that the voltage remains stable.
The Yamaha EF2000iSv2 pushes 1600 running watts and 2000 starting watts
It runs up to 10.5 hours at just a quarter load.
You can see the fuel gauge and gasoline petcock will let you shut off the gas so that it can run the carb dry for storage.
The EF2000iSv2 has clean emissions as it is CARB compliant.
The inverter is fitted with Yamaha's most technologically advanced muffler with USFS-approved spark arrestor. It runs very quietly.
Like most of the generators covered in this post, the Yamaha's EF2000iSv2 is parallel ready so it can be easily paired with another Yamaha's EF2000iSv2 generator and be used for generating more energy.
Cons
Some users found that the inverter starts consuming too much oil after the machine turns old.
Check Price on Amazon
How to Choose the Right Generator for your Travel Trailer?
How much power do you really need?
This is the basic and the very first question that you should ask yourself. Primarily because if your power requirement is low i.e. you have to run only a few appliances on the generator, you should go for a low power generator which throttles 1500-3000 watts.
Going for more power would not only be expensive o your pocket but, you don't really need it as most of the generators covered in above can be parallelly paired with its twin.
So basically, whenever you feel that you need more power, you can buy another model in the future.
Which fuel source would be convenient for you?
You can find generators that run on different fuel sources. It would be a wise decision on your side to plan and see which fuel source would be the most convenient for you.
The three most common fuels sources are:
Propane powered generators – They are fairly less expensive as well, they burn cleaner and run for a longer period of time. The pinching part would be, propane powered generators usually emit low power as compared to diesel and gasoline generators.
Propane generators also have one flaw as they have a gas tank that must accompany them. Though, propane is the cleanest fuel which burns with less to no odor. Certainly, it is an environment-friendly option.
Gasoline powered generators – These are powerful generators as gasoline is highly flammable which produces more density of heat.
Gasoline is fairly cheap as compared to propane (mostly) and widely available. The main drawback being, it is not a clean fuel and may clog the carb on extended use. Also, you should not leave gasoline in the tank when the generator is not in use as it will damage it.
Diesel powered generators – Diesel powered generators are the most powerful ones. Though, they emit more pollution than the propane and the gasoline generators.
Our Top Recommendation
The Westinghouse WGen3600 is our top recommendation for 2020. This generator is perfect for a travel trailer as it is portable and has the capacity to power basically most of the things in your RV.
Buy on Amazon
Here's a short review:
Westinghouse WGen3600 Review
Build Quality

Efficiency

Portability

Price
Final Words
Choosing the perfect generator is a tough choice. Primarily because there are a ton of options in the market, as a user, you will get confused for sure.
We hope that this post must have helped you narrow your research for the best generators for travel trailers. We have literally spent countless hours in bringing you the most portable generators.
We hope that you enjoy your camping and outdoor journey in your trailer. Do not forget to take your camera with you. It is as much important as the generator (otherwise what's the fun if you cannot click pictures).
Do share your views about this post in the comment section below. We would be happy to help you make a wise choice.
Important: The images used in the post are taken from Amazon and stock photo sites.

Last update on 2020-07-12 at 02:08 / Affiliate links / Images from Amazon Product Advertising API