18 Best Weighted Blankets For Adults (August 2019 Edition) ✅
Weighted blankets are a proven and widely used way to treat anxiety, insomnia and other sleep disturbances. In this detailed post, we have reviewed the best weighted blankets for adults. They will surely satisfy you with their quality and exceptional value for money.
What is a weighted blanket?
A weighted blanket is a specially designed blanket that helps treat insomnia by calming and relaxing people with sleeping difficulties. This type of blanket is filled with lightweight beading which in turn applies a gentle pressure to the body.
The Science Behind Weighted Blankets
The pressure sends a sensory signal to the brain of the person and stimulates the feeling of being hugged or held. This releases a hormone in the body known as serotonin which calms the mind and helps the person have a good sound sleep. This is the major reason why weighted blankets have been used for years for the therapeutic purpose and help people have a sound sleep.
Do Weighted Blankets Really Work?
We strongly suggest you watch this video to get an in depth answer:
Weighted Blanket Benefits
It is evident that weighted blankets do help in sleeping better. Here are some more benefits of using it:
Managing Cortisol Levels: The weighted blanket helps reduce the high cortisol levels which are caused due to intense and stressful situations. Thus, it directly improves your sleep quality.
Increase Melatonin Levels: Melatonin helps in maintaining a sound sleep cycle. It also helps blind people in establishing a day and night cycle. Due to additional weight, your body feels warm and cozy which naturally increases the melatonin level.
Releases Serotonin & Dopamine (Happiness Hormones): Serotonin and dopamine play a major role in relaxing and calming your mind. These are the same hormones which are produced after a rigorous activity such as jogging or swimming. Weighted blankets have been tested to improve the level of happiness hormones in the body to achieve a relaxed state of mind. Thus, it is widely used by patients suffering from stress and anxiety.
Healing ASD, ADHD, PTSD and Sleepwalking: The weighted blanket has been found to be effective in atleast 80% of the cases of Autism spectrum disorder (ASD), Attention-deficit/hyperactivity disorder (ADHD), Post-traumatic stress disorder as well as sleepwalking. The additional weight stimulates the mind in a way that you feel hugged and relaxed.
What's Next?
In this detailed post, we will be covering the best weighted blankets for your sleep issues. Not only that, we will include their pros and cons as well so that you can decide which is the best option.
Here are our top picks:
Best Weighted Blankets for Adults
Let's move into details and know more about the features of these weighted blankets.
The first weighted blanket that caught our attention is the Calmforter weighted blanket. The reason being, it has got more than 500 reviews on Amazon.
Later when we went into details, we got to know some interesting facts about the blanket:
1. The Calmforter comes with an industry exclusive Evenflow technology which provides the users with ultimate comfort and relaxation. There is an even pressure on your body simulating a full body hug. This is due to the ingenious CloudSoft Polyfill and Stardust Microbead weighting system.
2. The outside cover of the blanket looks bright and luxurious. One side of the blanket is smooth as silk while the opposite side has their unique SensaDot texture. The best part, the appearance of the blanket is non-therapeutic. This means the blanket won't look like most of the other weighted blankets which have highly lumpy and square pocket stitching. The Calmforter features a non-therapeutic look. Its entire weighing system is hidden inside its cover.
3. Washing the blanket is also very easy as you just have to unzip its outer cover which can be separated easily.
4. The blanket is available in 5 different colors which give you a decent variety to choose from.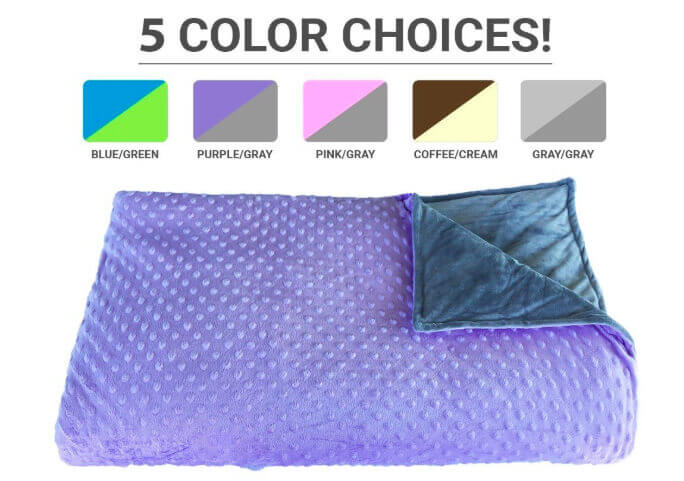 YnM is one of the most trusted names, thanks to their wide range of weighted blankets. It is the best selling weighted blanket in the market.
Let's know more about its features and the recommended size:
1. You can choose from a range of 15+ color options. YnM offers one of the widest range of weighted blankets thus having a great customer base.
2. Usually, it is said that you should choose a blanket that is 10% of your body weight plus 1 lb. Though, 1 lb more or less does not make that much difference. The recommended size is 8"x72" for twin bed, 60"x80" for queen bed, 80"x87" for king bed.
3. The inner layer of the YnM weighted blanket is made up of 100% premium breathable cotton. Its small compartments are filled with non-toxic, hypoallergenic, odorless, glass beads that are equally distributed in each compartment.
4. Due to the fact that glass beads are being used instead of the standard plastic pellets, it doesn't make noise when you turn over the blanket.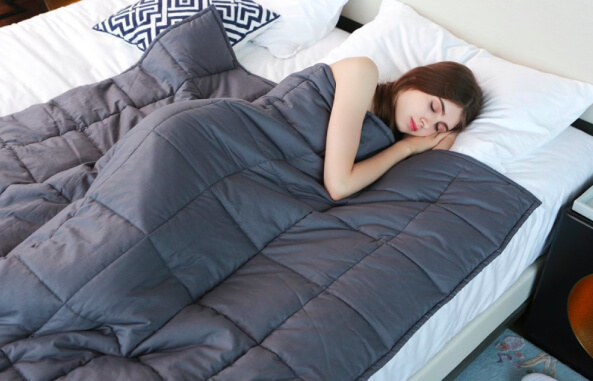 5. Well, you need to purchase an extra outer cover for the blanket as the YnM weighted blanket comes in a single layer. You can apply a zip cover so that it becomes easier for you to wash it just like in the case of the Calmforter. If you are not using the extra cover, we would recommend that you dry clean it instead of washing through the company suggests that you can machine wash in a slow gentle setting.
6. Again, being a weighted blanket, it will simulate that you are being hugged making you feel comfortable and sleep better.
Moving to the next product on the list, we have Hypnoser which is also a very affordable weighted blanket in this segment.
Let's know more about it:
1. The blanket is made of 100% cotton. Just to tell you, cotton is very good in terms of breathability. Therefore, Hypnoser weighted blanket will let your skin breathe. It would give you the same comfort that you get when wearing linen and cotton shirts.
2. It comes in different sizes and weights. The Hypnoser weighted blanket for adults has been designed to weight approx 10% of your total body weight. This helps to decrease the stress naturally and helps you relax.
3. This weighted blanket comes in 6 different colors.
4. It comes with 30 days no questions asked money back guarantee. This tells you that the company does have a great trust in their product and have built it to meet the standards.
5. The Hypnoser weighted blanket is a great option for adults who are facing problems such as Autism, Insomnia, SPD, PTSD, Anxiety, Narcolepsy, Sleep Apnea, Jet Lag etc.
Dr. Harts's weighted blanket is a well-known name in the industry of the best-weighted blankets. If you check its reviews on Amazon, you will find people acknowledging this blanket all over.
Moreover, the brand has a repeat customer base which means, people tend to buy the product again and again for themselves and their family.
Let's dissect the reasons how Dr. Hart's weighted blanket has achieved such a pedestal:
1. Dr. Harts weighted blanket claims to be the first scientifically engineered blanket in the industry that helps to reduce stress naturally and promotes sound sleep.
2. The cost includes the removable duvet cover as well, which is an added advantage.
3. The blanket is as good to use on a couch or a sofa as it is for bed.
4. This weighted blanket is the only blanket that has been developed by practicing medical doctor, neurologist Dr. Karen Hart. She has been treating patients facing insomnia and sleep disorders for years.
5. The GravityGrid stitching design is already patented by the company. The design stimulates a real hug by a human and contours to your body as it optimizes deep touch pressure stimulation throughout your entire body.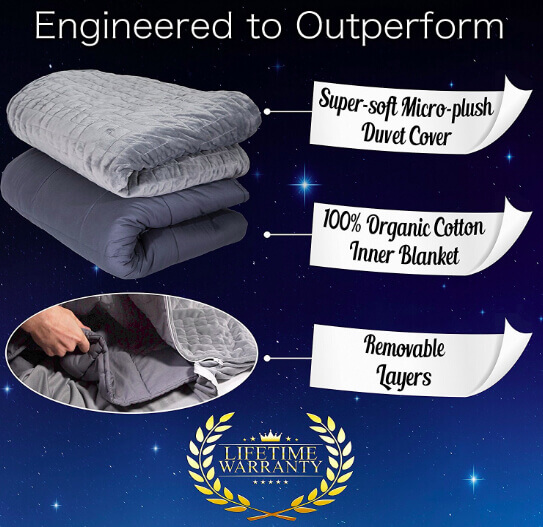 6. For the weighted material, Dr. Hart's weighted blankets use patented DreamBeads made of quartz micro-spheres. These are eco-friendly, non-toxic, odorless and hypoallergenic. This allows the blankets to be 60% thinner and softer.
7. The blanket eliminates the shifting noise due to high-quality DreamBeads. It provides a cooling sensation in the summers and a warm breathable environment in the winters.
8. Like all the weighted blankets, it is helpful in the case of insomnia, ADHD, anxiety, and Autism.
For the next set of the best weighted blanket reviews, there is a tough competition.
To be frank, there are a ton of options in the market. It is certain to get confused between different brands. That is why we always suggest you read the customer reviews before buying any product.
Only a customer can give an exact insight into the product. That is why we have picked the Quility Premium Adult Weighted Blanket as it has got great reviews from the customers. You can check 500+ reviews about this blanket on Amazon.
Now, without wasting any further, let's dive deep and learn more about this great product:
1. Just like the YnM weighted blanket, the Quility premium weighted blanket is also made from 100% cotton.
2. For making it heavier, non-toxic, hypo-allergenic plastic poly pellets have been used so that it simulates the hugging effect and calms you helping you sleep better. The blanket is stitched in the square pattern to keep the pellets from slipping and sliding inside the blanket.
3. It comes along with a duvet cover so that you can wash the blanket easily. You just need to remove the duvet cover and machine wash. Also, the cover sticks to the blanket so it doesn't slip and the blanket remains evenly distributed.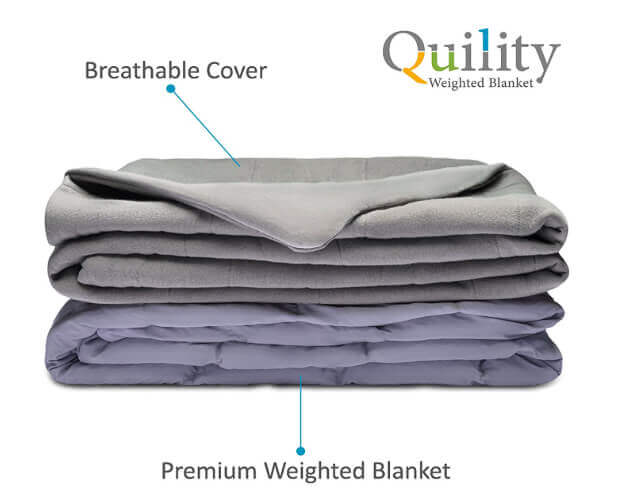 4. Like all the weighted blankets, the Quility weighted blanket also helps in releasing the serotonin and melatonin hormone which helps in calming your mind so that you can sleep without any fuss.
5. It helps in sleeping disorders, anxiety, stress, ADHD, restless leg syndrome and PTSD.
6. The manufacturer gives you 100% satisfaction guarantee. This means you can get a full refund if you are unhappy with the purchase.
Another highly affordable option is the Active Corner weighted blanket for adults and kids. It is one of the cheapest weighted blankets available in the market.
Here are its features:
1. The blanket is made up of 100% cotton promoting easy breathability and comfort.
2. Good for relieving stress and anxiety among adults.
3. The blanket has been tested to provide a sound sleep to both kids and adults. It is seen that by using the Active Corner weighted blanket, you will wake up less often through the night and enjoy a deep sleep.
4. The blanket is available in queen size i.e. 60" x 80" and also the largest sized weighted blanket in the market. Thus, it is great for growing kids and teens ensuring a great fit that will last for many coming years.
5. A high-quality minky pillow cover adds to the attraction which is included in the cost of the blanket.
6. Available for 30-day risk-free guarantee. You can return the product if you do not find it good.
Next, in line, we have the SensaCalm adult weighted blanket. It is a good brand if you are suffering from extreme anxiety and insomnia.
Let's know more about this weighted blanket:
1. Like most of the other brands, the SensaCalm weighted blanket is made from 100% cotton fabric. The sewing is done by experienced professionals only as it is more of a premium brand.
2. It is purely a true therapeutic weighted blanket having tamed tempers and provides a great sense of relief to adults facing autism and sensory processing disorder.
3. For weights, non-toxic, safe, Hypo-allergenic Poly Pellets are being used along with Hypoallergenic fiberfill for a soft pillow-like feel.
4. The weighted items of the blanket can be completely washed easily. However, it is always preferred from our side to have an external cover for your blanket so that it becomes easier for you to wash the blanket.
5. The blanket is perfect for a twin sized bed. It comes in one piece.
Moving to one of the most premium weighted blanket on this list, the Lifetime Sensory Weighted blanket for adults is a good option if you have a good budget. The reason being, it is a premium product that comes at a price.
Here are its features:
1. The blanket is "Made in USA" so you will get all that American feel while using it. No doubt, products manufactured in America are of superior quality.
2. The blanket is made from 100% cotton. It provides a great calming and soothing effect especially to people facing sleep disorders of various forms. So, if you are facing Anxiety, Depression, PTSD, Autism or Asperger's, the Lifetime Sensory's weighted blankets are good to make your night relaxed and soothing. The brand claims to have success in dealing with issues like Fibromyalgia and chronic pain.
3. The blankets are specially handcrafted to your requirements. The quality is always superior and the blanket itself is made with great attention to detail and longevity.
4. This is certainly a Rolls Royce of weighted blankets. All the blankets are prewashed with allergen-free products after which they are preshrunk for accuracy and made in hypoallergenic sewing facilities.
5. The best part, if you do not find the weights right or the pressure of the blanket isn't good for you, you can easily exchange the blanket for your desired weight or even send it back for a full refund.
We have already covered YnM Weighted blankets. This is another model of the same brand with some more features.
Let's unwrap the details and know more about the product:
1. The best part about the YnM blankets is that they have got a great variety. Be it weights or the color of the blanket, you will have some popular choices to choose from. You can choose an adequate weight according to your need. Usually, try to buy a blanket which is at least 10% of your body weight although it is recommended to buy 20% of your body weight plus 1.
2. The unique design of the blanket is such that it is mostly made up of organic cotton, with less polyfill and more glass beads. This is perfect for maintaining the temperature of your body.
3. The blanket is divided into evenly sewn compartments filled with hypo-allergenic, non-toxic odorless glass beads.
4. The blanket does not produce much noise when you turn over. It is far much better than the plastic pellets weighted blankets.
5. Talking about washability, you can easily wash the inner layer of the blanket on a low gentle setting. However, the best option would be to purchase a good duvet cover for easier cleaning.
Moving to the next weighted blanket of this list, the Rocabi premium weighted blanket is worth every penny.
Let's know why?
1. Rocabi only uses the premium material in all of its products. The glass beads in the blanket are non-toxic and completely odorless. They are super fine and helps in maintaining the consistency all over.
2. Glass beads are silent and this prevents any noise when you turn over the blanket while sleeping.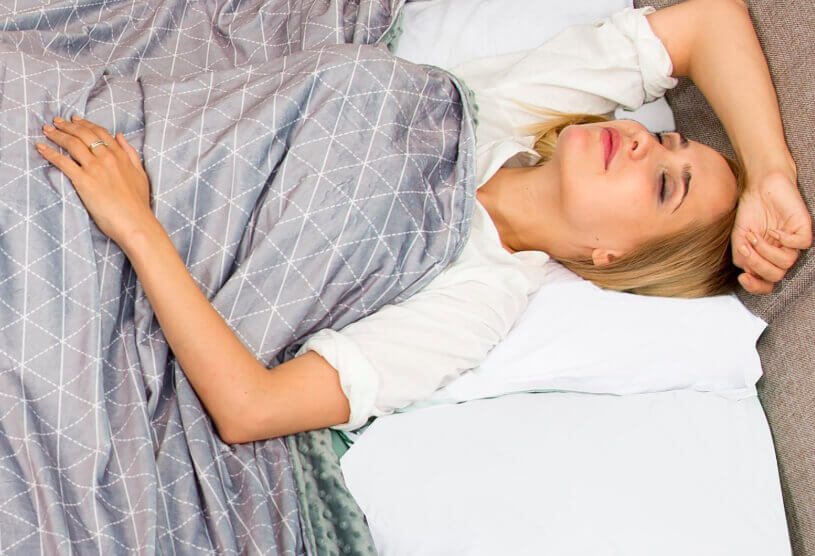 3. The blanket also includes a minky cover that is soft and helps in easy washing.
4. The inner sleeve of the blanket is made up of 100% cotton. This means you can use the blanket throughout the year in all seasons.
5. You can choose from different weights as there are plenty of options.
11. Gravity Blanket – The Weighted Blanket For Sleep
Next on our list of the best-weighted blankets for adults, the Gravity Blanket brings exceptional value for money. It comes in three sizes you can match with your bodyweight, but it has a scarcer selection of colors.
Here are a few things we found out while testing it:
The blanket comes in two colors, but each color corresponds to a different type of filling. The grey one contains glass beads, whereas the blue one is filled with plastic beads. Regardless of the color, the gridded stitching maintains the weight distributed evenly.
We love the removable micro-fiber duvet exterior which is machine washable. You can also wash the actual weighted blanket, but only by hand.
A feature missing on most weighted blankets but present on the Gravity Blanket; the internal clasp ensures that the blanket is kept soundly inside the duvet. Needless to mention that the duvet feels great on the skin.
Measuring 72 x 48 inches, the blanket is perfectly sized for adults. The gentle pressure ensures an outstanding experience to one user at a time.
This blanket is really effective in soothing anxiety and depression. It applies a soothing pressure that improves REM sleep and reduces stress.
While this stylish weighted blanket won't blow you away with the color choice, it can surely impress with its quality. We like the cooling bamboo side that makes it perfect for summer; on the colder months, just flip it and enjoy the cozy minky side.
Here are a few awesome things you should know about it:
CoziRest is made from all natural materials, including 400TC cotton and bamboo. It is ideal for hypoallergenic people who can't use synthetic covers. Consisting of seven layers, the blanket is very soft and durable.
The dual-sided cover is removable and machine washing friendly. Cleaning it is a breeze, for that amazing fresh bed sheets sensation.
Twelve no-fray ties help keep the weighted blanket attached to the cover, so you can prevent that irritating sliding.
While the exterior is hypoallergenic, the interior is hypoallergenic too. The beads are made of glass. Therefore they won't produce any allergic reaction or skin rash.
This blanket is ideal for a single adult; it measures 60 x 80 inches and comes in four weights. It is an ideal choice for teens and adults.
Boasting a classic design and made from cool, breathable cotton, the Harmonia Weighted Blanket could be ideal if you couldn't care less about a minky cover, but all you want is a dependable and comfortable weighted blanket for the summer.
Check out some of its most important features below:
Harmonia is ideal for summer or anyone else who suffers from excessive sweating or hyperhidrosis. It is cool to touch and breathable, improving your overall sleep.
A square pattern stitching keeps the beads evenly distributed, so you can sleep safe and sound throughout the night.
Filled with eco-friendly glass beads, the blanket is about 60% thinner than other similar models. A great thing if you plan to fit it in your luggage.
We love that it comes with a thin, breathable duvet cover that helps maintain your blanket clean for longer.
The cover is very easy to put on or remove. You can secure it with seven ties, ensuring a snug fit.
14. OXA Weighted Blanket – Heavy Blanket with Breathable Cover
Another weighted blanket that has made it to our list, the OXA Heavy Blanket may come in only one color, but it impresses with its smaller bead pockets that keep the weight distributed more evenly.
What else do we like about it? Check it out below:
This weighted blanket is fully breathable. It's made of cotton and contains hypoallergenic glass beads; a great choice for people with allergies.
Even weight distribution enhances comfort as well as your sleep. According to users, it helps treat CDC, insomnia, anxiety, and other issues that could cause sleep disturbances.
An advanced sewing technology keeps beads in smaller pockets and prevents bead leaking. Denser pockets also enhance the surface contact area, maximizing pressure.
Manufacturers have used a 7-layer design to maintain the beads contained and improve the efficiency of this blanket.
Cool enough to use during summer, it comes with an outer cotton layer and polyester padding that won't heat you too much. For winter, you can use it with a regular weighted blanket duvet cover.
The next entry is by Dozeology, a weighted blanket made from breathable cotton and designed to feel luxurious on your body. It also soothes anxiety, relaxes sore muscles, and improves sleep.
Here are a few of its most important features:
This premium weighted blanket is ideal for most adults who need mild compression. It weighs 15lbs and measures 60 x 80 inches.
Coming with a soft cover, it incorporates 8 corner ribbons you can use to prevent the duvet from moving and sliding as you're moving in your sleep.
The cover is machine washable and boasts a wide opening, for easier removal or insertion of the blanket.
An innovative sewing technology ensures minimal leaking of the beads. Thanks to this technology, the cover guarantees better sleep.
The duvet comes with a luxurious, cotton cooling cover available in either sky white or frost grey.
If you're after the deepest relaxation, the Baloo Weighted Blanket could be an excellent choice. It meets the Oeko-Tex safety standard, which means it's made from chemical-free breathable cotton.
Some outstanding features have made it one of our picks:
Designed with a comfortable fit in mind, Baloo is the right size for an adult. It weighs 20lbs and measures 60 x 80 inches – just what you need for a queen size bed.
The blanket comes without a duvet cover, but it's completely safe to wash in the washing machine. It's even safe to put in the dryer.
Six hooks allow you to connect the duvet either to another duvet or to a cover if you want to avoid washing altogether.
Ideated for deep rest and relaxation, the duvet boasts a stylish double quilted pattern that holds the weight snugly.
All materials are free from any toxic or potentially harmful compounds. Coming in a 15lbs variant too, this quilted weighted blanket is also great for teens and elderly.
Made from microfiber and boasting a comfortable bamboo and spandex cover, this weighted blanket stands out thanks to its diamond pockets that provide better containment of the beads. Teens and elderly can enjoy the 15lbs variant, while a heavier 20lbs one is a great choice for most adults.
Check out the features that have boosted it to our list:
This cooling weighted blanket is both eco-friendly and hypoallergenic. The fabric has a really soft touch and feels amazing on the skin.
It comes in a stylish set that comprises the blanket and the removable bamboo cover. Naturally antibacterial, the cover can be washed in the washing machine.
Diamond pattern pockets ensure an even distribution of weight with minimal beads leakage. Furthermore, the blanket contains a unique insulating layer and has cooling properties.
The generous size makes it perfect even for adults with a bigger frame body. Boasting a queen size, the duvet measures 60 x 80 inches.
Two-piece construction allows for easy removal of the duvet from the cover. The cover is equipped with a sturdy zipper.
Last on our list of the best weighted blankets for adults, this item from Serenity Engineered will surely benefit the elderly people with low strength. It only weighs 10lbs and is a bit smaller than expected; nevertheless, it's great for an adult sleeping alone.
It may not be all milk and honey, but it surely has a few amazing features:
An innovative, patent pending design makes this weighted blanket the only one with an all-around zipper attachment for the cover. No more annoying sliding of the duvet.
Minky cover is easily removable and machine washable whenever needed. The blanket is great to use in all seasons.
Besides the patent-pending design, this weighted blanket also impresses with an optimal bead distribution and greatly sized pockets to prevent leaking.
Luxurious fabrics will make you feel pampered under this blanket. The duvet is made from pre-shrunk cotton fabric, while the minky cover is synthetic but highly breathable and soft.
Twin size cover is ideal for students or elderly sleeping alone. It measures 40 x 75 inches, just the right size for a twin bed.
Our Top 3 Weighted Blankets
Choosing the best weighted blanket among 18 is also a tricky task. To save you from the confusion, here's the list of our top picks:
Best Weighted Blanket for the Money
Buy on Amazon
Top Reviewed Blanket by Customers
Buy on Amazon
Premium Weighted Blanket
Buy on Amazon
Final Words:
Weighted blankets, since their introduction, have been a great boon for people who are suffering from insomnia and various sleeping disorders.
It is always better to resort to natural ways rather than taking pills and medication for small issues like insomnia and anxiety.
In this detailed guide, we have tried to cover the best weighted blankets for adults that have proven track record of working effectively in the cases of insomnia, PSTD, anxiety, jet lag etc.
On TheTechSwag, our aim is to provide the most accurate reviews to our users so that they can become wise customers.
We certainly hope that these weighted blanket reviews have helped you. You can share your views by writing your thoughts in the comments section below. We would be happy to help you in case you have any doubts about any of the above mentioned weighted blankets.
Last update on 2019-08-24 at 09:34 / Affiliate links / Images from Amazon Product Advertising API