YnM Weighted Blanket For (Kids and Adults) – An Unbiased Review ✅
Restless and sleepless nights can be painful regardless of the underlying cause. Has night been so long for that you wished someone would come, give you a warm hug and cuddle you to sleep?
If so, accept our utmost felt sympathy. But we are willing to do more. In this review article, we will show you how YnM Weighted Blanket can help you sleep better throughout the night.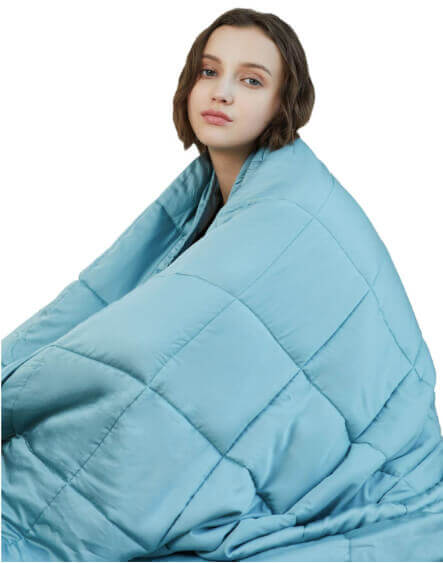 Check YnM Weighted Blanket on Amazon
YnM is a leading company in producing good quality weighted blankets and duvets for export. Their blankets are among the best, yet they are still more affordable than other models like Dr. Harts, Quility and Gravity blanket. But what makes these blankets so special?
Introducing YnM Weighted Blanket
YnM is top-grade weighted blanket designed using high-end technology to provide you with the ultimate warm and relaxation every time you wrap yourself with it. Research indicates that these kinds of blankets relax your entire body by stimulating feelings identical to being hugged or held.
The resultant feeling will make you sleep more quickly and enjoy a more in-depth, uninterrupted sleep all through the night.
However, you don't just need a good quality weighted blanket at night; you'll find even more relaxing during the day. This is the case if you usually struggle with anxiety, stress, chronic pains, restless leg syndrome PTSD, and insomnia. It also has an excellent calming effect on children with autism and Attention Deficit/Hyperactivity Disorder (ADHD).
How Does YnM Weighted Blanket Work? – A Detailed Review
You will read many YnM weighted blanket reviews, but very few would tell you the science behind their calming and relaxing effects. It uses what experts call deep touch stimulation (DTS). But what is DTS?
We can only define it as a firm touch but with a gentle squeezing, holding and hug capable of relaxing the nervous system. Doing it appropriately triggers a series of physiological reactions in your body that stimulates a general feeling of peace and calmness.
The reason you find it difficult to fall asleep and sleep soundly throughout the night is that your body is in the state of fight and flight (sympathetic nervous system). The deep touch therapy switches your body from this state to that of rest and digest (parasympathetic nervous system).
The latter system is what will make you feel peaceful and calm in your body and mind. The therapy also works through two hormones – serotonin and dopamine. These feel-good chemical messengers (called neurotransmitters) present in the brain help with enhanced sleep,
attention, impulse control, motivation, memory, and digestion in people using the therapy.
Forgive us if that was too much science for you. However, you need to appreciate what level of research has gone into the production of YnM. We believe you also understand why this type of blanket is excellent if you are struggling with the conditions we mentioned earlier.
Last update on 2020-08-13 at 03:19 / Affiliate links / Images from Amazon Product Advertising API