Weighted blankets are gaining popularity worldwide now. This is because they have proved beneficial to people with sensory disorders, anxiety, autism, PTSD, and many more.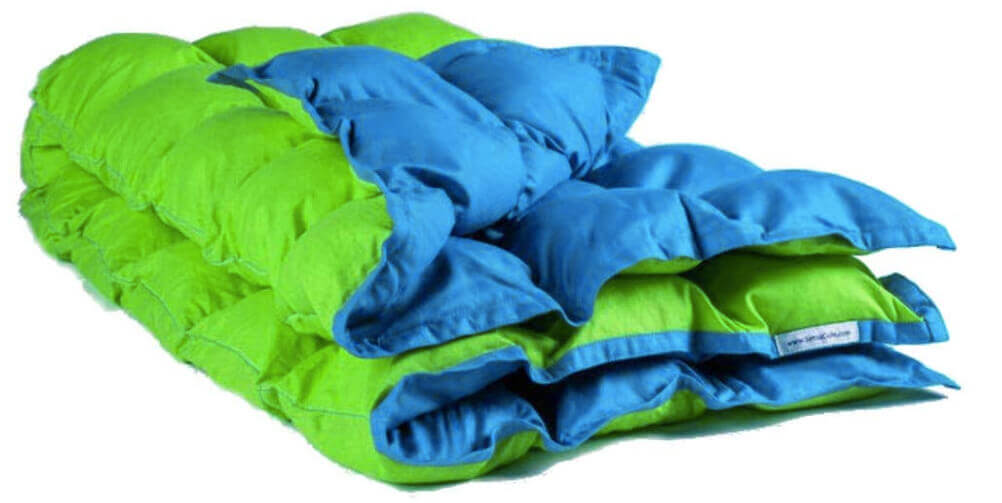 Their drug-free nature to calm down nerves, instill a sense of security, reduce anxiety, improve the quality of sleep, and reduce temper is beyond words. They are therapeutic in nature and thus are extended versions of simple wool blankets.
Many hospitals, schools, and homes have adopted the use of these weighted blankets. Psychiatrists are constantly recommending the use of these blankets too.
SensaCalm has been producing high quality weighted blankets for years. This detailed SensaCalm weighted blanket review highlights two of the best therapeutic blankets from SensaCalm. It also lists the pros and cons of each so as to help you make a wise decision in the end.
Designed for therapeutic purposes, the SensaCalm medium weighted blanket reduces anxiety and contains tamed tempers.
This weighted blanket weighs 10lbs and is suitable for a child weighing 80lbs. It can be used by adults too. The weight on the blanket is distributed evenly across your body and does not hang off the bed.
Besides, the blanket has teal blue and jasmine blue colors. These vibrant colors are beautiful décor in any bedroom.
Materials used in the therapeutic blanket are non-toxic, safe, and soft. It contains 100% cotton and hypoallergenic pellets for added weight. The pellets are fairly distributed to avoid them piling on one side.
The hypoallergenic pellets are sewn in by experienced professionals. The seams display that the blanket has been made by passionate seamstresses.
There is fiberfill too for a soft, comfortable pillow feeling. This displays a high level of craftsmanship from SensaCalm.
This medium-weighted blanket is therapeutic for people with insomnia, anxiety, and sensory disorders. The deep pressure it gives instills a sense of affection.
The SensaCalm blanket has also proved to soothe people with insomnia. Not only does the blanket get to you to fall asleep but it also keeps you asleep for hours. It also helps to calm temper and provides a sense of love as well as affection to those who need it.
Furthermore, since the blanket is made of quality materials, it is durable which makes it convenient for daily use.
Also, it does not need a cover. Cleaning the blanket is simple since you do not need to remove anything from it. It is compatible with machine wash and drying.
Pros
Lightweight
Displays a high level of craftsmanship
Made from high-quality materials
Materials are safe and non-toxic
Has vibrant colors that blend with any décor and is unisex
Weight on the blanket is evenly distributed
Suitable for people with anxiety, sensory disorders, and insomnia
It is leakproof
Easy to clean
Cons
Does not include snaps that are helpful for a duvet cover
It is not waterproof
Not suitable for two people
The SensaCalm Therapeutic waterproof weighted blanket is not only beautiful but a great companion to people with autism, PTSD, and other sensory disorders.
A distinct feature on this weighted blanket is its waterproof ability. This means that the blanket emits heat or any water vapor leaving you comfortable.
Besides, the blanket is breathable despite having a waterproof barrier. However, do not hold the blanket over your nose to test whether it is breathable.
The therapeutic blanket is made PUL fabric which is safe and eco-friendly from Eco-Pul. In case of a spill, the Eco-Pul does not suck up the liquid. Instead, you can wipe it off.
Besides, it is made from 100% cotton making it soft for hands. Neither does the blanket stiffen or crackle under pressure. It is allergen-free too.
Also, the blanket has a comfortable polyfill and has been neatly sewn by experts. The polyfill has a similar feel to that of a pillow.
The inside part of the waterproof blanket contains pockets with poly pellets that add extra weight. These pockets have been divided evenly for fair distribution of weight. Also, the pellets are deeply stitched inside to avoid any leaks.
This medium blanket measures 38″ by 62″. It weighs 14lbs and is suitable for a person weighing 120lbs. Both teenagers and adults can use this waterproof blanket.
The colors on the blankets are appealing to the eye. The royal blue blended with turquoise creates a serene environment to rest and unwind.
SensaCalm medium waterproof blanket has proved beneficial to people with autism, ASD, PTSD, SPD, and ADHD. The weight in the blanket offers compression for a Deep Touch Stimulation.
The blanket offers a feeling of security to people with anxiety. Not only is it soft, but the added weight feels like a warm hug. Furthermore, it lets you sleep fast and heavily.
Despite the added weight, this medium-sized blanket is washable by machine. It can be used at home, hospitals, schools, and clinics.
Pros
Made from high-quality materials
It is both breathable and waterproof
Contains poly pellets that are non-toxic and eco-friendly
Beneficial to persons suffering from PTSD, ASD, SPD, ADHD.
It is allergen-free, abrasion-resistant, and anti-microbial
Offers a sense of comfort and security
Easy to clean
Cons
Not safe for kids less than a year
Frequently Asked Questions
Q1. How do I pick a weighted couple blanket?
Ans: A weighted blanket should be 10% of your weight plus one or two pounds. When choosing a weighted blanket for two, there is no need to add the total weight of the two people. Instead, you can take the weight of one party into consideration and calculate the weight needed in the blanket.
Couple blankets are designed to fit king size and queen size beds, unlike the medium size. Also, a couple of blankets come in sizes and the weight they are designed to contain.
Besides, find one that is made for two. Some weighted blankets are only comfortable for two when spooning thereby limiting movement.
Q2. Why do weighted blankets help with anxiety?
Ans: Weighted blankets have added weight compared to ordinary blankets. This extra weight offers Deep Touch Pressure that calms an anxious person. When a person is anxious, his mental state is aroused.
Weighted blankets offer compression and help the brain to release serotonin, a neurotransmitter that is also called a happy chemical. This neurotransmitter helps calm down nerves and when sleeping.
Weighted blankets also feel like a warm and gentle hug, therefore, they highly reduce anxiety.
Q3. How long does it take for a weighted blanket to work?
Ans: It all depends on the user. People suffering from PTSD and autism have claimed that they felt immediate relief and comfort after wrapping themselves with the blanket. The Deep Touch Stimulation takes effect immediately and they feel relaxed or fall asleep in minutes.
Others take three to ten minutes. People suffering from insomnia have said that the weighted blankets greatly reduced the time they spent tossing and turning. Some claimed that the blanket reduced their turning time from one hour to less than 10 minutes.
A user's psychological state is key to how the body reacts when under the blanket. People looking to find fault in the blanket may not find it effective. However, the majority of people who have used this weighted blanket say it works.
Q4. Are weighted blankets dangerous?
Answer: As beneficial as they are, weighted blankets can be dangerous to a group of people. Kids especially those under one year are at risk of SIDS from ordinary blankets. Weighted blankets are a hazard for them too.
Also, people suffering from asthma, blood pressure, and claustrophobia may be under risk of suffocation.
People with diabetes, rashes, and open wounds should not use a weighted blanket without consulting their doctor. The blanket may worsen their condition.
A weighted blanket should be 10% plus one pound of your weight. If one uses a heavier blanket without following this rule, he may fall unconscious and endanger his life.
Therefore, weighted blankets are both beneficial and dangerous when misused.
Wrapping up
SensaCalm weighted blankets are designed to keep you feeling warm, safe, and comfortable. They are filled with non-toxic poly fillers that distribute weight evenly.
They are also made of high quality, eco-friendly materials. The cotton used is soft and gentle on hands. Although the blanket is heavy, the manufacturer has ensured it is easy to clean.
They come in all sizes to suit kids, teens, and adults. They have proven effective with people suffering from autism and posttraumatic stress disorders. People with insomnia and other sensory disorders have also found weighted blankets effective.
The SensaCalm Medium Weighted Blanket is lightweight and has bright vibrant colors. It is easy to clean and does not need any covers. Besides, it helps you fall and remain asleep.
The SensaCalm Therapeutic medium waterproof weighted blanket is beneficial too. It is not only therapeutic but waterproof too. Any sweat and moisture are released leaving you comfortable. It is also breathable and leakproof.
Have no worries when investing in SensaCalm weighted blankets. They have positive reviews from fully satisfied customers. You too can be part of the SensaCalm family.
Feel free to ask your doubt's in the comment section below. We would be happy to answer to your queries.
SensaCalm Weighted Blanket Reviews
SensaCalm Medium Weighted Blanket

SensaCalm Therapeutic Medium Waterproof Weighted Blanket
Summary
SensaCalm is a widely popular name when it comes to choosing a good weighted blanket for a good night sleep.
In our review, we have found that the SensaCalm weighted blanket has proved to be very useful in recovering from stress, anxiety, PTSD and insomnia.
The Deep touch pressure stimulates the body of the user as if they are hugged or held. This helps them calm their mind and have a great sleeping experience.
Last update on 2023-11-23 at 12:45 / Affiliate links / Images from Amazon Product Advertising API