For years, Rocabi delights in offering you the best weighted blankets. They are amongst the top selling weighted blankets on Amazon.
But, are they really good or is it just the hype?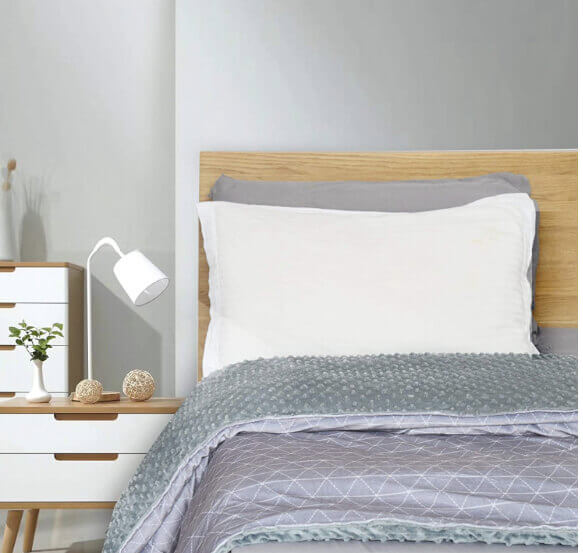 In this detailed post, we would try to find just that. The main reason for bringing this detailed post on the Rocabi weighted blanket review is to help you make the right choice if you are planning to buy it.
The Rocabi weighted blankets have proved to help reduce anxiety, stress, and sleepless nights. This is made possible by the odorless, non-toxic, fine beads sewn inside the blankets. The blankets offer Deep Touch Pressure that helps the brain release the necessary neurotransmitters responsible for a good sleep.
Since we care about your sleep, this article features three Rocabi weighted blankets and their key features. Also, in the end of this post, you'll find some frequently asked questions about weighted blankets. That would help you clear all the confusion which you might still have regarding buying a weighted blanket.
Best Rocabi Weighted Blankets
Rocabi Weighted Blanket Review
Made with premium quality materials, the Rocabi Deluxe weighted blanket offers you a deep and healthy sleep. You can now enjoy your nights with the feeling of being hugged.
People suffering from anxiety, post-traumatic stress disorder or insomnia who have used this blanket have given mostly positive reviews about this blanket. They felt like they were hugged by a partner. They remained relaxed, calm and slept for longer hours.
This weighted blanket has soothing pressure as a result of the glass beads in the blanket. The glass beads are enclosed in 4.7″ pockets for even distribution of weight. The pockets are double stitched to avoid any leaks.
Besides, the blanket is made of soft minky material which helps in achieving a good night sleep. The soft fabric is soft to rub on in times of anxiety.
Furthermore, Rocabi has observed all the environmental factors when making this weighted blanket. It is also cool and breathable.
The corners of the blanket have ties to prevent any clumping. The 4.7″ deep-stitched pockets prevent clumping too.
A good weighted blanket should be 10% of your weight plus one pound. This 25lb blanket can be used on queen-sized beds and can be shared by two people.
For cleaning purposes and protection, the deluxe blanket comes with a zipper cover. This cover could be easily washed in the washing machine.
This Minky grey deluxe blanket is a perfect sleep gift you can present a loved one. Rocabi offers 60-day free trial period and a one year warranty. Besides, customer service is warm and exemplary for any issues and concerns that may arise.
Pros
A drug-free solution to anxiety and sleep problems
Made of quality and premium materials
Has observed high levels of craftsmanship
Guarantees no leaks
Comes with a zipped cover for protection and easy washing
Corners have ties to prevent clumping
Cons
Not comfortable for two people unless when spooning.
Check Price on Amazon
This weighted blanket offers you the gift of rest, happiness, and sleep. It offers superior comfort at night and you will wake up feeling refreshed and full of energy.
The weighted quilt on the inside is made of 100% organic and fine premium glass beads for Deep Touch Pressure. The glass beads also allow a fair distribution of weight all over your body. The blanket is silky-soft, cool and breathable.
The outside is made of soft cotton and has textured dots. These textured dots are effective in achieving sensory feedback.
The weight on the blanket incorporates the feeling of being hugged tight. This sensation will help you sleep feeling more relaxed and calm.
Besides, for quality comfort, the blanket is made of premium materials. There are 4.7″ pockets that are double-stitched to lock in the heavy glass beads. There are ties at the corners to prevent any clumping and bunching.
Furthermore, the blanket displays a perfect design. This Minky grey blanket is fit to rhyme with any bedroom décor.
This luxury blanket is large enough to be shared among two. It has a removable cover for easy cleaning and maintenance. The concealed zipper ensures your blanket is secure.
The manufacturer has however suggested not to use this weighted blanket on pregnant women, children under the age of 5 and adults who have difficulty moving the blanket by themselves.
Pros
Mimics a gentle hug
Improves the quality of sleep
Made from premium materials
Has a removable cover
The heavy glass beads distribute weight evenly
Extra soft
Improves mood
Cons
The beads may shift ruining a good night sleep.
Check Price on Amazon
Worried that you might get too hot during summer? The Rocabi cooling weighted blanket is what you need.
Flawless in design, this weighted blanket will keep you cool during summer. The inner quilt is made of cool cotton and 100% organic. It also has fine glass beads.
The glass beads help in adding weight to the blanket for a hugging effect. Also, they distribute weight evenly on your body. They are double stitched in 4.7″ pockets to eliminate any possibilities of leaks.
The minky fabric used is soft and gentle on hands. This fabric is known to create premium, luxury, and sensory blankets as many other brands like Dr Harts, Quility and Gravity blanket also use the same. The minky dots on the outer side are for adding extra decor and texture.
Although the blanket compresses your body, the blanket is breathable and poses no risk. However, use it from the shoulders down and do not cover your head.
The blanket is equipped with a removable cover made of 400-thread cooling cotton. It is both cool and breathable in hot nights.
The design of this deluxe blanket can complement any bedroom. You can use this 25lb size for a king-size bed or a queen-size one. It is large enough to accommodate two people.
The corners have straps to keep the blanket in place. They also prevent clumping. The blanket has concealed zippers too to avoid unnecessary injuries when asleep.
Furthermore, the blanket has a removable cover designed for machine wash and tumble dry. The main blanket however can only be dry cleaned.
The blanket has met all environmental standards and is safe to use all year round. It has a 60 night trial period and a 1-year warranty.
Pros
Imitates a warm, gentle hug
Offers Deep Touch Pressure
Convenient to use in any bedroom
Has enough room for two
Made from premium qualities
Has cooling cotton making it suitable for summer
Cons
Not suitable for pregnant women and children below the age of 5
Check Price on Amazon
Frequently Asked Questions
Q1. How do you wash a Rocabi Weighted Blanket?
Ans: Most Rocabi weighted blankets are equipped with removable cotton covers. These covers have concealed zips for easy removal when cleaning. The covers can be washed by machine on low mode. You can hang them to dry or have them tumble dry.
The weighted blankets do not need much cleaning since they have covers on them. However, if the need arises, take them for dry cleaning.
Q2. Do weighted blankets help arthritis?
Ans: Weighted blankets are popular for calming people with anxiety, autism or any other sensory disorder. They offer Deep Touch Pressure on the user which feels like a massage or a gentle warm hug.
People suffering from arthritis are no exception. They too can benefit from the weighted blanket. Arthritis hurts more during the night. Although the blanket will not take the pain away, it will improve your sleep and reduce the pain caused by arthritis.
Q3. Should I get 15 or 20 pounds weighted blanket?
Ans: It all depends on your body weight. The general thumb rule is choosing a blanket that is 10% of your body weight plus one pound.
A 15-pound blanket is suitable for people weighing 160-180lbs while a 20-pound blanket is compatible with people weighing 180-200 lbs. Before purchasing, ensure the weight on the blanket is suitable for you.
Q4. Can weighted blankets help with back pain?
Ans: Yes. Since back pain disrupts your sleeping time and pattern, a weighted blanket helps by keeping you relaxed and asleep for hours. This way, the back pain does not interfere with your sleep.
Furthermore, a weighted blanket will calm your nerves and regulate your temperature.
Q5. What is the best filing for a weighted blanket?
Answer: Since a weighted blanket should have added weight than the ordinary blankets, weighted blankets are filled with microbeads or fine glass beads. These beads are the best since they are non-toxic, odorless and help in distributing the blanket's weight all over your body.
Besides, the glass beads help achieve the hugging effect that comes with the blanket. They add more weight to the blanket for a compressing effect.
Final Thoughts
Rocabi weighted blankets are ranked amongst the best weighted blankets. Not only do they have a calming effect but also become a close companion to you and your loved ones.
The 3 weighted blankets mentioned above offer a gentle and warm hugging effect and are cool and breathable. They have been tried and tested and they all have met high environmental standards.
Besides, they are soft and heavy for Deep Touch Pressure. Whether you are suffering from a chronic illness or in need of a sleeping solution, these blankets are a remedy for you.
You can also consider buying a simple woolen blanket for winter if you aren't facing any major issues like anxiety, stress and insomnia.
Rocabi weighted blankets have superior and premium quality. Worry no more when considering Rocabi blankets during your next purchase.
Rocabi weighted blanket review
Rocabi Deluxe Weighted Blanket King Size Bed

Rocabi Luxury Weighted Blanket Adult Queen Size Set

Rocabi Cooling Weighted Blanket
Summary
Believe it or not, weighted blanket does help ypu recover from strees, anxiety and insomnia.
The question is, does the Rocabi weighted blanket really worth the hype?
Our team selected three different Rocabi weighted blankets to bring a detailed review about them including their features, price, pros and cons. We have also covered the latest queries related to weighted blankets.
Last update on 2023-09-25 at 13:36 / Affiliate links / Images from Amazon Product Advertising API