We bet, choosing the best VR headset for VRChat is the most confusing task. Especially if you are like some of us who love networking with different people across the globe, then virtual reality (VR) is what you need.
This emerging technology has come a long way, which has seen millions of dollars getting invested by mega tech companies like Microsoft, Google, and Facebook.
Along the way, virtual reality headsets of all shapes and sizes have found themselves into the market.
This has, in turn, led to the creation of virtual reality chat apps such as VRChat that allow you to make friends around the world or create your virtual world.
With VRChat, you can easily create, publish and explore virtual worlds along with many other people across the globe.
In this article, we will review the top ten best VR headsets that you can use with the VRChat app.
We will also include a comprehensive buyer's guide, which would help you choose the right VR headset.
10 Best VR Headsets for VRChat
Best VR Headsets for VRChat – Reviews
As compared to mobile phones, the VR segment is very small. There are limited companies that are working in manufacturing and bringing in the new virtual reality headsets in the market. Some of them offer affordable VR headsets, while some are too costly.
The most confusing task is to choose the best VR headset keeping in mind that the main purpose is to primarily use it along with the VRChat app.
We have done rigorous research on the topic before bringing you the top-rated and know VR headsets, which would enhance your VRChat experience.
Check the detailed reviews of these top VR headsets, which would help you to choose the right product for VRChat.
Samsung may well be known for its cutting-edge smartphones, monitors, and home appliances.
However, the brand has made significant strides in the world of virtual reality. With the Samsung HMD Odyssey Plus, the company offers the best Windows Mixed Reality (WMR) headsets for this generation.
For starters, the HMD Odyssey plus is a refreshed version of the HMD Odyssey.
Unlike its predecessor, this new version addresses two main concerns that most people are likely to experience when using VR and mixed reality head-mounted display (HMD) system.
These include display and comfort, which can cause nausea and dizziness.
A few ounces lighter, the HMD Odyssey plus VR headset, looks super cool. It has a sleekly designed body made from plastic with a matte finish, and a reflective glossy faceplate also made from a plastic material.
The head strap is padded and covered with faux-leather material, which helps ease the pressure on the forehead after hours of continuous gaming.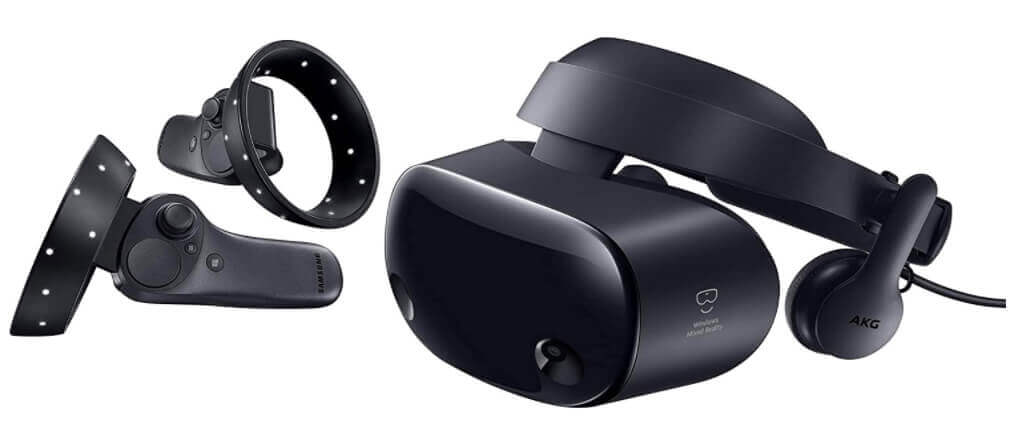 The two killer features of this headset are the display and lenses. It comes with dual AMOLED lenses, each with a 1440 x 1600 pixel resolution, which delivers richer colors and deeper blacks tackling the screen-door effect. Its field of view is 110 degrees and has an update rate of 90fps (frames per second).
Along with that, the Odyssey plus's lenses are larger and are distinguishable from those of other WMR gadgets because of their ability to adjust the inter-pupillary distance.
The more correctly the lenses are adjusted to match the eyes, the more enjoyable it will be in virtual reality. This helps prevent nausea and fatigue.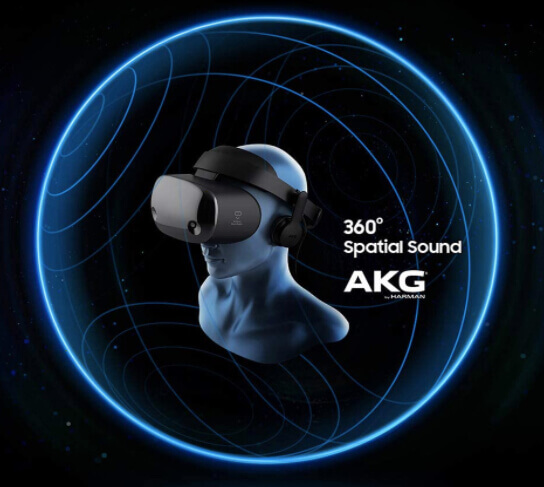 What's more, this headset comes with in-built AKG headphones that deliver impressive 360 degrees spatial audio. There's also a built-in microphone that you can use to chat with players or issue Cortana with commands.
Setting up your HMD Odyssey plus is also a breeze. All you have to do is connect the headset to your computer via USB-A 3.1 or HDMI 2.0 and run the setup in Windows.
Pros
Very easy to set up
Excellent screen resolution
Best VR headset for VRChat on Windows systems
It has a built-in audio system which lacks in most WMR systems
Easy to connect to most PCs
Check Price on Amazon
The AH101-D8EY by Acer is one of the best and the most affordable Windows Mixed Reality (WMR) systems available in the market today.
The headset offers a streamlined experience in Microsoft's virtual playground as well as in other platforms such as the Oculus Rift and Steam VR.
Sale
Out of the box, the Acer AH101-D8EY looks stylish, something that's rare to find with most VR headsets.
It's made from high-grade plastic and has an aerodynamically designed body with two-tones of paint.
The visor takes the glossy shade of blue while the rest of the body is finished with black matte. The circular headband, together with its adjustment dial, further accentuates the headset's design.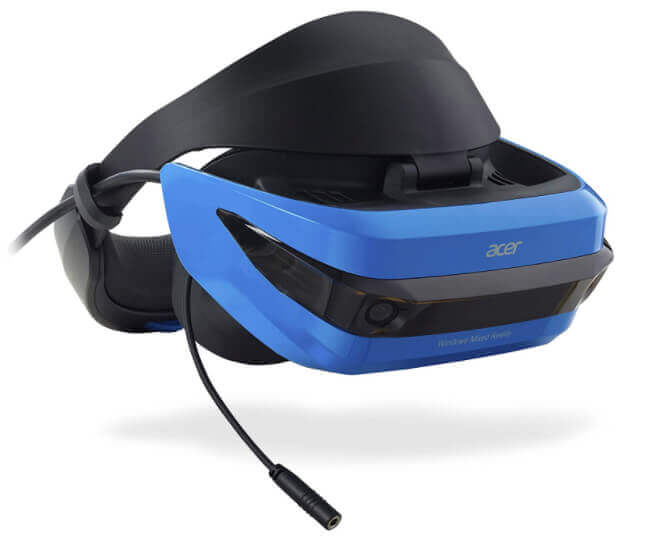 When it comes to the technical specs, Acer AH101-D8EY comes with dual 2.89-inch LCD panels, each with a resolution of 1440 x 1440pixels per eye and a refresh rate of 90Hz.
Furthermore, it has a 100-degree field of view and supports inside-out tracking using B+G VGA cameras.
However, unlike the Samsung HMD Odyssey plus, this VR headset does not come with inbuilt headphones.
So you'll need to get earbuds or Bluetooth headphones to get a fully immersive experience on VRChat.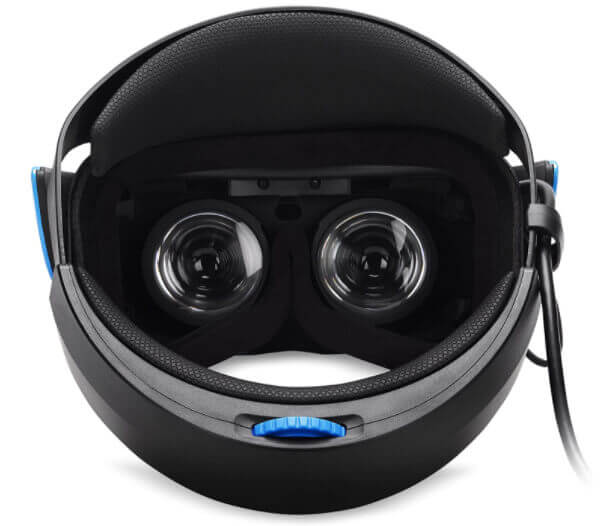 One of the best features that we loved about this VR headset is that you can flip the visor and transition from the virtual to the real world in a snap. The headband is also adjustable and padded to help ease pressure on the forehead.
Pros
Very user friendly and easy to set up
You can pop up the visor and transition from virtual to real environments
Top budget VR headset for VRChat
Doesn't require external sensors and its motion-tracking offers 6-DOF (degrees of freedom) with this headset
Connect with most windows PCs via HDMI and USB cords
Cons
The field of view is small
Check Price on Amazon
HTC VIVE Pro is one of the best, if not the best VR headset for VRChat available in the market today.
Designed for the most demanding VR users, this virtual reality system is fully featured and outshines most of the brands in the market. It's a pro version of the HTC VIVE.
Sale
The headset ergonomically optimizes every design detail. Firstly, most of its frame is stately royal blue with black accents and a dotted anterior, which makes it quite distinctive from other headsets.
Moreover, it comes with a top-mounted head strap with an adjustable blue sideband that is not only cosmetic but functional.
The pair helps to evenly distribute the weight of the headset as well as balance the center of gravity. There is also a knob at the back that helps adjust the band around your head in a nice and smooth motion.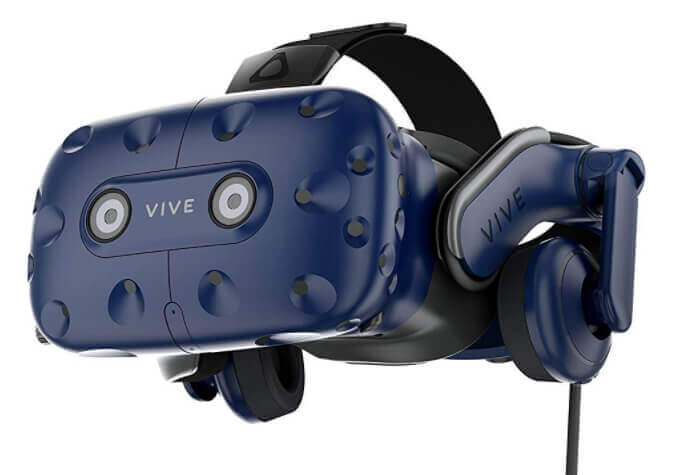 The technical specs, on the other hand, are nothing short of amazing. The HTV Vive Pro comes equipped with 3.5 inches dual high-resolution AMOLED displays each with a resolution of 1440 x 1600 pixels which brings the total resolution to 2880 x 1600 pixels.
The field of view is 110 degrees, while the refresh rate is 90HZ. This is equivalent to what the Samsung Odyssey Plus offers.
Along with that, the headset features two front-facing cameras and in-built headphones with smart noise cancellation.
The headphones are Hi-Res Audio certified, which means they deliver top-quality digital sound with 3D spatial.
They are also removable if you prefer using your own, and the integrated microphones let you converse with the headset in place.
What's more, the Vive Pro does away with the Screen Door Effect thanks to the impressive 615PPI (pixels-per-inch), which improves the image quality as well as remove the fine grid lines.
It also has a tracker ecosystem that makes it ideal for motion capture, aerospace, and automotive simulations.
Nevertheless, it is a really good VR for VRChat.
Pros
Very user friendly and optimized for comfort
The high resolution display generates crisp detail
Doesn't have screen-door effect
Excellent tracking making it ideal for nearly any kind of virtual simulation
Works with original Vive gear
Top rated VR headset for VRChat
Cons
Doesn't include controllers, base stations or the wireless adapter
Check Price on Amazon
The Rift S by Oculus is probably the best mid-level wired VR headset available in the market. It's one of the most advanced PC-Powered VR headsets for VRChat.
That said, this revolutionary device is engineered to give you a pulse-pounding VR gaming experience. But what does it offer?
Ergonomically designed, the Oculus Rift S comes with a halo headband that securely and comfortably holds it in place regardless of any spontaneous reaction that you make. This ensures that your mind stays in the game.
When it comes to the optics, the Oculus Rift S isn't behind in the competition. Firstly, it has an LCD with a hyper-realistic total resolution of 2560 x 1440 pixels and a refresh rate of 80Hz.
While this is lower than that of the Odyssey and HTC, being a mid-level headset, it delivers bright, vivid colors with less screen-door effect in VRChat virtual worlds.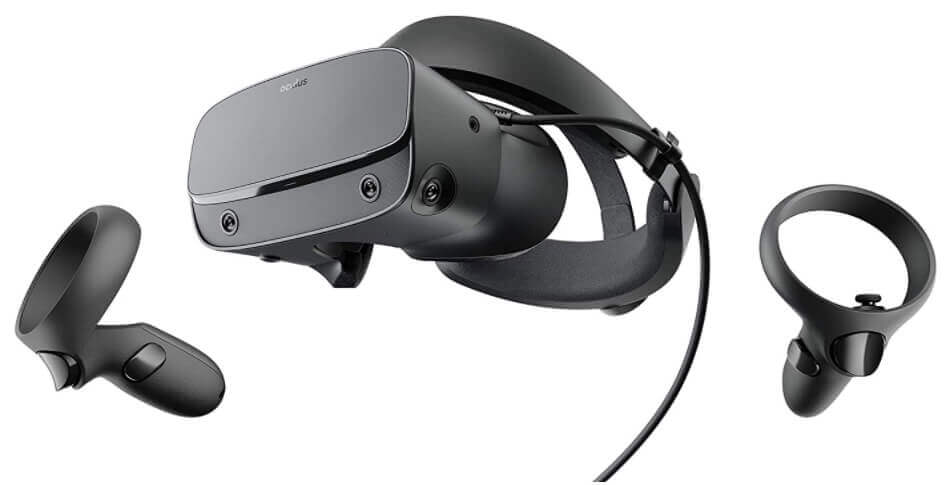 What's more, the headset gives you a 5' by 11' motion tracking radius, which is sufficient for VRChat.
It also supports insight tracking, which makes it easy for your movements to be translated into VR regardless of where you are facing.
The inside-out motion tracking also means that you do not have to look for external sensors.
Having said that, this headset is user-friendly and has a top VR gaming library where you can select from the hundreds of games available in the Rift store. Setting up is also a breeze with a single connection.
Pros
Easy to set up
Huge, deep library of VR games
Insight motion tracking without external sensors
Brilliant resolution and refresh rate
Oculus touch controllers
One of the top rated headsets for VRChat
Cons
Comes with an LCD screen in place of an OLED screen
Check Price on Amazon
The Vive Pro Eye is the third in line in the HTC Vive line-up, after HTC Vive Pro. The headset is designed for "professional" users looking to enhance product simulations as well as gamers looking for a powerful and revolutionary VR system.
Sale
For starters, the headset comes in a bold blue color with two front-facing cameras that help you to better track your room while gaming.
It includes a dual OLED screen with a resolution of 1440 x 1600 pixels per eye, a 90Hz refresh rate, and a 110-degree field of view.
Apart from that, it has an adjustable dial that allows for a comfortable fit and easy adjustment.
The design also features enhanced ergonomics that help reduce the weight on your forehead.
This includes a nose pad and face cushion that helps block ambient color as well as enhance comfort.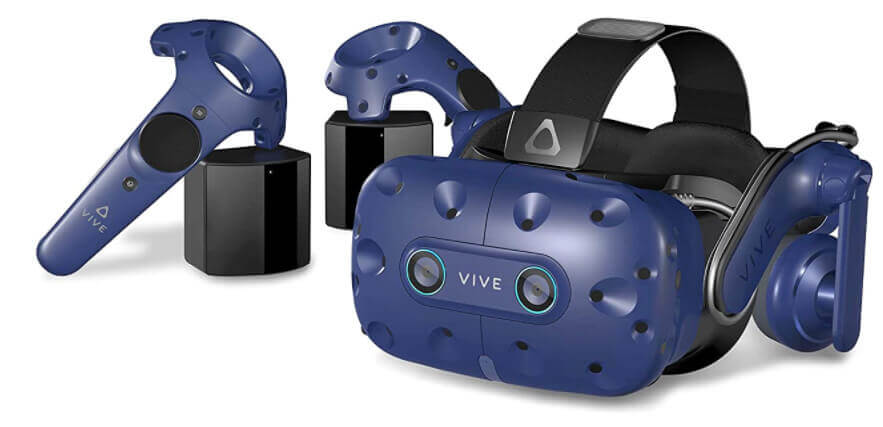 While the Vive pro eye bears a striking resemblance both in design and aesthetics with the Vive Pro, the highlight of this device is the eye-tracking technology.
This feature includes LED sensors around the lenses that not only track but also analyze your eye movements in the virtual world.
What's more, the Vive Pro Eye comes with built-in audio headphones that offer an immersive sound experience.
It also supports both SteamVR and VIVEPORT content platforms, where users can access a broad range of content.
Pros
Has an eye relief system for a comfortable viewing experience
Compatible with a vast array of games available on VIVEPORT and SteamVR
Has accurate motion tracking technology for best VR experiences unlike most headsets
Excellent resolution and refresh rate
Comfortable for most people since it's adjustable and padded in all the right places
Cons
Quite pricy and you need a powerful graphics card and PC for better VR experiences (at least quad-core i7)
Check Price on Amazon
HTC, through its Vive line-up of headsets, has revolutionized and helped create virtual reality as we know it today.
A few years down the line, HTC is still on the move. And the Vive Cosmos is the latest VR headset for VRChat.
Sale
HTC VIVE Cosmos
6 Motion Tracking Cameras.
2880 x 1700 combined-resolution.
Ventilated Faceplate.
This headset presents a momentous upgrade from both the Vive Pro and the original Vive.
However, unlike the earlier models, most people will find the Vive cosmos more playful and colorful.
Its body is covered with triangular patterns with a dark blue outer body that gives this headset a distinctive look.
Two front-facing cameras mimic the eyes and another four cameras that are located on the left and right sides of the visor as well as on the top and bottom edges of the front.
One thing about this headset is that it is engineered to work without the need for external sensors; hence it does not have base stations.
As such, the six cameras are equipped with sensors that track movement and the accompanying controllers.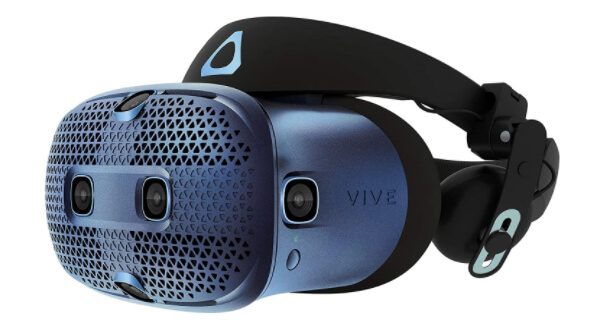 In terms of visual specifications, the Vive Cosmos comes equipped with a 3.4-inch LCD diagonal screen that displays 1440 x 1700 pixels per eye. This is a considerable pixel increase compared to other models.
According to HTC, the LCD panel helps in visual enhancement as well as in lowering the screen-door effect. Other than that, this headset's refresh rate and the field of view is the same as that of the other Vive models.
Just like you'd expect from such a deluxe model, the Vive Cosmos brings you one of the best and out of the box VR experience thanks to the integrated headphones that deliver 3D spatial audio.
It also has a flip-up visor with a headband that extends around the back of your head and a foam padded plastic arch that loosens and tightens. Both the headband and the plastic arch secure the headset comfortably on your head.
Pros
A huge software library access with SteamVR and VIVEPORT
Sharp and clear display
Accurate and expansive motion tracking field of view
Excellent motion controls
No need for external sensors
Check Price on Amazon
While Vive and Oculus might be the biggest names in the virtual reality world, other brands are doing exemplary well.
One such particular brand that has gained special interest among VRChat gamers is Pimax, and with their 5K XR standalone virtual reality headset, the brand certainly makes its mark.
Out of the box, the Pimax 5K XR's body is made from light plastic material and is quite huge, probably to accommodate its wide field of view (FOV).
The headset gives a 200 degrees field of view, which is the widest of any device we've reviewed. The wide FOV helps to accurately simulate peripheral vision within the virtual reality world.
In terms of display, the headset features 5K dual-OLED panels, each with a resolution of 2560 x 1440 pixels per panel, bringing the total combined resolution to a stunning 5120 x 1440.
This, together with the wide FOV, ensures that there's a very little screen-door effect, ghosting, and smear.
In addition to this, the headset supports standard 6-DoF controllers making it easy for you to choose a controller since it doesn't come with one.
It supports Steam controllers and is compatible with both 1.0 and 2.0 SteamVR Lighthouse tracking technology.
For better VRChat experience, your Windows PC needs to have a random access memory (RAM) of at least 8GB and an NVIDIA FTX 1070 or better graphics card. An i5 processor or higher is also recommended.
What we loved about this VR headset is the unlimited games access that it offers to its users.
You can also access games from other platforms like Oculus and Steam VR platforms.
It's also quite comfortable and light, thanks to the design ergonomics. One thing about this headset is that it has sufficient space and eye relief that allows you to wear it over your glasses.
Pros
Very light hence no fatigue
Crisp, clear display thanks to the 5k resolution
It has a vast library of games and supports two other platforms
It supports 6-DoF controllers for full positional motion tracking
The large FOV provides an immersive VRChat experience
Cons
Not cheap. No controllers or base stations
Check Price on Amazon
The 5K plus is another highly coveted VRChat VR headset by Pimax. Just like the more premium 5K XR, the 5K plus is a bigger outlier in the world of virtual reality.
For starters, the headset is massively big and surprisingly light. The reason for this is to accommodate the two side-by-side displays that give a diagonal super-wide field of view of 200 degrees.
The super-wide field of vision is the closest to the human vision of any existing HMD in the market.
More still, the Pimax 5K+ is equipped with two bespoke LCP panels christened CLPL (custom low persistence liquid panels).
Each of these panels gives a resolution of 2560 x 1440 pixels for a combined total resolution of 5120 x 1440 pixels, which is what Pimax refers to as 5K.
One great thing about these CLPL panels is that they do not show any perceivable ghosting or tearing. However, they lack when it comes to color production compared to Pimax 5K XR OLED panels.
In terms of comfort, the 5K Plus comes with a 3-point Velcro harness that keeps the headset secure on your face.
Unfortunately, the unit is sold as headset only, and you'll have to source for controllers and headphones yourself.
Fortunately, the headset supports SteamVR lighthouse controllers and trackers. It's also compatible with virtual reality platforms like Oculus and SteamVR.
This means that it's easy for you to select a controller as well as access a vast range of VR games.
Pros
Quite light thus comfortable for most people
High-resolution for a clear and immersive VRChat experience
Compatible with other VR content platforms
The pi-tool offers several customization options
Manual IPD (inter-pupillary distance) adjustment
Cons
No controllers or headphones
Check Price on Amazon
When it comes to Oculus and VR headsets, there is no slowing down. With the Oculus Rift, you can now bring virtual reality into your space.
Sale
Without a doubt, the Oculus Rift is aesthetically one of the best VR headsets for VRChat in the market today. Its design's attention to detail is second to none.
First off, this powerful, PC tethered headset is light and is cushioned in all the necessary areas to ensure that you enjoy maximum comfort.
The headset's body, on the other hand, is wrapped in a black rugged but soft black fabric, which makes it look like matte plastic from afar.
This subtle design adds some warmth and gives the Rift that premium feel. It also helps keep condensation build-up to a minimum.
Away from the design, the Oculus Rift is practically identical with the HTC hive when it comes to technical specifications.
For example, both have dual-OLED displays, each with the capability of driving 1080 x 1200 pixels resolution images.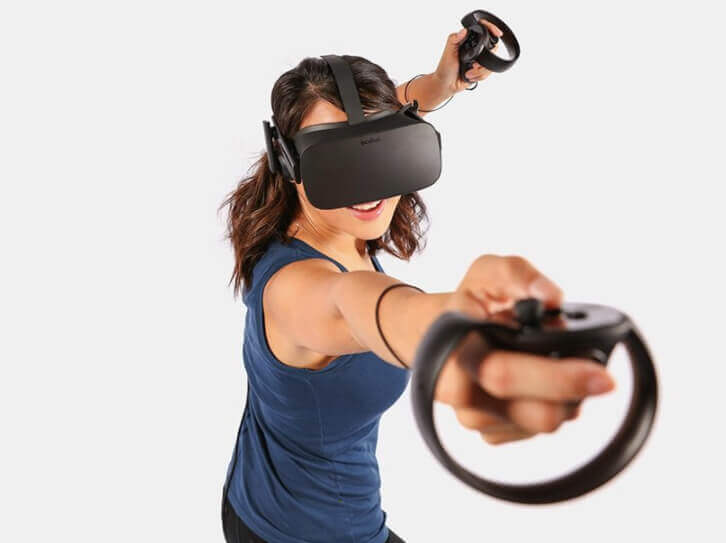 The display is also coupled with a 110-degree field of view and a 90Hz refresh rate combined, and these features offer users a smooth, HD VR experience.
Audio is a vital part of the VR experience. As such, the headset comes with in-built 3D spatial audio headphones.
These headphones provide a more immersive experience. The best part about these headphones is that they are removable, which allows you to use your own.
In terms of system requirements, the Oculus Rift can run on an Intel Core i3 6100 or AMD FX4350 with 8GB of RAM and an NVIDIA GTX 960/AMD Radeon RX 290 or higher graphics card.
Setting up is also straightforward, thanks to the lack of Lighthouse beacons and fewer cables.
Pros
Excellent design
More compact touch controllers that feel great in hand
Incredible audio quality thanks to the in-built 3D spatial headphones
The display is bright and crisp
Comfortable and easy to set -up
Cons
The touch controls are sometimes unreliable
Check Price on Amazon
A relatively new entrant into the virtual reality world, the HP Mixed Reality headset is another best VR headsets for people who want the ultimate VRChat experience.
It comes with numerous exemplary features despite its low price.
Featuring a neutral matte black finish, the HP MR headset comes with a futuristic and stylish design. It has a large visor fixed on a single band padded headband that flips up and down.
The visor's front features a long, glossy black plastic stripe that covers two cameras that are used for tracking positioning.
One thing about this headset is that it was designed with comfort in mind. Its super-light compared to most PC VRChat headsets and the rigid headband design together with the padding ensures that the headset sits comfortably on your head.
There's also a knob that you can use for adjusting the size for a perfect fit.
Like most Windows MR Headsets, the HP MR Headset comes with two 2.89-inch LCDs, each with a 1440 x 1440 pixel resolution per eye and a refresh rate that varies between 60HZ or 90Hz depending on your graphics card.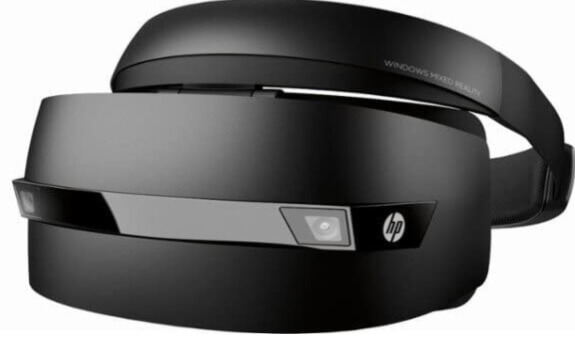 Motion tracking is another area that this VRChat headset does so well. Unlike PC based systems, the HP Mixed Reality system employs inside-out tracking, which means it uses camera sensors to track motion instead of using external sensors. This is one aspect that makes MR systems quite easy to set up.
The headset runs on PCs running on Windows 10 fall creators update. The PC must have 16GB of RAM memory, have an Intel Core i7/ AMD Ryzen 7 1700 processor, have an NVIDIAGTX.MAD RX 480 (2GB) or higher graphics card.
Pros
Great ergonomics
Setup is pretty straightforward
Excellent motion tracking
High-resolution graphics
Very comfortable
Cons
LCD displays. Smaller FOV
Check Price on Amazon
How to Choose the Best VR Headset for VRChat – Virtual Reality Headset Buying Guide
If you are thrilled about virtual reality, then it's time to get your VR headset. However, there are some factors that you need to consider to ensure that the VR system you are about to purchase offers you everything you need.
These factors can be categorized as follows:
Note that the order of importance is strictly based on the needs and preferences of the user.
Immersion
Immersion is the extent to which your body perceives to be physically present in a virtual environment. Immersion is created by wearing virtual reality headsets and using wireless controllers to explore digital 3D environments.
The environment may be surrounded by sound, images, or other stimuli. Various aspects influence the level of immersion.
Degrees of freedom (DoF): This represents the various ways in which a rigid object moves through 3D space. In virtual reality, it's the different movements that you may experience as a user.
It's mostly given as 3DoF (360-degree motion tracking) or 6DoF (room-scale tracking). For a more immersive experience, choose a VR headset for VRChat that offers 6DoF.
Positional motion tracking: This registers the exact position of the HMDs, controllers, or body parts.
The more exact the tracking is, the more immersive the VR experience. The two common types of positional motion tracking include outside-in tracking and inside-out tracking.
With outside-in motion tracking, you need external sensors to accurately track the headset's position.
Inside-out tracking, on the other hand, uses sensors in the front-facing cameras to detect the headset's position. Inside-out tracking is more accurate than outside-in tracking.
Field of View (FOV): The wider the FOV, the more the immersion. Most VR headsets offer a horizontal FOV of around 110 degrees. Others like the Pimax 5K offer up to 200 degrees.
Note that, the natural human eye offers a maximum FOV of 220 degrees. Therefore, to increase the sense of immersion, consider a VR headset with a wider FOV.
Controllers: Controllers do enhance not only the VR experience but also allow more in-game control. We recommend going for VR headsets controllers with 6DoF since they can be easily tracked by the headset.
Sound: Audio plays a very crucial part when it comes to creating fully-immersive experiences. When shopping, consider VR headsets that support 3D spatial audio. For people who like communicating with other users when gaming, consider one with a built-in microphone.
Comfort
Another vital factor to consider when choosing the best gaming VR headset for VRChat is the amount of comfort it offers. Does it feel heavy, does itch, is it balanced, and how does it impact the overall user experience?
Weight and fit: Most of the weight of the headset lies on your forehead. This may apply some pressure on your forehead as well as on your nose, giving you a "VR Face."
As such, you need to choose a lightweight headset with adjustable knobs or straps to help relieve the pressure caused by the weight of the headset.
Padding material: To make the headset comfortable to wear, most headsets come with some foam of cushioning that goes into direct contact with your skin.
For people whose skins are sensitive, it is best to check if the padding material is skin-friendly before making a purchase.
Wrapping Up
As you can see, there are tons of VR headsets for VRChats available in the market. We have listed for you the 10 Best VR headsets that we believe are the best in the market.
However, each of the listed product has its ups and downs. It is, therefore, up to you to decide on which VR headset suits your needs the best.
In our research, the Samsung HMD Odyssey plus checked all the boxes among all the virtual reality headsets for VRchat that we reviewed.
Our main reasons for picking it were because of its beautiful design, the huge resolution with almost no screen-door effect, the AKG in-built headphones, and the fact that it connects easily to most PCs.
Important Note: The images used in the post are taken from Amazon and stock photo sites.
Best VR Headsets for VRChat Reviews
Samsung HMD Odyssey Plus

Acer (AH101-D8EY) Windows Mixed Reality Headset

HTC VIVE Pro Virtual Reality System

Oculus Rift S PC-Powered VR Gaming Headset

HTC Vive Pro Eye Virtual Reality System

HTC Vive Cosmos

Pimax 5K XR Virtual Reality Headset

Pimax 5K Plus VR Headset

Oculus Rift + Touch VR System

HP - Mixed Reality Headset
Summary
In this detailed review, we have tried to bring you the best VR headsets for VRChat. We have covered VR headsets from different segments.
From price to features and pros and cons, we have covered in-depth reviews so that you can make an informed decision while purchasing the right VR headset.
Last update on 2023-11-22 at 12:14 / Affiliate links / Images from Amazon Product Advertising API