There is no better way to enjoy that lazy weekend afternoon than by watching your favorite movie or listening to your favorite jams.
With a good home theatre speaker system, you can turn your watching or your listening into a cinematic experience. These system units deliver top-of-the-range audio quality via seven speakers and a subwoofer.
What sets these systems apart from the 5.1 channels is the audio ambiance, the expansion of the directionality, and the audio-detail.
In this review article, we will look at the best 7.1 and 7.2 home theatre systems in the market today. We will also include some frequently asked questions to help answer any doubts that you may have.
Best Home Theatre Systems of 2022 [7.1 & 7.2 Channel]
Best 7.1 Home Theatre Systems
Nakamichi is a Japanese audio brand that achieved great success back in the 80s. Their high-quality audio cassette decks were the pinnacle of home audio systems back then.
However, the company fell out of favor in the later years due to the lack of innovative digital technology.
Today, the electronics manufacturer has made a solid return on a renewed quest to prove its supremacy in audio systems with the Nakamichi Shockwafe Pro 7.1.4Ch. But what does Nakamichi offer with this system?
For starters, the Shockwafe Pro 7.1.4Ch is an all-in-one surround system. The system employs Spatial Surround Elevation (SSE) technology to produce detailed and multidimensional audio that seems to flow through, above, and around you.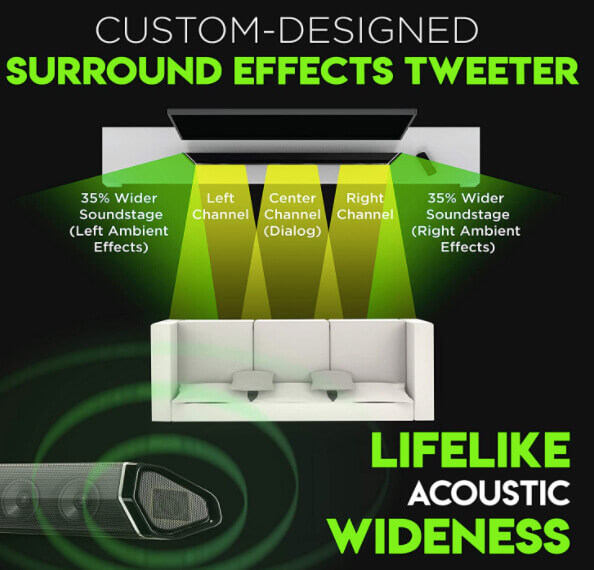 It comes with an 8-inch wireless subwoofer that powers the two 2-way satellite speakers and side-firing tweeters in the soundbar.
The subwoofer emits smooth bass effects while the two satellite speakers provide clear, immersive audio.
The tweeters, on the other hand, create an enveloped environment with superb audio-surround effects.
What's more, the system can decode both Dolby Atmos & DTS-X signals, which means that you can place sounds anywhere in 3D space to get an immersive surround sound experience.
In terms of connectivity, this unit supports most of your requirements. It supports Bluetooth, HDMI inputs, 4k video compatibility, and much more.
Pros
Low bass impact and unparalleled sound quality
Includes a USB port for MP3 and WAV files playback
Very easy to set up
3-D theatre room acoustics
The one-button room function helps optimize your surround sound based on the size of the room
Cons
The remote-control system is not very user-friendly
Check Price on Amazon
Klipsch is an American company that has been producing audio systems for the past seven decades. One of their best 7.1 home theatre systems is the RP-5000F.
Big, bold, and presentable, this home theatre system knits together years of groundbreaking acoustic technology to give you an intense and fun way to enjoy your music or movie.
The unit comes with an RP-500C center channel speaker, two RP-5000F floor standing speakers, two RP-500SA speakers, a 10-inch subwoofer, and two RP-500M bookshelf speakers.
The system employs Klipsch's proprietary hybrid horn-loading Tractrix technology to produce crisp, clear, and detailed sound.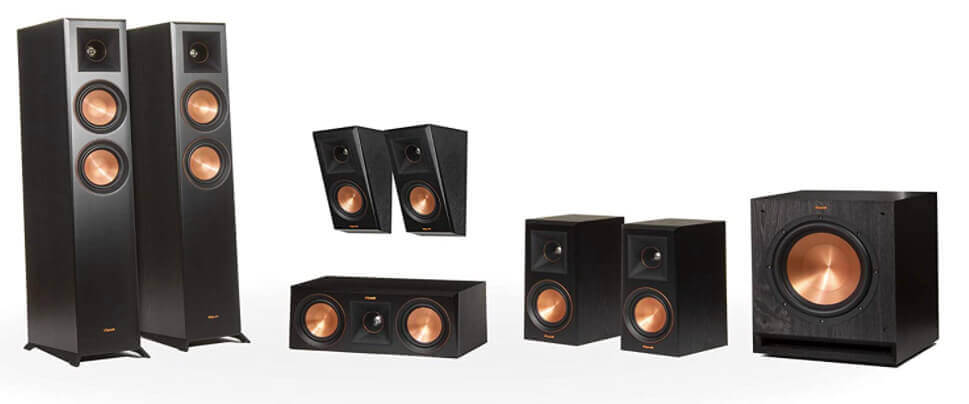 The technology also helps reduce horn resonance which ensures a flat and smooth frequency response. It also protects the tweeter from damage.
What's more, the vented tweeter design helps prevent unwanted harmonics while the spun copper cera-metallic woofers help in minimizing distortion.
It also comes with dual input terminals for bi-amping and bi-wiring capabilities.
Construction-wise, this unit features furniture-grade materials and boasts a walnut vinyl finish that's scratch resistant. The cast iron feet also speaks a lot about its quality.
Pros
Excellent sound quality
Reasonable level of detail and durable cabinet construction
Simple set up
Lifelike surround effects thanks to the cera-metallic speakers and subwoofers
Comes with 8 different sound components making it a perfect choice for large spaces
Check Price on Amazon
The Shockwafe Elite 7.2.4Ch from Nakamichi is a clear definition of excellence in innovation. This advanced home theatre system brings you the full cinematic experience right into your home.
Sale
Designed for performance, the Shockwafe Elite pushes 7.1 channels and more. It comes with a massive soundbar (with a right, left, and center channel) and two 8" wireless subs that send power and audio to the two rear surrounds.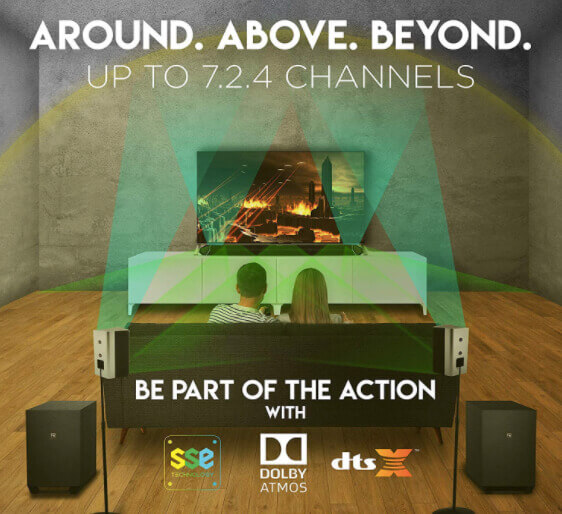 What's more, the system uses SSE technology for audio processing. The technology features three advanced engines that work in unison to boost directionality, spaciousness, and reveal more audio detail.
To add to this, the Shockwafe Elite 7.2.4Ch is fully capable of decoding DTS and Dolby signals including DTS-X and Dolby Atmos, which helps in creating an immersive surround sound experience.
One thing we loved about this soundbar system is the numerous connectivity options. It offers Bluetooth connectivity, USB port, and HDMI inputs.
Pros
Superb surround effects
You can stream audio content wirelessly from your smart device via Bluetooth
It comes with a quad-core sound processor that processes audio tracks with precision, clarity, and speed
The package includes a backlit remote with EQ-settings, SSE personalization modes, lip-sync adjustments and more
Premium build quality
Check Price on Amazon
If there is a brand that has built its name in the audio industry, it's none other than Sony. As such, this 7.2 Channel home theater system lives up to uphold the good name of the company. But what does offer?
To begin with, this system looks durable and is quite massive. This means that you need ample space for you to set up all its components which include a receiver, 2 floor-standing speakers, 2 bookshelf speakers, a center-channel speaker, and a 10-inch sub.
That's said, this unit ships with it the digital cinema auto-calibration system that aims at creating a theatre-like environment in your space. It also supports DTS and Dolby surround sound decoding.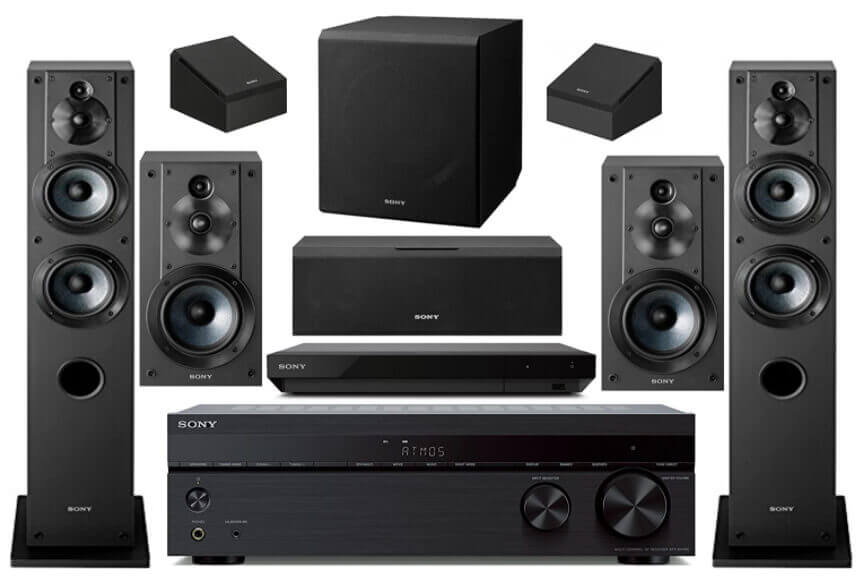 Furthermore, the system is designed with the interest of both audiophiles and movie fanatics in mind. It supports 4K resolution and can upscale DVD video to near HD quality. UHD playback is also supported via HDMI.
Pros
Outstanding and crystal clear sound
Smart device connectivity via Bluetooth which allows you to stream audio content wirelessly
Full 4K and HDR compatibility
Several listening options
Premium and durable build quality
Check Price on Amazon
The Polk Audio Signature 7.1 system is a hi-fi home theatre speaker system that offers pleasurable surround sound experience.
Sleekly designed, employs state-of-the-art technologies to deliver cinema-like acoustics into your living room. The unit comes with 2 tower speakers, 1 center speaker, 4 bookshelf speakers, 1 AV receiver and a subwoofer.
The receiver (Denon AVR-X1300W) comes with a variety of input options making it one of the most versatile receivers in the list.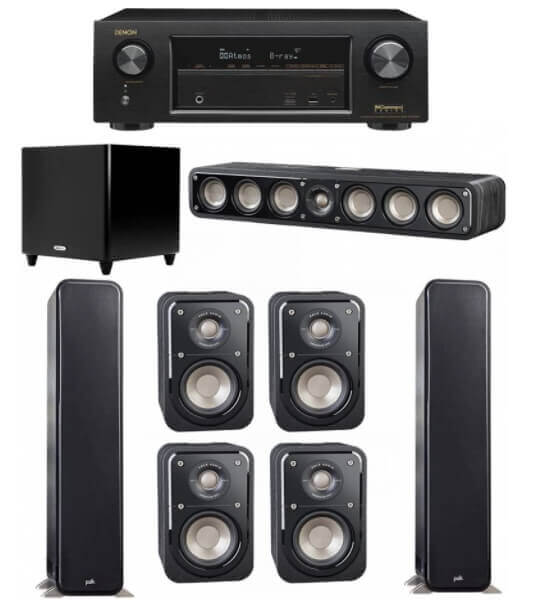 It supports Dolby Atmos, DTS-X, Full 4k Ultra HD resolution, HDMI input and output, HDR, Bluetooth/Wi-Fi connectivity, Audyssey MultEQ XT, and HDCP2.2.
With all these options you are sure to enjoy your movies and music in a dynamic and balanced acoustic array.
Pros
Theatre like acoustics
Versatile receiver unit
4K, HDMI, and HDR compatibility
Full-range sound quality and dynamic balance
Sleek design with durable build quality
Cons
Not a perfect for small spaces. It's also pricey
Check Price on Amazon
The 7.1 RP-250 is a top-of-the-line home theatre speaker system in the Klipsch's Reference Premier Surround lineage. The home theatre system lives up to the company's ethos of producing high-end sound systems.
The system comes with 2 Reference Floorstanding speakers, a center channel speaker, 2 surround speakers, and 2 monitor speakers.
Each of these components adds to the overall quality of sound generated by the system.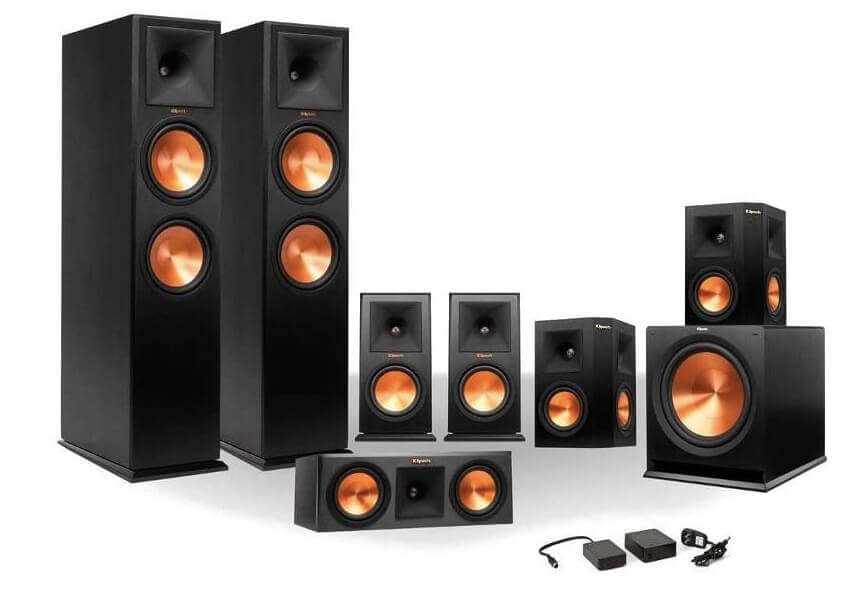 One unique thing about all Klipsch speakers is that they have cerametallic cones. This unique design helps in ensuring that the sound produced by the system is crisp, clear, and has no distortions.
What's more, the system is built to last for a lifetime. The speakers are housed in a strong MDF cabinet that's skillfully constructed and brushed with polymer veneer baffle finish that blends with your décor.
The sound quality would reming you of a car system equipped with top notch amps and refined sound experience.
Unfortunately, the system does not offer wireless connectivity like most other brands on the list. However, it still possible to pair the system with other alternatives in the Klipsch wireless line.
Pros
Intimidating bass and excellent sound quality
Low-frequency response
Sturdy and durable MDF cabinet
Very powerful. Comes with a 200W subwoofer
5-year warranty and excellent support
Cons
Not wireless. It's also pricey
Check Price on Amazon
Last on our list is the STR-DN1080 from Sony. This unit is one of the best 7.2 home theater systems in the market today. And just like most products from Sony, the STR-DN1080 check all the boxes.
First of all, this superb speaker package includes 2 floor-standing speakers, a receiver, a 10-inch subwoofer, a center channel speaker, 2-bookshelf speakers, and 2-Dolby Atmos-enabled speakers.
The speakers' pair seamlessly with the Atmos-enabled home theatre receiver to give you a full 360-degree surround sound that's accurately positioned in an enveloped environment. This makes you feel the sound is flowing above, around and through you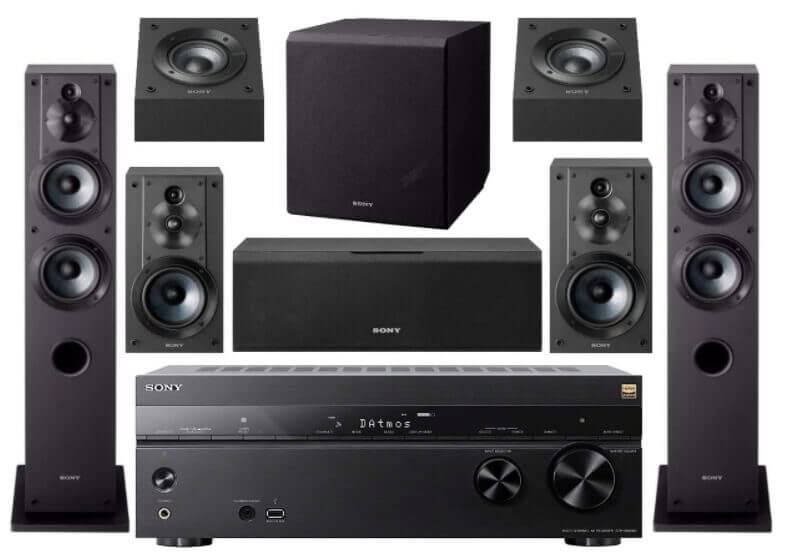 Along with that, it is HDCP 2.2 compatible and has a 4k pass-through feature that ensures that image quality is not compromised. It also supports HDR signal pass-through.
One unique feature with this system unit is the ability to sync with Google, which allows you to control it with your voice. You can stop, play, pause, skip, or increase the volume without lifting your finger.
Pros
Superior audio and picture quality
Sleek, modern design
Voice control via Google
Supports Wi-Fi connectivity
Supports multi-room connection
Check Price on Amazon
Frequently Asked Questions (FAQs)
How do I know whether my system supports Dolby Atmos & DTS-X signals?
Both Dolby Atmos and DTS-X are some cool tech and offer smart functions. To know whether your system supports these techs, the easiest way to look up the model online.
In most cases, the manufacturer will advertise their inclusion since they are in such high demand.
What's the difference between 5.1 surround speakers and 7.1 surround speakers?
The difference is the setup. A 5.1 surround speaker has five one subwoofer, three speakers at the front, and one speaker at the back. A standard 7.1 system, on the other hand, has seven speakers and a subwoofer.
It can, however, have other constituents such as a receiver and a soundbar.
What should I look for when shopping for the best 7.1 and 7.2 home theatre and speaker system?
When shopping for a 7-channel speaker system you should consider things like:
Space: How much space do you have available to set up your system unit? Will space restrict its performance as well as the placement of its components? If your space is limited, it would only make sense to buy an average-sized system.
Sound quality: The entire idea of buying a home theatre is to give your living room a cinematic experience. As such, you need to check the quality as well as the capability of the speakers. Check the frequency range, RMS, and Peak wattage.
Compatibility: You do not want to purchase a system that's not compatible with the devices or equipment you already own. For example, does the system support Bluetooth connections? Are the speakers wired or wireless? Does it support HDMI inputs and outputs?
Remote control: Most systems come with a remote control that allows you to adjust the volume, skip, pause, stop, as well as equalize. Modern systems even come with assistants such as Google Assistant and Alexa. These systems are equally important if you want to achieve maximum control.
Warranty: Just like any other electric equipment, home theatres are prone to break downs. For that reason, you need to ensure that the item you purchase is covered by a warranty. Note that warranty varies across brands and models.
Wrapping Up
Hopefully, our rundown for the best 7.2 home theater system has given you some crucial insight into what you need to find the perfect home theatre system.
However, if you are not sure of which 7.1 or 7.2 home theater and speaker system to choose, we highly recommend the Nakamichi Shockwafe Elite 7.2.4 Channel 800W.
For one, it's undoubtedly powerful and looks sleek. While it's slightly expensive if you are on a budget, this system unit checks all the boxes. It offers more than some of the expensive models on the list.
Best 7.1 and 7.2 Home Theater and Speaker System
Nakamichi Shockwafe Pro 7.1.4 Channel 600W Home Theater System

Klipsch RP-5000F 7.1 Home Theater System

Nakamichi Shockwafe Elite 7.2.4 Channel 800W Home Theater System

Sony 7.2 Channel Wireless Bluetooth 4k 3D HD Home Theater System

Polk Audio Signature 7.1 System with 2 S55 Tower Speaker

Klipsch 7.1 RP-250 Reference Premiere Surround Sound Speaker

Definitive Technology 7.1 System with 2 BP9060 Tower Speakers

Sony STR-DN1080 7.2-Channel Home Theater System
Summary
This is once of our toughest review, to be honest. First of all, there aren't many 7.1 and 7.2 options available in the market. We researched 15+ home theater options and picked only the top 8 out of them.
Last update on 2023-09-25 at 20:27 / Affiliate links / Images from Amazon Product Advertising API