A few years ago, in-car audio systems were uncommon and costly components. Today, all new vehicles have an audio system and an amplifier of some sort built into their head units.
However, these systems have nothing to write home about in comparison to the aftermarket systems in terms of sound quality and performance.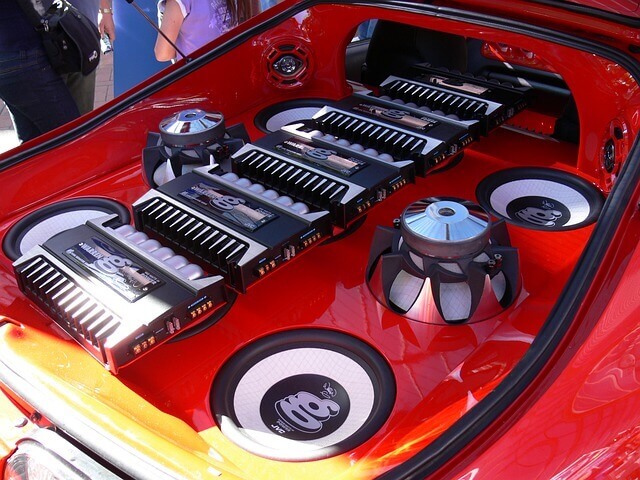 As such, you need to invest in an aftermarket system for you to stay ahead of the competition. And that means getting a competition car amplifier.
However, getting the right one is not a walk in the park. In this article, we have researched and reviewed the 7 best competition car amplifiers to suit your needs. Read on to get the best insights on the top amps in the market.
Best Competition Car Amplifiers
Best Competition Car Amps – Reviews
When it comes to car audio systems, Alpine Electronics is probably your first go-to brand. The company has been in the car audio industry for over three decades now and have undoubtedly mastered the art of engineering high-quality car amplifiers.
They offer a wide range of car audio systems ranging from amplifiers to subwoofers.
Their amplifiers come in 8 series, namely, DSP, PDX, S, BBX, X, R, V-Power, and Add-on series. The PDX-M12 digital amplifier is one of the best in the PDX series. But what does it offer?
Just like what you'd expect from a good amplifier, the PDX-M12 is engineered for performance, sound quality, and performance.
If you are a true car audio enthusiast, you will not go wrong with this compact yet powerful amp.
Stable at low impendence, the PDX-M12 delivers 1200 of continuous power with a 2-4 Ohms load per channel, which is quite impressive.
This offers incredible flexibility, especially when working with subwoofer and multiple speaker loads.
To raise the bar further, the amp uses a patented Power Management circuit. This new technology from Alpine helps monitor all aspects of your amplifier's performance ranging from temperature, output, and voltage to ensure that you enjoy uninterrupted power output for endless listening.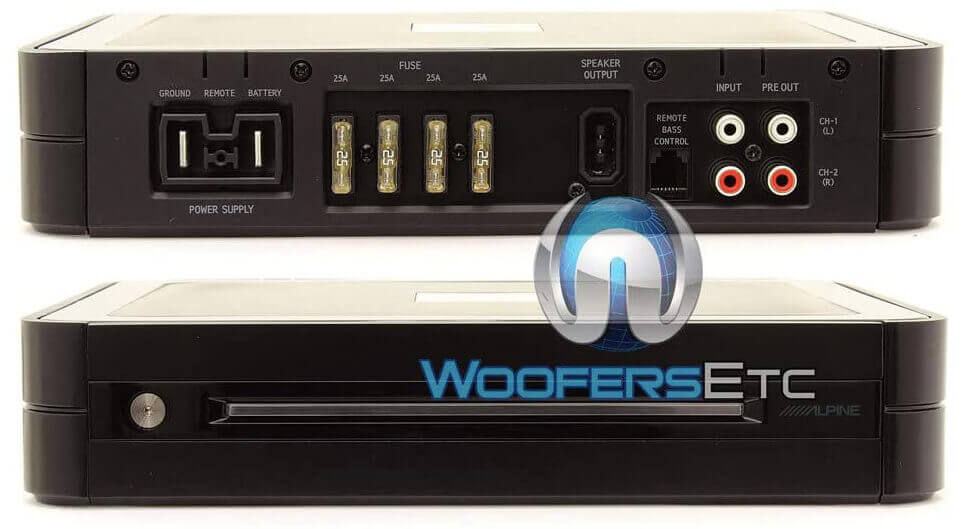 It has a thermal protection circuit that kicks in when the amp starts to overheat. This reduces the output power gradually until the amp cools down and then automatically increases the power levels back to normal once things cool down.
The same applies when the battery voltage drops.
The amp also comes with a unique stacking system compared with the previous models. The stacking system packs the amp closer together to ensure that it saves your trunks space and leaves no gaps.
In addition to these beefy engineering components, the amp includes a power connector, speaker terminals with quick disconnect design for error-free installation, and a MOSFET power supply. The amp is also CEA-2006 compliant.
Pros
Ultra-wide frequency response for unparalleled sound quality
Controlled and tight bass for unprecedented sound quality
Power management processor for controlling amplifier performance
The MOSFET power supply and thermal protection circuit
Stable at low impendences
Check Price on Amazon
Rockford is an American car audio systems company that has been around for years. Since its inception, the company has won the hearts of many audiophiles for continually producing high-quality audio components.
Their amps come in three series, namely: Prime, Punch, and Power series. The P1000X1BD is the best in the Rockford Fosgate's punch series.
This middle of the range Class BD mono amplifiers has a capacity to output 1000 Watts RMS with a 1-Ohm load or 500 Watts RMS with a 2 Ohms load guaranteeing you maximum "boom" for your buck.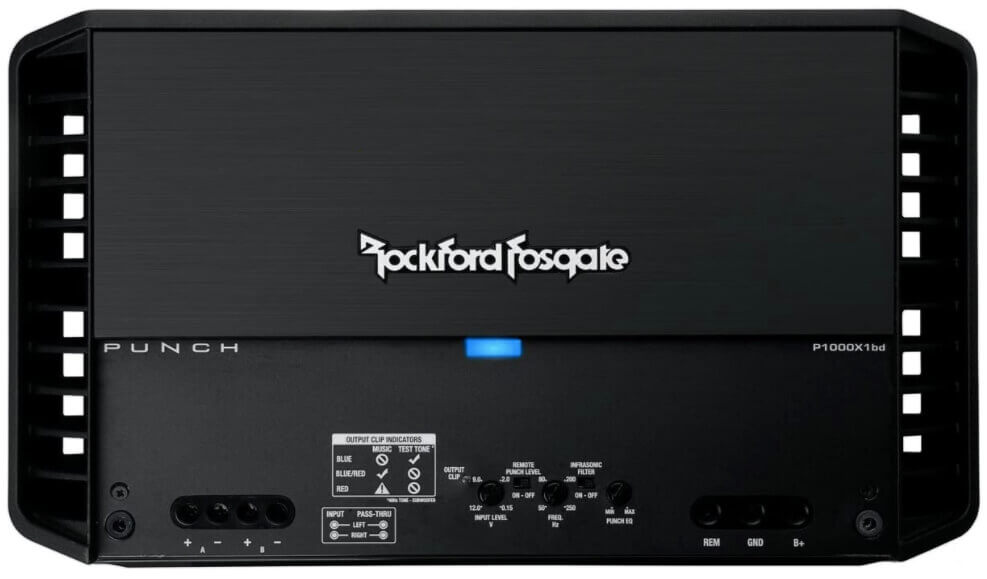 With its dedicated low-frequency response, the P1000X1BD is optimized for use with subwoofers and mid-bass speakers to ensure that you get the best quality sound. To add to this, it includes an infrasonic filter and a low-pass filter to keep the high notes away from your sub.
Moreover, its onboard punch EQ2 with +18dB boost at 45Hz lets you add some boom into the mix. Like most other Rockford Fosgate amps, this amp uses the company's C.L.E.A.N (Calibrated Level Eliminates Audible Noise) technology to ensure that your sound is crisp and free of any distortion.
To ensure uninterrupted listening and prolonged lifespan, the company uses its proprietary MENSA3 cooling system to reduce MOSFET temperatures and lower distortion. It also has a cast-aluminum heat sink for maximum heat dissipation.
Pros
Incomparable sound quality
Very efficient Class-BD circuit topology
On-board Punch EQ for enhanced sound quality
Patented MENSA technology maximizes heat transfer keeping the amp cool
CEA power ratings
Check Price on Amazon
Since its inception, MD Audio Engineering, which is the company behind the Orion brand, has been all about producing high-quality and high-performance car audio systems. As such, they have done a pretty decent job with the Orion HCCA5000.1DV2 amplifier. Let's see what this amp has in store for us.
For starters, this Class-D monoblock is one of the best competition amplifiers that has a continuous power output (RMS) rating of 5000 watts. You will get a unit that can pump out a whopping 3600 watts with a 2 Ohms load, and up to 5400 Watts with a 1-Ohm load. This is a pure indication of how powerful this unit is.
With its level adjustments, this unit is able to seamlessly integrate with any power source. Its adjustable bass boost is another plus as it helps maximize its performance.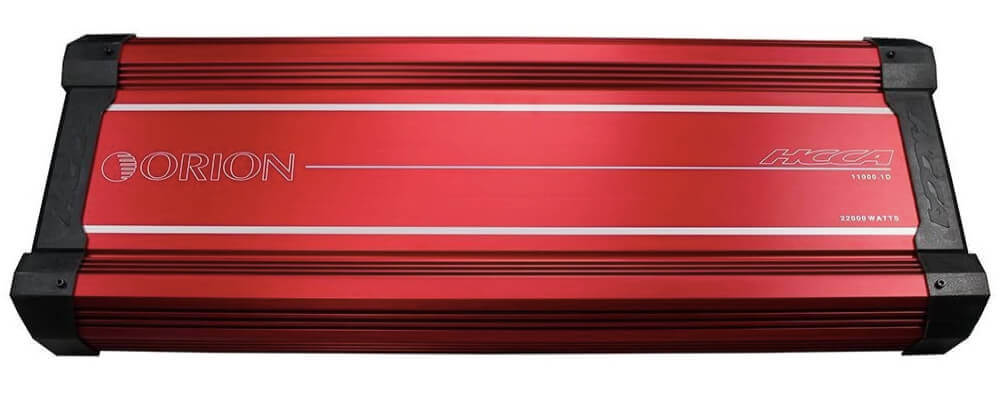 To add icing onto the cake, this powerhouse is fitted with a subsonic filter to help cut off any low frequencies that are inaudible to the human ear. Something that most amps haven't been able to achieve.
Apart from the performance, the Orion HCCA5000.1DV2 sports a beautiful design and its compact enough to fit into any car without leaving any gaps.
So, if you are looking for performance and power, the Orion HCCA5000.1DV2 is worth a shot.
Pros
Superb sound quality
Very efficient Class D competition car amplifier
Low impedance
Infrasonic filter for enhanced sound quality
Very powerful
Cons
Quite expensive but worth it
Check Price on Amazon
The Skar Audio brand is one of the few brands that has continually earned itself a place in the hearts of many audiophiles. Their car audio systems are one of the best in the industry and represent the pinnacle of amplifier innovation and engineering.
The SKv2 3500.1D is one of the most powerful amps in the SKV2 lineup. This unit does deliver not only power but also excellence. Let's take a sneak peek of what this powerhouse offers.
Designed for the most enthusiastic audiophiles, this Class D subwoofer amplifier is conservatively rated at 3500 Watts RMS power and can output up to a whopping 4700 Watts when at its peak.
The amplifier utilizes advanced engineering enhancements, top-of-the-range internal components to ensure that it outperforms its competitors. For example, it has an advanced heat sink design for maximum heat dissipation and a 4-way circuitry system that allows the amp to operate to its peak levels more efficiently and for many hours.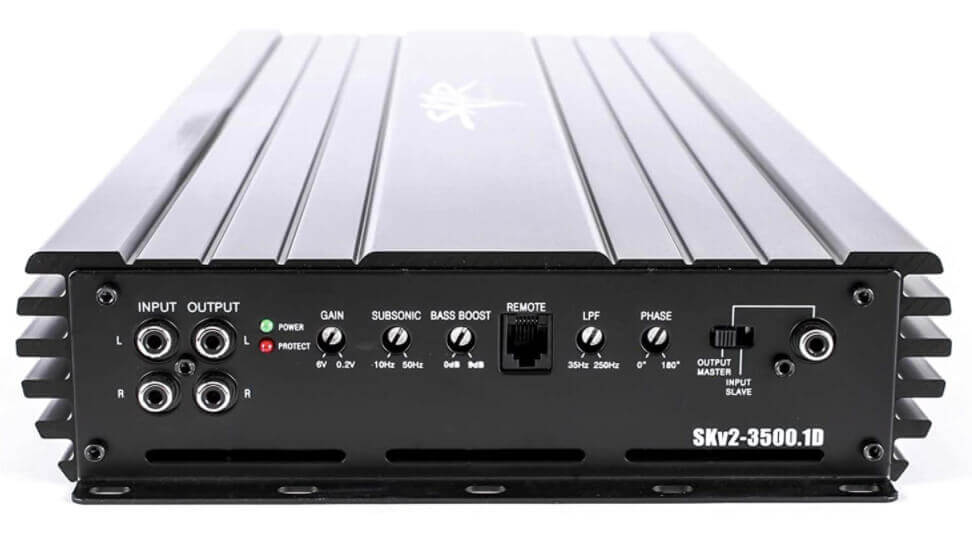 Adding to this, the amp comes with an inbuilt user control panel with bass boost, variable adjustment tunings for gain level, phase control, low-pass filter, and a subsonic filter. What's more, the amp has RCA inputs and outputs that allow you to daisy chain multiple amps together.
Pros
Impressive sound quality
95dB signal to noise ratio
Comes with a subsonic filter for crisp clear sound
Fitted with a MOSFET power supply to amplify or decrease input voltage
Very powerful 3500 Watts Class-D subwoofer amplifier
Check Price on Amazon
Not all highly rated competition car amplifiers are able to deliver impeccable performance both in terms of sound quality and power and still sell at an affordable price. However, the Massive Audio E4 car amplifier does this and so much more.
Build to last, and with the most advanced engineering standards, with the Massive Audio E4 monoblock amplifier, you will get a real punch for your car stereo and subwoofer.
The amp is rated at 2000 watts RMS and 1-ohm and 4000 Watts at its peak. You will also get a built-in OEM converter with RCA inputs that you can use to boost the speaker signal to up to 10 Volts.
The amp's awesome engineering also ensures that it hits its full power all the time. As such, you do not need to set the gain to low in order to avoid distortions of any kind.
To ensure performance and efficiency, the amplifier uses the Nano Block Military circuit board (the company's patented technology) and "N" drive MOSFET power supply. It also comes with a built-in noise reduction to keep things "cool" when in operation.
Pros
Produces crisp and clear sound
Nano Block Military speck circuit board
Built-in auto-sensing feature
Fitted with a MOSFET power supply
Advanced 5-Way protection circuitry
Check Price on Amazon
The Hifonics brand is a well-known brand among audiophiles. The company produces some of the best and budget-friendly amplifiers in the industry. The BRX2416.1D is one of the many amplifiers in the Hifonics Brutus series. Let's dive in and see what it has to offer.
Brutus 2416.1D or BRX2416.1D, as many call it, is an all go-and-show amplifier. Out of the box, the amplifier features an illuminating Hifonics logo on the upper side of the heat sink.
Along with that, the amp's blue wash of light emanating from the heat sink's underside and the lighted connectors make it truly hard not to notice this competition powerhouse even from a distance.
When it comes, this powerhouse can output 2400 Watts of power at 1-Ohm, 1600 Watts at 2-Ohms, and 850 Watts at 4 Ohms. The unit also integrates a Super D Class circuitry that ensures efficient power transmission for a higher bass response without causing sound distortions.
Through its Ultra-Fi MOSFETs circuit, this amp is able to boast efficient cooling and as well as improve the sound quality.
What's more, the amp comes with a wired bass knob that allows you to adjust the bass accordingly. It also includes RCA outputs for daisy-chaining multiple amps together.
Pros
High-power output
Protection circuitry for speaker, thermal, and overload
Minimal sound distortion
Ultra-fi MOSFET circuit for efficient cooling
Wired bass knob for bass adjustment
Check Price on Amazon
Competition Car Amplifier – Buyers Guide
Amplifiers are designed crisp, clear, and clean sound regardless of the volume levels. However, before making a purchase, there are some things you need to know and consider.
Power Ratings
Measured in Watts, power rating determines the amount of power your car uses to deliver power to your subwoofers or speakers. There are two types of power ratings. Namely, RMS (Root Mean Square) and Peak Power.
RMS measures the amount of continuous power delivered to your speakers while the Peak Power measures the amount of power in watts available in the amplifier for abrupt and short upsurges in sound. RMS power is always lower than the Peak power.
When choosing a competition amplifier to ensure that the power rating of your amplifier matches that of your sub or speaker. Note that a higher RMS can blow your speakers.
Types of Amplifier
There are different amplifier categories to choose from. These include Mono, 2-Channel, 5 & 6-Channel, and Multichannel amplifiers.
Mono Amplifiers: Designed for low-frequency response and come with low pass filters and bass boost. The best of this fall in Class D mono amplifiers. Amplifiers in this class are more efficient, draw less current, and produce less heat.
2-Channel Amps: These have high-pass filters and are used for component or full-range speaker systems.
5 & 6 Channels: Ideal for speakers and subs located in the rear or front. They can also be used for the entire subwoofer system.
Multi-channel amplifiers: These types of amplifiers are ideal for subwoofers or full-range speakers.
Size of Your Car and Amplifier
When choosing an amplifier for your car, it's vital to consider the size of your car. This will also help you choose the right amplifier size that will fit in the available space.
For instance, it does not make sense to install a huge sub in a small car or a small sub in a big SUV. As such, you should consider the size of your trunk, which will help you decide on the type of amp you need.
Kind of Music
Not every in-car sound system suits every type of music. If you prefer loud music with strong bass, it would only seem sensible to look for an amp that has the capability of powering bass subs and speakers.
For soft music, go for an amp that can power 4-6 inside speakers for ultimate clarity.
Frequently Asked Questions (FAQ)
What is the best competition amp?
There are so many products in the market that one would get confused choosing the best from the lot.
According to our research, we found that the Alpine PDXM12 1200W certainly holds a top spot and there are ample reviews to prove that it is the best competition car amplifier in the market.
Who makes the best car amplifiers?
The top amplifier manufacturers in the market are Alpine Electronics, Rockford Fosgate, Skar Audio and Hifonics.
What's the best car amp for bass?
Particularly, if you are looking for a good and clear bass from your speakers, you should go for Alpine PDX-M12 Digital Amplifier or Rockford Fosgate Punch P1000X1BD.
Are Boss amplifiers any good?
Ans. It's a tricky question. The primary reason why BOSS amps are bought is that they are far cheaper than the rest.
Though, you need to understand that BOSS doesn't their watts at RMS. Instead, they use the peak value. In short, they are good for their price but do not have high expectations if you want a clear audio output along with strong bass.
As per our research, we have found only 40-50% reviews where the owners have accepted the BOSS amp, the primary reason for which was their cheap price.
Wrapping Up
There you have it! The best competition car amplifiers in the market. To compliment your car audio system, you need to get a powerful competition amplifier. However, there are some crucial factors, as described above, that you need to consider before making a purchase.
In this review, our best pick that ticked all the boxes is the Alpine PDX-M12 Digital Amplifier. This amp won our hearts because it is stable at low impedances and will make your speakers thump with its 1200 Watts RMS. It also utilizes MOSFET technology and has a thermal protection circuit to ensure that the amp stays cool.
Important Note: The images used in the post are taken from Amazon and stock photo sites.
Last update on 2023-09-25 at 20:27 / Affiliate links / Images from Amazon Product Advertising API