Sound clarity, fullness and volume are the three major attributes you must consider when buying a set of speakers for your car.
It's important you put in the same amount of time and effort into buying car audio speakers like you do when buying a set of audiophile-grade headphones.
Alpine makes a range of car audio and also navigation systems. Founded in 1967, speakers made by this Japan-based consumer electronics brand are also installed in vehicles made by luxury car makers, such as Mercedes Benz and BMW.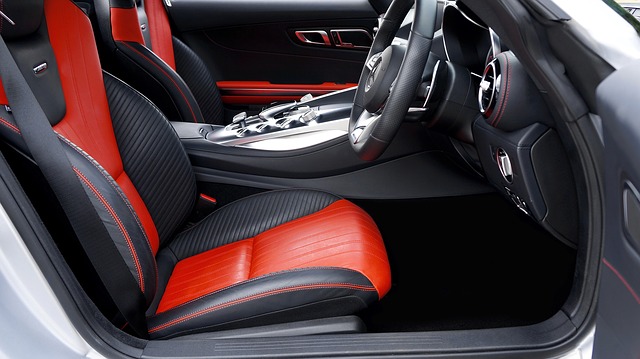 In this detailed post, we are going to review the Alpine car speakers. Also, we'll take a look at the top six offerings of the brand.
If you're considering buying a new set of Alpine car speakers, this brief comparison should help you choose one.
If you are in a hurry, we have picked the top three option. We have picked these speakers based on their sound clarity, bass output, durability, customer reviews and price.
Alpine Car Speakers Review
Now, we will dig deep and understand the specifications of the six speakers that we have covered in this post.
We would recommend you read the customer reviews of the speakers by visiting their Amazon link so that you have a better idea whether the speakers would be a good fit or not.
1. Alpine SPR-60C – Recommended Car Speaker
The SPR-60C unit by Alpine is a 6-5-inch component speaker that's loaded with features. Its deep bass, sound clarity, and compact form-factor makes it an ideal pair of car speakers.
The 60C's neodymium magnets are significantly smaller compared to regular magnets, which make the installation process easy and performance within small spaces better. There are two woofer grilles and two grille badges.
The crossovers are 60 percent smaller than the standard TypeR speaker crossovers. Most users of the 60C love the speaker unit's mounting choices and tweeters.
The tweeters get installed in a flush-mount housing. The stealth mount brackets can be used to install them behind factory grilles.
As it's the case with most Alpine speakers on this list, you could either go or not go for the amp with this speaker pair.
However, those who opted for the former vouch for the sound quality. With 110W RMS and 330W peak power and a sensitivity of 88dB, this pair is bound to rock.
The SPR-60C also stands out for the range of cars it can be installed in. Toyota Tacoma, Dodge, Jeep Wrangler, Audi, Honda, etc. are some of the cars that the 60C fits in perfectly. The compact design certainly plays a major part here.
There are three things that car speakers should get it right for them to be considered "ideal". The SPR-60C gets them all correct.
As far as the amp you'd need to power up this compact pair, we would suggest that you go with anything above 50W channel.
If you are considering having a couple of pairs, you would require a four-channel amp with more than 50W per channel at least.
The Alpine R-Series is a pair of two-way 6.5-inch car speakers that can handle close to 100 watts RMS or peak power of 300 watts.
The speakers' frequency response is in the 65-29,000 Hz range and the sensitivity rating is 88 dB.
Measuring 16.9 inches in width, 8.6 inches in length, and 6 inches in height, the combined weight of the speakers is 4.5 pounds.
The speaker is capable enough to power itself using the original amperage of your car. However, if you supply it more power, it would churn out optimal performance.
Some of the highlight features of the speaker are hybrid multi-layer fiber cone, silk dome swiveling tweeters, adjustable tweeter attenuation, linear drive high-performance motor, and 4 ohms impedance.
The package comprises of two woofers and tweeters. You'll also get a handful of mounting clips, speaker mounting brackets, and crossover networks.
The speakers sound great, with good mids and highs. The bass response is excellent, particularly when you consider the fact that it is only a 6.5-inch speaker.
They would fit into the current openings of your vehicle seamlessly and installation should also be smooth.
To appreciate the Alpine R-Series speakers' sound signature, you need not be an audio expert.
If your ears are used to the already built-in speakers of your car, you would notice a stark contrast in sound quality as soon as you replace them with these Alpine car speakers.
The SPR-50C is a pair for you if you like to turn up the music volume in your car and not want the audio quality to take a beating even at the highest volumes. These Alpine car speakers deliver large, dynamic sound with loads of bass.
The SPR-50C component setup has 5-1/4-inch woofers with hybrid multi-layer fiber cones that offer strong bass response.
The 70-29,000 Hz frequency response, 87 dB sensitivity, 1-inch silk dome tweeter, HAMR Santoprene rubber surround, etc. are some of the highlighting features of this speaker.
The silk tweeters churns out smooth highs, bringing out the music's depth and detail with zero shrillness. Thanks to the specially adapted ridged surround, you would get extended, consistent cone movement pushing good amount of air.
The tweeters are mounted individually so that you could direct the sound as per your seating position. These speakers are massive and that could be a drawback in the books of some users.
The Alpine SPR-50C employs robust neodymium magnets that are much smaller compared to conventional magnets.
This means the highly dense polymer frames of these speakers would fit into a lot more cars than the majority of 5-1/4-inch speakers.
The two-way external crossover network manages the low and high frequencies for clear, seamless audio.
The best part, they are 60 percent smaller than the traditional Type-R crossovers, which makes them easier to install.
Alpine has optimized the SPS-610C speaker components for impressive tone definition and solid range even at minimal power levels. These versatile speakers could be connected to your standard stereo for instant sonic improvement.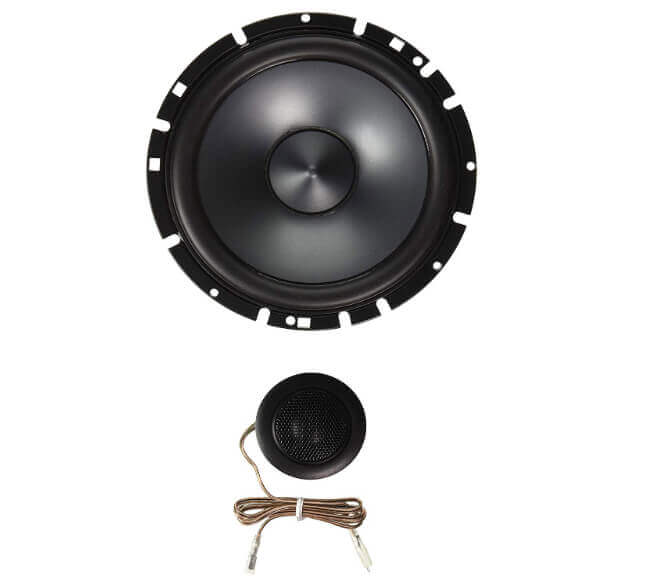 If you are chasing increased performance, replace the factory stereo with a much more capable aftermarket amp or stereo.
The polypropylene mineral-fortified cones are quite stiff, yet lightweight. This means they could deliver clear mid-range and accurate bass performance.
The resilient rubber surrounds assist with keeping the woofer centralized for precise cone movement, decreasing distortion.
The speakers are compatible with your existing stock head unit. Add more juice in the form of a 'power pack', which is usually small enough to go behind the stock head unit, and these speakers would shine even more. Thanks to the silk dome, the clear tweeters do not shrill.
The 1-inch tweeters are solid. They aren't too sharp, with the mids being mellow. The bass production is nice too.
The low end is slightly lacking, but that should not be a problem, particularly if your ears are not specifically open to monitor the lows.
If your budget is limited and you want to buy the best sounding speakers for the money, you would not go wrong with the Apline SPS-610C. Not to mention, these are a solid upgrade over your stock speakers.
The SPS-610 is a pair of two-way, 6.5-inch coaxial car speakers that operate at 80-watts RMS power or 240-watts peak power.
Each speaker weighs 4.5 pounds combined and measure 2.2 inches wide, 5 inches long, and 5 inches tall. The cables provided are long enough to run to your car's front cabin doors from the radio.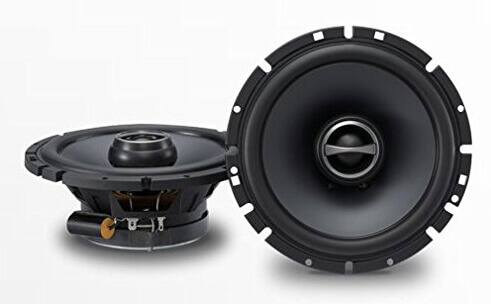 Some of the highlighting features of this Alpine car speaker is the wide-range 1-inch silk dome tweeter, FEA-optimized motor structure, 70 to 22,000 Hz frequency response, and high-grade network components.
The innovative cone woofer design facilitates quick energy transfer through the unit, thereby helping improve audio clarity and quality.
The speaker boasts clear audio quality in the high and mid ranges. Thanks to the pre-drilled holes, the speaker is compatible with multiple grills. This helps replace the factory speakers easily.
If this is your first Alpine car audio purchase and you have a budget to play with, the Alpine SPS-610 would be the ideal product to get your feet wet in the Alpine ocean of car audio equipment.
No doubt, this speaker pair would effortlessly replace your car's blown or weak speaker.
The SPS-610 would suit people who do not necessarily want an extremely robust sound system but a pair that's good enough for casual on-the-road listening.
The Alpine SPR-60 is a 6-5-inch coaxial car speaker pair that can handle RMS power of up to 100 watts per speaker.
Equipped with a 70-29,000 Hz frequency response and 86 dB sensitivity, these Alpine speakers offer excellent sound without an amplifier.
The peak power handling is 300 watts per speaker; the RMS numbers max out at 100 watts per speaker. Impedance is 4 ohms.
The new style grille provides complete woofer protection and also a unique design. The hybrid fiber multi-layer cone offers a strong bass response.
These speakers can truly deliver power. The highs are clean and mid-range is good. They hit the lows without distortion while screaming those metal highs.
These speakers work great with both a factory-upgraded or an aftermarket amplifier. Install these in your car's rear doors and you would almost instantly feel the sound range opening up.
If your upgrade choices are restricted by budget, the SPR-60 is bang for the buck. Just keep your expectations reasonable and know what you are getting into to avoid any disappointments.
Final Thoughts
The six speaker models mentioned above are solid in their own unique ways. You would be happy buying any one of them.
However, if you'd like us to throw in a recommendation, we suggest you go with the SPS-610C or 610 is budget is a constraint. If you'd like to get the best bang for the buck, buy the SPR-60C.
Check on Amazon
Alpine Car Speakers Review
Alpine SPR-60C

Alpine R-Series

Alpine SPR-50C

Alpine SPS-610C

Alpine SPS-610

Alpine SPR-60
Summary
When it comes to choosing the best car speakers on a budget, Alpine speakers would be on the top of the list. These do not just sound great but also produce clear and crisp sounds. The best part is, the Alpine car speakers produce the original sound whether it is of any music or conversation. In this detailed review we have discussed the top six options to choose from.
Related Read
:
1. Check out the latest amplifiers for outdoor speakers in this
detailed post
.
2. We have covered the top rated garage floor epoxies. Know more about it in
this post
.
Last update on 2023-09-25 at 18:48 / Affiliate links / Images from Amazon Product Advertising API