The garage is one of those neglected areas of the house which takes all the beating from the cars, tools, and hardwares. All this impacts your garage floor, making it dirty due to oil spills, scratches caused by hardware tools and what not.
It is important that you maintain your garage flooring and for that, you'd need to pick the best garage floor epoxy which could be quite confusing if you don't know what you are doing.
To ease out your situation, we have covered some of the best garage floor epoxies in this detailed guide.
If you are still not sure about which epoxy to pick for your garage flooring, do read this post till the end. We bet you would land up with a perfect solution for your garage floor.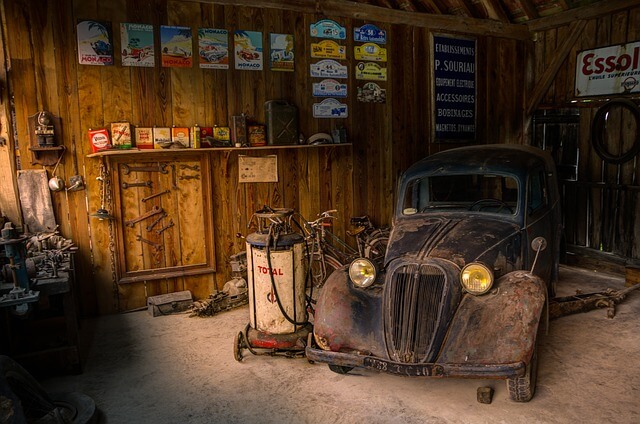 What is a Garage Floor Epoxy?
An epoxy coating is the toughest and the most persistent polish that you can find for your garage floor nowadays.
It completely remodels your humdrum garage flooring and modifies it into a showroom grade flooring.
It is quickly becoming the number one pick for garage flooring these days. Depending on your need, you can choose from a huge variety of colors and textures to cover your garage floor.
What exactly is a garage floor epoxy? Is it some kind of paint?
Well, no it is not exactly standard paint. The paint for garage floors is a latex acrylic product.
Whereas, epoxy is a thermosetting composition or resin that is applied on the floor as a coating. There are two parts, one is epoxide resin and the other is polyamine hardener.
These two are mixed to produce a thick liquid coating which is much thicker than paint. Epoxy easily attaches itself to the flat surface and is pretty durable and hard.
Here is an awesome video which explains how you should ideally apply an epoxy on the floor:
There are many benefits to applying garage floor epoxy. First and foremost, it looks nice and makes the surface shiny and attractive. It also makes the floor durable and resistant to scratches and cracks.
Take a look at the below image. It would give you a clear example of how an epoxy garage floor looks like.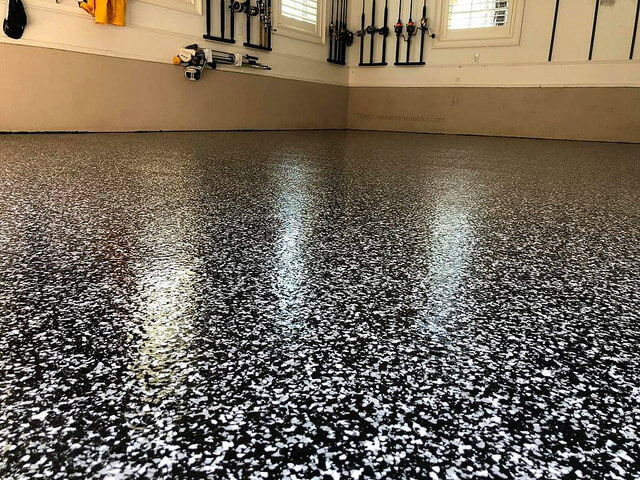 The floor will not have any kind of stains on it. There is no need to worry about dust or spillage of chemicals or any other substance. Gasoline, oil, brake fluids, or any other motor fluid can easily be wiped off the floor quite easily.
7 Best Garage Floor Epoxies
Best Garage Floor Epoxy: Detailed Review
Epoxy is an affordable solution for a majority of your flooring issues. Since the garage is that part of your house which suffers maximum strain and beating.
It would protect your floor for a long time so that you don't need to fix and spend on its maintenance quite often.
The products listed in this post have been chosen after rigorous research and customer reviews.
If you want to know more details of any product that is listed, we have given the subsequent Amazon link so that you can check the details and read the customer reviews for making a wise choice.

Let's dive deep and review each epoxy listed above.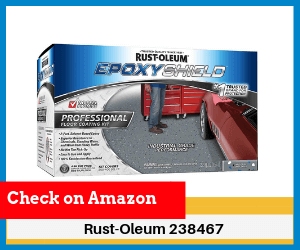 The Rust-Oleum Garage Floor Epoxy transforms your normal garage floor into a professional looking showroom-quality floor.
Once applied properly, it will last for years.
There are two main components in the kit. One gallon of Part-A which is the activator and one gallon of Part-B which is the base.
These two components are to be mixed thoroughly before application.
There is also a bag of decorative chips provided with this. It is used to make the whole presentation look better.
It must be applied immediately to the wet paint surface. It just needs to be scattered, yes it's that simple.
This epoxy shield is capable of withstanding heavy foot traffic and also heavy vehicle movement as it is immensely durable.
It also absorbs almost anything that spills on it, like the vehicle fluids, pesticides, paints, lawn fertilizers etc. This kit will cover 200 square feet per gallon. It has a semi-glossy finish.
Here are some the features:
Ideal for garage floors as well as the basement or workshop floors.
Offers proper protection against all the fluid like motor oil, acids, fertilizers or any such liquid which can damage the normal flooring.
One gallon of this coatings covers 200 square feet.
It takes one day for it to be ready against heavy foot traffic.
It takes four days for it to be ready against a heavy vehicle and tire movement.
It has a glossy finish.
Decorative chips are provided with the kit and can be used to make the simple base look a little better.
Check Price on Amazon
2. Valspar 81052– Premium Clear Epoxy Kit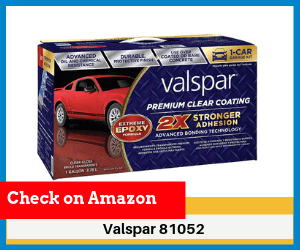 This epoxy by Valspar claims to be two times stronger than concrete.
It provides the best adhesion and durability. It also has protection against hot tires.
It looks beautiful as it has a glossy finish and will definitely beautify your garage floor.
This epoxy can be used not just for garage flooring but also for any other interior concrete floor.
This is also a water based two part epoxy. The component should be mixed properly and then stirred occasionally for preparing the perfect solution. The hardener must be poured into the base liquid and then stirred before actually applying it over the surface.
Time to discuss some features:
This has a nice gloss finish which makes the surface looks polished.
Valspar claims to have used advanced bonding technology which adds up to the adhesion and durability of the floor.
Valspar alleges the epoxy of being two times tougher than concrete.
It has an anti-peel protection.
This epoxy does not pick up hot tires.
Check Price on Amazon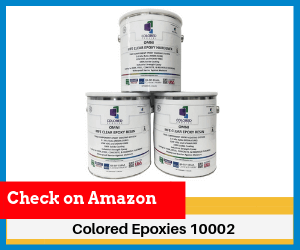 This epoxy by Colored Epoxies is one of the best epoxies that you can find in the market.
The durable coating made is tractable and scratch resistant.
This epoxy is also odorless, so there is no need to worry about the strange smell that comes out of the solution.
Colored Epoxies has developed a two-part super flexible epoxy coating technique in which two resins are mixed into one curative. This composition can be spread upon concrete, wood, fiberglass etc.
There are a wide array of colors to choose from and to be honest, all the shades provide a great look. The end result gives you a glossy finish that shines perfectly when the light is thrown at it.
The coverage per gallon varies according to the profile of the floor. Usually, it is between 125 square feet and 175 square feet per gallon.
Here are its features:
This is a three-gallon kit.
The epoxy is very flexible, odorless and is uncrackable.
It can be applied to almost all kinds of surfaces like wood, concrete, glass etc.
This epoxy can also be used outdoors as it is UV resistant.
It is readily available in many color options.
This has a high gloss finish and it really shines if it is applied properly.
Check Price on Amazon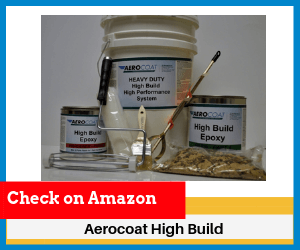 This is another great choice if you are looking for a reliable epoxy with excellent durability.
This floor epoxy can be used on garage floors, game rooms, kitchens or even for exterior purposes.
This whole kit is enough to cover space for one or two and a half car garage. Applying this epoxy is also very easy.
You just have to mix the two components provided and constantly stir them.
Some people faced issued with the customer service of Aerocoat but that would not be a big problem as all the instructions regarding the usage are clearly provided, so you would not have to contact the customer service.
Time to check the features:
This kit is enough for covering a 2.5 car garage floor.
The quality of this epoxy is industrial grade and is highly durable.
The epoxy covering is extremely shiny and provides a good overall look to the floor.
Applying this epoxy is pretty easy.
Check Price on Amazon
5. KILZ 1-Part Epoxy– Acrylic Concrete & Garage Floor Paint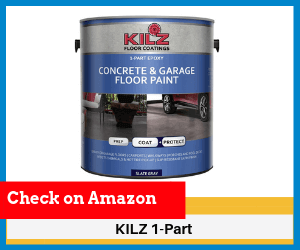 Unlike all the other epoxies mentioned earlier, this epoxy is a single component water based epoxy.
This epoxy can cover four hundred to five hundred square feet per gallon.
The area covered depends upon the type of floor on which the solution is to be applied and also the technique used to apply the solution.
This epoxy is extremely durable and very easy to clean after applying. It can be used in basements, garages and even in areas outside the house. This epoxy should be preferred for residential purposes only.
KILZ is also a highly reputed brand so there should not be any kind of quality related issues. Customer service also great good.
Here, check the features:
This is a one part water based epoxy.
The finish provided is smooth textured and lustrous.
Approximately 400 to 500 square feet can be covered with one gallon of this mixture.
This epoxy is highly durable.
It is also very easy to clean and provides complete resistance against all kinds of chemicals and oils.
Check Price on Amazon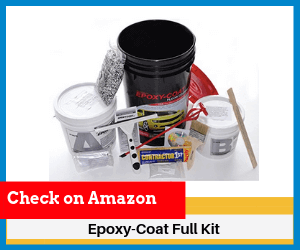 This Epoxy-Coat's garage floor epoxy is pretty solid. It is much identical to the epoxies previously mentioned.
This kit provided has all the components that you would need to protect your garage floor and even make it look better.
This garage floor epoxy kit has the capability of covering up to five hundred square feet of area.
Epoxy-Coat claims that there will be no odor coming out of the solution and also the solution is slip resistant.
This epoxy is perfect for applying on rough surfaces because it has a self-leveling nature.
There is no need for double or triple coats, all you need is a single coat of this solution.
There are countless color options available for this kit so you can have a slight difficulty in choosing the perfect color.
The main features of the Epoxy-Coat Full Kit:-
This epoxy kit has a five hundred square feet coverage.
It is odorless and slip-resistant.
Almost all the items which are needed for applying this epoxy are provided with this kit.
This epoxy has a shiny finish and a smooth texture.
A lifetime guarantee is provided with this kit.
Check Price on Amazon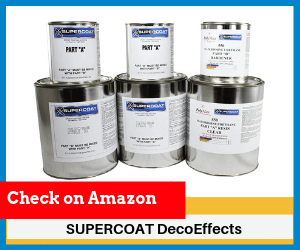 This is also a complete package as it provides you with all the necessary elements needed to cover the floor.
This is a two-part water-based epoxy and should be enough to cover a two car garage or roughly five hundred square feet of space.
This epoxy definitely provides value for the money paid.
The quality and durability of this epoxy are excellent. Even the looks are stunning. There are exactly four different colors to choose from.
The color variants are visually stunning and especially the Arabian Night variant. This color combination is a bit uncanny and gives a professional showroom grade look to the floor.
Time to uncover some features:
This kit contains all the necessary materials for proper application and even for refining the looks of the floor.
The epoxy has a shiny and glittery look.
This kit is capable of covering five hundred square feet of area.
It has low odor and splendid adhesion to concrete.
This epoxy kit is available in four unique colors- Arabian Night, Atlantis Blue, Spanish Red, and Turkish Rose.
Check Price on Amazon
Picking the Best Garage Floor Epoxy – Buying Guide
Why would anyone fancy epoxy over rubber flooring or garage tiles?
The main reason is that epoxy is much cheaper than any other flooring option. The quality is great but the price is very affordable. Also, it gives a premium look to the garage floors. There are a ton of colors and textures to choose from.
You can have a gloss finish flooring or a matte finish or any other type of finish, you just name it.
Now, epoxy also possesses some qualities which you would not easily find in most of the other options. Like, the anti-slip capability, the ability to absorb liquids which could stain the floor and also high durability.
Some epoxies can also withstand the rage of hot tires, a quality which standard paints do not possess.
Things to consider before you buy a garage floor epoxy?
The first thing would be, how much area is to be covered with the coating. The coverage per gallon of the mixture should be checked. Depending upon the area to be covered, the number of kits to be purchased can be determined.
You should check that the epoxy you are going to buy has resistance against hot tires or not. The heat of the tires can sometimes damage the surface but the epoxy ensures that this does not happen.
Before buying an epoxy, you should think of the complete appearance that you want, that is, how you want your garage to look. There are multiple options available to choose from.
The durability of the epoxy should also be considered. You should check that the epoxy provides guaranteed protection against all types of chemicals, motor oils and other liquids.
Lastly, a comparison should be drawn between the best options available at the best price. The epoxy which provides the features and looks according to your needs at the best possible price should be bought.
Different Types of Epoxy Coatings
1. Two-part Epoxy (100% Solids)
This contains 2 parts – epoxy resin and hardener. You'll have to mix both which will result in a chemical reaction to produce a thick, solid layer liquid.
Once applied, the coating dries and hardens. You'll get approx 30-40 min window to apply the mixture on the floor. Thus, you need to be active and quick so that the whole mixture could be applied evenly on the floor
It is suggested that you use this type of epoxy for commercial floors which are exposed to heavy vehicles.
2. Two-part Water-based Epoxy
This also contains two parts- resin and hardener. However, being a solvent based, it is thinner than the previously discussed version.
The catch is, you will get 1hr to apply the epoxy on the floor. This gives you an additional 30-40 minutes as compared to the 100% solids.
However, this tradeoff means that you will get a thin line of coating and thus a shorter lifespan. Still, you can use this epoxy for garage floors that are not exposed to high traffic or heavy vehicles.
3. One part Epoxy
This is nothing but a simple paint with mixed epoxy. It isn't 100% epoxy and won't match the protective property of the solvent or hard epoxies.
This can be used for empty garage floors just for the sake that they look good as well as there is some protective layer on it.
This is certainly not recommended as it will not solve any purpose apart from giving a little shine to your floor.
Is Epoxy flooring good for garage?
Yes, the epoxy coating is good for your garage floor. It seals the floor and keeps it safe from dust, oil spillage and water leaks. Epoxy coating is an effective way to maintain your gargae floor or any other high trafficked area.
What is the best epoxy for concrete?
Rust-Oleum epoxy shield is the best epoxy that has been reviewed and highly rated by the customers who have used it for their garage flooring. It is a trusted brand which offers superior performance for the price.
What is the most durable garage floor coating?
We'd recommend you use the two part epoxy. It consists of two parts, the raisin that is mixed with the base and then applied to the floor. This mixture is majorly used to seal the garage floor and keeps it safe.
Our Top Recommendation
Rust-Oleum 238467
Buy on Amazon
Rust-Oleum is a well-known epoxy which is being used for surfaces and floors catering heavy pieces of equipment and vehicles.
With ample positive reviews from the customers, it stands as our top recommendation for protecting your floor for years. Though this product has a higher price as compared to the other epoxies in the segment. It is definitely a professional grade floor kit.
Rust-Oleum will protect your floor from hot tire marks, heavy vehicles, generators and machinery.
When it comes to protecting your floor, we think that it is better to shell out some extra dollars and go for a product that has definitely worked for others.
Here is our quick review:

Rust-Oleum Garage Floor Epoxy Review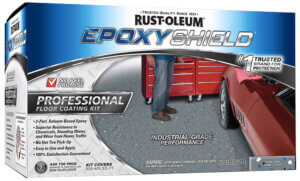 Product Name: Rust-Oleum Garage Floor Epoxy
Product Description: Rust-Oleum isa trusted name in the industry. You will get two parts of mixture. The Rasin needs to be mixed with base and needs to be evenly applied on the floor. Make sure the room is properly ventilated in order for the epoxy to properly set on the floor.
Protection

Shine

Coverage

Price
Summary
Choosing the perfect epoxy for your garage floor can be a lot confusing if you are doing it for the first time. 
The Rust-Oleum epoxy kit is perfect for you if you are looking to seal your garage floor from dust, water penetration and stains of engine oil etc. 
It has got great rating from customers and it is a top selling epoxy in the segment. 
Final Thoughts
We hope that this post must have helped you gain some rightful insights on how to choose the best garage floor epoxy that helps you to maintain your floor for many years.
The listed products were highly rated and shortlisted as they had a credible response and reviews from the customers.
Epoxy is an affordable solution to keep your garage floor intact for the coming years. It also saves a lot on your pocket as you would not have to shell those dollars every year for the floor maintenance.
Do share your thoughts about this post in the comments section below.
Important: The images used in the post are taken from Amazon and stock photo sites (Flickr, Pixabay)
Last update on 2023-09-25 at 20:27 / Affiliate links / Images from Amazon Product Advertising API