Ping pong is a thrilling sport, loved by both young and old alike. What makes this such a great sport, is how quickly you can become quite proficient at it.
In addition, equipment for ping pong does not require a huge investment and can be set up within a single day. You just need to choose the best ping pong table as per your needs and you are mostly done.
What the typical beginner doesn't know, however, is that the quality of equipment you use can make a huge difference. Some say the quality of equipment does not matter, but this is far from the truth.
Choosing a perfect ping pong table is a big task as that table is going to stay with you for a long time. Thus, there are certain details that you need to look at while purchasing the ping pong table that will be perfect for your needs.
For the beginner or even intermediate players, the equipment can play a decisive role. If you use poorly built materials, especially at the beginning, you won't enjoy ping pong as much as you would otherwise.
Poorly built tables, for example, sometimes have the effect of not letting the ball bounce fully or predictably.
Such poor tables ruin your experience and may make you want to quit ping pong altogether.
To help you get the best experience when practicing ping pong or just enjoying games with your friends, here's our selection of the best ping pong tables. We include both outdoor and indoor tables to suit your playing environment.
Best Outdoor, Indoor Ping-Pong Tables for 2022
Top 6 Best Outdoor Ping Pong Tables of 2022
Outdoor ping pong tables are, perhaps, the toughest of the bunch. This is for good reason. Outdoor ping pong tables have to endure exposure to wind, sunshine, and rain.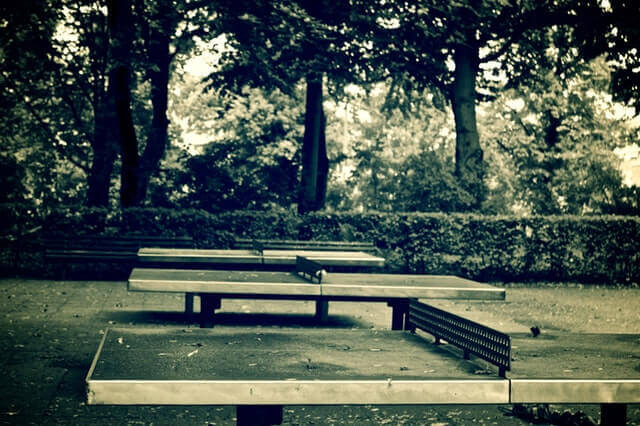 For this reason, you will typically find these tables constructed out of highly durable materials such as aluminum and other water-proof metals.
Their toughness is no reason to treat them badly, however. If you live in an area with heavy snowfall, you might want to put your outdoor table tennis table in the shade during snowstorms.
At the very least, you can use a waterproof cover to keep away the worst of the snow and help preserve the material integrity of your ping pong table.
Below, find our picks for the best outdoor ping pong table.
If you are looking for an outdoor ping pong table from a reputable manufacturer, then this JOOLA NOVA – Outdoor Table Tennis Table could be perfect for you.
JOOLA is a table tennis manufacturer with worldwide renown. They have been in the business since the 1950s. They have won a reputation for table tennis products that stand the test of time.
This weatherproof ping pong table is one of the best outdoor ping pong table options, and features a weather-resistant playing surface.
It is made from a composite containing aluminum and plastic. Not only is the result highly playable, it also protects the table against damage from water and frost. The table has a notable resistance to chipping from long periods of usage, as well as warping.
An added advantage, especially for beginners, is the ease of assembly. JOOLA ships these particular tables 95% pre-assembled. That can cut down your assembly time from a whole day to just a few hours.
Therefore, you do not need to be an expert to set up the JOOLA NOVA. That said, you might want to get a couple of people working together for the assembly. This is because the table might be too heavy for one person to assemble all alone.
Once assembly is done, you can get on to the good stuff: playing on your Joola outdoor ping pong table. Because JOOLA has such a great track record in the table tennis world, you are likely to enjoy how solid this ping pong table is.
From the bounce of the ball to the visual aesthetics of the table, it will enhance your playing and practice experience.
You might well discover that elusive fact that the quality of your materials can play a role in how quickly you advance in skill. Rather than be bored and dread practice because of a poor table, with the JOOLA NOVA, you will look forward to play time.
We recommend putting this table in your backyard or somewhere unobstructed where you will have enough space to run around. For long term durability, you might want to purchase a cover for the JOOLA NOVA to protect the surface during the rainy season.
Check Price on Amazon
The Cornilleau 500M is a great option for those who want one table that can do it all, whether outdoors or indoors.
This table combines the best of the outdoor-focused tables along with the aesthetic sensibilities you might expect in a high end indoor ping pong table.
For moving the table around, the Cornilleau 500M comes with noticeably large double wheels that have a pronounced tread. These wheels, nearly 8" diameter, make it easy to move the table.
Thus, relocating your ping pong match across the yard or into the shade on a sunny day is as easy as gliding the Cornilleau 500M along.
Aside from the ease of handling, you will greatly enjoy the in-play bounce and reaction that this table puts on the ball.
The Cornilleau 500M's surface is made of a dense playing surface that features a 7mm resin laminate top. In addition, there's a MATTOP finish with anti-glare material. All this ensures that the ball bounces properly and does not skid off improperly.
You might be wondering why the manufacturers go to all this length just to ensure proper ball bounce.
These details might not matter so much for casual play, but if you will be playing seriously or training for competitions, you want as close to professional quality as possible.
A cheaper table might skimp on all these details. For those who want steady and sustained improvements at the game of ping pong, however, the ball action matters. Having a predictable surface will allow you to refine your serve and spin to a pitch.
Even better, the size of this table is specified to tournament-level ping pong regulations. It measures 9 ft. in length by 5 ft. in width. The height is 30 inches.
In other words, you get to practice in tournament-like conditions with this table.
Check Price on Amazon
With a title like "Killerspin", the MyT7 BlackStorm table sets very high expectations for itself.
Yes, it delivers on those expectations, and yes, it can improve your ping pong spin. Notably, with its solo playback mode, it allows for the sort of lengthy focused work to hone a particular stroke.
For example, you might want to practice shots from a particular area of the table's edge. With the Killerspin MyT7, all you have to do is fold up one side of the table. This is easy to do with its folding capability specially designed for this purpose.
You can then practice your shots alone, undisturbed, for hours if need be, until you are happy with your progress. When you return to regular matches with your family and friends, they won't know what hit them!
You will also come to appreciate the rugged character of the Killerspin MyT7 BlackStorm table.
Its top surface, for example, aims to be 100% weather resistant. Towards this purpose, it is constructed out of a composite of aluminum and plastic. This gives it much better durability than you would get, say, with typical wooden materials.
The MyT7 BlackStorm can handle exposure to rain, sunshine, and even snow. You can enjoy your game while eating those tasty tamales as well enjoying an ice cream. (bad joke :P)
Thanks to a set of eight wheels attached to the table, you can easily wheel this ping pong table as desired. The wheels measure 75mm, and four of them feature brakes. This guards against the table moving during gameplay.
This ping pong table is suitable for just about every level of table tennis player. Beginners will benefit from its sturdy construction. This ensures that the table will last you for years with little, if any, damage.
You can rely on the Killerspin MyT7 BlackStorm to transform your game over time from amateur to expert level.
Those at the higher levels of the sport can use this table for tournament practice since it is regulation size. Its measurements of 5 ft. by 9 ft. and 30 inches high are what you will encounter in competitive matches.
Check Price on Amazon
The STIGA XTR Outdoor Table Tennis Table stands out for its glossy, attractive, design.
This is an outdoor ping pong table that will fit in around your yard without spoiling the view. In fact, it enhances the fun atmosphere of your property.
A vibrant blue hue on the top is paired with white paint on the frame and legs of the table to create an impressive visual. Guests around your property will just have to try it, making for countless matches and displays of sportsmanship.
This STIGA outdoor ping pong table is a great selection not just for looks, however, but where actual gameplay is concerned as well.
With its aluminum composite top, the STIGA XTR Outdoor provides good ball action which makes play highly entertaining.
The surface is designed to make it a weatherproof ping pong table. It resists warping, rust corrosion, and tear caused by heat from the sun.
The table's top is supported by a steel apron which provides ample stability and durability. With this solid construction, it's hard to cause damage to the STIGA XTR.
As a result, if you are a casual player of ping pong, you are likely to rely on this trusty table for a good while to come. The best part is, it will probably look almost brand new.
Even heavy players, however, will benefit from the all around high-strength construction of the STIGA XTR Outdoor. The 1.25 inch steel legs that support the table provide form support and will withstand plenty of pressure or impact without folding.
When it comes to setup, this is a simple table to assemble indeed.
Since it arrives at your door about 95% pre-assembled, you don't have to spend hours getting everything ready.
Within minutes, a couple of people should be able to fold out the pre-assembled halves and put the table together.
Check Price on Amazon
HEAD has made a name for itself in the sports world for high quality equipment for recreational players as well as for professionals.
The HEAD Oasis Outdoor table is another great testament to the manufacturer's hard-won reputation for reliability. It is a table with official USATT approval, and it's made to official tournament specs.
With its measurements of 5 ft. by 9 ft. and a height of 30 inches, it replicates faithfully the conditions for competitive ping pong. This makes it ideal for the serious player, or for use in sports clubs, training centers, and other tournament venues.
The table ships with a high quality net that is made to competition grade. Everything you need to get playing is included right here. However, note that this does not include ping pong paddles nor balls. Those, you will need to supply yourself.
One notable convenience feature your family will absolutely love is the ball storage tube.
Attached to one side of the table, on the surface underneath, it makes it incredibly easy to collect balls up from the floor. It will pick up multiple balls all at once, which takes away a minor chore at the end of a game or training session.
Assembling the HEAD Oasis Outdoor Table Tennis Table is a breeze. HEAD has assisted buyers in this regard by clearly labelling in the package and instructions all the parts you will need.
Using these instructions, you can easily assemble the HEAD Oasis and get playing almost immediately.
There's plenty to love in this table. The quality is noticeably better than average. It approaches what you might find in a very high end table, along with the thoughtful details in the design.
Thanks to its weather-resistant top, the HEAD Oasis will endure the usual wear and tear. It stands up to the weather really well, which adds to its overall appeal.
Check Price on Amazon
For those who want the best play in an outdoor ping pong table, then the Kettler Axos 2 Outdoor might just be the ideal option.
This is a table made by Kettler, one of the trusted brands in the ping pong space. The Kettler Axos 2 is especially constructed to deliver a standout ownership experience.
Everything from the design to the ball action when playing speaks to good craftsmanship.
The composite top is typical for waterproof ping pong tables, eliminating a major risk for such outdoor tables. Kettler has patented a technology called ALU-TEC, used in this table.
ALU-TEC seals the table's board in moisture-resistant aluminum which adds to the strength of the table. The coating defends against water, snow, or ice. This multi-layered design safeguards the integrity of the table, making it a good purchase for the long haul.
The 2 inch steel legs, which are galvanized and powder coated, add to the stability and impressive detailing of this table.
Assembling the Kettler Axos 2 might take a couple of hours, but it's possible for a single person to assemble the table. If you have multiple people working on it, this can be accomplished even faster.
When assembled, the Axos 2 measures 108 L x 60 W x 30 H inches. The table can be folded up into a compact position for storage. When folded, its dimensions are 60 x 22 x 67 inches. In this position, it takes up minimal space.
There are times when you might want to just practice on your own, or work on your game before a tournament. The Axos supports solo play.
It's straightforward to fold one half of the table into playback position. You will then be able to practice alone and really hone your game. This feature alone will greatly enhance your playing ability, whether you are at the expert level already or just starting out.
Two free Halo outdoor rackets, a detachable net, and 3 ping pong balls are included with the table.
Check Price on Amazon
Top 5 Best Indoor Ping Pong Tables for 2022
Indoor ping pong tables enhance your practice and playing possibilities. While an outdoor ping pong table is great when the weather is nice, indoor ping pong tables let you play indoors when the weather is bad.
When you play at clubs and tournaments, you are likely to be faced with indoor ping pong tables.
There may be subtle differences in the bounce and play action between an indoor environment and an outdoor one. This is why you might want to buy an indoor ping pong table as well, or at least practice on one regularly.
If you buy an indoor ping pong table, you should not make the mistake of assuming it will handle outdoor playing conditions as well.
Indoor table tennis tables may warp if exposed to sunlight, dew, or other outdoor weather conditions. You will, therefore, want to restrict your table's usage strictly to the indoors.
Below, find out just which indoor tables are worth the money.
STIGA is not only great at making outdoor ping pong tables. The company also manufactures iconic-looking indoor tables.
The big advantage of the company's STIGA Advantage Competition-Ready Indoor Table is that it covers all the bases while costing comparatively little.
This table showcases a delightful blue and black design, with an ocean-blue table top. Its visuals add to the ping pong experience and make it a fit for the game area in your house.
For those that are not particularly handy with assembling things out of the box, this ping pong table offers a welcome reprieve. It is 95% pre-assembled.
This vastly reduces both the time and complexity of setting up the table inside your home and getting to enjoy your first game on it.
Indoor tables tend to be somewhat higher maintenance propositions than outdoor table tennis tables. For this reason, you won't be able to rough it with the STIGA Advantage Competition-Ready Indoor Table as you might with the company's other products.
However, the table is solidly constructed and will stand a lot of usage before showing any serious signs of age.
A board thickness of 5/8 inches offers a good level of bounce. This is not as much as you might get with a very high end configuration, for example, a 1 inch thick board.
For practice purposes, however, and, especially, for the beginner player, this will hardly matter. The table more than makes up for this in the cost savings you get over the high end options.
High end tables with that 1 inch thick board might cost well over $1,800. The STIGA Advantage Competition-Ready Indoor Table, on the other hand, costs just a fraction of that, and still offers most of the amenities you would expect.
In fact, the STIGA Advantage Competition-Ready Indoor Table impresses in its construction and thoughtful design.
The table's halves feature a unique design with independent caster beams. This thoughtful feature allows easy separation of the halves. As a result, you can use the table's halves as independent multi-use tables.
Check Price on Amazon
Playing on the JOOLA Rally TL Professional MDF Indoor Table Tennis Table is sure to be a unique pleasure.
First, there's the classy addition of Corner Ball Holders and an Abacus Scorer. These are features you might expect in a ping pong table costing twice the price of this one.
Secondly, there's the JOOLA Rally TL's gorgeous black and white design. The black surface is a stark contrast to your typical ping pong table, which will feature some kind of blue.
As we said, you'll be glad you went for this unique indoor table. It breaks the mould to deliver a standout experience.
The white trims on the sides of the table mesh well with the white top on the net, adding to the polished look and feel of the JOOLA Rally TL. A clamp system makes it easy to mount the tournament-size 72 inch net across the middle of the table.
A notable feature of this ping pong table is the availability of three table thickness configurations. The practice needs of beginners and expert-level players often diverge.
Table thickness is one of these important details. It won't matter as much for the typical beginner, but long-time players can benefit from higher end configurations.
The JOOLA Rally TL offers these table thicknesses:
15 mm – Low end, best for beginners
18 mm – Appropriate for intermediate ping pong players
25 mm – High end, suitable for tournament play
When using the high end configuration, you might notice a bit more pop and bounce on the ball. For expert players who engage in competitive play, nothing but this configuration will really fit the bill.
Regardless of which table thickness you select, the JOOLA Rally TL is likely to see you improving your game significantly. Towards this, it has a solo play mode. You can work on your game and fine tune different aspects to make sure you are improving over time.
Since the JOOLA Rally TL's halves are separable, you can also detach them and use them as multi-purpose tables when this is necessary.
Check Price on Amazon
For those that live in apartments where space is tight, or in other small areas, JOOLA, the reputable manufacturer of table tennis accessories, has a unique solution.
Sale
The JOOLA Midsize is not only small enough to fit even in cramped areas, but it replicates the experience of playing the sport on regulation size tables. This is a solution that will suit you if you cannot possibly fit a regular-sized ping pong table in your available space.
Notably, the JOOLA Midsize, with a height of 30 inches from the ground, is as high as regular ping pong tables. Where it saves you space, however, is in the length and width of the table. All in all, the table is only two thirds the size of a regular ping pong table.
The JOOLA Midsize's dimensions are 72 inches by 36 inches. Even better, however, it takes even less space for storage. The table's legs can be folded flat against the underside of the table. Its individual halves are also independent so they can be decoupled and stacked on top of one another.
In this storage configuration, the JOOLA Midsize measures just 36 inches by 36 inches. You can slot it away into the back of an old wardrobe or slide it under a bed. No one would even know it was there.
The JOOLA Midsize ships 100% assembled. This is especially good news for those that dislike having to figure out parts and working with screwdrivers.
Just pull out the table from its packaging and stand out its legs, then follow the given directions to set it upright.
Because the JOOLA is a bit smaller than regular sized tables for ping pong, it might also be a fit for you if you want your kids to play. The smaller playing surface will make the game a bit easier for them, enabling them to enjoy the game that much more.
For adult players, however, the thrill of the game is still the same, if not more. Adjusting to the smaller surface area can be a fun new challenge, and can lead to much faster competitive games. It might even improve your performance on regular-sized ping pong tables.
Check Price on Amazon
Available in a classic blue top design with black legs and a black net with white top, the JOOLA Inside – Professional MDF Indoor Table Tennis Table is a solid option for indoor play.
It comes in three configurations, ranging from a 15mm table thickness to 25mm. This allows you to select the exact setup that will suit your needs.
The 25mm configuration carries a price premium of around $200 over the 18mm configuration. However, for those at the advanced end of the spectrum, this is an acceptable price to pay to get the best practice conditions.
Professional-level players will be delighted at the tournament-grade specifications of this ping pong table. It is a USATT approved table that has been commended for its remarkable playability.
This translates into ideal practice conditions for even advanced tournaments at the national or international level. JOOLA, the manufacturer of this table, has tournament experience backing the biggest events in ping pong. They have been sponsors at events that include the US Open and the World Championships.
You can, therefore, count on the JOOLA Inside given the company's history of excellence in the ping pong world since the 1950s.
While other table tennis sets require a good deal of time to assemble, this is not the case with the JOOLA Inside – Professional MDF Indoor Table Tennis Table. It can be assembled within just a few minutes, though it helps to have multiple people for setting it up.
For extra convenience, the table features four pairs of wheels attached to the bottom. These wheels are lockable, to ensure stability when the table is in use. However, they make it easy to wheel the table on the floor or carpet when you decide to relocate the JOOLA Inside to another room.
Notably, the JOOLA Inside can also be moved outside and act as an outdoor ping pong table. Be careful, however, not to bring it outside on a humid or drizzling day, as the table could suffer weather damage. If you go down this route, only do so on the clearest of days, with mild weather conditions since this table is not the best outdoor table tennis table.
Check Price on Amazon
The HEAD Summit Table Tennis Table features a black top design with light touches of red on the sides.
Sale
It's an inviting design that speaks to the sensibilities of the serious competitive player.
This is a high performance table with great and consistent bounce, thanks to the table's 3/4 inch surface. It will suit both competitive near-professionals as well as the intermediate player who wants a table that makes few, if any, compromises.
Thanks to the table's regulation approved dimensions, it provides a good approximation of what you will play on if you play on official match tables.
The table measures 9 feet by 5 feet and is 30 inches high. A black and white net is provided with the table, along with clamps for fixing the net in place. You do, however, have to supply your own paddles and ping pong balls.
You can easily move the HEAD Summit ping pong table thanks to four sets of wheels on the bottom. The table also has a pair of stabilizing legs on either end.
You will likely need two people, at a minimum, to make assembly of the HEAD Summit table an easy job. The table is quite heavy, so proceed with care and follow the instructions exactly as given. However, the actual assembly is not very complicated at all.
While this is a regulation-size ping pong table, it's very handy when it comes to storage. The table folds in half, ensuring that you can slide it away in a relatively narrow space without problem.
The table's playability and aesthetics are likely to enhance your practice routines. Whether you are an advanced player or just a beginner, the HEAD Summit should make practice time even more enjoyable than before.
Meanwhile, the table's good looks are likely to make it a hit with guests. Be careful, however, about bringing this table outdoors.
Since it's designed for the indoors, the HEAD Summit won't fare so well in the outdoors. In particular, you will want to avoid any moisture from seeping into the top surface or other parts of the table.
Check Price on Amazon
F.A.Q. About The Best Ping Pong Tables
Q1: What's the ideal table thickness?
As you will discover, there's a wide variety in the table thickness offered by different manufacturers. You should take into account the play capabilities of different table thicknesses when judging a table to see if it's best for you.
Professional ping pong players like an ideal table thickness that is on the higher end of the scale. This might approach 25 mm in a lot of cases.
Q2: What do you recommend for use in a school environment?
For training or competition play in a school environment, we recommend a table that's made to standard competition specs. The Cornilleau 500M Crossover Indoor/Outdoor table is a great option. Since it's a hybrid table, you can use it indoors as well as outdoors.
Its dimensions of 9 ft. by 5 ft. by 30 inches makes it a fit for tournaments.
In addition, the Cornilleau 500M Crossover's large wheels make it convenient to wheel this table around a school playground.
Q3: What is the difference between indoor and outdoor ping pong tables?
Indoor ping pong tables are made out of solid wood. Outdoor ping pong tables tend to contain a mixture of wood and metal. This is to help protect the surface from weather damage.
Q4: Is Ping Pong different to table tennis?
On the surface, the two terms refer to the same sport. However, the term "ping pong" is often used in informal settings. Table tennis, on the other hand, is seen as more formal. Other, subtle differences may exist depending on the location and rules in use.
Q5: What is regulation ping pong table?
A regulation ping pong table is one that meets the standards for competitive play such as that encountered in tournaments. This is typically 9 by 5 ft. In addition, a height of 30 inches is often used.
Q6: What are the different sizes of table tennis tables?
There are full sized as well as mini sized table tennis tables. Full sized tables tend to be 9 ft. By 5 ft. by 30 inches. Mini sized tables are typically two thirds as big as the full sized versions.
Q7: What is the difference between orange and white ping pong balls?
The only difference between orange and white ping pong balls is their color. Orange and white are both vivid colors. They are used to improve visibility of the ball during game play.
Final Verdict
Different ping pong tables will suit different personalities. This is part of what makes shopping for your ideal ping pong table such an adventure.
For us, the JOOLA Rally TL is the best selection for an indoor table tennis table. You can pick from its three configurations to suit your playing preferences.
For the outdoors, we like the STIGA XTR Outdoor Table Tennis Table. It is mosly due to its safety latch system as well as the built quality which can sustain the harsh weather.
Its classic blue design is sure to inspire you to countless hours of practice.
Final Thoughts
From the JOOLA NOVA Outdoor Table to the HEAD Summit Table, these are some of the best options for ping pong players out there.
As we saw, there's often a great difference between the unique characteristics of an outdoor ping pong table versus an indoor one.
Outdoor tables tend to be more rugged and able to withstand tough weather conditions. Indoor tables have no such need, but can focus more on aesthetics and delivering exceptional ball action. Moreover, some of the tables are so compact and foldable such that they can even fit inside your garage.
The best thing about these tables here is that they give incredible bang for buck, which is why you shouldn't let such incredible finds pass.
Best Outdoor, Indoor Ping-Pong Tables
JOOLA NOVA – Outdoor Weatherproof Table Tennis/Ping Pong Table

Cornilleau 500M Crossover Indoor/Outdoor Blue Table Tennis Table

Killerspin MyT7 BlackStorm Table Tennis Table

STIGA XTR Outdoor Table Tennis Table

HEAD Oasis Outdoor Table Tennis Table

Kettler Axos 2 Outdoor Table Tennis Table Waterproof Ping Pong Tables

STIGA Advantage Competition

JOOLA Rally TL

JOOLA Midsize

JOOLA Inside

HEAD Summit Table Tennis Table
Summary
Choosing the perfect ping pong table is a confusing task. You can't go just by the brand name.
In this post we have tried to bring the genuine reviews of the specific table tennis tables by doing a long research about what their present customers have to say.
We would push you to read the detailed reviews of both the indoor and outdoor ping pong tables and then decide which one would be the best pick for you.
Last update on 2023-03-31 at 14:56 / Affiliate links / Images from Amazon Product Advertising API