In this post, we are going to take you through the best do-it-yourself spray in bedliners.
A spray-in bed liner is the sock to your truck's foot. It makes the back of your vehicle or pickup look flawless and smooth. It has a double role, protective and cosmetic, preventing any damage produced by chemicals, stains, oils or scratches.
It's just that there is such a huge variety of spray in bedliners available out there that finding the best one could be quite troublesome.
We're sure you don't want a new coat to lose effectiveness just a few months after application. That's why we spent days and nights scouring the market, testing, and rating over a dozen paint products.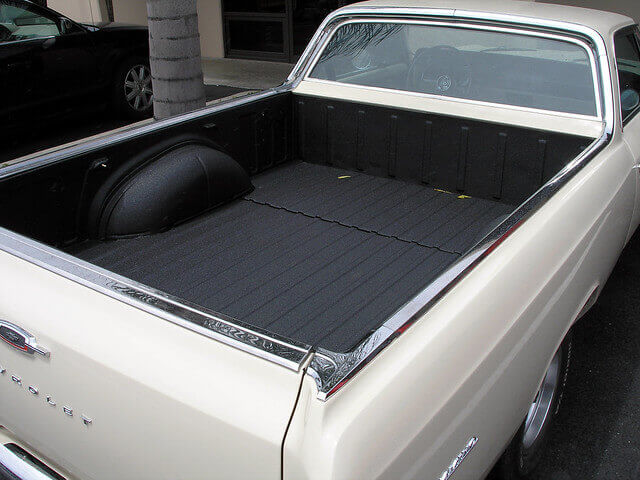 Just nine have made it to our list of the best do it yourself spray in bedliners. Let's check them out in the table below, before moving on to their detailed reviews.
9 Best DIY (Do-It-Yourself) Spray In Bedliners
Types of Do-it-Yourself Spray-In Bedliners
We know that picking a spray in bed liner could be a challenging task due to the overwhelming number of products out there. Luckily, we did the hard work for you. Before delving right into the matter, you should at least decide what type of bed liner you want. Generally speaking, you can choose from the following:
Aliphatic bed liner: Is perhaps your best bet. This polyurethane coating contains higher quality pigments and is more durable. It won't fade too quickly and resists beautifully to scuffing, chipping, and scratches.
Aromatic bed liner: Fades a bit easier and it's not so high-quality as the aliphatic. People love it though because it's cheap. Yes, you'll have to apply it more frequently, but if that's not really a deal-breaker for you, just go for it.
Now that you know what's the difference between the various types of do it yourself spray in bedliners, let's check our top picks in detail.
Best DIY Spray In Bedliners – Detailed Reviews
The Herculiner HCL1B8 is the best colored bedliner paint you can grab. This black protective coating looks fantastic in most trucks or pickups and comes with all needed to apply it right after you receive it.
Herculiner is not a spray in bed liner, but it's equally easy to apply. The ready-to-use product comes in a tin of 1 gallon and is easy to brush on either with a brush or paint roller. Both brush and roller come as part of the kit, and you'll even get a spare roller.
It covers up to 13 square feet per gallon and requires two coats. A tin of product is perfect for a 6.5 bed, and it can be applied on metal, wood, or concrete. This textured polyurethane coating contains rubber granule that improves resistance and durability.
We like that it's really thick and will stay on the substrate forever, provided you follow the application instructions and let it cure well. Thanks to its self-leveling properties, it will also give a sleek look to your trunk.
A slight downside is that it's quite messy to work with. So, keep in mind to put on either protective equipment and some gloves or your worst attire if you don't want to get rid of a nice tee.
Check on Amazon
The Linerxtreeme Spray On Bedliner Kit might not be the cheapest on the block, but it's truly worth every cent. This kit comprises three gallons of spray-on product, and it comes with a professional bed liner spray gun you can reuse for future projects whenever you want.
It has an outstanding covering power, which means a gallon will go a long way. The entire quantity can cover up to 100 square feet of the truck bed. Like our favorite above, it comes in black and looks amazing in most vehicles.
This product boasts professional quality and consists of a tough mix of epoxy powders and urethane. It dries to a durable, rust-resistant coat that impresses with its adhesion and resistance to UV light.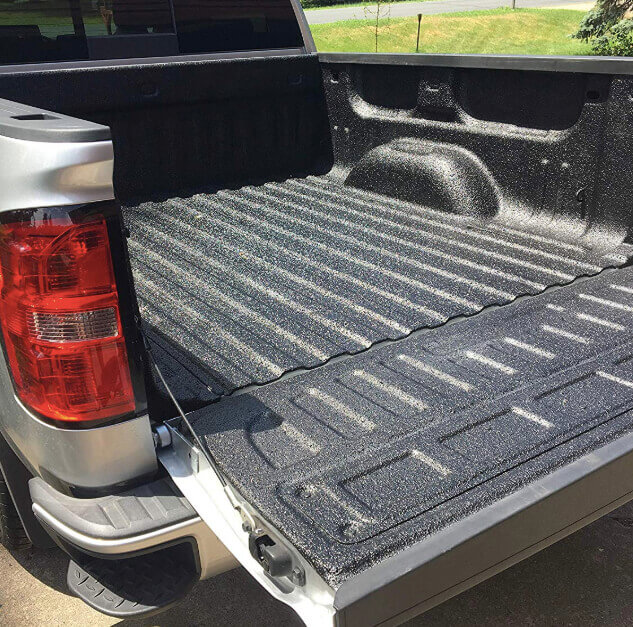 Just make sure to follow all application instructions ad litteram, or you might be disappointed with the result.
Luckily, the kit comes with all the instructions you need for correct do it yourself application. A thing you'll either love or hate is the textured semi-gloss finish. We love it, and strongly believe it gives an elegant look to a utilitarian vehicle.
Before getting this kit, remember you'll also need an air compressor to power the pneumatic spray gun. Other than this, you'll get all you need to start revamping your vehicle right out of the box.
Check on Amazon
Did you think T-Rex was extinct? The animal kind probably, but the T-Rex bed liner is tougher than the beast. It's designed to stick to the truck bed or the trunk of your car for a really long time. Ridiculously easy to use, it comes with an activator, spray gun, and mixing cup.
T-Rex Black Bed Liner
Resistant to stains and abrasion.
Protects against rust and corrosion.
Sleek jet black finish.
Waterproof and flexible, this product is particularly suitable if you live in a coastal area and worry about the salty breeze or sea water from corroding or damaging your truck. Thanks to its thick structure, it also reduces sound and vibration.
The liner is compliant to use in all 50 states thanks to its low VOC concentration. This doesn't mean it's not irritant.
Super-easy to apply, the coat also provides excellent adhesion and resists atmospheric conditions. The greatest part is that you only have to apply one coat, a feature that speeds up the application process. It dries to an attractive jet black color; however, it has a gloss finish, and it's quite slippery when cured.
Like all spray on bed liners, this one comes with clear application instructions that are essential to follow if you don't want it to result in disaster.
Check on Amazon
So many people praise the Raptor spray in bedliner, that we had to see with our eyes what's up with the hype. We had high expectations and must admit we weren't disappointed. This bed liner does exactly what it says, and it's easy enough to apply by an amateur.
The kit comprises six liters of black urethane coating and three cans of hardener plus a professional spray gun. Just mix the two components as instructed, and you're ready to go, as long as you have an air compressor nearby.
Raptor might argue that there is sufficient product to re-spray the largest truck beds. While that's not completely true, the product has good coverage indeed. We found that you'll need about six liters, the equivalent of roughly six quarts, to cover an 8-foot trunk.
That's not bad, but it's not exceptional either. Nevertheless, the quality of the product is really outstanding.
This 2-component urethane system can be applied directly onto original paint finishes or on pre-primed surfaces.
It protects against rust, corrosion, extreme temperatures, and UV damage. It's also easy to apply, and lets you tackle even the bigger projects in a breeze. What else could a do-it-yourselfer wish for?
Check on Amazon
Do you know what we like best about this spray on bed liner? Spoiler alert. We like that's it's tintable. That's a heck of a hard feature to find on such product, and a truly valuable one if you want to paint your truck bed in anything other than black.
It's obvious that you can have it in a rainbow of colors, from khaki to Ferrari red, grey, or black. Or anything else you might wish, even if that's pink.
Like other top bed liners on this list, this one is a 2-component urethane system designed for direct application onto original paint finish or self-etching primed surfaces. It comes with all you need to apply right out of the box, including a valuable spray gun that works at 8 CFM and 50-60 PSI.
The product dries rapidly once applied, and when cured, it resists stains and abrasion wonderfully. At the same time, it also protects the surface from extreme temperatures, rust, corrosion, and UV damage.
One thing to keep in mind is that this liner is not available in California, and some of its components may trigger allergic reactions.
Another piece of advice, since the product is tintable, make sure to color a sufficient quantity of liner before getting started; otherwise, you might observe unflattering shade differences.
Check on Amazon
Another do it yourself spray in bedliner that has made it to our list is this one from Custom Shop. This Custom Coat consists of two urethane components that mix together and provide a durable, protective coating to your surface.
Like most products on our list, this urethane coating is simple to mix and even simpler to apply. It covers a little less than other paint products, but it still delivers exceptional value for money. Not to mention that it even comes with all you need to apply right out of the box.
Once cured, the coat provides a waterproof, flexible finish that will protect the surface from corrosion, extreme temperatures, and rust. It can even reduce sound and vibration, while its gloss finish brings elegance.
Beyond truck beds and trunks, you can even use this workhorse on a variety of substrates including wood, a variety of metals, PVC, concrete, aluminum, and fiberglass.
Check on Amazon
Another one from U-Pol, this is another liner in the Raptor range developed to help all do-it-yourselfers achieve flawless results in the minimum time possible. The kit consists of four bed liner bottles and one canister of Raptor hardener, all ready to mix and spray with the included gun.
Packed with a set of comprehensive instructions, this urethane coat is easy to mix and apply. Just pay attention to not premix the coat with the hardener before spraying it on in an attempt to be efficient, as the product might become useless.
It has great coverage, and the included gun is very easy to handle. It works at roughly 50 PSI and can help you tackle even larger jobs in a breeze. You'll probably need two coats to achieve flawless results, so you'll also like that it touch dries in only one hour.
Once cured, the liner becomes UV resistant and will not fade. It also provides weather and corrosion resistance, and gives a sleek look to your truck bed, trunk, or other surfaces you might want to paint.
Check on Amazon
This liner's code name is cheap, and will surely appeal to all truck owners on a budget. Cheap, though, will also complicate application. This is a three-part blended polyurethane system that is not hard to use, but you'll have to pay attention to proportions.
This product was born as an automotive liner designed to prevent rust and weather damage. An improved formulation now lets you use it for your truck or any other object that needs protection under the sun.
Its greatest feature is that you can customize it to any color you like. Besides this black variant, you can choose from a handful of other premixed colors. You can use them to coat virtually any surface, from metal to wood or fiberglass.
If you don't like any from the premixed colors, simply discard them and ask for a custom one.
We also like that you don't have to use the whole product. Just mix as much or as little as you want or need for your project. Once cured, the coat provides UV, rust, and elements protection, and it will even keep your surface safe from contact with chemicals, solvents, oil, or gasoline.
Coming at a price that won't break the bank and complete of all you need to paint right out of the box, this is another spray on bedliner to consider.
Check on Amazon
This Custom Coat kit is the best do it yourself bed liner for anyone who wants complete control over the color. It's not the only tintable product on this list, but we simply like it for the convenience it brings.
This product is similar to the other Custom Coat described above, but it comes with 8 rather than 4 bottles of product.
You can mix and apply it following the same steps, but the best part is that you can get it in any shade. It even comes with a shutz gun, or you can apply it with a paintbrush or roller, to achieve different finishes and textures.
Regardless of what application method you choose, this coat provides excellent adhesion. It will protect your surface from elements, extreme temperatures, and will even reduce sounds and vibration.
Providing enough material to repaint large truck beds, this paint product delivers utmost value for money and is a valid alternative to all our options above.
Check on Amazon
DIY Spray On Bedliners Buying Guide
Choosing a bed liner can be overwhelming, especially if this is your first time tackling such a task. Here are a few objective criteria to consider.
Type of Bedliner
Beyond the aliphatic and aromatic types explained above, bed liners can also be categorized based on their application method. You can essentially choose from:
Aerosol bed liners: It's technically a spray-on, but it comes in a premixed formula in an aerosol spray. It goes like any other aerosol paint, and it's the easiest to use. However, coverage is not always excellent. Aerosol sprays also tend to be expensive, and if you get a clogged nozzle, you can toss it right in the bin.
Brush on bed liners: You won't spray those, but they are still popular; that's why we even included one such product on our list. Their name is pretty self-explanatory. You'll get the product and a brush or a roller. Paint it on like any other paint product and wait for it to dry. The main advantage of this method is that you get to control the thickness of the coat and its texture.
Two-part bed liners: Consist of a base coat and a hardener. You'll have to mix the two right before you start applying. Most kits come with pneumatic spray guns you can use for a quick and no-frills application.
Three-part bed liners: Are similar to the two-part, but you'll have to mix three solutions instead of two. Once the potion is ready, spray it on with the included pneumatic spray gun.
Substrate Compatibility
DIY spray on bed liners are all compatible with truck beds, trunks, and other vehicle parts. But as a true do-it-yourselfer, chances are you might want to use the leftovers for different substrates. If that's the case, check the product and see on what surfaces it can be used.
Most bed liners are compatible with a wide variety of materials including metal, fiberglass, PVC, wood, and concrete.
We recommend to read the application method and see if you have to prepare the substrate prior to application, especially if you don't want to apply it to a truck bed.
Color and Texture
The decision-making process also involves considerations regarding colors and textures. Your color options involve:
Premixed colors: You will get a ready-to-use coat already dyed in your chosen color. The main drawback of this solution is the limited number of colors. In fact, most companies sell premixed black coat only. The main advantage is color consistency, in the rare event you find the premixed product in the color of your choice.
Tintable coats: It's just what it sounds like; you'll get a base coat that you will have to dye in your favorite shade. The solution is great if you like an unusual color, such as pink or violet. Color consistency is a big mystery though. It is recommended to dye a sufficient quantity at the same time, to prevent unflattering surprises.
As far as the texture is concerned, you'll still have two options:
Smooth: Looks amazing, but is not the most practical if you want to prevent objects from moving in your trunk. However, it's very easy to wipe clean whenever needed.
Rough: Has a better grip and keeps your objects firmer. Cleaning it is not such a breeze though, and you'll have to use some elbow grease to keep your vehicle nice and sparkling.
You will also have to decide what finish you like from gloss, semi-gloss, or matt.
Benefits of Using a Bed Liner
Spraying urethane coat over the bed of your truck is not just a fancy way to fill a lazy afternoon. Coating your vehicle comes with a bunch of benefits. Here are the most important:
Aesthetics: A new coat of paint is a new lease of life for your tired truck. It can visually enhance your vehicle's beauty and wipe off unsightly scratches, paint chips, or scuffs.
Protection: Bed liners will protect both your truck and your cargo. They typically provide UV and weather protection and also prevent damage caused by rust or corrosion. They are particularly suitable to use in coastal areas where sea salt could be an issue.
Comfort: You wouldn't believe it, but a quality bed liner can actually make your ride more comfortable. These products can reduce the sound and vibration, enhancing your overall comfort on your journeys.
Our Top Pick
It's hard to pick a favorite product from so many valid alternatives; nonetheless, the one we like best is the Linerxtreeme Spray On Bedliner Kit. This complete kit comes with all you need to revamp your truck bed.
Check on Amazon
With its exceptional coverage, it helps you protect an 8-foot bed in professional quality. It also has a sleek, semi-gloss finish that'll give a stylish touch even to a utilitarian vehicle.
Linerxtreeme's greatest strength is the quality of the mix consisting of epoxy powders and urethane. It dries to a tough, durable cover that will protect your truck from the mechanical action of your cargo as well as elements and UV light.
As long as you can follow basic instructions, it's also easy to use; and it even comes with a professional spray gun so you can start coating right out of the box.
Some may argue it's harder to use than other liners, but if you believe your truck deserves the best, know that applying this product is worth every effort. No doubt, we truly recommend it.
Reviews of the Best DIY Spray In Bedliners
Herculiner HCL1B8 Brush-on Bed Liner Kit

Linerxtreeme Spray On Bedliner Kit

T-Rex Black Bed Liner

U-POL Raptor Black Urethane Spray-On Truck Bed Liner Kit

U-POL Tintable Truck Bed Liner

Custom Coat Black Urethane Spray-On Truck Bed Liner Kit

U-Pol 0820V-Gun Black Urethane Truck Bed Liner Kit

Al's Liner DIY Polyurethane Spray-On Truck Bed Liner Kit

Custom Coat Tintable Urethane Spray-On Truck Bed Liner Kit
Summary
In this review we covered the top rated DIY spray in bedliners that you can use to give that outstanding finish to your pickup truck. This would further help you to prevent your vehicle from scratches, dusty raising and oil paints. Make sure you check the capacity of each product before buying the same. It would help you to get an idea about how much solution you would need.
Last update on 2023-09-25 at 18:57 / Affiliate links / Images from Amazon Product Advertising API