Are you looking to buy the Hypnoser weighted blanket?
Are you still confused whether it would be that perfect blanket that would help you sleep and relax better?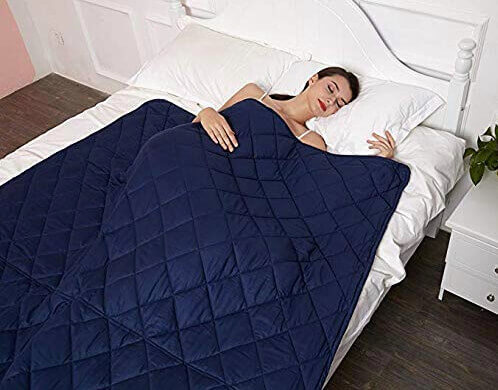 Well, the aim of covering this detailed review of the Hypnoser weighted blanket is to help you undertand its features, pros and cons and whether it would be a right choice.
Recently, weighted blankets have become common worldwide.
As the name exactly sounds, they are heavier blankets filled with materials such as plastic beads or glass pellets.
They are quite similar to comforters or duvets. The main reason they have risen to new heights of popularity is that most people have realized that it has relaxation ability. It can help both kids and adults to get to sleep comfortably.
To help you make the right choice, we have two Hypnoser weighted blanket to review
Hypnoser Weighted Blanket Review – Features, Pros & Cons
Hyponeser's weighted blanket is an all-natural 100% cotton fiber blanket that provides a sense of calm and relaxation but also makes you feel comfortable.
It looks and feels deluxe while remaining incredibly unfussy, due to the even distribution of weight and the softness of the cotton.
Its 100% pure natural cotton fiber used makes the weighted blanket suitable for use by people with allergic reactions to certain fabrics such as polyester.
It is ideal for your skin. It's well sewn small diamond pockets, are filled with wool and tiny glass beads, which is what adds weight to the blanket. Besides, its unique diamond sewn design, the stitching also helps to hold the beads in place.
Hypnoser anxiety blanket is machine washable on a low gentle setting. Hang to dry. However, it is recommended you get a Hypnoser removable duvet cover for it.
The cotton wool fiber may take some time to dry up, making it hard to clean your weighted blanket often.
The duvet cover, on the other hand, is easy to clean. It also ensures that your weighted blanket life is prolonged. The cover is sold separately from the weighted blanket.
The Hypnoser weighted blanket for queen size bed comes in 60″ x 80″ in size and 15lbs weight. This weight is considered the desirable weight for individuals weighing between 130-170lbs.
The hypnoser weighted blankets are also available in various capacities, with the 48″ x 74″ recommended for twin and full-size mattresses, while the 60″ x 80″ for a king size and full queen size mattresses.
Pros
It reduces stress and improves the quality of your sleep
Machine washable
It's even non-leaking technology ensures no risk of weighted beads falling off.
100% pure cotton
Check Price on Amazon
This hypnoser weighted blanket suits an individual person. The inside of the blanket is made from premium natural cotton, making it durable.
The breathable 100% natural cotton cover keeps sleepers feeling calm and comfortable. At the same time it ensures that the weight of the blanket is distributed evenly, allowing the blanket to hug the body comfortably.
Hypnoser weighted blanket is known for its well sewn small 4-4 diamond pockets containing non-toxic pellets that ensure the weight and pressure is evenly distributed.
It weighs 15lbs, for use by individuals weighing between 100-150lbs. This weight is ideal, allowing for comfort and movement, especially during summer.
Its size is also perfect for all types of beds, as an ideal weighted blanket should only cover the mattress. It should not hang off the edges of the bed.
The blanket is washable at the comfort of your home. It is recommended to get a removable Hypnoser duvet cover, which is much easier to clean than the weighted blanket. It also ensures that the weighted blanket lasts longer. The duvet cover is sold separately.
In the case you are not happy with the blanket once you purchase, it comes with a 100% satisfaction guarantee to allow you to be refunded.
Pros
Suitable for those who like body-hugging blankets
Breathable due to its 100% natural cotton
It contains non-toxic glass pellets
Long-lasting and durable
Cons
The duvet cover has to be bought separately.
Check Price on Amazon
Frequently Asked Questions
Q1. Can a weighted blanket be too heavy?
Ans. Experts recommend that a weighted blanket should weigh 10% of your total weight. If you weigh 100lbs, then the blanket should be 10lbs.
If you use one that weighs more than your weight, then it might cause you injuries. Instead of waking up feeling relaxed, you may end up waking up more tired.
If you tend to snore when sleeping, a too heavy weighted blanket can worsen the issue. More weight will be felt on your chest thus can even disrupt your breathing patterns.
Just for cautious people, a weighted blanket is only a little heavy as compared to a woolen blanket. In the end, it is a blanket which helps in sleeping better.
Q2. How to clean the Hypnoser weighted blanket?
Ans. A hypnoser weighted blanket is a machine washable on a low gentle setting with cold water. It also has a removable duvet cover that can be washed separately. The duvet cover is sold separately though. Making it easier to clean and maintain your blanket.
Q3. Do weighted blankets help restless legs?
Ans. Restless legs are commonly referred to as having pins and needles in your leg. Most times, an individual will feel restless, especially when sleeping. Weighted blankets can offer a calming effect through its deep pressure therapy.
Weighted blankets are filled with pellets that offer deep tissue pressure stimulation, and you feel like your legs have been hugged.
This profound therapy promotes the production of a hormone known as serotonin. The hormone then helps in calming the irritable legs, making you feel calmer and relaxed.
Q4. Does insurance cover weighted blankets?
Ans. Different insurance companies have different covers. Some may cover a weighted blanket while others may not be cover.
Some medical insurance cover recognizes weighted blankets as medical equipment and thus is part of the health cover.
It is recommended, therefore, that you consult with your insurance company and find out if they cover a weighted blanket. If it does, then you can get a medical prescription, and your insurance will pay for it.
Hypnoser Weighted Blanket Review
Hypnoser Weighted Blanket for Adults Kids Queen Size

Hypnoser Weighted Blanket for Individual
Summary
Choosing the perfect weighted blanket is difficult. The market is literally flooded with so many brands. When we started our research to cover this detailed Hypnoser weighted blanket review, we literally scrapped throygh ton of online forums asking consumers about their favorite weighted blanket.
Hypnoser is one brand which offers great weighted blankets on a budget. It comes with evenly distributed weight and feels fantastic on skin.
You can definitely consider buying it as it comes with 100% user satisfaction which means, you can return the same within 30 days if you don't like it.
Though, the only point of giving the refund guarantee is because they literally have a remarkable product which trarely any consumer wouldn't like
Last update on 2022-12-03 at 12:45 / Affiliate links / Images from Amazon Product Advertising API