There's no doubt that trucks are unquestionably useful when it comes to hauling things around due to their wide truck bed capacity.
However, there are times when your truck's 6 feet bed capacity cannot be enough to accommodate a wide or long load such as a kayak or ladder.
Under such situations, you need a kayak rack or truck bed extender for your truck. This useful accessory is a great addition to your truck and can help you to transport your load safely and securely.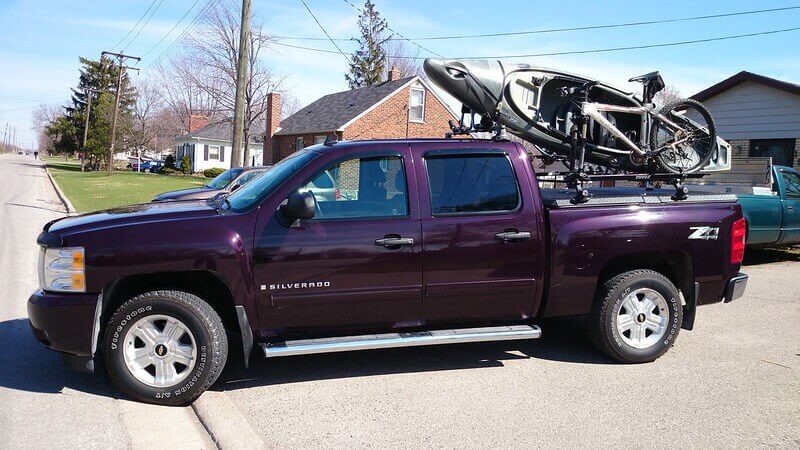 Fortunately, the market has no shortage of quality racks as long as you know where to look. In this article, we will review the top ten best kayak racks for trucks as well as include a comprehensive buyer's guide.
Best Kayak Racks for Trucks – Reviews
The Lund 601021 is one of the best hitch extenders available in the market today that's compatible with all 2-inch hitches. Given that the product is approved by the DOT (Department of Transport), you will feel more comfortable purchasing it.
Weighing just approximately 46.2 pounds, this hitch mount truck extender is made from patented steel. It has the capability of bearing a maximum load capacity of up to 750 pounds without breaking.
What's more, the extender is adjustable both in length and width. The length is adjustable from 38 – 68 inches, which makes it ideal for carrying long items like kayaks, canoes, or ladders.
Apart from that, it's equipped with side wings that allow you to adjust the width from 27 – 49 inches for carrying wider cargo. Interestingly, this truck bed extender offers an extra 7 inches of ground clearance and comes with side support that folds down when need be.
The package also includes a red flag and a red reflective tape that ensures that other motorists can see you while you are carrying a heavy load. Do you want to make your truck look fancier? The rack looks really good with a black bedliner.
Pros
Easy to assemble and disassemble
Flexible when it comes to adjustment options
Ideal for long and wide loads
Foldable side support can be used as work area
Suitable for wide loads
Check Price on Amazon
The Darby 944 extender is another truck extender with exceptional features, and that's why it's highly rated on amazon.
Designed with security and stability of payload in mind, the Darby 944 is a great choice for securing extra-long loads such as kayaks above or behind trucks with 2-inch trailer hitches or SUV with a class III insertion hitch.
Unlike most bed extenders that are only capable of carrying loads in the bed area, the Darby 944 also allows you to carry your load above the roof of the truck. Thanks to the adjustable vertical height of the extender that can reach up to a height of 62.5 inches above the hitch.
What's more, the extender is made from powder-coated steel and can support loads that are as much as 4 feet wide and weighing up to 350 pounds. This combination makes it an ideal bed extender for kayaks and canoes.
To promote and ensure road safety, this extender's package includes a red flag with pins and clips for its stability.
Pros
Easy to assemble and disassemble
Adjustable height for roof top hauling
Ideal for safe hauling of long loads
Easy to store when not in use
Suitable for wide loads of up to 4 feet
Cons
Not recommended for massive loads of more than 350 pounds
Check Price on Amazon
The 997 hitch-mounted goal post from Thule is a stable, adjustable, and secure kayak carrier for trucks and SUVs with 2 inches or class III receivers. So, what makes this system one of the best kayak racks for tracks?
To begin with, the Thule 997 T-Bar is based on the hitch receiver based system that enables you to mount it onto your truck's 2-inch receiver system. This makes it easy for you to easily haul long loads such as kayaks, sailboards, canoes, and more.
Apart from that, it comes with a 58-inch steel bar that's coated with durable plastic. This helps in preventing loaded items from getting damaged due to friction.
The telescoping mast assembly also has numerous mounting holes that enable you to adjust the height of the load bar. This ensures that it's leveled with your truck's roof rack.
For stability and security of your cargo, the Thule 997 T-Bar features vertical load stop attachments that aid in preventing side to side movement of the load while in transit and an anti-sway design with 2 load straps.
Pros
Easy to assemble and disassemble
Height adjustable load bars
Anti-sway design with multi-straps for security and stability of the load
Vertical load stop attachments for prevention of side to side movement
The telescoping mast adjusts to different truck heights
Cons
Only works with 2-inch receivers only
Check Price on Amazon
The TMS 800LB is a heavy-duty kayak rack for trucks. This impressive rack can fit on literally any truck bed thanks to its ability to adjust to both 5-foot and 7-foot wide truck beds. But what else makes the TMS 800LB stand out?
To begin with, this truck bed kayak carrier features a heavy-duty stainless steel construction that impressively adds to its strength and durability.
The rack can carry a whooping 800Lbs of watercraft cargo without breaking. Just to give you a vague idea of its strength, a garage lift can lift around 80,00-100,00Lbs. You can say that the TMS 800 carries 1/10 the strength of a regular home garage lift.
Moreover, this 2-bar set (front and rear) can be set to a maximum height of 30-inches above your truck bed, which is plenty of space. What makes it even more interesting is that each bar weighs only 25Lbs each hence assembling them on your track is as easy as pie.
However, you may need to drill some extra holes and use some screws and bolts to fix this kayak carrier on your truck. Fortunately, you do not need to go to your car dealership to purchase the screws and bolts since they are included in the package.
Pros
Easy to assemble and disassemble
Width adjustable load bars
Very ideal for carrying heavy loads of up to 800lbs
Heavy-duty stainless steel construction
Allows plenty of space above the truck bed
Check Price on Amazon
The AA products model APX25 is one of the best all-in-one truck 2-kayak rack systems. The system's design is universal and is hence compatible with most standard truck beds including that of the uniquely shaped Toyota Tacoma.
Construction-wise, the APX25 kayak rack is made of lightweight and hard-wearing aluminum metal with correspondingly robust C-clamps.
This tough construction ensures that the rack is able to support a kayak of up to 16 feet long and with a weight of up to 2200lbs while leaving enough room on the truck bed for camping and adventure gear.
Installation of this rack is also a piece of cake. As a matter of fact, you do not need to drill any holes on the bed of the truck thanks to the 8 included C-clamps.
Apart from that, the package includes 4-J-jacks (load stops) for holding 2 kayaks, heavy-duty extended bolts, and ratchet straps made from heavy-duty material for securing your load when cruising on bumpy roads.
The rack is available in a choice of three colors that include white, dark grey, and black- so you should be able to select one that matches well with your truck.
However, it's vital to note that the APX25 is not compatible with trucks that have utility track systems, toolboxes, or non-standard beds.
Pros
Easy to install and uninstall
Compatible with most standard truck models
Very ideal for carrying heavy loads of up to 2200lbs
Heavy-duty aluminum construction
Equipped with 4 load stops for securing your cargo on bumpy roads
Cons
Cannot be installed on trucks with utility track systems or tool box
Check Price on Amazon
If you do not want your kayak hanging from behind your truck or your truck doesn't have a hitch, the 74813- 01A BedXTender with a classic U-Shaped gate from AMP research is an excellent choice.
The truck bed extender is designed to fit with any standard truck bed and uses the tailgate as a floor to extend the available cargo space.
This ensures that you get ample cargo room with an extra 2-feet of space to fit your kayak.
When it comes to construction, the 74813- 01A BedXTender features a 6063 T6 aluminum construction that ensures that it's lightweight for easy handling as well as resistant to corrosion.
Furthermore, the silver or black coat finishes ensuring that the bed extender is resistant to scratches. For added strength, AMP employs a torque-resistant clam-shell design with nylon composite uprights.
Along with that, this truck bed kayak rack is easy to install and assemble. When not in use, you can simply flip it into the truck bed and close the tailgate. The product is also made in the United States and comes with a 3-year limited warranty.
Pros
Easy to install and store when not in use
Compatible with most standard truck models
Classic U-Shaped design for maximum cargo capacity
Aluminum construction ensures that its light weight and resistant to corrosion
Resistant clamshell design with nylon composites ensures that its super strong
Cons
Not ideal for hauling long kayaks
Check Price on Amazon
The ECOTRIC truck bed extender is another hitch system truck extender designed to add extra space to your truck bed. But what makes the ECOTRIC truck extender so unique?
To begin with, the ECOTRIC hitch extender weighs only 27lbs and is constructed from heavy-duty steel tubes, which makes it easy to fix on your own.
This sturdy construction material also makes it possible for this truck extender to handle heavier and longer weights of up to 750lbs that wouldn't fit in your truck bed.
Apart from the large weight capacity, the ECOTRIC truck bed extender has a 4 – 10 inch adjustable height extender for holding lengthier loads. The width is also adjustable for holding from 28.25 – 48.75 inches to accommodate wider loads.
Another advantage of the ECOTRIC hitch is that it's compatible with any standard 2-inch square hitch receiver. However, it can also be used on 1-inch receivers but with hitch adaptors.
The package includes a safety flag to promote and ensure safe driving for both you and other motorists.
Pros
Adjustable height and width
Compatible with most standard truck models with 2-inch hitch receivers
Can carry a maximum load capacity of 750 pounds
Heavy-duty steel construction ensures that its durable
Budget friendly and comes with a safety flag to ensure safe driving
Check Price on Amazon
The 500XTB Xsporter Pro is one of the best kayak racks for trucks from Thule. This multi-height truck rack is made from aluminum and is an ideal choice for outdoor enthusiasts who need to haul kayaks, canoes, or any other watercraft.
With its 71-inch long extruded aluminum crossbars, the 500XTB Xsporter Pro has the capacity to carry a load of up to 450 pounds.
Apart from that, its uprights use a rigid track with over 30 adjustment points that are loosened or tightened using easy-grip round knobs.
What's more, the 500XTB Xsporter Pro uses a single clamp system that universally attaches to most truck beds. Also included is a set of four load stops that slide into the T-track at the top.
These load stops help in the prevention of side movements and can be repositioned by re-tightening or loosening the tension knobs.
Moreover, the rack employs AirTrip technology in its design to redirect airflow for superior aerodynamics.
Along with that, rubber WindDiffuser strips are included to disturb airflow thus enhancing ultra-quiet road performance.
For added security and stability, the 500XTB comes with two keys and four Thule locks for securing the rack to your truck bed.
Pros
Custom adjust height for easy loading, loading, and storage
Universal attachment hardware that fits with most truck beds
AirTrip technology for superior aerodynamics
WindDiffuser technology for ultra-quiet road performance
Faster installation since it does not require drilling or cutting
Check Price on Amazon
TracRac TracOne is another great cargo rack from Thule that's highly rated on Amazon to the extent that it has earned itself the Amazon choice badge due to its exemplary features and performance.
Sale
Weighing just about 50lbs, this amazing truck bed kayak rack is made from aluminum to ensure that it's resistant to corrosion and rust.
The aluminum construction is then coated with dual-stage powder coating to ensure that it's resistant to wear and matches perfectly to the finish quality of your truck.
Amusingly, the aluminum construction is so sturdy that the rack has the capacity to carry a load of up to 800lbs without breaking.
What's more, it's compatible with almost any truck and its crossbar measures 65 inches by 4 inches by 1 inch with upright support of 26 inches. This makes it perfect for carrying long items such as kayaks and ladders.
The TracRac TracONE is also aerodynamic thanks to the elliptical crossbars that minimize wind resistance. It's also ultra-quiet thanks to the Airfoil trip strips in the crossbar slots that prevent whistling of air through the slots.
Installation is super-fast because it uses the no-drill single-axis C-clamp system. It also has an internal web structure on the crossbar for extra strength.
Pros
Has elliptical crossbars that help reduce wind resistance
Its made from high-grade aluminum for added durability
Comes with a slotted crossbar that's compatible with various hauling accessories
Damage free installation using the single axis clamp system (Does not require drilling or cutting)
Great choice for hauling heavier loads
Check Price on Amazon
If you are a hardcore kayak enthusiast, the Malone Auto Racks Microsport kayak trailer will be a wonderful kayak transport solution.
Let's see why we wouldn't wrap up this list without mentioning the Malone Auto Racks Microsport kayak carrier.
To begin with, the Malone Auto Racks Microsport kayak carrier features a minimalistic design and setup. And unlike most kayak carriers for trucks, these trailer comes with four different kayak carriers that allow you to transport up to four kayaks at once.
Notably, all four carriers come with their own straps and hardware to ensure that the kayak being transported is in place and secure. Installation is easy as pie since the hubs are pre-assembled.
Construction-wise, the trailer's frame is made from marine-grade galvanized steel, which is resistant to corrosion and rust. This steel frame can support loads of more than 350 pounds. Its tongue is also heavy-duty and has the capability to haul watercraft as long as 19 inches.
What's more, the loading bars feature a standard design and come with metal paddings that help in preventing scratches. The bars are made with 78 inches coated steel. Best of all, this unit comes with a 5-year warranty to ensure that you have peace of mind.
Pros
Its frame is made from heavy-duty marine grade steel
Its parts are pre-assembled hence faster to install
Its compatible with various kayak trailer accessories
Can hold long kayaks with a length of up to 20 feet long
Comes with an extended warranty period of 5 years
Check Price on Amazon
Best Kayak Racks for Trucks – Buyers Guide for 2022
There are a number of factors that you need to keep in mind when selecting the best carrier for your truck. This buyer's guide lays some of the most important factors and more.
Important Factors to Consider When Buying a Kayak Rack for Your Truck
Type of truck bed extender
Truck bed extenders or truck kayak racks come in different designs. Some are designed for longer and larger kayaks while others are only intended to accommodate loads that are within the tailgate range.
Thus when selecting a kayak rack for your truck it is paramount to understand the functions and the specifications of the rack you are about to pick including the height, length, and weight capacities.
Compatibility with your truck
One important factor to note is that truck bed extenders or kayak racks aren't a one-size-fits-all kind of product. Each rack comes in a different size, style, and shape and is at times only made to be compatible with certain truck models.
So it's vital to conduct your own due diligence and check on the products page and ascertain whether your truck model and size is compatible with the extender/rack. This will not only save you money but will also save the hassle of having to return the product.
Installation
Some of us are not the most technical kinds of persons. As such, we do not want to go through all the hassle of having to fix every accessory by ourselves. Therefore, the need for a truck extender that's already pre-assembled and ready to install is necessary.
Rack-style extenders tend to be set up easily and usually have all the hardware accessories included in the package together with the instructions for quick setup. Easy to set up extenders save on time and most do not require drilling or cutting.
Construction materials
The construction material is a major factor in determining how durable a kayak rack is as well as the load capacity it can be able to withstand.
Kayak truck racks are usually made from different materials. Some of which are meant for light loads while others are meant for heavy loads.
When shopping for a kayak rack for your truck you need to consider the material it is made of. Some are made with metal or plastic or a combination of both.
However, if you plan to haul heavy loads, consider one that is made of metal and most preferably aluminum since it's lightweight, rust, and corrosion-resistant.
Types of Truck Extenders
Standard U-Shaped Extender
The standard u-shaped truck bed extenders are used for hauling shorter kayaks or other loads that are not longer than the bed of the truck or the tailgate.
They are usually constructed from metal or plastic or both. These extenders are connected to the tailgate and provide an added 2-feet cargo area when the tailgate is down.
Bed Loader or Bedside Extender
Bed loaders are a type of extenders that connect to the rear receiver of your truck. These extenders come with hitch mounts and offer extra storage for kayaks or loads that run beyond the tailgate.
They have support arms that are extendable to enable easy adjustment and loading of items in varying positions.
Cargo slide
Despite being able to offer extra cargo space in your truck's bed, these types of extenders offer quick access to loaded items.
It's like your truck's bed is converted into a drawer that slides in and out. For enhanced support, a right-mount hitch is needed to keep the extender locked in place.
Types of Kayak Racks for Trucks
Side-mount racks
These types of racks are narrow in-depth and they normally have a carrying capacity of 500lbs.
They are ideal for transporting long loads such as kayaks and are equipped with tie-downs and extendable uprights to ensure that they are compatible with different truck sizes.
Over-truck bed racks
These types of racks are easy to assemble and install and can accommodate more than one kayak.
Most of them have an extendable length and width and an adjustable height feature that makes it easy to load bulky loads.
Frequently Asked Questions
Are kayak racks safe?
Yes, kayak racks are safe. However, it's paramount to ensure that the rack you choose is compatible with the model of your truck since the size and design are different.
Are kayak racks stable?
One of the main benefits that kayak racks offer is stability. Most kayaks come with straps that help you secure the kayak or other watercraft.
What is the best method to haul your kayak?
Hauling your kayak isn't hard. However, you must take utmost precaution on how you transport it in order not to scratch it. According to experts, the most ideal way to transport a kayak is by using a roof rack since it's safe. Roof racks are also easy to install.
How do I know the exact hitch size?
The simplest way to know the exact hitch size is by measuring the width and the height of the hatch opening. Normally hitch sizes will measure 2-inches or 1.25 inches.
Are bed extenders universal?
The simple answer is NO. However, there are few models that are compatible with various truck models.
Wrapping Up
Kayaking is fun and adventurous because it lets you explore places that cannot be accessed on foot. As such, you need to have a safe transportation method and that's where a kayak rack comes in.
These watercraft types of equipment are easy to install and they play a huge role in making your kayaking experience worth remembering.
In this guide, we have included the top ten best kayak racks. While there are hundreds of kayak racks out there to choose from our picks are solely based on customer reviews and research.
In our research we found the TracRac TracOne to be our top pick due to a myriad of factors such as the aerodynamic design and the durable aluminum construction.
Apart from that you can transport up to 800lbs of load and is easy to install hence saving on time. It's also universal and can thus be used in more than one truck model.
We hope that you have found this article extremely useful. We suggest you also read this detailed article on garage floor epoxy which would be really useful if you store your kayak in your home garage.
Best Kayak Racks for Trucks Reviews
LUND 601021 Hitch Mounted Truck Bed Extender

Darby Industries 944 Extend-A-Truck

Thule 997 Goalpost Hitch T-Bar

TMS 800 LB Truck Rack

AA Products Model APX25 Aluminum Truck Rack

AMP Research 74813-01A BedXTender

ECOTRIC Pick-Up Truck Bed Hitch Extender

Thule 500XTB Xsporter Pro

TracRac TracONE Universal Track Rack

Malone Auto Racks Microsport Kayak Trailer
Summary
Read the unbiased reviews of the best kayak racks for trucks including the most comprehensive and practical buyers guide.
There are ample options in the market for bed extenders, you need to look at a lot of features and details before making a right buyers choice.
This guide will certainly help you make a wise buying choice for choosing the perfect kayak rack for your truck.
Last update on 2023-09-25 at 20:27 / Affiliate links / Images from Amazon Product Advertising API