Some of us prefer spending our free time watching that new movie or that trending Television program.
However, the positioning of your TV can make even the most interesting show become boring because of the lacking comfort.
Luckily, with a motorized TV mount, you can revamp your TV viewing experience, prevent clutter, reduce neck pains, as well as give your home a completely new touch.
However, choosing one that fits your needs is not a walk in the park. To simplify your search, we have researched and reviewed the seven best motorized TV mounts that guarantee to give you the best viewing experience by mounting your TV at the right height.
7 Best Motorized TV Mounts
Best Motorized TV Ceiling Mounts
The Mount E-FD55 is an electric TV mount from the well-known technology company VIVO. This simple but sophisticated piece of equipment is a perfect space saver and mounts to walls, ceilings, and other surfaces.
Sale
Featuring a solid steel frame, this sleek TV mount supports screen sizes of between 23-inches and 55-inches with a weight of up to 66 pounds. This makes it a perfect choice for small and medium-sized TVs.
It comes with a motorized plate that's controllable using an RF remote. The remote comes with a number of memory settings that you can program to save various viewing angles.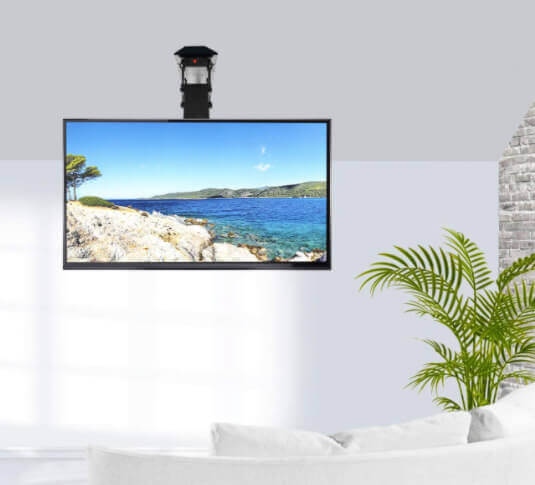 Other than that, this TV mount boasts a convenient fold-up design that features a 0-75 degree tilt for better storage a 3-degree level adjustment for comfortable viewing positions.
Here's how easy it is to assemble this motorized TV mount:
Overall, the VIVO Mount E-FD55 is a good choice for people who want to enjoy a comfortable TV watching experience whether in the office or at home.
Pros
Comes with a motorized plate that you can control from a distance
The remote is programmable to a number of memory settings
Adds swivel to your TV
Sturdy construction with sleek design
Allows height and level adjustment
Cons
Takes time to assemble and install
Check Price on Amazon
Mount-It MI 4223 is another motorized ceiling TV mount that offers incredible features. It has a similar look as that of the VIVO Mount E-FD55. You would actually confuse one from the other.
Ideal for kitchen and office use, this mount is VESA compatible and works with screen sizes of between 32- inches and 55-inches. It is also good in case your TV has speakers at the back.
It can, however, hold a smaller or larger sized TV provided the bolt patterns match and the weight of the TV does not exceed its maximum rated weight load of 66 pounds.
The mount is made from high-grade steel to ensure that it withstands the different weight loads and resists any wear.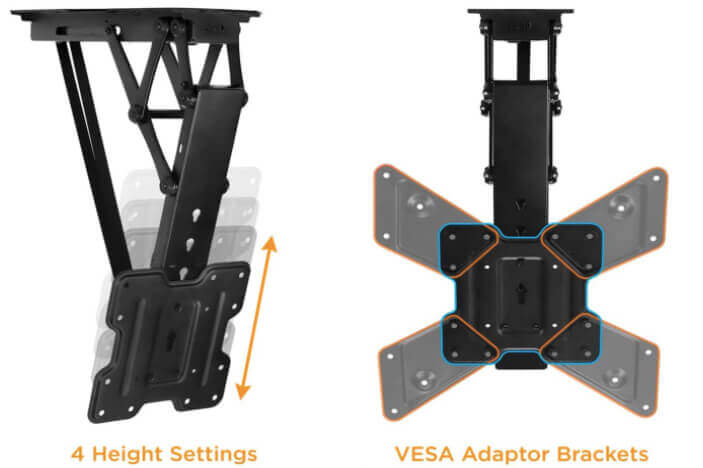 What's more, this TV mount comes with a powerful motor that's easily controlled with an IR remote. The motor flips your TV up and down on the ceiling helping clear up space as well as keep your TV out of the way when not in use.
It has a tilt range of 0 to 75- degrees and has a keyhole pattern design with 4 height adjustment options for better viewing experience.
Pros
Powerful motor plate that flips your TV up and down
Can hold loads of up to 66 pounds
Can be used in premises with high ceilings
Sturdy construction
Height and level adjustment help prevent back and neck pains
Check Price on Amazon
The Touchline Valueline 30004 is an advanced TV lift engineered for high performance. It's also one of the few motorized TV mounts that comes with a flat-top lid mount for flush counter installs.
For starters, the Valueline 30004 is made with high-grade, heavy-duty 1.5mm steel that gives it a supreme finish and unparalleled durability.
The unit has a maximum load capacity of 100lbs and is designed for mounting TVs with screen sizes of between 32-70-inches making it a great choice for larger TVs.
It comes with a unique touchstone C-Bracket, which comes in handy when it comes to height adjustment. This exclusive bracket offers you a 6 5/8 inches of height flexibility.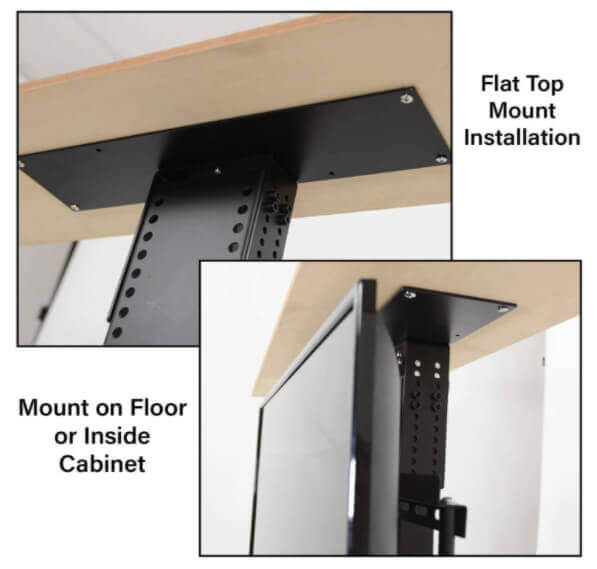 Along with that, it includes an RF remote and a wired remote with a visual display. The display allows you to see the lift's height giving you the exact memory settings.
Other exclusive features that this exclusive TV lift offers include soft-start & soft-stop, pressure safety stop, and the lift control box.
Pros
Comes with a flat-top lid mount for counter installs
Can hold TV with a weight of up to 100 pounds
Very quiet operation
Made from high-quality steel
Comes with a 2-year manufacturer's warranty
Cons
Some customers reported of motor breakdown after some months of use
Check Price on Amazon
ECO-WORTHY is a durable motorized TV lift that offers you great value for money.
Featuring reinforced steel construction, this TV lift is engineered to fit TVs or monitors with screen sizes of between 26 to 57-inches with a maximum weight capacity of 220.5lbs (100kgs).
In terms of measurements, the TV lift has a height of 38.6 inches (excluding TV height) and a width of 16-inches, which allows it to accommodate your TV set.
Like you'd expect from any motorized TV lift, this unit is height adjustable with travel height ranges from 37.20 inches to 64.76-inches (the figures represent retracted and extended heights respectively).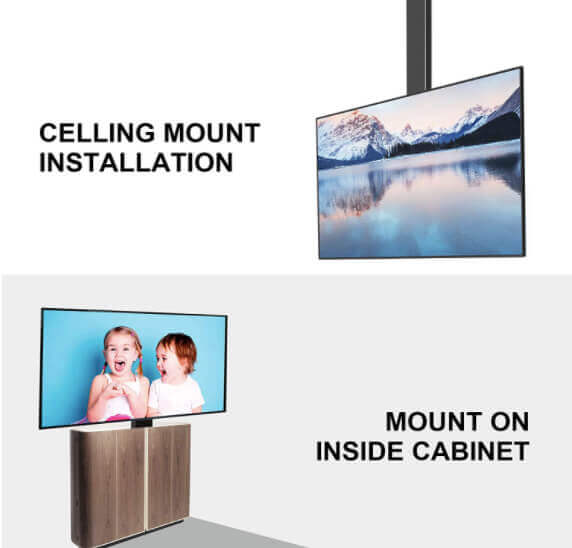 To make height adjustments a breeze, this unit comes with a powerful and ultra-quiet motor that is capable of lifting your TV up 1-inch per second.
To control the lifter, you have the option to use a wired controller or an RF remote if you want to make height adjustments from a distance.
One thing we loved about this TV mount is the ease of installation as well as the overall design appearance. You can literally mount and hide it in the cabinet, wall, or ceiling.
Pros
Suits most TV sizes in the range of 26 to 57-inches
The mount has a max load capacity of 220 pounds
Ultra-quiet and fast operation
Made from aluminum alloy and high-quality steel
Comes with a wireless remote for quick full-up and full-down operations
Check Price on Amazon
Sometimes all you want is to shake things up and make a few adjustments to your daily entertainment routine.
With the CO-Z motorized TV mount, you can automate your viewing experience as well as give your home a new look.
Featuring a convenient and practical design, the CO-Z motorized TV mount is engineered with high-quality steel to ensure that it can withstand a TV load of up to 154lbs.
This means that it can perfectly accommodate most standard TV sets ranging from 30-inches to 65-inches.
It's also height-adjustable and the model can retract from 25-inches to 57-inches quietly and quickly thanks to the powerful motor and the revolutionary screw rod structure.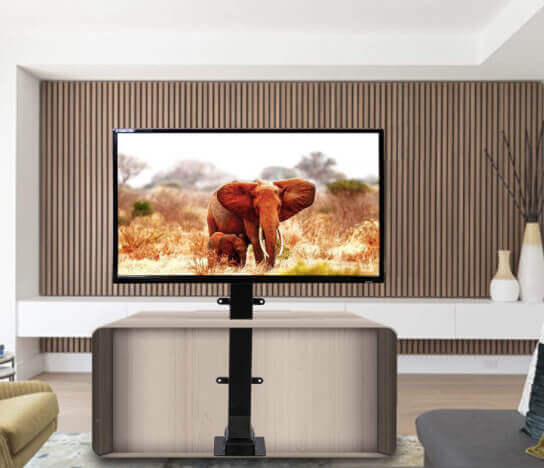 For easy operation, the package comes with a wired switch and remote control.
Installation is a breeze since the unit comes pre-assembled and all the necessary parts are included in the package.
In fact, most installations take less than 10 minutes. However, note that this is not to be installed on the ceiling.
Pros
Great option if you have a standard size TV in the range of 25 to 57-inches
The mount is pretty powerful and can load up to 154 pounds
Quiet and fast operation
Made from quality steel
Quick installation
Cons
Cannot be installed on ceiling
Check Price on Amazon
Morphon is another motorized TV lift designed for users who would like to mount standard-sized TVs or monitors.
Just like you'd expect from any good TV lift, this unit is constructed from durable steel which guarantees unmatched strength and durability.
The unit mounts easily inside a cabinet or wall and supports monitors and TV screen sizes of between 26-inches and 57-inches with a max weight capacity of 165lbs.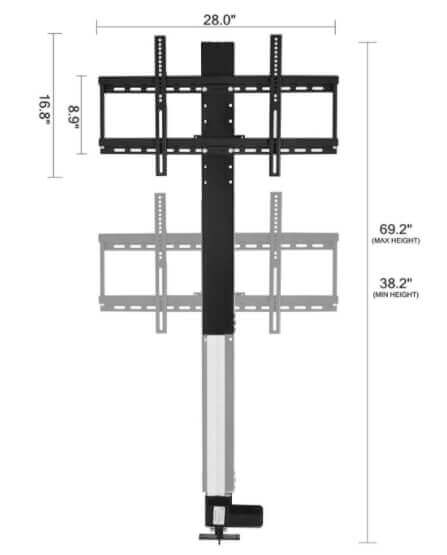 What's more, it comes with 4-preset memory heights and a 24 Volts permanent magnet motor for quick and easy height adjustments. It can reach the full height of 28-inches in under 50 seconds.
The remote control is another selling point for this unit as it helps adjust the height of the TV with ease and comfort. Installation is also easy and fast.
Pros
Looks elegant and durable
Quality steel construction
Powerful and fast magnetic motor
4-preset memory heights easy and quick height adjustments
Simple installation
Check Price on Amazon
Whisper Ride 700 is a compact and versatile motorized TV mounting system that is engineered to reveal and conceal your TV inside a cabinet, ceiling, wall, or other location via remote control.
The Whisper 700 is capable of handling flat-screen TVs with sizes of up to 47-inches. In terms of weight, this unit can raise or lower a flat-screen or monitor TV with a maximum weight capacity of up to 145lbs.
One feature that caught our attention with this unit is the built-in reverse function that stops the lift in case there is an obstruction.
Apart from that, it comes with a powerful and reliable motor that guarantees fast and quiet operations.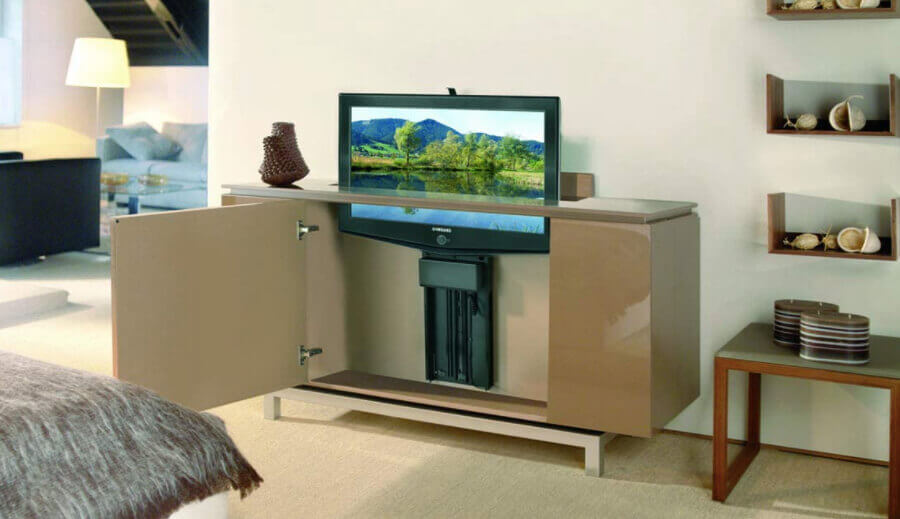 What's more, the unit's mounting holes fit VESA standards. You'll also have complete peace of mind knowing that the Whisper Ride 700 comes with a 5-year warranty.
Pros
Flexible and adjustable. Has a travels a distance of 27.5"
Durable and solidly made
It works quietly
Comes with a 5-year warranty
Simple installation
Cons
Long and tedious instructions
Check Price on Amazon
Buying a Motorized TV Mount: Ultimate Guide
When shopping for a motorized TV mount, there are different factors you need to keep in mind. Some of these factors include:
Dimensions and Weight Capacity
Most if not all manufacturers specify the dimensions as well as the maximum weight capacity of the TV mount. Before spending your hard-earned money on a motorized TV mount, it's vital to first know the exact weight and dimensions of your TV.
This will act as a guide and will help you choose a TV lift that is strong enough for the job. It's recommended that you choose a TV mount with a higher weight capacity than that of your TV.
The Motor
The motor is one of the most crucial components when it comes to buying a motorized TV mount. Therefore, ensure that the model you are choosing has a powerful enough motor to raise and lower your TV or monitor.
Noise level
The powerful the motor, the less noise the TV mount will crank. However, noise can also be attributed to the quality of the motor. Therefore, when choosing a TV lift especially for use at the office or at home, choose a unit with a near-silent noise level.
Remote control
You need a simple and easy way to control your motorized TV lift. This means going for a unit with either a remote, switch or both. Your particular situation will help determine which option works best for you. However, a remote always comes in handy.
Ease of installation
A motorized TV mount should not be difficult to install especially with all the accessories. However, if you feel that it will be difficult for you to do it yourself, it might be in your best interest to hire a professional to do it for you. It's faster and easier.
Wrapping Up
Motorized TV mounts come in different sizes and can completely change your overall viewing experience. It is, therefore vital that you spend adequate time researching for one that best suits your needs.
Out of the top eight best-motorized TV mounts that we reviewed, the VIVO Electric Motorized TV Mount – MOUNT- E-FD55 checked all the boxes when it came to performance, design, construction, and accessories. It's also highly rated on Amazon.
Do check the latest omnidirectional tv antennas. We have written a detailed guide on the same.
Motorized TV Mount Reviews
VIVO Electric Motorized TV Mount-E-FD55

Mount-It Motorized Ceiling TV Mount

Touchline Valueline 30004 Motorized TV Mount

ECO-WORTHY Automations-Motorized Vertical TV Lift

CO-Z Motorized TV Mount

3 Wall Mount for PS3 Console

Morphon Motorized TV Lift

Whisper Ride Motorized TV Lift
Summary
Check the detailed reviews of the best motorized TV mounts. We have covered mounts which are hidden, can be easily fitted on the ceiling or wall.
Many of these could be controlled using remote and can fit televisions of multiple sizes ranging from 23″-70″. Read the reviews and then make the right choice.
Last update on 2023-03-29 at 21:24 / Affiliate links / Images from Amazon Product Advertising API