10 Best DJ Backpacks for 2020 – Comfortable and Spacious
Traveling is undoubtedly one of the norms that all DJs have in common. One has to travel from gig to gig while carrying their bulky and expensive gear.
For this reason, having a specialized DJ backpack is a must for the sake of the safety of your equipment. These backpacks come with several dedicated compartments for carrying your laptop, headphones, hard drive, controller, and other accessories.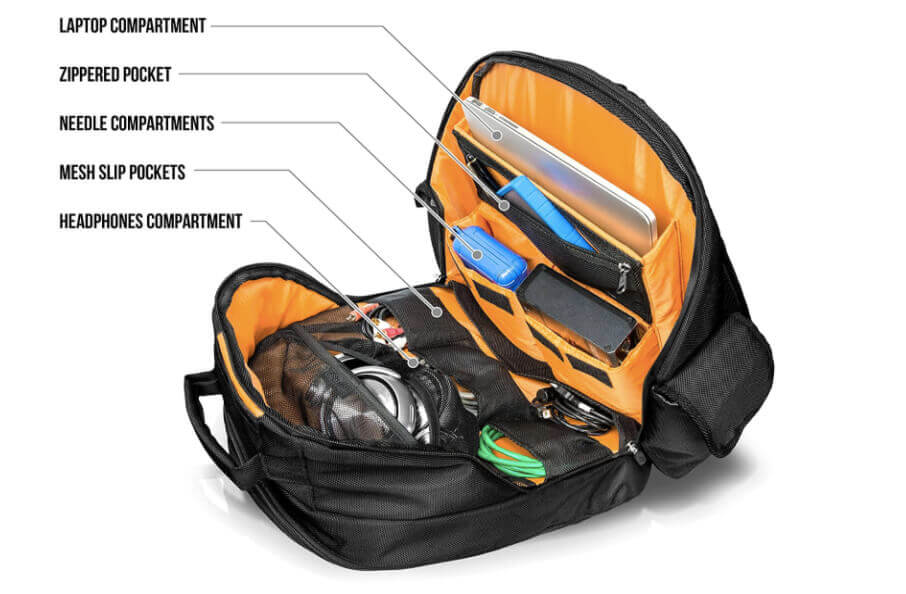 However, these backpacks are not created equal. Some are designed for holding things like a digital controller and laptop while others are designed for organizing cables.
As such, you need to invest in a backpack that suits your needs. In this roundup, we have reviewed 10 of the best DJ backpacks. Each of the backpacks offers similar features, and it's up to you to decide on which one best suits your needs.
10 Best DJ Backpacks
Best DJ Backpack Reviews
The Mono EFX Flyby is one of the top innovative backpacks in the market today. It is cleverly designed and offers ultimate storage and traveling solution for modern-day musicians and DJs.
For starters, the bag is rugged and features a minimalistic design. The backpack has specialized interior pockets and five exterior pockets for storing your laptop charger, headphones, tablets, and more.
The rear compartment includes a padded laptop sleeve and can fit a 12″- 17″ laptop. One unique feature of this compartment is that it's detachable. The two-in-one design means that you can separate it from the main section and use it as a stealthy laptop bag for jetting around town.
What's more, the backpack's stand-up design ensures that your deejaying equipment is right where you need them to be. There's also padding at the bottom as well as the plush lining that helps protect your stuff from getting damaged.
In addition to this, it is built with high-quality materials so as to withstand resistance and abrasions. The Mono EFX has met military specs and is waterproof too.
Pros
The bottom has double thick padding eliminating dings
Has a detachable compartment for carrying a laptop
Keeps your equipment organized
Has adequate storage space
Made of high-quality materials that makes it resistant to abrasion
Cons
Not fit for large controllers
Check Price on Amazon
The MAGMA Riot DJ Backpack is a top-of-the-range backpack suited for a heavy traveling pro-DJ. So if you need a rucksack with lots of pockets and a versatile storage system, then it is an incredible choice.
Made from 100% PVC Tarpaulin, this DJ bag has a fully waterproof outer shell which ensures that it doesn't wear easily and can withstand harsh weather conditions.
It has a main compartment that can securely hold any digital controller, including the Kontrol S4, Kontrol Z2, Pioneer DJM-T1, or Rane Sixty Two.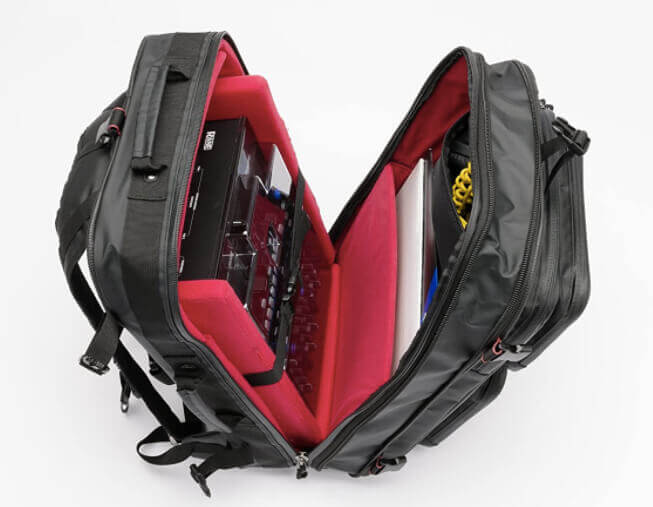 What we liked about this compartment is that it can be customized to hold different controllers. It includes a divider, removable adjustment foams, and a protection panel for safety.
Along with that, there is a separate compartment for a laptop that can hold up to 17-inch. The compartment is fully padded, just like the main compartment.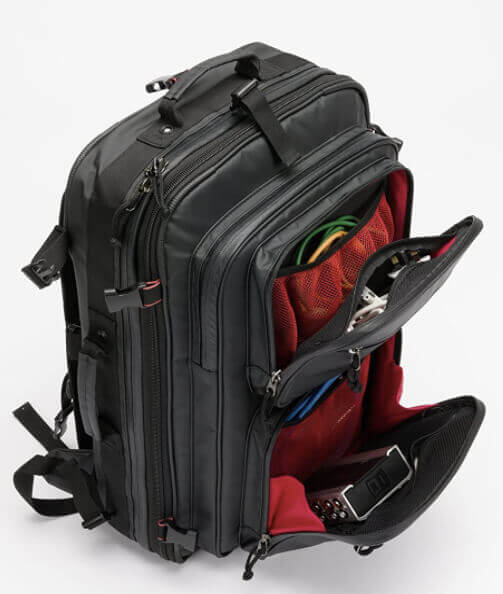 It also offers two large front pockets for the perfect organization of accessories such as hard drives, headphones, an extra mic, and cables.
If you are limited on space, this backpack has a zip expansion system that doubles the capacity of the main compartment. This system increases the capacity by about an inch.
Apart from being spacious, the MAGMA Riot backpack comes with comfortable backpack straps that are padded and cushioned for extra comfort.
Pros
Has excellent build quality
Comfortable to carry despite the weight
The main compartment can be enlarged by the zip around the system to hold more equipment
Super durable and 100% waterproof backpack
It is lightweight and weighs 8.19pounds
Check Price on Amazon
The Cable File from CablePhyle is a classic gig bag that's designed with the main intention of helping you keep your cables neat and organized.
It has ten pockets with 1'' slots, four pockets with 2'' slots, and an additional pocket with 3''slot. This means you can pack your extension cables, spare mic, multi-strips, gaff tape, and easily locate them.
The bag is made of sturdy PVC nylon, high-density padding as well as hard fiberboard bottom. Some companies neglect the quality of the zippers but the Cable File bag has strong zippers alongside quality handles.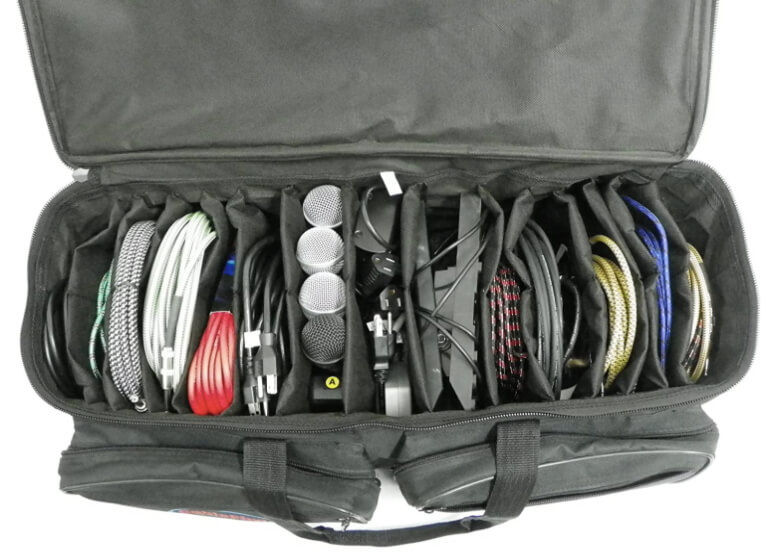 With the padded shoulder straps and a comfortable carry handle, it may be difficult for you to feel the 18lbs weight the bag holds when full. Overall, it offers a comfortable experience even if you have to travel for long hours carrying your heavy equipment.
Pros
Has excellent build quality
Can hold many cables
Cables remain free of tangling
Several storage pockets
Padded shoulder straps for added comfort
Cons
The product is specifically designed to hold cables not digital controllers
Check Price on Amazon
The Odyssey BRLRMXDG2XL is all about keeping your equipment safe. From the zippers to the padded pockets, the backpack reeks of ultimate protection of gear.
The Redline DJ backpack has a main compartment with foam inserts that can be adjusted to fit your digital controllers such as the Akai MPK49, Pioneer DDJ-SX, or Pioneer DDJ-T1.
In addition to the main compartment, the bag has a second section where you can safely store your accessories, hard drives, and laptops.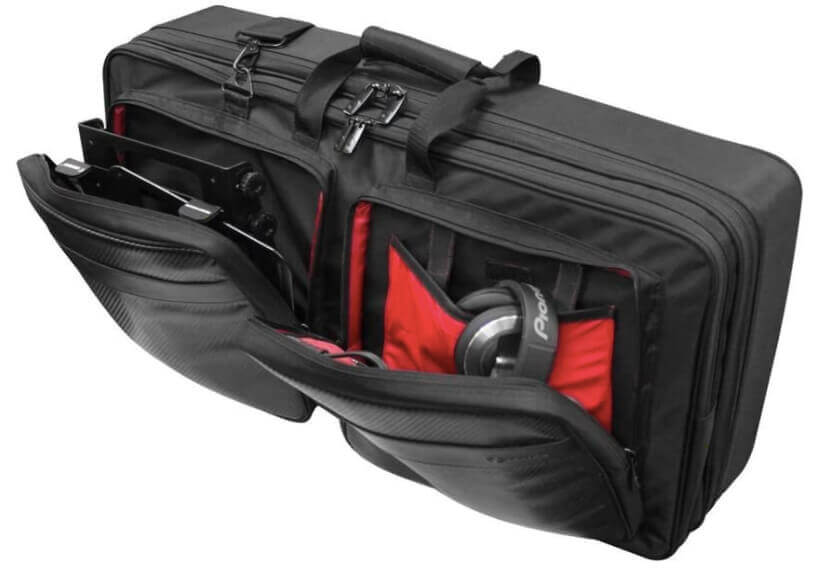 What we loved most about this bag is that it has adequate pockets that are fully padded for superior protection. It also has heavy-duty zippers that do not come off quickly, assuring you of continued years of service.
You can choose to carry the bag as a backpack or use the shoulder straps. The padded straps and the cushioned back add extra comfort.
Pros
Has excellent build quality
Regardless of the size of your digital controller, you can adjust the size of the main compartment with the foam inserts
Has more than enough padded pockets to hold the needed gear
The zippers and zipper pulls are heavy-duty for gear protection
The interior design is extra durable
Cons
It can be heavy. It, however, compensates this by having padded shoulder straps that are comfortable
Check Price on Amazon
Adding to the list of one of the top-rated DJ backpacks with adequate room for equipment is the Gator Cases Club Series DJ Backpack.
Designed specifically for holding Pioneer DDJ-SX2, DDJ-SX, DDJ-RX, and most 27-inch DJ controllers, this backpack comes with a durable black nylon exterior with orange accents and liner which makes it easy for you to locate it in low lit spaces.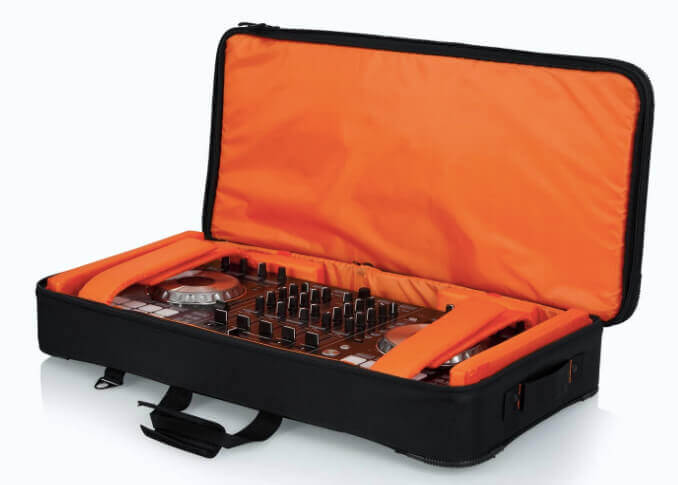 It has zippered compartments that are well-padded and can hold fragile items like hard drives and laptops, and two pockets on the outside designed purposely for cables and other Deejaying accessories.
Carrying the backpack also feels comfortable, thanks to the padded hideaway backpack straps and the adjustable shoulder straps. It is important to note the shoulder straps are also removable bag.
Pros
Can hold 27'' digital controllers
The orange lining on the inside makes it easy to find cables and other accessories in lowly-lit environments
There are internal straps that hold controllers in place
The bag has multiple pockets that can also hold a laptop and tablet
The shoulder straps are heavy-duty and well-padded and cushioned for comfort
Check Price on Amazon
If you prefer a backpack that will stand out without sacrificing on quality, then the Pelican S115 Elite Sport is what you are missing.
Sleekly designed, this backpack comes with three zippered, padded, mesh inner pockets for holding fragile accessories and three external side zippered pockets for holding cables and other accessories. There is also a mesh slip pouch on the left strap.
The backpack can accommodate a DSLR camera, the main compartment, and has dedicated sections for holding five lenses and dividers. Along with that, the bag has a spacious compartment for a laptop that accommodates a 15-inch and 17-inch laptop.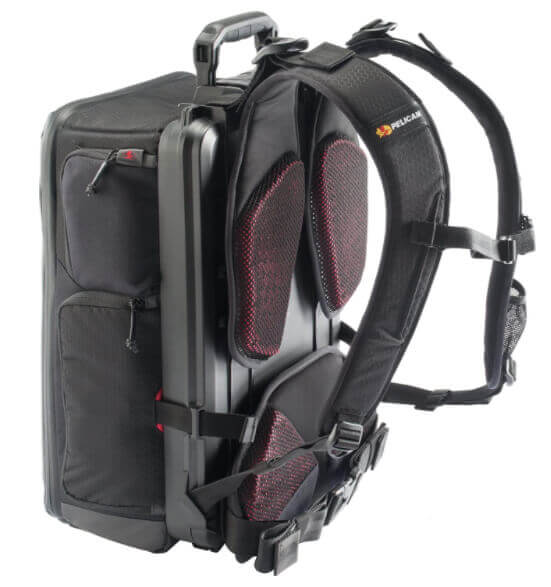 The laptop compartment is made of a crash-proof ABS material and is sealed with an O-Ring gasket to ensure it's completely waterproof. It has a pressure-equalizing valve that prevents the vacuum from locking.
In terms of comfort, the Pelican S115 comes with a ventilated back panel and padded shoulder and lumbar support. The lumbar support and the shoulder straps are loosely attached to the backpack to enhance greater carrying comfort.
Pros
Very durable
Numerous pockets for ample storage
Has a rigid front plate that helps in impact protection
Can hold 15-inch and 17-inch laptop
Has lumbar support and padded shoulder straps for extra comfort
Check Price on Amazon
Designed with an urban look, the Targus City Smart EVA Pro is a top-rated backpack to consider. It can easily accommodate your DJ gear as well as other accessories.
Sale
Designed for carrying medium-sized laptops of up to 16-inches, the TSB895 has a large main compartment that can fit a small digital controller or a desk worth of supplies.
There is also a compartment dedicated to storing a tablet. 12.9'' tablets can easily fit in this pocket. Besides, there are pockets with EVA protection to keep fragile accessories like sunglasses and smartphones safe.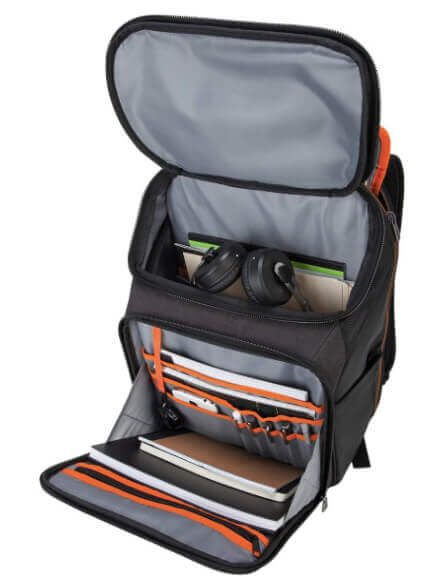 This backpack has a friendly design and is a great travel companion. With a water-resistant bottom, your equipment is protected against water damage.
The Targus City smart EVA bag has padded and adjustable shoulder straps as well as a meshed back panel for comfortable carrying. It also has a trolley strap that you can use instead of the shoulder straps.
Pros
Has a friendly urban look
All your equipment fits well and remains organized during transit
Has a dedicated pocket for 12.9'' tablets
The shoulder straps are padded and adjustable for extra comfort
Fragile accessories remain safe thanks to the EVA protection
Cons
Not suitable for large digital controllers
Check Price on Amazon
The G-Club LG backpack from Gator is designed for DJs who are always on the move and prefer rugged packs.
Constructed from a reinforcement of breathable 420-Denier nylon in the interior and 1680-Denier nylon EVA on the exterior, this pack is built to last as well offer the needed protection to your equipment.
The backpack has numerous storage pockets and can hold your Serato Style interface along with your hard drive, and DJ mixers. There is also a padded pocket inside where you can put your laptop and an mp3 pocket with a headphone hole that ensures that your music is always at your fingertips.
For maximum comfort, the backpack's shoulder straps are padded and can be adjusted to your liking. There is also a top carry hand for quick pick moments.
What's more, the pack comes with a rain jacket, so you don't have to worry when sudden climate changes get you by surprise.
Pros
It is lightweight
Can hold a digital controller, DJ mixer, laptop, and other accessories
The bag is built to last
The bright orange colors on the inside making it easy to find cables and other accessories even in a low lighting surrounding
The breathable ventilation at the back ensures you don't soak in sweat
Cons
Not suitable for large digital controllers
Check Price on Amazon
Convenient for everyday use and concerts, the Odyssey Digital Gear Backspin2 is another ballistic nylon backpack for the journeyman DJ.
Featuring a ballistic nylon construction, the backpack comes with three dedicated pockets for your 17-inch laptop, headphones, and laptop stand. It can also be customized to fit a digital controller thanks to the padded interior dividers.
Additionally, in terms of safety, the BRLBACKSPIN2 is padded in all the right places and has heavy-duty zippers as well as quality zipper pulls. Along with that, the bottom is sturdy and does not wobble when placed on the ground. It has vertical stability to ensure your gear remains upright.
For added storage room, there are easily accessible front pockets where you can store small accessories like keys, wallet, and passport. The top pouch is also expandable.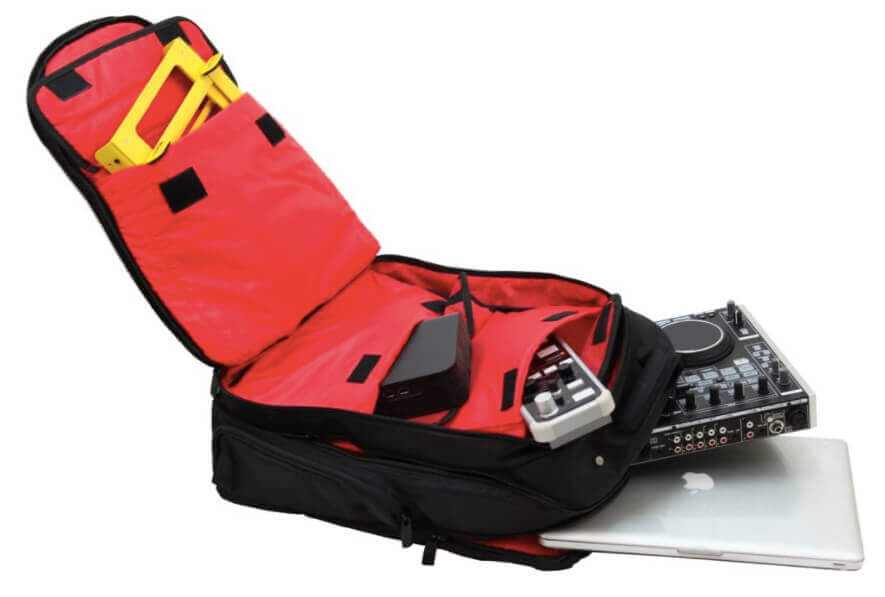 What's more, cables have a dedicated pocket so that they don't mix or get tangled. This also helps in preventing your Deejaying gear from getting scratched.
To maximize your comfort, not only is the back padded but the shoulder straps and handle too. This makes this bag an invaluable companion when it comes to moving from gig to gig.
Pros
There is plenty of room for your gear
Cables, laptop, headphones, and laptop stand have dedicated pockets each
Zippers and zipper pulls are heavy duty and built to last
The shoulder straps, handle, and back are padded for added comfort
The bag is sturdy and remains upright to keep gear organized
Check Price on Amazon
Last on our roundup is the Jetpack Slim DJ backpack from Orbit Concepts. Perfect for everyday use, this bag bridges the gap between quality and affordability. It simply offers you what you pay for.
For starters, the Jetpack Slim DJ backpack is made from high-quality materials to withstand wear and is carefully knitted to ensure that it does not tear.
It's super lightweight, compact, and has a TSA -friendly laptop compartment, which means that you'll not get into problems with the airport security. The compartment is padded and comes with a Velcro strap for securing your laptop.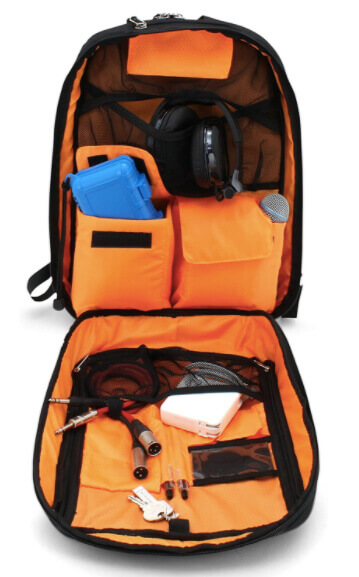 Along with the compartment for laptop, the bag has a main central compartment that contains several pouches and pockets for storing your gear. For example, the two velcro-secure pockets allow you to store your laptop's charger or a turntable cartridge case.
What's more, the pack comes with strong, secure, and adjustable straps. There's also a mesh cushioning on the back of the bag for extra comfort.
Pros
There is plenty of room for your gear
Great for daily use
The camo color makes the bag stand out in a crowd
The shoulder straps, handle, and back are padded for added comfort
Great for carrying small equipment like laptops, mixers, cables, and headphones
Cons
Not for a heavy traveler DJ
Check Price on Amazon
Last update on 2020-10-13 at 20:37 / Affiliate links / Images from Amazon Product Advertising API