Trombones lie somewhere between Tuba and Trumpets, and they have an important position in the family of trumpets. They are basically large sized trumpets and are famous because they are apt for almost all genres of music.
In this post, we have covered the best Jazz trombones so that you don't need to hustle hard researching all over forums which will confuse you mostly.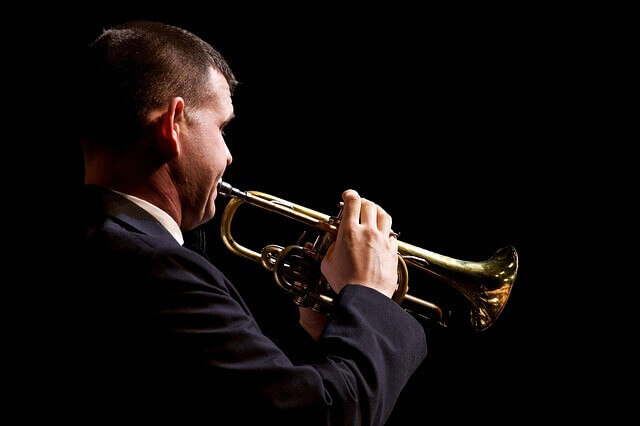 Let us explain the different types of jazz trombones available in the market. Broadly, there are six different types or categories of jazz trombones:
Alto Trombone – These kind of trombones are majorly used for solo performances. The pitch of these trombones is much higher than the pitch of tenor trombones. These trombones are not much popular as the other types and generally they are not used for jazz music.
Valve Trombone – Majorly used in South America, Europe and India. The valve enables playing fast tempos with ease and more precision.
Tenor Trombone (Without an F attachment) – This is the most typical jazz trombone that people refer to. It is the routine jazz trombone used by jazz trombonists for solo performances.
Tenor Trombone (With an F attachment) – This is a very common trombone and is used by orchestra players. It has a large bore size due to which the sound produced by this trombone is considerably high.
Bass Trombone – These trombones have a large bore size so they generally require more air than any other kind of trombone. These kind of trombones are mostly used in orchestras, concert performances, groups or bands. However, they are not so common in jazz groups.
Marching Trombone – They are fairly compact in design and produce true trombone sounds. The name itself suggests that they are good for marching activities due to their easy to carry design.
Which Trombone Is The Best For You?
Well, when it comes to choosing the best trombone you need to think about how much money you can spend on buying the instrument.
If you are a beginner then there is no need to spend a lot of money or buy a really expensive jazz trombone. Just start off with a simple and budget friendly trombone and once you become an expert, just switch to a more expensive variant which has more features and offers better quality.
Characteristics Of A Jazz Trombone
Jazz groups typically use two kinds of trombones:-
Lead Trombones
There are big concerts or bands which feature trombone players. There is always at least one solo trombonist who plays the higher parts.
For playing these kind of parts, trombonists need a very balanced and lightweight trombone with a small bore size. This characteristic helps the trombonist in playing the higher parts much more easily.
There will be different particularities for the various trombones made by different companies.
The bore sizes would be different. Mostly, it is around .480 inches, and the bell size would also be small and somewhere around 6 to 7 inches. There will also be no F attachment. These properties would make the trombone very light and balanced.
Section Trombones
The bore size of this instrument is a bit larger than that of the lead trombones we have talked about earlier. These trombones are played by the lower band members or the lower trombonists who try to achieve strong sound on the lower parts.
The larger bore size of these trombones is of .500 to .510 inches and the bell is of approximately 7 to 8 inches in diameter.
The F attachment is not mandatory and it usually depends on the player whether he/she is comfortable with having the F attachment.
Note– There are these classical, big sized trombones that we have not talked about much. These trombones are big symphonic models and all the components are much bigger in size if compared to the other types discussed earlier. The bore size, the bell and even the mouthpiece is bigger in size.
Now that you know the basics, it is time that we introduce you to the top 8 jazz trombones that we have covered in this detaild post.
Particularly, reviewing trombones is a hefty task as compared to reviewing technology products and hardwares like sound cards or atx cases.
We spent nearly 17 days to bring our info together so that you only get to choose among the best of the best jazz trombones available in the market.
10 Best Jazz Trombones for 2022
Reviewing the Best Rated Trombones
It's time for detailed reviews where you will get to know the details of each of the trombones mentioned in the above list.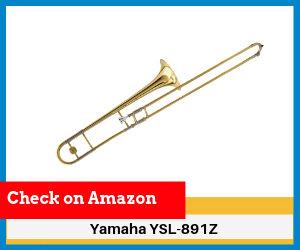 From experienced musicians to amateurs, everyone knows about Yamaha as it has become a prevailing choice amongst buyers.
Yamaha is not much famous for creating brass instruments but the brand offers flawless quality and consistent support which makes it pretty good.
This jazz trombones comes directly from the Custom Z lineup by Yamaha.
It is engineered in accordance with two famed jazz trombonists, Andy Martin and Wycliffe Gordon. This shows that the YSL-891Z is not just like any other standard jazz trombone and has a special value.
The YSL-891Z possesses numerous pivotal features for a jazz horn.
It has a small bore (.484 to .490 dual bore), a 7.5-inch bell, and a yellow colored brass bell and body.
In line with these features, the YSL-891Z also has two different leadpipes to modify the accurate feel and response given by the horn.
There is a longer NY-style leadpipe and a shorter LA-style pipe in this trombone.
The longer leadpipe is designed by Wycliffe Gordon and the shorter one was developed by Andy Martin. This feature enables you to modify the response of the horn in accordance to your blow.
It is a great feature and is very useful for any part of any size group, whether it be a small combo or a big, whole band.
Check Price on Amazon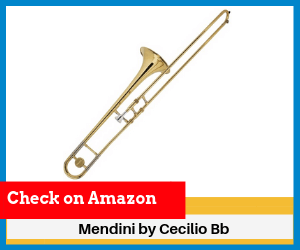 This jazz trombone by Mendini is Chinese made.
Now you all must be assuming that the quality of this jazz trombone might not be good enough as it is "Made in China", but this trombone would definitely exceed your expectations.
The trombone is a perfect choice for the people who are on a tight budget. Also, if you do not want to buy a cheap plastic horn then this might be the perfect choice for you.
It is a .500 medium bore trombone. It has a gold colored lacquer. However, this jazz trombone does not have an F-attachment.
There are some nice accessories provided with bundle, a chromatic tuner, a trombone reference book and white gloves.
If you are an experienced musician then you would be needing a much better trombone as this one is for beginners only.
Check Price on Amazon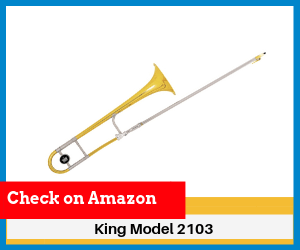 King is a much renowned brand and has been creating trombones in the USA for almost 100 years now.
This is a 3B Legend Series trombone and caters to the needs of experienced musicians. Thus, the price of this trombone is also high.
The trombone has a .508 bore and an outer hand slide made out of nickel silver.
This ensures that the trombone delivers a splendid tone and responds swiftly to the action performed.
Check Price on Amazon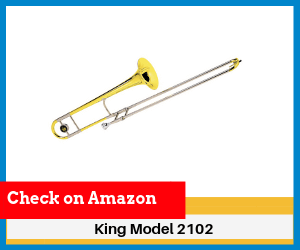 This is another highly appreciated jazz trombone by King and is commonly known as the King 2B.
The King 2B is notably famous and is used by seasoned musicians.
It possesses a small bore (.481 to .491 dual bore) as well as a small 7-3/8″ bell.
This makes sure that there is an outstanding upper balance. There are several surface options available with this jazz trombone. Like the bronze bell or the silver plate finish with or without a tint of gold color.
The King 2B comes with a wood shell case and a 12C mouthpiece making it more worthy of its price.
Check Price on Amazon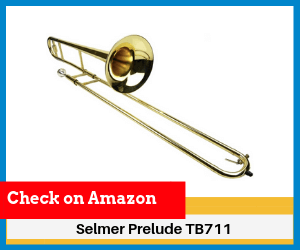 These Prelude trombones by Conn and Selmer are specially made for students and newbies.
This brand also has a great history and has been making great quality tromobones for beginners.
This jazz trombone has a medium sized .509 inch bore and chrome plated inner slides made of brass.
There is a two piece bell which is hand hammered and made from nickel silver. There is a lacquered finish which helps in reducing the maintenance and cleaning costs.
A Vincent Bach 12C mouthpiece, detachable balance weight, a hard shell case, and a bottle of Bach slide cream are all provided with the bundle.
The good thing is that it is cost effective and is particularly made for entry level music enthusiasts.
Check Price on Amazon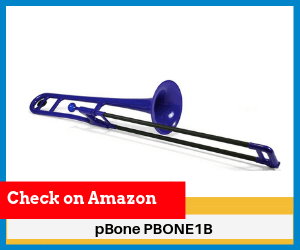 This is the most unique jazz trombone which you would find in the market.
This trombone is budget friendly so it can be bought if you are an amateur and want to try playing a trombone.
It is made of ABS plastic which makes it super light and firm. The weight is just about 1.8 pounds.
There is a medium sized .500 inch bore and an eight inch bell which is said to be very strong. It also has a glass fiber slide which offers smoothness while acting upon it and accentuates the playability.
There are many color options available for this jazz trombone – blue, yellow, orange, black, pink etc.
Check Price on Amazon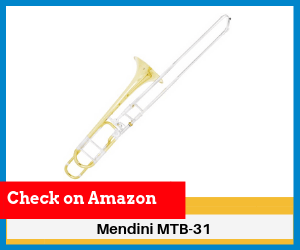 This is a very balanced, high performing jazz trombone which is suitable for beginners and moderate skill level players.
It comes with an F attachment which is mechanically linked which is a good addition.
This jazz trombone by Mendini has a large .547 inch bore and an 8.5 inch bell.
The lead pipe on this is nickel plated and the inner and outer slides are also done with the same material. There is also a large shank along with a silver plated 12C mouthpiece.
The complete bundle includes Cecilio 92-D chromatic tuner, a durable hard case for keeping the trombone safe, a pair of white colored gloves and a cloth for cleaning the trombone.
Mendini also provides one year warranty against any kind of manufacturing defects. This package is readily available at an affordable price and is fully recommended by us if you are a beginner or a learner.
Check Price on Amazon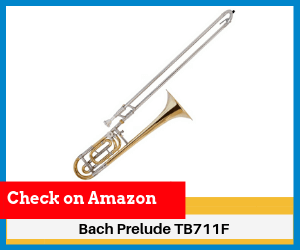 This jazz trombone made by Bach is a perfect pick.
It grants magnificent playability and is ideal for intermediate level jazz trombone players.
The bore size is large (.547 inch) and the bell is of 8.5 inches.
The inner slide of this jazz trombone is chrome plated and made out of nickel silver.
Similarly, the outer slide is also made out of nickel silver. The trombone is constructed out of yellow brass. There is a very clear lacquer finish on this trombone. This trombone also has an F attachment.
A carry case and a Bach 12C mouthpiece is provided with the package. The complete bundle is not se economical but if we see the quality provided, then the price is reasonable.
Check Price on Amazon
Our Top Recommendation
pBone PBONE1B
Buy on Amazon
A well known name in the industry, pBone is a top rated trombone in the list which is affordable and sounds perfect.
Though, mainly for beginners and newbies, the trombone is made of high quality plastic. With great ergonomic grip, you can hold the trombone with great ease.
The best part, being a pBone owner, you will get 6 month free membership with the International Trombone Association along with free online tutorials and lessons.
Here is a quick review:
Best Jazz Trombone in 2022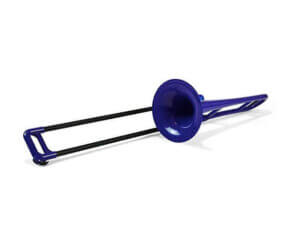 Product Name: PBONE1B Jiggs Jazz Trombone Review
Product Description: As a beginner, if you are looking to purchase a good quality Tromonoe just to learn the skills and practice the instrument before buying a more expensive option. The Pbone Jazz trombone is a highly rated trombone for beginners.
Built Quality

Ease of Play

Grip

Price
Summary
When it comes to buying the right trombone, it is slightly confusing as there are a ton of options in the market.
Unless you have a "Guru" who could guide you through the right brands etc, we brought you this exclusive guide so that you don't have to stress miuch before making the right choice. 
Who are the best Jazz Trombonists in the World?
Here are the top Trombonists in 2022:
1. Bill Watrous
2. J J Johnson
3. Urbie Green
4. Curtis Fuller
5. Frank Rosolino
6. Wycliffe Gordon
7. Slide Hampton
8. Conrad Herwig
9. Elliot Mason
10. Phil Wilson
Is a trombone a jazz instrument?
The trombone belongs to the brass instrument family. It was first featured in jazz with Dixieland Jazz as a supporting role within the Dixie Group.
Is it difficult to play trombone?
Nothing is difficult or easy. With little dedication, hard work and perseverance, you could learn to play trombone or any other string instrument.
Final Thoughts
We hope that this post must have given you some great insights as to how to choose the perfect jazz trombones. We covered in great detail about different types of trombones in the market and top choices for 2022.
Still, we would suggest that you take your time to review the subsequent customer reviews on Amazon and then decide for yourself.
Do share your thoughts about this post in the comment section below.
Important: The images used in the post are taken from Amazon and stock photo sites (Flickr, Pixabay).
Last update on 2023-09-27 at 07:44 / Affiliate links / Images from Amazon Product Advertising API