Snowboarding as a recreational activity is gaining interest in the ski areas as a winter sport. Choosing a good snowboarding bag will affect the type of experience you will have.
Thus when planning to take a snowboarding trip, one of the key factors that need to be taken into consideration is the bag you intend to carry. The snowboarding bag with wheels will make your snowboarding experience an enjoyable one and definitely one you would consider doing again.
This is because you will be carrying equipment for your snowboarding experience and you need a bag that will be effective, efficient as well as suit all your needs.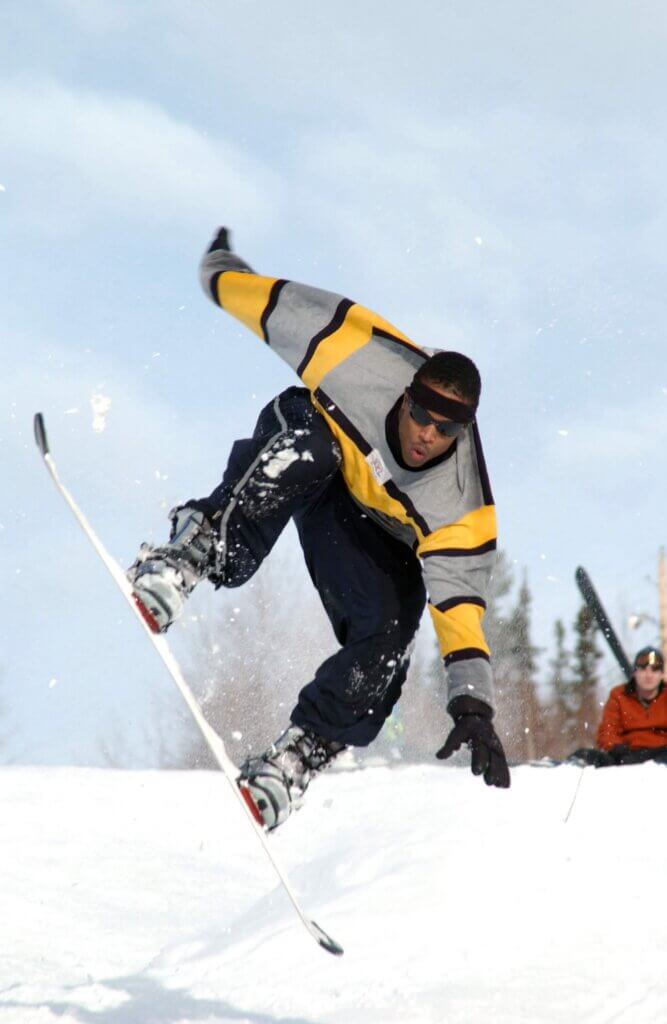 You may need to pick a bag that will make traveling easy, fit all your stuff and keep your equipment safe.
All these factors and more need to be taken into account when choosing a snowboarding bag and of course the wheels are a plus as they help you in rolling the bag as opposed to carrying. This will save you some energy for the snowboarding activity.
You would not believe how much easier your snowboarding experience will be once you have a bag that fits everything you need, is easy to roll around and saves you the hustle of having to carry your equipment on your shoulder when traveling.
Below are 10 of the best snowboarding bags with wheels that we recommend for a great snowboarding experience.
---
10 Best Snowboard Bags With Wheels: Top Picks
No products found.
---
The Demon United New Phantom is undoubtedly one of the best snowboard travel bags in the market today. So if you are an avid skier, this is a great choice for you.
Made from a durable extra-thick 1680 DENIER fabric, this travel snowboard bag is resistant from abrasions and has multiple carry options that include a shoulder strap, a tow handle, and a carry handle.
It's spacious and comes with a big compartment that enables you to pack your snowboarding gear as well as your boots, helmets and other snowboarding items. With this bag, you do not have to incur the trouble of carrying two bags since you can fit all your items into one.
The wheels are big in size (3.5-inches) and rubberized for all terrain movement. They also have high speed bearings for easy towing and 16-ich curb rails that protect the bag when being pulled through the car park or at the airport.
Pros
Fairly priced
Very spacious
Durable construction material
The 16-inch curb rails protect the bag when pulling
Thickly padded
Cons
The travel bag has no side panels
Check Price on Amazon
---
Another great option is this snowboard bag from Winterial. It's remarkably good looking and undoubtedly one of the best travelling gear bag for skiing and snowboarding enthusiasts.
For starters, it has a super-dense interior padding that helps protect your boards and other items. The lining provides extra protection and absorbs any ice that may have found its way into the bag.
Also, it has a sturdy wheel that enables you to easily move around in the airport or the ski areas. This feature gives you the comfort of rolling the bag anywhere as opposed to carrying.
Moreover, it is big enough to accommodate all your snowboarding gear. It saves you the hustle of having to think about what to leave behind as everything fits in the bag. This will help you to enjoy your snowboarding activity to the maximum.
The bag also has fastening straps, which helps keep your items safe and in place. A shoulder strap is also in place when you might prefer carrying it.
Pros
Fully padded
Very roomy
Sturdy wheels
Removable divider for multiple pairs of skis
Numerous straps to ensure that your items stay in place
Cons
The straps are not of the best quality
Check Price on Amazon
---
The Thule Roundtrip is one of the best snowboard travel bag. Made from a sturdy and waterproof 600 D material, this snowboard roller bag ensures that your gear is safe and protected from the external environment.
It has a length of 168 cm long that will fit snowboards up to 165 cm long. It is also well lined to offer maximum protection to your snowboards.
Along with that, it has compression straps that keep the boards in place without the boards sliding against each other. There is also a shoulder strap that makes it easy to carry on your shoulder when you don't want to pull it on the rollers.
What's more, the bag is big enough enabling everything you intend to carry for your snowboarding experience fit into one.You can fit your board and your clothes.
Pros
Has structural reinforcements that help minimize the bag from sagging
Padded sleeves to ensure better organization
Easy to transport thanks to the multi-grab handles and smooth wheels
It is made with quality water-resistant fabric
The insides are easy to clean
Cons
The s-shaped zipper takes time to open
Check Price on Amazon
---
The Burton bag contains 600D polyester TPE coated fabric that makes it durable to withstand even the most brutal baggage handler. This is advantageous as you can use it for many snowboarding experiences without being spoiled easily.
The wheels of this bag roll smoothly and easily from one point to another, which makes it easy for you to move it from one point to another. The wheels are also replaceable.
Furthermore, it comes with two straps that help in holding the case and all its belongings. Additionally, it has a top handle that helps to maneuver your way around while pulling the case on wheels.
There is also a padded strap in case you need to carry the bag on your shoulder enabling you to have the option of pulling it or carrying on your shoulder.
The case has ample space for your equipment; board and gears. Two removable cases help separate your gear and can come in handy after snowboarding can help separate the wet and dry gear. The bottom case has additional support and padding to help protect your gear.
What's more, the camo pattern can be easily identified at the airport. This comes in handy to people who always lose their luggage at the airport. The bag will stand out hence reducing the chances of another traveler confusing it with yours or getting lost easily.
The water resistant zippers are large and easy to pull open and close saving you the embarrassment of getting your zip stuck due to the cold weather.
Pros
Durable snowboard wheelie bag
Wheels do not get stuck
Strong straps that hold all your gear in place
Plenty of space
The special camo pattern that makes it stand out and easy to trace in airports
Cons
A bit on the pricier side
Check Price on Amazon
---
Designed mostly as a travel case, this bag is built with a heavy-duty 600D water-resistant polyester fabric to ensure that it does not easily soak in water and will last you through different snowboarding experiences.
It is also well padded to keep your snowboarding items safe from dents and scratches. The padding is composed of a 10mm dense foam padding.
Furthermore, the wheels are designed to ensure a smooth and easy roll on different surfaces including parking lots and airports. It is also enclosed by an all-weather tarpaulin bottom that makes it more durable.
What we like most abbot this bag is, ample storage that allows you to accommodate snowboards of up to 175cms. As seen in almost all bags in this category, it has adjustable compression straps that help keep your gear in place.
Pros
Fully padded
Very roomy
Padded carrying handles
Waterproof and thermal insulated internal compartment
Full length lockable zipper
Cons
Shoulder straps may not be as comfortable
Check Price on Amazon
---
The Demon Phantom fully padded snow bag is a durable Denier fabric bag with thick padding that helps to keep your equipment safe. The thick padding helps to cushion your equipment from all the traveling helping you to reach your destination when your equipment is in perfect shape.
This bag has a big interior, which allows you to carry multiple boards and boots. It contains bindings with room for your helmet and outerwear too. It comes in handy when you want to carry a lot of equipment for your snowboarding experience.
Another remarkable feature is the heavy-duty wheels that enable you to move easily through the airport. The wheels make it easier for you to transport your equipment as opposed to carrying. You also conserve your energy for the snowboarding experience.
The straps are also adjustable and padded to give you comfort when you decide to carry the bag on your shoulder. The bag also has straps that keep your equipment from falling over.
Pros
Very spacious
Competitively priced
Nicely padded
Heavy-duty wheels
Overall tough construction
Check Price on Amazon
---
This bag has durable 600D polyester construction meaning it has a fully padded multiple board compartment that helps to keep your equipment safe when traveling. This feature is important in the snowboarding bag, as safety comes first in protecting your equipment.
Planning on carrying two boards for the full snowboarding experience? This bag has multiple board storage, which can fit boards between 146-cms and 181-cms. It gives you the option of carrying both of your boards making you enjoy the full snowboarding experience.
The main compartment has easy full zip access for safety purposes. Most gears are expensive and the zip will ease your mind of having to worry if your gear is safe or not. You can also put a lock and key on the zipper to be extra sure of the safety of your gear.
The padded shoulder strap is included in the bag for when you might want to carry the bag on your shoulder. It is well padded ensuring that you do not hurt your shoulder as the equipment might be a bit heavy on the body. The pads give extra support to the rather heavy equipment carried making it user friendly.
The inside of the compartment has inner straps that keep your gear from falling off. An important feature that keeps all the equipment secure and in the same place you packed it. This feature also helps to keep your equipment safe by not moving in the bag and getting damaged.
IXION skate wheel system provides smooth and easy rolling. This feature makes it easy for transportation on any rough surfaces and long distances.
Pros
Heavy-duty snowboard wheelie bag
IXION skate wheel system ensures that wheels do not get stuck
Fully padded and can accommodate multiple boards
Ample space
Lifetime warranty
Check Price on Amazon
---
The low roller bag is suitable for couples or friends who might decide to take a snowboard trip together.
For one, the Dakine Roller bag is very spacious and you can carry two snowboards at a time. You can also fit items such as a helmet and clothes. It simply minimizes the hustle of having to carry two snowboarding bags. Along with that, it comes with a removable compartment that allows you to carry more gear.
If you are wondering whether this snowboard bag offers protection to your precious equipment, then you'll be happy to know that it does. It contains 360 degrees padding that absorbs any shock. So, you do not have to worry about your equipment having dents and cracks.
However, the wheels are a bit disappointing as they may not be able to balance the weight of the equipment being carried. This may be the only bad disadvantage to an otherwise good bag with great features.
Pros
Suitable for people who do not want to carry two bags
3-way zipper system makes it easy to access
Its fully padded to keep your items from dents
Dual end carry wheels for easy transportation
Limited lifetime warranty
Check Price on Amazon
---
The Dakine Company manufactures the snowboard bag as the name suggests. It contains a big compartment that fits all your equipment needed for the snowboarding trip. This comes in handy when you want to carry all your boards and clothes in one bag.
The bag has a 360 degrees padding gear that helps to protect your equipment. This is very important as you would not want your equipment to get damaged during the trip. It takes the best care of your snowboarding equipment.
Another great feature of this snowboard bag from Dakine is the lockable zippers. Safety comes first and this is highly recommended when you want to keep your equipment safe. It saves you the need of worrying whether your gear is safe or not.
Another added advantage of this bag is that it is lightweight. This means you can carry as many items needed for your snowboarding experience without having to worry about the weight. It also helps that when in the airport there will not be an extra baggage fees
Pros
Has a huge compartment to accommodate your snowboarding gear
Padded to prevent your snowboard from getting scratches and dents
The shoulder straps are padded for comfort
Build with durable materials
Limited lifetime warranty
Check Price on Amazon
---
Just as the name suggests this bag is fully padded. This unique feature ensures that your gear is cushioned against any knocks and protected from dents.
It comes with internal webbing straps. This straps help keep your snowboard in place and prevent them from gliding against each other when you are on the move.
It is spacious enough to enable all your snowboarding gear to fit into one bag. You can be able to fit the boards and your clothes too.
Moreover, it has two-way zippers. The advantage of this design is that it helps you fit all your stuff. It also makes it easy for you to close the bag, and when one of the zippers gets stuck, you can use the other one.
Pros
Fully padded to protect your gear
Very spacious. Can hold two snowboards
The wheels roll smooth
Rugged water-proof design
Has an exterior outer pocket for extra storage
Check Price on Amazon
---
Choosing the Best Snowboard Bag – Buyer's Guide
If you are intending to travel to your favorite snowboard or ski destination, a padded snowboard or ski bag is a must-have if you intend to protect your precious board, gear, and other items. However, if you only need a simple bag for local use, padding may not be necessary and can help you cut on costs significantly.
Having said that, let's look at the different types of snowboard bags that will meet your specific needs.
Types of Snowboard Bags
Snowboard bags come in different types, they include:
Wheeled snowboard bags
Typically, wheeled snowboard bags are the largest bags available and feature wheels on one end that roll smoothly, helping you move the bag from one point to the other. These types of bags are also heavily padded and are designed to carry multiple boards. They are a great option for flying.
Non-wheeled snowboard bags
Non-wheeled snow bags are shorter in size and designed to accommodate one board. However, they leave some extra space for other items such as your gear or clothing. They are also light in weight.
Travel cases
Usually made from hard plastic, these bags are designed carrying multiple and single snowboards or skis. They are designed for air travel and do an excellent job of protecting your job thanks to the hard plastic casing.
---
Features To Look Out For When Shopping For a Snowboard Bag
Type of fabric
The type of fabric determines the durability of your bag. As such, it is paramount to check the type of material from which the bag is made from. Most bags are made from polyester, which is normally given as a thread count numerical rating. For example, 800D, 600D, etc. The higher the numerical rating the more durable the fabric.
Padding
Padding is another crucial element that you need to consider. Padded snowboard bags ensure that your gear is cushioned against dents, damage, or any type of impact when traveling.
Water-resistance
Most top-of-the-range snowboard bags come with lined interior compartments. The material used in these compartments is usually water-resistant, which allows you to wipe it clean. The material also helps in keeping your bag moisture-free which helps prevent the growth of mold and mildew.
Padded straps
Sometimes you may need to sling the bag over your shoulder. Padded straps help add comfort and prevent too much pressure from being exerted on your shoulders.
Pockets
Of course, the main point of getting a bag is to maximize space. As such, you need a bag that packs your snowboard or boards and also has extra storage pockets for other items such as goggles, gloves, kits, and additional gear.
Exterior compression straps
Typically made from nylon, these straps run around both ends of the bag. The main intent of having these straps is to ensure that the interior components of the bag are secured.
Interior gear straps
Also made from nylon, these straps come in handy especially when you have to carry multiple pairs of boards. They secure your gear inside and help prevent the boards from shifting or rubbing against each other when in transit.
Large wheels
Most top-of-the-range snowboard bags come with inline skate wheels to offer the best rolling experience. However, some other good models use heavy tread wheels to aid rolling in snowy airports and parking lots.
---
Wrapping Up
As you can see, snowboard bags come in different sizes and are convenient in many applications. You can use them for airline travel or just to carry your snowboard safely from one place to another within your locality.
Note however that the bag you choose will largely be dependent on the size of your board. We recommend wheeled snowboards because they are easy to move from point to point, and they are heavily padded. You can also use them to carry multiple boards and are fit for airline travel.
Best Snowboard Bags with Wheels for Easy Road and Air Travels
Demon United 2020 New Phantom Flight Snowboard Travel Bag

Winterial Double Ski Bag With Wheels

Thule Roundtrip Double snowboard Roller Bag

Burton Wheelie Board Case Snowboard Bag

Athletico Conquest Padded Snowboard Bag

Demon Phantom Fully Padded Travel Snowboard Bag

Burton Wheelie Gig Snowboard Bag

Dakine Low Roller Snowboard Bag

Dakine Tour Snowboard Bag

EQ Sport Fully Padded Snowboard Bag With Wheels
Summary
Picking the right snowboard bag is a mighty task. You want to be sure that the bag will support easy travels – both road and air travels. Thus, you must buy one which has wheels so that you can carry your equipment easily anywhere. We researched a lot, went through several reviews and forums, checked 100+ reviews by existing customers before creating this comprehensive list of the best snowbard bags with wheels. Make sure you read the buying guide to make the right choice.
Last update on 2023-11-22 at 12:14 / Affiliate links / Images from Amazon Product Advertising API