If you are confused choosing between Garmin Forerunner 35 and Forerunner 235, you have landed on the right post. In this detailed article, we will leave no stone unturned as we do a comparison between the Garmin Forerunner 35 vs Forerunner 235.
Gone are the days when runners or cyclists would have to guess the distance or calculate the route by driving.
While there are still people who would argue that those were the good old days, it goes without saying that the introduction of GPS running watch has brought significant changes in the way that we do our exercises.
These modern GPS watches can track the distance covered by either walking or running, heart rate, health stats, and even pay for our shopping.
Garmin is one running watch brand that has caught the eyes of many runners, cyclists, and even swimmers.
This is because their watches pack a plethora of premium features that include built-in GPS trackers, vibration alerts, push notifications, Garmin connect app and many more.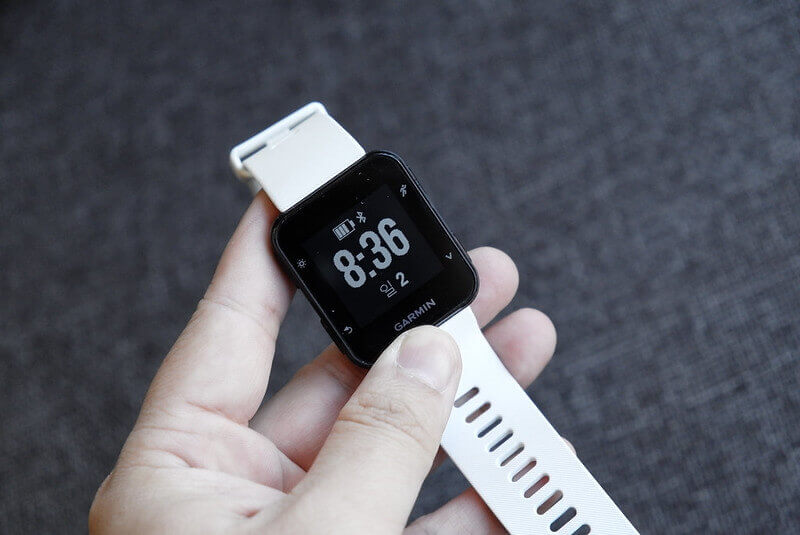 In this guide, we'll review the two most popular Garmin running watches, which include the Garmin Forerunner 35 and Forerunner 235. By the end of the article you should be able to decide on whether you should get the Garmin 35 or 235.
Garmin Forerunner 35 vs 235 Review
The Garmin Forerunner 35 is an entry level GPS running watch with incredible features.
Stylish and easy to use, this running watch enables you to track your heart rate using your wrist pulse and helps you to connect with other runners.
Thanks to the Garmin connect app that helps you share your fitness progress with others.
Apart from that the watch has the capability to send push notifications, vibrate, and automatically upload data. This watch is a worthy investment for runners who want a watch that can be used both indoors and outdoors without straining.
Let's dive deep into what the Garmin Forerunner 35 has to offer.
Who is the Garmin Forerunner 35 designed for?
The Garmin Forerunner 35 is designed for runners who want basic GPS tracking without any fuss.
Cyclists can also use this watch together with cadence sensors and footpad. While its waterproof certified for a depth of up to 50 meters, it does not track swimming.
Garmin Forerunner 35 Features
GPS Tracking: The Forerunner 35 comes with an inbuilt GPS tracker that's tuned to positioning satellites. The GPS tracker helps you keep tabs on distance, speed, and time.
Accuracy: Although the forerunner 35 has received various accuracy ratings for its different features, its accuracy is similar to that of slightly expensive GPS watches. The only downside is that it might take slightly longer to acquire a signal, according to some of our testers. Our testers also found out that the heart rate monitor can be slightly slow especially after the watch starts tracking but goes back to normal after sometime.
Connectivity: The watch connects to satellite quickly and uses Bluetooth to connect to the Garmin Connect app on your smartphone. This connectivity allows you to receive notifications, upload data to the app, and listen to music from your smartphone. Apart from that, this connectivity allows you to receive weather forecasts so you can know what time of day it will be ideal to run.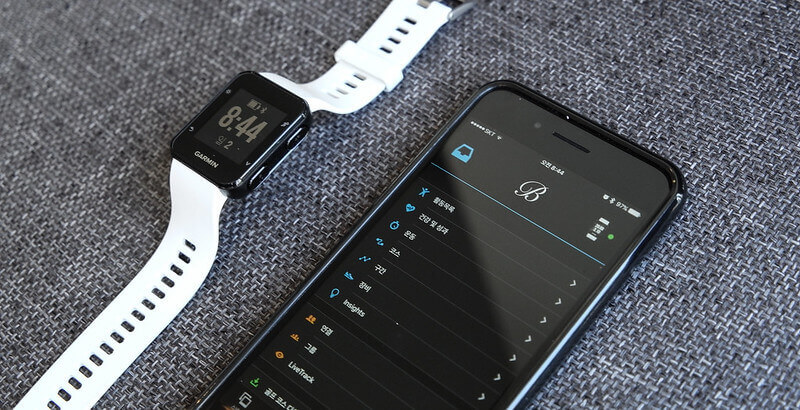 Apps: Just like most smart watches, the Garmin Forerunner 35 uses the Garmin Connect app to connect to your Android or iOS device. The app is accessible via a Bluetooth connection and it allows the user track their speed, heart rate, speed, and sleeping progress.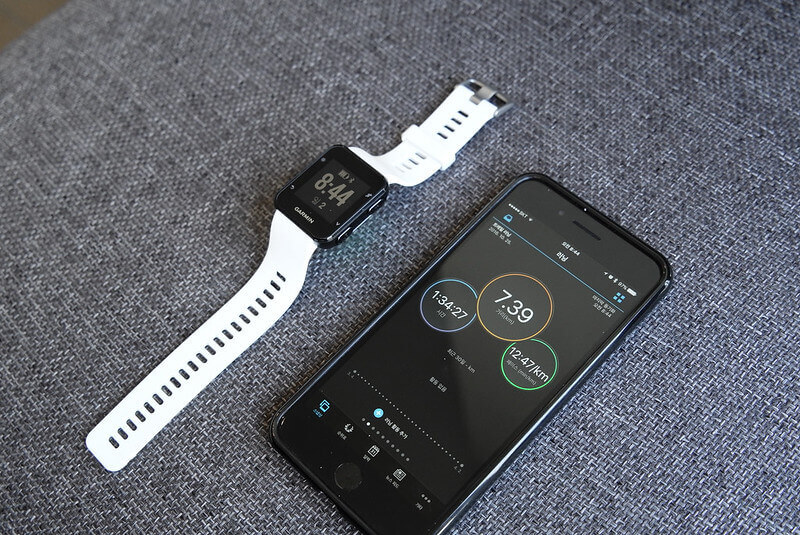 Comfort & Style: The Forerunner 35 is designed with comfort and style in mind. The watch features a square design with black bezel surrounding and comes in four different colors that include white, black, blue, and green. This means that you are not limited for choice. Apart from that its bands are made from silicone which feel comfortable on your wrist. The bands are perforated to ensure that it adjusts well to accommodate and move freely on your wrist.
Notifications: The Forerunner 35 comes notifications alerts including vibration alerts that notify you when you've completed a lap. There's also an auto-pause feature that comes in handy when you receive a call between your work out and basic smartphone alerts that alert you when there is a text, call or email.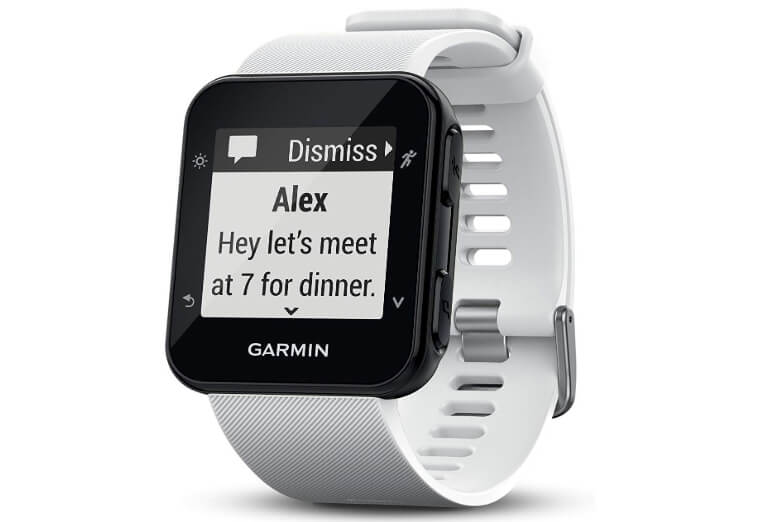 Screen Display: The watch has a 0.93 inch screen with a resolution of 128 by 128 pixels. This makes it easy to read in any condition be it outdoors or indoors. However, it lacks a touchscreen.
Battery life and power source: The watch uses a Lithium Ion Battery. According to Garmin, the battery can last for up to 13 hours in training mode and up to 9 hours in watch mode. It also comes with a USB port for charging and connectivity.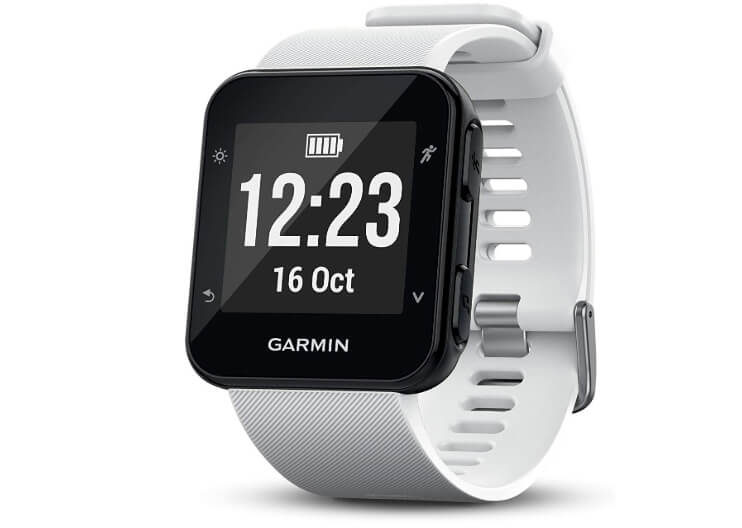 Pros
It has a wrist based heart rate
Display is very clear regardless of whether you are using it indoors or outdoors
The built-in GPS ensure that you get accurate data on speed, distance and pace
It has an all-day heart rate monitor
Very user friendly
Check Price on Amazon
The Garmin Forerunner 235 is similar in design with the Forerunner 230. The only difference between the Forerunner 230 and the 235 is that the latter has a heart rate sensor but the 230 doesn't.
Moreover, this running watch is versatile in nature and offers features such as VO2 max, cadence, and sleep. It's also capable of tracking crucial data such as distance, pace, and heart rate.
But why is the Garmin forerunner 235 so much coveted by runners? Let review at some of the features that this watch offers.
Who is the Garmin Forerunner 235 designed for?
Just like the Forerunner 35, the Forerunner 235 is designed for runners and cyclists. It can also be used by swimmers since it's water resistant up to 164 feet. However, since it's not designed for tracking swimming it can only be used to track time.
Garmin Forerunner 235 Features
GPS Tracking: The Forerunner 235 utilizes GLONASS and GPS based position locators. Metrics such as the distance and the speed covered are calculated using these locators to provide you with accurate information.
Accuracy: The Forerunner 235 is designed to offer high accuracy both in terms of GPS tracking and heart rate monitoring. These two factors are the two key selling points when it comes to the Forerunner 235. While some testers found that the device's sensor seemed to struggle a bit when the heart rate fluctuated during high intensity workouts, others found it to be working perfectly.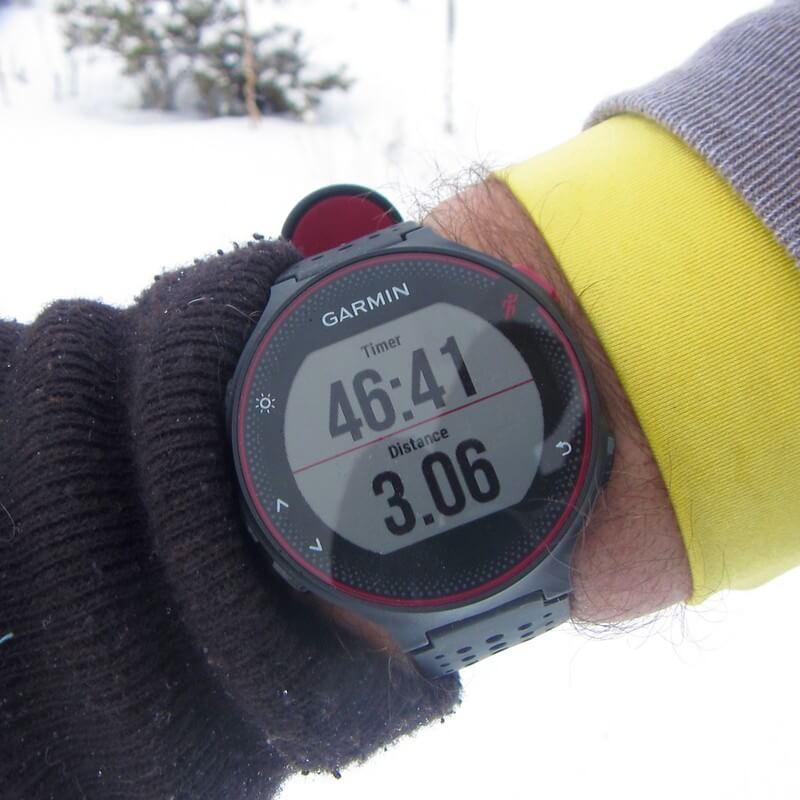 Connectivity: Just like the Forerunner 35, the Forerunner 235 connects to your smartphone device through the Garmin Connect app via Bluetooth. Surprisingly, the connection is very strong such that data can be automatically uploaded even when you are 30 feet away. It also allows you to receive audio reminders, smart notifications, and share information on social media.
Apps: The Forerunner 235 is compatible with Connect IQ app, Garmin's third-party app that's available for both Android and iOS devices. This app is able to organise and analyse data as well as customize the watch face according to your preference. The watch also supports the MyFitnessPal app.
Comfort & Style: Like other Garmin, products, the Forerunner 235 is sleeker and more comfortable to wear such that you can wear it on or off the course. It comes in different colors that include black, frosted blue and red. The device is also lightweight and a silicon band that's very comfortable. One of our reviewers said that he wouldn't even feel it on his wrist.
Notifications: The device has smart notifications that show text or calls. However, you cannot reply unless you are using an Android smartphone. You can also control music and receive weather forecasts.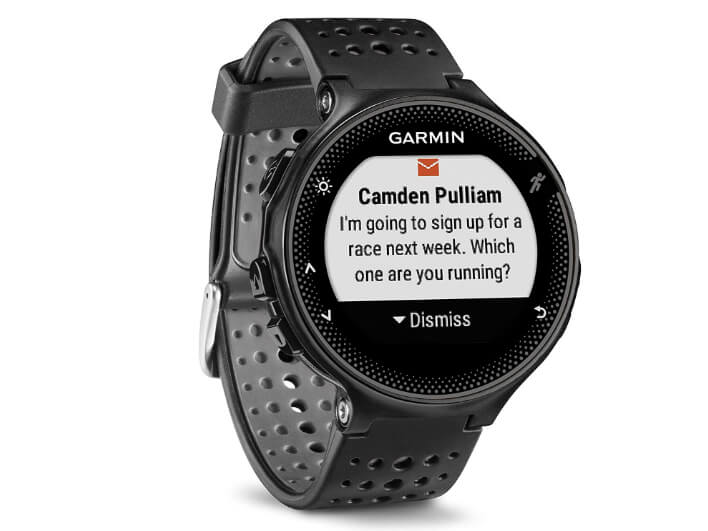 Screen Display: The watch has a screen display that's 1.23 inches with an LCD display. It also has an intuitive interface and a higher resolution that makes it comfortable to use both in the field and indoors.

Battery life: According to Garmin, the forerunner 235 uses a lithium ion battery that can last up to 11 hour on charge while in training mode and up to 9 days when in watch mode.
Garmin Forerunner Pros and Cons
Pros
Accurate heart rate monitor
Display is very clear regardless of whether you are using it indoors or outdoors
GLONASS ensures that you get accurate data where GPS may be limited
Very thin and light
Very user friendly
Check Price on Amazon
Garmin Forerunner 35 vs 235: Main Differences
Battery life: Both the Forerunner 35 and the 235 have a better battery life. However, according to our research we noticed that the Forerunner longer battery life than the 235.
Appearance: The forerunner 35 has a squared screen while the 235 has a circular face. While both are pretty attractive, the choice on which watch is best is solely based on your preference.
Budget: The Forerunner 235 has more advanced features as compared to the Forerunner 35. As such, it's pricier than the forerunner 35. So if you are not biased on the features and you are on a tight budget you can opt for the forerunner 35.
Color Display: Although both watches have great resolution that makes it easy to use during the day, the Forerunner 235 has a color display while the Forerunner 35 has a b/w display.
Virtual pacer: This is a feature that allows you to select the time you expect to finish racing a particular distance. You can see whether you are on schedule or behind schedule. This means that you have to keep up with the pace set by the watch. However, this feature is only available in Forerunner 35 model.
Wrapping Up
As you can see both the Garmin Forerunner 35 and the Garmin Forerunner 235 have similar features and you can only tell them apart based on the shape of their display screen.
We hope that the above reviews will guide you into making the correct decision when it comes to buying these two watches.
There are other options like Fitbit using which you can track your health but those aren't good for rugged sport related activities.

Garmin Forerunner 35 vs Forerunner 235
Garmin Forerunner 35

Garmin Forerunner 235
Summary
While comparing Garmin Forerunner 35 vs Forerunner 235, you'll have to decide on certain factors as to which would be the perfect watch for you. If you are looking for a simple entry level basic sports watch, Garmin 35 would be your best bet. For all the advanced features, you should definitely go for the Garmin Forerunner 235 which is without doubt, the best product for sports enthusiasts.
Last update on 2023-09-25 at 20:27 / Affiliate links / Images from Amazon Product Advertising API