Are you an entry-level tattoo artist looking for the best tattoo kit to get you started? Well, there are so many options out there that it becomes really hectic and confusing choosing the best tattoo starter kits for beginners and newbie tattoo artists.
With many factors to consider in a tattoo kit, selecting the right kit proves a great hustle. For a beginner, we recommend a variety of accessories and functions that allow for efficient tattooing.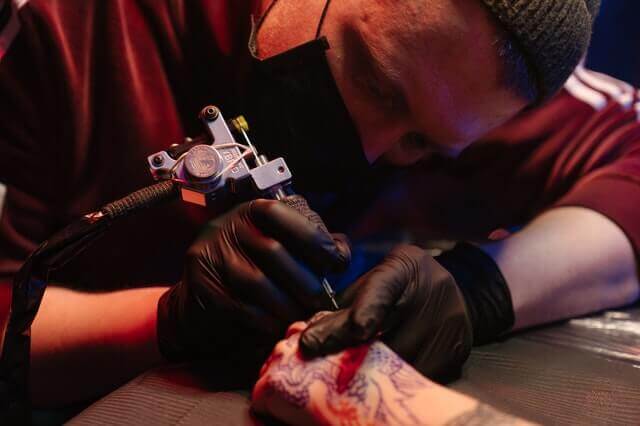 In order to give you the best, we compared 32 tattoo kits available in the market in order to determine the best of the best options.
We checked various possibly all the top tattoo machine brands, forums, websites and customer reviews, thus condensing our options to the 10 best tattoo starter kits.
10 Best Tattoo Starter Kits for Beginners
The options covered here provide various accessories and supplies that ensure easy handling, reliable performance and accuracy.
Best Tattoo Starter Kits Reviews
Dragonhawk is a reputable name among various tattoo gun brands. Out of multiple models by Dragonhawk, this Dragonhawk complete tattoo kit ranks as an ideal selection for diverse tattooing needs.
Among its outstanding features is that it features a liner and shader. These allow you to highlight the fine details of your designs, thus producing quality illustrations.
Quick Summary
Durable cast iron material
Digital power supply unit for consistent power
Weight: 5lbs
Accessories included: 20 5rl and 7m needle sizes, disposable plastic tips, transfer paper, two disposable grips, rubber bands, ink cups and ten coloured immortal inks.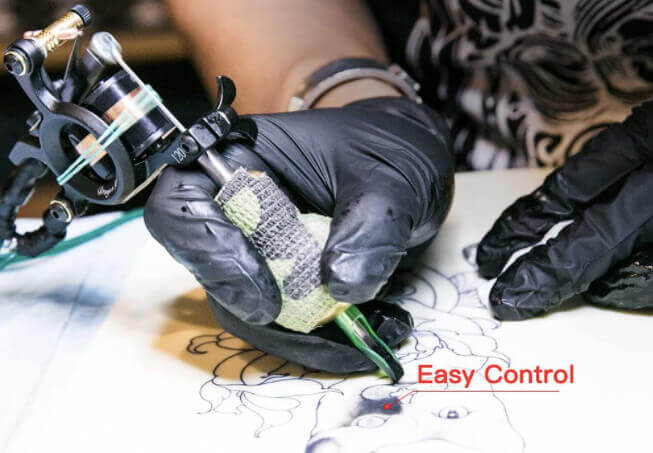 This Dragonhawk machine is designed to offer a quality experience for entry-level tattoo artists and provide a consistent power output that allows you to produce your designs comfortably.
Why is it our top pick?
Convenience
This model also features a foot pedal, which provides for quick, accurate power adjustments. The digital power supply unit regulates the electric charge passing to the machine, thus ensuring a consistent output.
This tattoo kit also features ten liner needles and ten shading needles, which allow a beginner to put their skills to test quickly.
Even better, this tattoo machine starter kit comes with a tattoo practice skin, which allows you to familiarize yourself with the machine before use. You can first use the practice skin to test your designs. This will enable you to get accustomed to the device, thus understanding how to handle it optimally.
Value for the money
At its price point, the Dragonhawk complete tattoo kit is among the best tattoo kits for beginners. Unlike many of its counterparts, this kit comes with various accessories, which reduce the initial cost of buying individual items.
The cast-iron body of the coil tattoo machine offers durable performance within a reasonable gun weight. The shading and lining machine widens the kit's abilities, making it a tremendous all-rounded tattoo kit.
Pros
Includes ten immortal colour tattoo ink
Quality power supply unit for a consistent voltage output
Includes a variety of shader and liner needle
Wide 110-230v voltage range
Durable cast iron material
Includes the essentials for getting started as a tattoo artist
Easy use and assembly
Quality value for the money
Cons
A bit loud
The package does not include a carrying case
As we told you earlier, Dragonhawk is a reputable manufacturer of the best tattoo kits for beginners.
This model ranks among our favorite coil tattoo machines from Dragonhawk. Unlike the former, this set is available in a 3-piece option and 6-piece variation.
These tattoo kits feature a variety of accessories that are durable and comfortable to yield.
This set includes:
One bag of ink caps
A foot pedal
Two machines for lining and shading
A box of needles (4 different sizes/ five of each size)
A set of disposable gloves
A digital power supply unit and clip cord
O-rings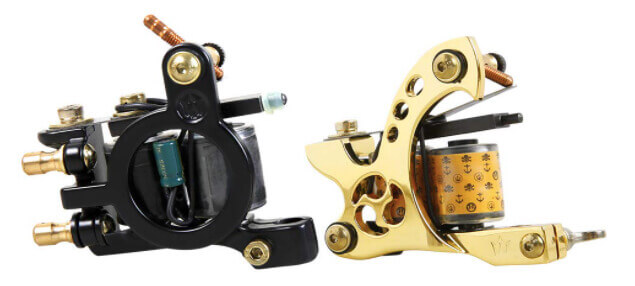 The variety of accessories included in the Dragonhawk set allows you to start and excel in your craft to become a pro tattoo artist. Even better, the set provides practice skins that will enable you to perfect the machine's use without blunders.
The soft-shading and low lining needles allow you to prepare rich designs and make more realistic illustrations. As a beginner, you should first test your designs on practice skin.
Why is it our top pick?
Ease of use
This tattoo kit comes with easy assembly and service, making it an ideal set for novice tattoo artists. The highly elastic and antifatigue spring allows for comfortable, longer work times, allowing you to take on more challenging projects.
The single-piece needle provides maximum stability, thus provides for precision, which is essential for tattoo design.
Variety of accessories
This beginner tattoo kit features a variety of accessories, which are essential for tattoo work. The foot pedal and clip cord provide quick, accurate activation and voltage adjustments, which provide a consistent power output.
The coil tattoo machine kit's performance is satisfactory, thus does not necessitate the acquisition of new components.
Pros
Antifatigue spring for long durations of work
Precise voltage adjustments
Accessory rich
Waterproof
Durable cast iron build
Solong is a reputable brand among various coil and rotary tattoo machines. Solong machines are comfortable and easy to use, thus the ideal choice for a beginning tattoo artist.
Among the options we covered, this rotary pen ranks as the most-efficient budget-friendly tattoo kit for beginners.
Since rotary machines provide a quieter operation than their coil counterparts, this pen provides better ergonomic comfort, allowing for long durations of use.
The Solong tattoo complete set includes:
One tattoo pen
5.5 DC connection
A 1500 mAH rechargeable battery
50 pcs tattoo needles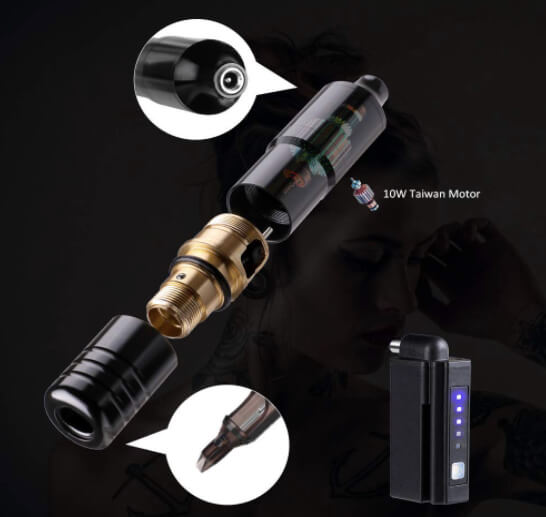 The rechargeable battery is among our favorite features of the Solong tattoo pen kit.
Unlike corded sets, the battery provides flexible use and allows you to maneuver your designs easily.
Even better, the pen can be used for tattooing, permanent eyebrow make-up, and lining. As such, this pen offers excellent versatility while allowing you to do quality lining and shading.
Why is it our top pick?
Comfort
The Solong pen is designed with aircraft aluminium alloy with an anodized finish. It is lighter than iron tattoo guns, therefore more flexible to use.
Unlike coil machines, this machine is powered by a high-quality rotary motor that moves the needles in a smooth cyclical pattern. This results in a smooth tattooing experience which provides better precision than guns.
Even more, the set comes with a wide needle protrusion range of 0-3.5nm. This allows for continuous needle protrusion depending on the purpose, skin type and preference.
High quality performance
The main task is to identify your hand speed and do more practice to improve your speed when starting. Among the other reasons why we recommend the Solong pen tattoo kit for beginners is its 5-level voltage control.
This allows you to select between various voltage ranges, thus controlling the machine's speed to accommodate your working pace.
Pros
Lightweight
Low noise
Durable
CE certified
Long-lasting 1500 mAH rechargeable battery
Wide operating voltage of 7-12 V DC
Budget-friendly
Cons
A limited size range of included needles
Hailed as a quiet, quick, painless device, the Dragonhawk tattoo pen is an ideal beginner tattoo kit. The rotary tattoo machine offers a great range of accessories that can get you started without any additional purchases.
The Dragonhawk pen features a power unit that provides a foot pedal, thus offering precise power control. Like the Solong tattoo complete kit, this pen offers silent operation, thus provides a comfortable feel when in use.
The Dragonhawk rotary pen kit includes:
A tattoo pen
A power supply unit
Disposable gloves
An 8×6 practice skin
A transfer paper
Ink cups
A case
One RCA jack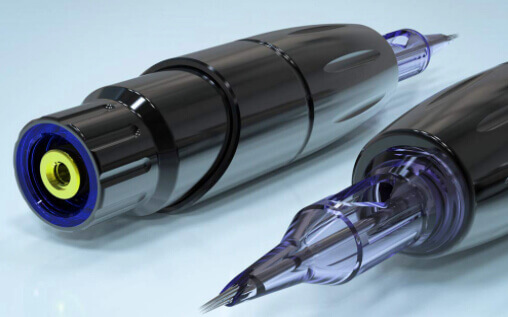 Besides the variety of accessories, the kit is compatible with standard tattoo power supplies, making it easy to search for replacement parts. The beginner kit comes with a sizable practice skin which allows you to test the needles before working on human skin.
Why is it our top pick?
Great value for your money
With its rich accessories, budget price and powerful performance, this set rank top among the best tattoo kits for beginners.
Unlike many budget tattoo pens, the Dragonhawk pen tattoo machine is made of high-quality polymer materials, thus weighs a paltry 82g.
This weight allows you to work for long durations without strain, thus successfully managing large projects.
The membrane mechanism is also a great addition to your tattooing experience. This mechanism is geared to prevent ink spitback, thus yielding quality designs.
Ease of use
The Dragonhawk pen tattoo machine is excellent for you as it provides quality service without any bells and whistles. Unlike higher-end pens, this kit is easy to assemble and regulate the desired designs.
The foot pedal and a tattoo power supply unit allow you to regulate your pen's voltage and speed, thus ensuring effective performance. It is recommended that you use the machine at 7.5-8.5V when shading and 8-10V for the lining.
Wide range of accessories
This Dragonhawk liner and shader offer a variety of accessories that are enough to get you started on your craft for its price. However, the ink included is not the best for permanent work hence should be used for practice on the provided practice skin.
Additionally, this tattoo kit features a unique case, which protects the accessories and ensures easy retrieval of tools when required.
Pros
Easy to assemble
Quality practice skin
Packed with essential accessories to get you started
Lightweight
Quiet operation
Quality polymer construction
Includes a wear-resistant RCA jack
Wide voltage range of 110-220V
Budget-friendly
Cons
This tattoo machine does not provide wireless performance
The Dragonhawk tattoo pen is a testament that the best tattoo kit doesn't have to cost a fortune.
Unlike coil tattoo machines, this pen offers a wide range of movements, thus allows for precise design and attention to detail.
Sale
Although this beginner tattoo kit requires few additions to get you started, it offers quality specs that give you a great experience.
Like some pricier sets, this kit comes with sterilized needles, a power supply unit and cartridges.
It allows you to buy your preferred ink and skins as opposed to pricier models that limit you to the included generic tattoo inks.
The set includes:
A tattoo pen
20 EVO 120 cartridges
A power supply unit

The Dragonhawk complete tattoo kit provides quality performance which is an ideal entry point for a beginning tattooist. Even better, its performance can be compared to higher-end sets. This is a steal for its price.
Why is it our top pick?
Quality design
The mast tour pen tattoo machine is a quality rotary tattoo machine with high stroke speed and a lightweight aluminum build.
The anodized aluminum body is designed into a seamless frame that protects the inside of the tattoo machine from damage and ensures comfortable use.
Even more, this tattoo machine kit features a tattoo power supply unit and clip cord that allow for precise voltage control.
This, in turn, maintains a consistent flow of power and ensures uniformity when drawing various shapes.
The shell design also provides higher ink storage and faster injection rates, providing longer work sessions and smooth operation.
Wide range of accessories
The Dragonhawk starter kit includes 20 needles: 10 5RL and 10 3 RL needles sterilized by EO gas. 5 RL needles are ideal for shading, whereas the 3 RL needles are great for lining.
Therefore, the power supply unit accommodates a pedal, allowing for precise voltage control, resulting in uniform outlines.
The single-piece needle and plunger allow for quality stability and control, ensuring comfortable handling and smooth designs.
However, you should invest in disposable tips, practice skins, professional tattoo inks and a transfer paper as they are not included in this set.
Pros
Lightweight build
Heavy-duty build
Great value for the money
Multiple tattoo accessories included
Silent operation
Quality ergonomics
Cons
Requires some additional requirements (ink cups, practice skins, transfer paper etc.)
The quality of the Dragonhawk atom rotary tattoo machine is bound to leave your jaws dropped.
Although the tattoo kit comes at a budget-friendly price, it provides a service that can rival most of its pricier counterparts.
Unlike coil tattoo machines, the Atom pen is designed to offer maximum comfort, enabling you to maneuver through many angles easily.
Even better, the Atom pen is light and operates silently, therefore, allowing for comfortable use over long durations.
The Atom tattoo pen includes:
20 cartridges
The Atom tattoo pen
A power supply unit
Power supply cable
A foot pedal
One tattoo kit carry case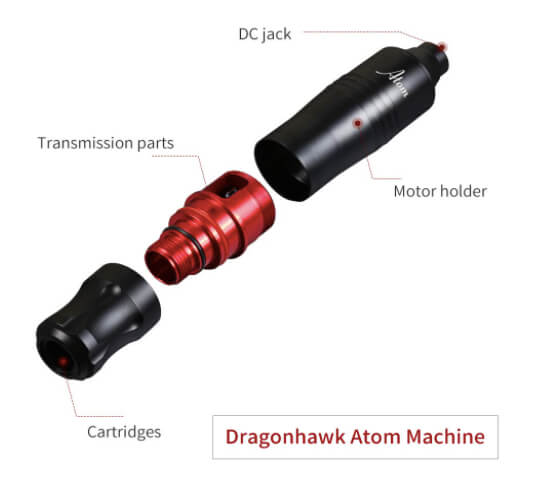 In addition to its quality build, the Dragonhawk Atom rotary tattoo machine offers many features which allow you to hone your skill.
However, you may opt to invest in practice skins, thus familiarizing yourself with your new tattoo pen before use on human skin.
Why is it our top pick?
Ease of use
This lightweight, silent pen is the best tattoo starter kit option if you are looking for a smooth, straightforward operation. The cartridges snap tight on the pen, thus maintain ink pressure and reduce leakage.
For stunning results, tune the pen to 7-8V for shading and 8-9V for lining your designs. The tattoo kit does not include tattoo ink, thus allows you to select quality professional inks for your preferred price.
High performance
The Atom tattoo pen provides you with quality needle protrusion of 0-4.5mm, ideal for multiple skin types and purposes.
The 4.5 motor provides a high switch frequency that sustains intense use and ensures the pen's faster operation.
Additionally, this starter kit allows for a pedal that allows you to control voltage output effectively. This control ensures optimal operation and prevents injury relating to poor handling of the pen.
Pros
Quality 4.5 rotary motor
Lightweight design
Low noise during operation
Includes quality essentials to get you started
Budget-friendly
Comfortable handling
Straightforward assembly
Cons
The package does not include a practice skin
A cordless tattoo pen is a top recommendation if you are after flexibility when going about your designs.
Unlike their corded counterparts, cordless pens can be used at various angles without putting much stress on your hands.
Mast tour rotary tattoo machines are quality options for you as they are easy to use, offer high quality grip and weigh a paltry 82g.
Owing to its consistent digital power supply, the Mast rotary pen allows for smooth tattooing while ensuring uniformity in your designs.
The Mast tour rotary tattoo machine kit includes:
A tattoo pen
A charger
Instructions
50 sterilized needle cartridges
A 1200mAH battery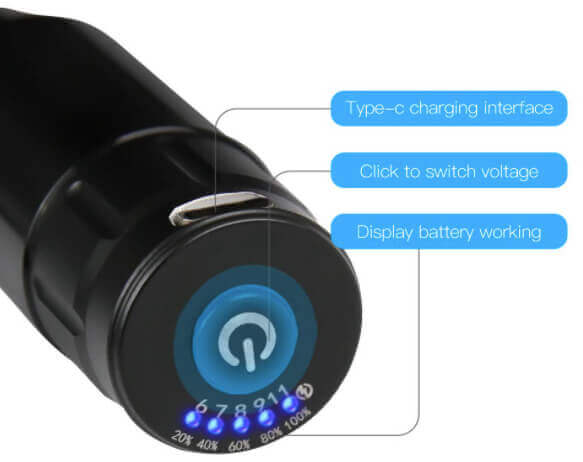 The Mast cordless rotary pen is a steal for its price. Besides its cordless design, the pen offers a stroke rate of 25-160Hz and a needle depth of up to 4mm. This offers you a smooth experience on various skin types, therefore ensuring outstanding results.
Why is it our top pick?
Comfortable use
The Mast cordless tattoo machine kit is the epitome of tattoo pens. Besides its light design, the pen features a 25mm grip which allows for better ergonomics.
Additionally, the pen tattoo machine is easy to assemble and operate, thus saves you from stress-related to its assembly. When assembling the machine, align the card slots and rotate them to lock the head's battery.
Even better, this set allows for easy needle length adjustment, thus providing you with a quality experience.
Accessories
The key benefit of the Mast rotary pen is its compatibility with various Mast components. This makes it easy to find a replacement in case any component of the pen malfunctions.
The digital power supply unit and clip cord come in handy to fine-tune the operating voltage and provide a pedal that ensures precise power control.
Pros
Lightweight
Cordless
6-hour battery life
Quality grip
Easy assembly
Great price/ performance ratio
Cons
These machine starter kits do not include a carrying case
Among various tattoo kits for beginners, the Stigma rotary kit passes the test for convenience, comfort and quality.
The tattoo kit features two batteries which allow for longer sessions of use.
Even better, this tattoo pen provides an outstanding weight balance which gives you quality control over your preferred designs.
Unlike its counterparts, the Stigma classical tattoo pen comes with various accessories to get you started.
This saves you from further standalone purchases, thus saving you from high initial costs of operation.
The Stigma classical tattoo kit includes:
2 1500mAH batteries
20 pcs EO gas sterilized cartridge needles
Two grip bandages
A storage case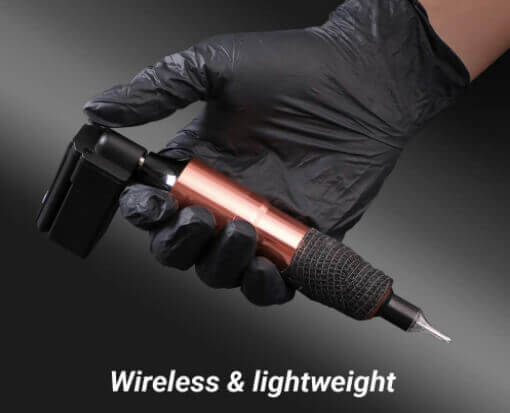 Besides its wide range of accessories, the Stigma classical pen features a powerful motor and an advanced gear system. Together, these provide a quiet, vibration-free operation which allows for comfortable use over long durations.
Why is it our top pick?
Safety
Safety is an essential factor to consider when selecting a tattoo kit. The Stigma tattoo kit provides sterilized disposable tips and cartridge needles and provides a snug lock that prevents leakages and accidents.
This tattoo kit is also CE certified, which assures you that it uses quality materials and meets the industry regulations. Additionally, this tattoo machine features an ergonomic space aluminum frame that is light, thus easy to handle.
You may also consider investing in a standalone power supply and foot pedal for a more precise operation.
High quality performance
When comparing its price to the performance, the Stigma tattoo kit is undoubtedly a steal. With a battery capacity of 1500mAH, the set provides a 3-6hour runtime depending on the output voltage.
However, this should not work your nerves as the set comes with two batteries that can be used alternatingly.
This tattoo machine works optimally in a 110-240V setting and may be used with an adapter in higher input voltages.
For quality results, use the pen at 6-9V for shading and 8-11V for the lining. Finally, the set features a storage case that provides easy retrieval of required tools and protects your accessories from damage.
Pros
Lightweight space aluminium frame
Ergonomic design provides you comfort during use
Wide range of accessories to get you started
CE certified
Budget-friendly
Cons
It does not include a transfer paper and practice skins
Among various tattoo machines for beginners, the Hildbrandt complete tattoo kit is the richest in essential accessories. Unlike its counterparts, the set comes with all tools to get you started and master the craft's nitty-gritty elements.
Unlike many tattoo kits, this one comes with quality resources to accustom you to various tattooing practices. The Hildbrandt tattoo kit is backed by quality online support from:
The teach me to tattoo website
Equipment crash course 101
Comprehensive textbook fundamentals of modern tattoo
Visual tutorials of Hildbrandt Training DVD
Among the accessories included in the Hildbrandt professional tattoo kit are:
A 44-magnum liner coil tattoo machine
A 38-calibre coil shader
A Silencer rotary liner
A Beretta rotary shader
Professional afterlife dual machine power supply
Pre-sterilized disposable tube grips
A sizable carrying case
Iron foot pedal
Transfer paper
Practice skin
Ink cups
Disposable razors
Disposable gloves
Hildbrandt premium tattoo needles
Skin scribe pen
tattoo ink
O-ring pack
Machine adjustment pack
Why is it our top pick?
Great value for your money
The Hildbrandt tattoo kit is a great go-to tattoo kit for beginners looking to hone their art. Unlike most beginner sets, the Hildbrandt set comes with a variety of practice materials and accessories.
The Hilbrandt complete tattoo kit comes with four quality tattoo guns for its price, which provide a smooth user experience. The durable iron foot pedal and power supply unit allows you to regulate the voltage output, thus providing your preferred stroke speed.
Hildbrandt coil machines pack quality color, thus provides quality aesthetics and yield more uniform tattoos. The convenience offered by this set makes it worth more than the price tag, thus a great bargain.
Wide range of tattoo machines
Among the reasons, Hildbrandt is an excellent purchase is its variety of machines. Unlike machines in its range, the set packs two rotary machines and two coil machines which allow for a wide range of functions.
This tattoo kit includes the essential tattoo machines for beginners required for various tattooing practices, thus saving you the hassle of shopping for additional materials. However, keep in mind that the coil machines may be a bit heavy compared to pen tattoo kits.
Pros
Durable build
Includes everything you need to get you started
Feature a variety of training resources
Quality ink for use on human skin
Budget-friendly
You get two rotary machines and two coil machines
Professional carrying case included
Cons
Coil machines are a bit noisy than rotary machines
After browsing over its components, it will become clear to you that the Solong TK102 complete tattoo kit is a steal for its price.
Sale
Besides providing a wide range of accessories, the Solong tattoo kit offers quality specs that help you make your first steps in the field.
Solong tattoo kits are even better reputed for a quality function that rivals rival pricier options in the market. As such, it is a go-to solution if you are searching for the best tattoo gun for a budget-friendly price.
The Solong TK102 starter kit features:
20 tattoo needles
14 5-ml tattoo inks
ink cups
20 tattoo tips
A tattoo grip
A power supply unit
A foot pedal
A dual-sided, reusable practice skin
One tattoo gun (coil tattoo machine)
10 wrap coils
2 disposable gloves
For a starter tattoo kit, the TK102 is a quality option. However, the inks are less than ideal for permanent tattooing.
As such, the ink can be used for drafting before finalizing with a superior brand, thus yielding a quality tattoo.
Why is it our top pick?
High quality performance
Solong boasts of producing some of the best tattoo kits on the market. The TK102 coil machine is no exception. Like its counterparts, this beginner kit is light and packs quality ink. Even better, the power supply unit provides a consistent voltage output which ensures that you achieve a uniform end-product.
Even better, this device offers great versatility as it can be used for lining and shading with slight changes in the settings.
Pros
Budget-friendly
Great price-performance ratio
Features a variety of accessories to get you started
It comes with quality practice skins
Easy to assemble
Cons
It does not include a carrying case
Frequently Asked Questions (FAQs)
What is the best tattoo kit for beginners?
The best tattoo machine for an entry-level tattoo artist is the Hildbrandt TKHPRO2 tattoo kit. Unlike many models, this set comes with a wide range of accessories and study materials that help you improve your skills.  
Additionally, this tattoo kit includes all the necessary tools to get you started as a tattoo artist. 
What is the best tattoo kit to buy?
The Dragonhawk complete tattoo kit. Unlike other sets, this comes with two guns for shading and lining at a price equal to single-gun models.
Even better, this beginner kit is easy to assemble and use, thus the best tattoo machine starter kit. 
What do I need to know before buying a tattoo kit?
There are many factors to consider when buying a starter tattoo kit. Among these are the material of the gun/pen and types of tattoo machines. 
When selecting material, you can settle for cast iron, stainless steel, and an aluminum build. Stainless steel is heavier than its counterparts, thus limits the use of the gun over long durations. 
On the other hand, aluminum is light, thus making it an arduous task to use the machine for the lining. As such, cast iron is the ideal material for a beginner tattoo machine. 
Is Dragonhawk a good tattoo machine brand?
Yes. Dragonhawk is an excellent brand for professional tattoo machines.
Unlike other brands, Dragonhawk features a wide array of accessories that are necessary for tattooing.
It is an excellent choice for professional and entry-level tattoo artists looking to advance their skills.
However, ensure that you settle for a complete tattoo kit from reputable dealers to avoid investing in counterfeit models. 
Conclusion
The best tattoo machines are a critical consideration for beginning tattoo artists. Besides helping you hone your skills, a good kit for beginners introduces you to new aspects of tattooing without surpassing your budget.
The options covered in this article provide everything you need for a smooth, professional tattooing experience.
10 Best Tattoo Starter Kits for Beginners
Dragonhawk Complete Tattoo Kit 2 Machine Gun

Dragonhawk Starter Complete Tattoo Kit

Solong Pen Kit Rotary Tattoo Machine

Dragonhawk Rotary Tattoo Pen Machine Kit

Dragonhawk Mast Tour Tattoo Pen Machine Kit Rotary Gun

Dragonhawk Cartridge Tattoo Machine Kit Pen

Mast Tour Rotary Pen Machine With Mast Wireless Tattoo Battery Power Kit Supply

Stigma Tattoo Kit Rotary Tattoo Machine Pen

Hildbrandt Tattoo Kit Professional 4 Machine Set

Solong Tattoo Complete Starter Tattoo Kit
Summary
Choosing the best tattoo starter kit is a confusing task. This is especially when you are starting out as a beginner tattoo artist. 
This problem statement got us to reviewing and researching over 30 starter tattoo kits out of which we selected the top ten kits that were the best in their segment. 
Do check their detailed reviews to buy the right starter kit. 
Last update on 2023-09-25 at 20:27 / Affiliate links / Images from Amazon Product Advertising API