The search for a new PC case can't be completed without mentioning Thermaltake, thanks to their Core P-series of open-frame cases that have been making the headlines over the past few years.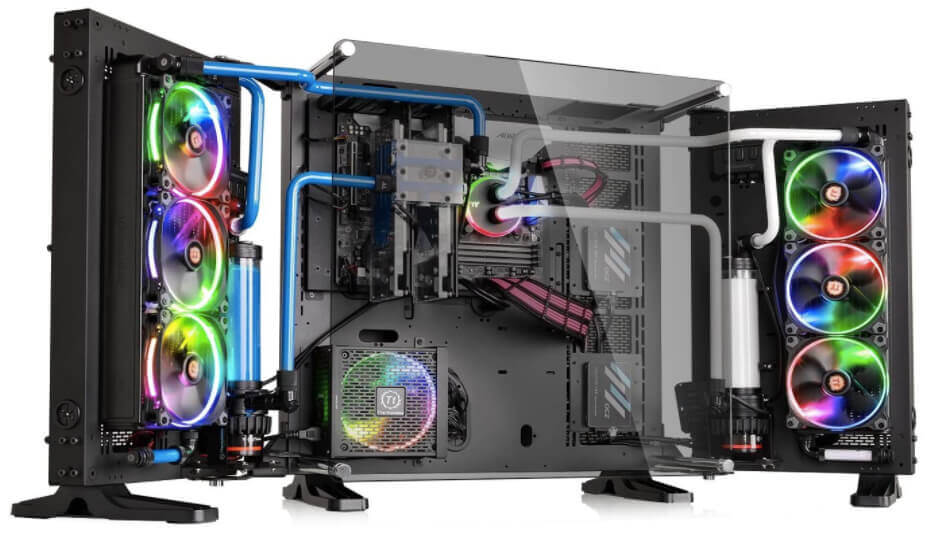 While they are not the only brand in the market, they have become a popular choice among gamers and graphic designers because they make high-quality and performance guaranteed open-frame cases.
In this article, we will look at the top three Thermaltake computer cases in the P series and how they compare specifically comparing Thermaltake P3 vs P5 vs P7 .
Note that, all the cases are similar in one way or the other but not lacking one or two differences that might make you pick one over the other.
Thermaltake Core P-Series
No products found.
Thermaltake P3 vs P5 vs P7 – Reviews
Thermaltake Core P3 is a smaller version of the Thermaltake Core P5 and the most popular option among Thermaltake's Core P series of cases. It's the most affordable option aside from the smaller P1.
No products found.
The Thermaltake P3 case is designed to showcase common PC hardware configurations. It supports Mini ITX, Micro ATX, and ATX motherboards.
While it doesn't offer plenty of room compared to the Core P5 and P7, it still manages to accommodate radiators as large as 420mm for outstanding cooling performance. It also offers mounts for up to five data drives. Two 3.5/2.5-inch drive trays in the back panel and three 2.5-inch outside the chassis.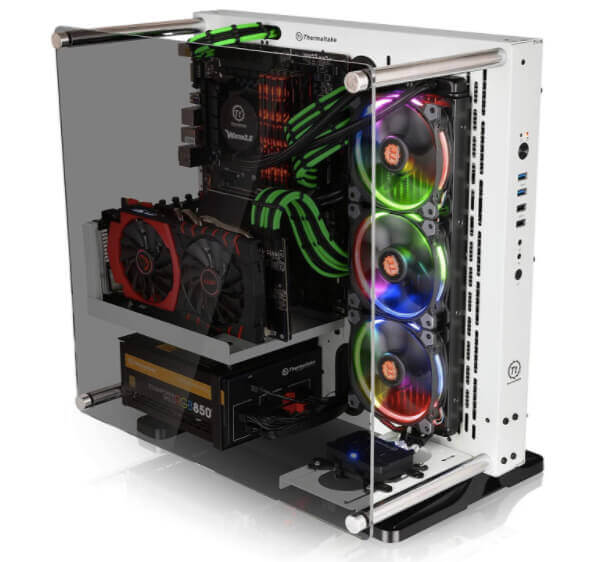 The case natively supports AIO (All-in-One) liquid cooling without the need for an extra bracket. It borrows a few other features from the Core P5 case. For example, the PSU can be mounted horizontally or vertically with the ITX motherboard. Vertical PSU mounting is however not supported with ATX motherboards.
What's more, it supports the 3-way placement layout. Namely: vertical, horizontal, and wall-mount placement for the best viewing presentation. There is also a 5mm tempered glass window that displays your build with superb clarity while ensuring minimal noise production.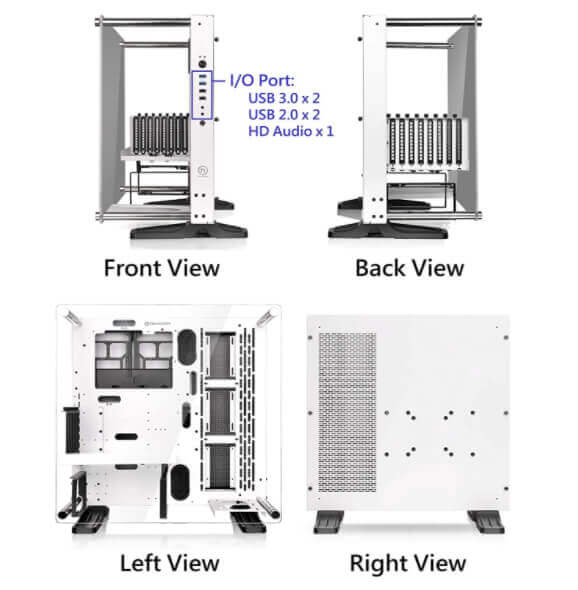 Overall, Thermaltake Core P3 is a great option for you if you don't have much hardware or who want to build their system easily from the ground up. There is also pretty good space for a CPU cooler unit.
Pros
Great display case for colorful systems with elaborate support for liquid cooling
It's reasonably priced
Fantastic cable management area
Dual GPU and PSU slots
3-way stand placement and solid vertical GPU mount
Cons
The only issue could be its open case design which makes it exposed to pets, kids, or dust.
Check Price on Amazon
If ever a case was designed to show off a build, then it would be Thermaltake Core P5. Being an open-frame chassis, the Core P5 does not only allow you to showcase your PC build but also assemble one that's skill-fully fashioned that it would make it an offense to tuck it beneath your desk or anywhere else unseen.
No products found.
By open frame chassis, some of you might be seeing dust as an issue, though, according to our experience, there isn't much space to collect dust. You need not worry. Just a few sprays and you'd be good to go.
Designed for maximum exposure, the Thermaltake P5 case offers three layout options. To begin with, it is a wall mount PC case. So, you can showcase your system just as you would do with a decorative portrait.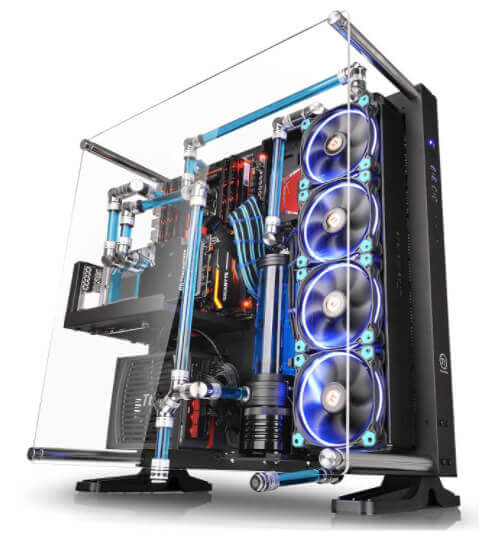 You also have the option to lay it down horizontally or make it stand it up vertically on the plastic feet. Each orientation offers a clear view of your build thanks to the Core P5's panoramic viewing angle and the large acrylic window that also acts as a protector.
Away from orientation, the Core P5 comes out as a bold unit both in modular and form function. For instance, it offers numerous ways to mount parts such as metal supports and drive cages.
For proper cable management, there is a 1.5-inch gap between the back panel and the backside motherboard tray. You can use this space to tuck your cables for a tidy and clean front. The gap also houses a number of brackets too.
The front panel, on the other hand, is home to two USB 2.0 ports, two color-code USB 3.0 ports, reset button, power button, LED indicators for power and HDD activity, and microphone and headphone ports.
The case also supports a liquid-cooling radiator of up to 480mm in length or up to four 120mm fans. So if you are looking for custom liquid setups then the Core P5 has got you covered.
What's more, the case offer remarkable extension with the modular rack allowing you to install up to four 3.5-inch/2.5-inch storage devices. Vertical PSU layout support is also supported with ITX motherboards.
Pros
Awesome visibility for components
Several build options thanks to the modular design
Ample cable management area
Great price for the features
You can mount graphics cards with the artwork facing outwards
Cons
Instructions lack detail, which can make it a hassle for first-time users to set up
Check Price on Amazon
Thermaltake's Core P7 is by far the biggest and most advanced open air chassis among the three. It's a truly extraordinary case and a heck of an eye-catcher. You'll find many new specs in this as compared to P3 and P5.
No products found.
For starters, the design of the main section of the Core P7 is identical to that of the Core P5. However, the extended chassis gives this unit some extra room to work with as well as some immense cooling support.
The main section mounts motherboards from MiniITX up to E-ATX as well as a number of SSDs, RAM's and Hard drives. Along with that, there is a radiator mount that supports up to a 480mm unit for maximum cooling power. So you'll hardly need to install AIO cooling.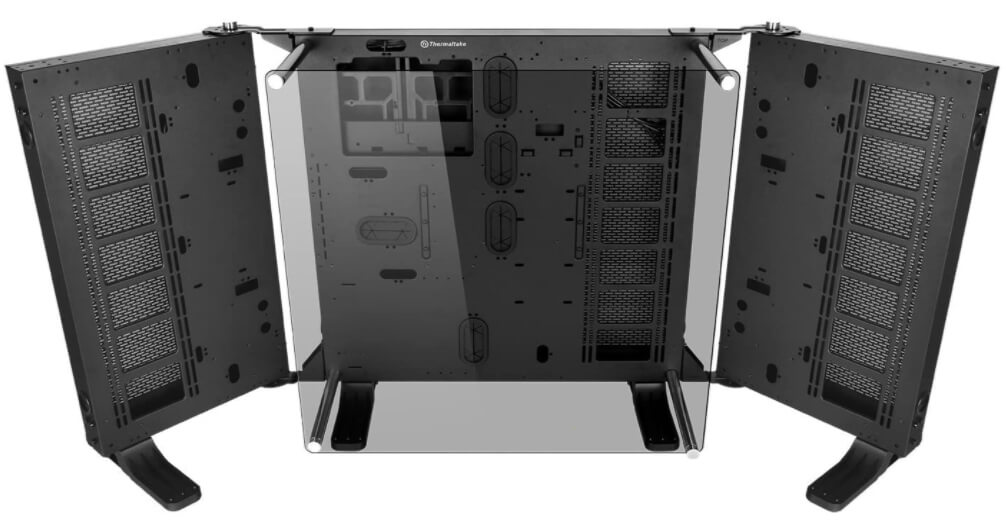 Thanks to its modular design, you can build the system from the ground up and customize it to your liking. For instance, you have the option to angle the two wings on the sides. You can assemble the wings at 45-degrees, 90-degrees, 180-degrees, or at 270-degrees off-angle.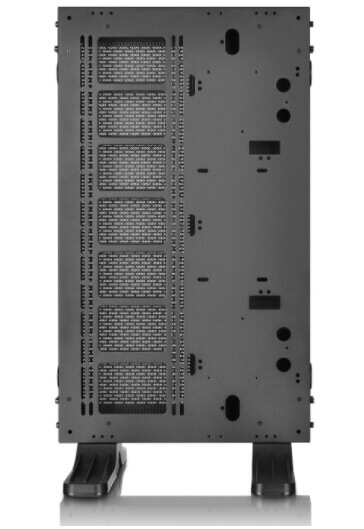 The chassis sports a 5mm thick tempered glass that allows you to display every interior component. It also gives it a more premium look.
Like aforementioned, this unit is super large. It measures 1.35metres with the wings protracted and weighs 25.5-kilos when empty. Luckily, you have the option of mounting it in the wall to save up on desk space but you can also place it vertically or horizontally if you have enough room.
Pros
It offers plenty of working space
The modular design gives you several build options
It can mount a 480mm radiator
The tempered glass displays your components in style
Its very sturdy
Check Price on Amazon
Thermaltake Core P3 vs P5 vs P7
Table could not be displayed.
Time to understand the details one by one.
Price – When it comes to comparing the price of Thermaltake P3 vs P5 vs P7, the Core P3 is cheaper than both the P5 and P7. However, the Core P7 is more expensive than the Core P5. If you are on a budget, you can go for either of the two lower versions.
But if you want more advanced features and you are not budget constricted, you need not search more. The P7 case is definitely a perfect choice.
Size – The Core P3 is the smallest in the list measuring 20.2-inch x 13.1 inches x 18.1-inches while Core P5 measures 2.4-inches x 13.1-inches x 23.9-inches. The Core P7, on the other hand, which is the largest measures 53.1 x 24.7 x 13.1 inches.
If you want an open-air pc case that you can place on your desk, we recommend the Core P3 or the Core P5. However, if you prefer mounting on the wall or have enough space, then go for P7.
In short, if you are looking for a compact design, your search ends on P3.
Drive bays – Consider the number of drive bays. The many the better. Both the core P3 and the Core P5 have 4 drive bays. While the Core P7 has 8 expansion slots.
Radiator size – Both the Core 7 and the Core 5 support large-sized radiators of up to 480mm. Core P3, on the other hand, supports radiators of up to 420mm. the bigger the better the cooling performance. Though, it doesn't mean that P3 has an issue with cooling as it depends on the inner structure and design of the case and how the components are placed.
Motherboard sizes – Both Core P7 and Core P5 support Mini ITX, Micro ATX, ATX, E-ATX Motherboards, while the Core P3 supports Mini ITX, Micro ATX, ATX, E-ATX Motherboards.
Wrapping Up
As you can see, all the PC case come with similar features and at times different features. It's up to you to know your needs. Note that, the more unique the features, the nice-looking the build will be.
It all depends on what you like and what kind of a new PC build you want to create. We'd suggest you to search and go for the case which can accommodate your needs.
Thermaltake P3 vs P5 vs P7 Review
Thermaltake Core P3

Thermaltake Core P5

Thermaltake Core P7
Summary
There is a lot of confusion when we compare between Thermaltake P3 vs P5 vs P7. We have jotted the exact features, specs and pros & cons. We have done a detailed review of the Thermaltake Core P-series cases.
Last update on 2022-11-27 at 20:06 / Affiliate links / Images from Amazon Product Advertising API