Nothing makes you look unprofessional like a cluttered workstation. Luckily, with a desktop shelf unit, you can organize your desk as well as give your space a fresh new look.
These uniquely designed units can help you take away a ton of litter off your workstation as well as help you improve on your productivity.
To pick the best desktop shelf, you need to keep a lot of things in mind as these units are not created equal and they come in different designs.
As such, it's up to you to decide on which one best suits your storage needs as well as add more appeal.
To help make the buying process easy, we have researched and reviewed the best desktop shelves available on the market. Read on to know which one best suits your needs.
11 Best Desktop Shelves to Organize Storage
List of the Best Desktop Shelves and Organizers
This adjustable natural wood desktop organizer bookcase from MyGift bridges the gap between practicality and affordability.
Sale
For starters, this rustic, adjustable desktop storage is made from natural wood to give your space a clean and contemporary look.
It comprises of two pieces where one rests on top of the other. This innovative design offers you complete flexibility.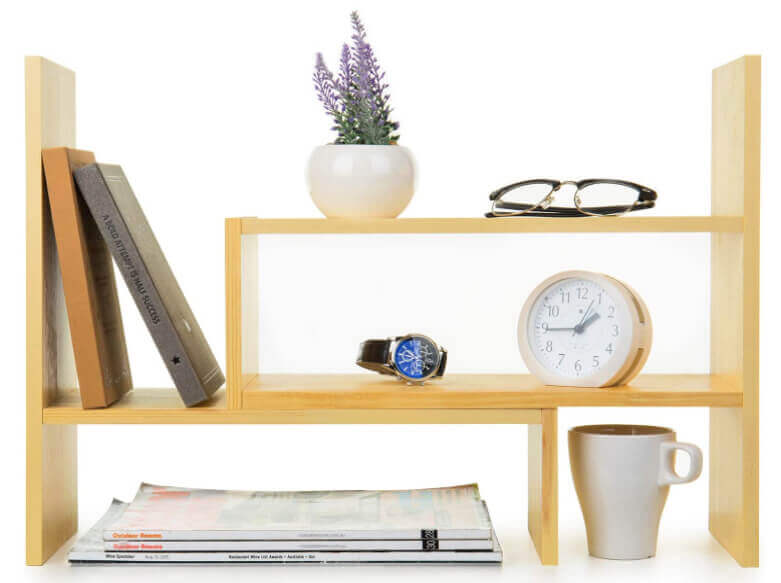 It allows you to fully overlap the pieces to create a small shelf rack shelf that's approximately 16-inches wide.
Similarly, it allows you to pull the pieces apart to create a longer shelf that's approximately 32-inches in width.
You can also take advantage of the design to make use of unused corner spaces by placing the two pieces at an angle.
Pros
Easy to assemble
Gives you extra space on your desk
The wood grain gives this shelf an elegant look
Adjustable design gives you complete organization control
Includes a screwdriver and cleaning cloth in the package
Cons
Not suitable for very heavy items
Check Price on Amazon
Next on the list is this expandable desk organizer from Royal Craft Wood.
No products found.
Made from 100% natural organic bamboo, this classic desk shelf is designed for professionals and individuals who've had enough with books, files, and mail causing a mess on their desktop.
The desktop shelf unit comes in two separate pieces, which makes it quite versatile. You can join it from various angles or expand it to meet your growing storage needs.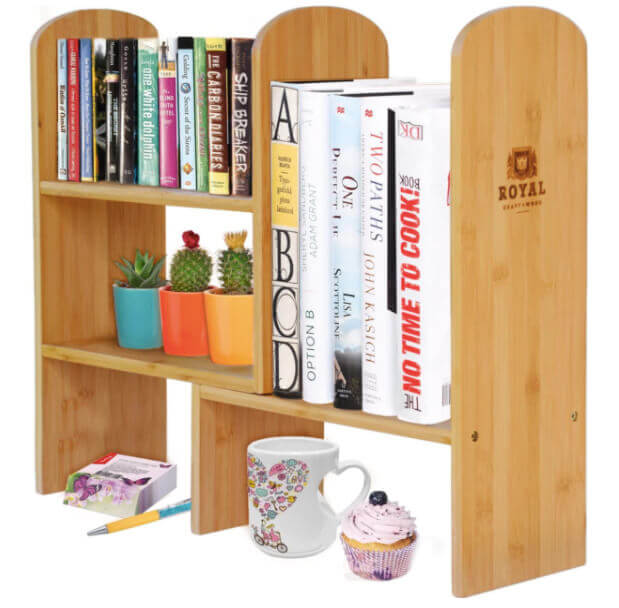 One thing about this unit is that it offers several shelves for easy organization. You have space for your books, spice vases, make-up essentials, and even plant pots.
What's more, the unit is lightweight and the bamboo material used in its construction eco-friendly and quite sturdy to ensure that it withstands daily wear and tear.
Pros
Quick and easy assembly
Safe due to the rounded edges
It has numerous shelves for organizing your essentials
Expands to meet your growing needs
You get 100-percent money-back guarantee
Cons
The screwdriver it comes with is a bit small and you might need a bigger screwdriver to assemble the pieces
Check Price on Amazon
DormCo is well known for providing high-quality and innovative college and office essentials. This classic bookshelf is no exception.
No products found.
Made from sturdy particleboard, this unit is designed to add functionality and convenience to any regular desk without an upper bookshelf area.
The desk shelf comes with three top cubes and two side cubes that allow you to keep your textbooks and other accessories within an arm's reach.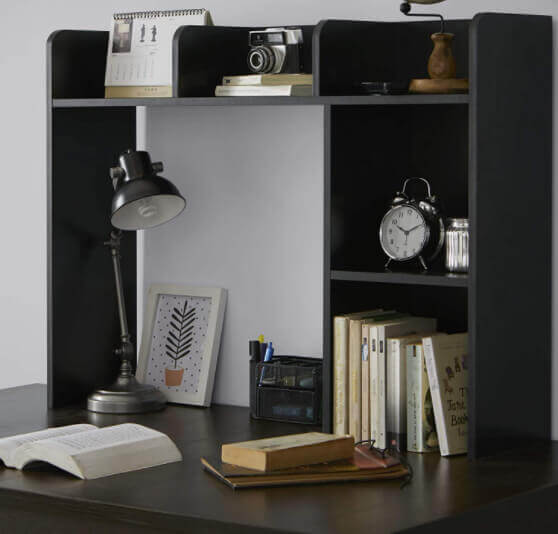 What's more, it comes with a wide-open space where you can fit your monitor or laptop. You'll also love the black finish which adds a touch of class and blends well with your room or office décor.
Pros
The desk pieces together easily
Rounded edges for safety and prevent chipping
Has a wide space for placing your laptop or monitor
The top and side cubes are conveniently placed
Fits on most regular sized desks even small dorm-sized desks
Cons
Vague assembly instructions
Check Price on Amazon
Not all desktop shelf makers offer what they advertise. However, this desktop storage organizer from Met Life gives you exactly what you pay for.
For starters, the desk shelf is made of an eco-friendly board that's resistant to moth, corrosion, fire, and scratch. This is clear proof of this unit's durability.
Along with that, it features an exquisite angled design and comes with two side cubes, three top shelves, and one big space for arranging larger files.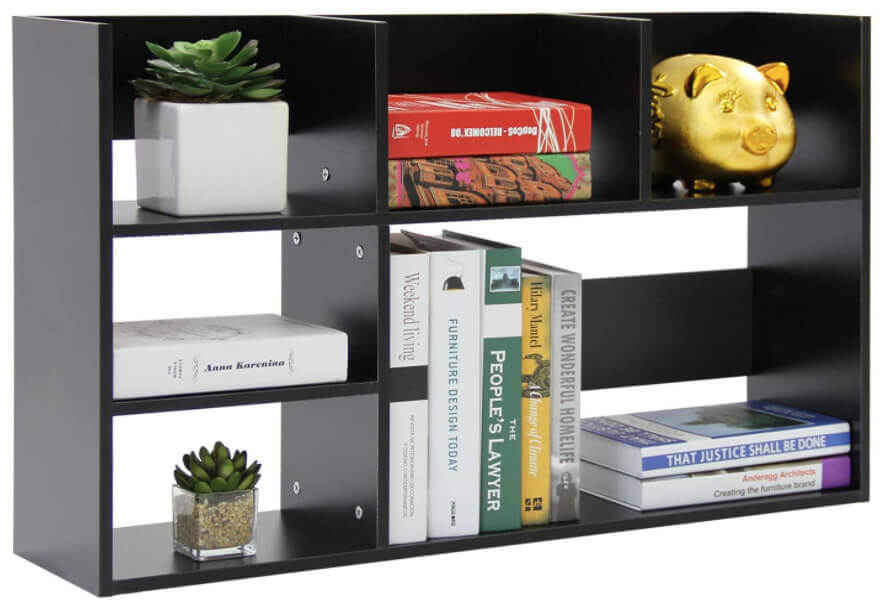 One thing about this desktop shelf is that it's quite flexible thanks to its contracted design. You can lay it horizontally or vertically depending on the size of your desktop.
The organizer can be put in the office, study, or sitting room thanks to the elegant black finish that blends well with your décor.
Pros
Sturdy and durable
Eco-friendly. Does not contain harmful materials
Fits well in different spaces
Can stand vertically or horizontally
Easy to put together
Cons
The edges are prone to chipping
Check Price on Amazon
The College Cube is another desktop unit from DormCo designed for college sized desks or any other regular-sized desks.
The desk shelf is constructed from sturdy particleboard, which guarantees that it lasts for long. The sturdy construction also ensures that it does not chip when being screwed together.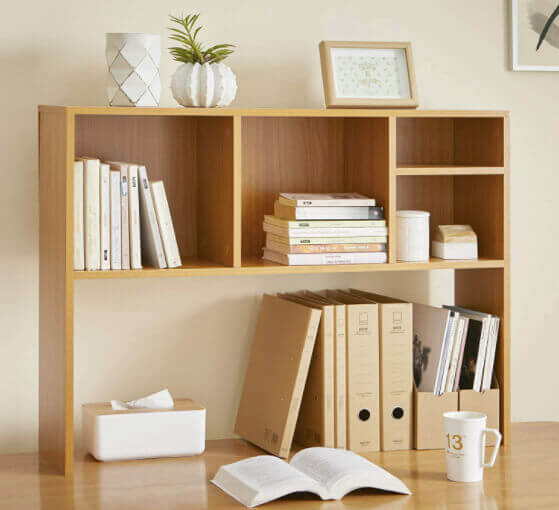 The desk shelf fits well on your desk and has well-organized storage boxes up top where you can store your textbooks and other essentials.
However, Unlike the DormCo Classic Bookshelf, the College Cube has a wider center space for open workspace. The space is also wide enough to fit your laptop or desktop monitor.
Pros
Easy organization
Natural wood color adds a touch of class to your space
Great choice if you are tight on space
Plenty of room for your laptop
Easy to piece together and does not chip
Cons
Poor assembly instructions
Check Price on Amazon
Jerry & Maggie is one of the best desktop shelves in the market. This particular product combines practicality and value for money.
Made from 100% natural wood, this desktop shelf unit is eco-friendly and does not emit any toxic smells. The wood construction also guarantees that the unit is sturdy and durable.
It's composed of two main parts that easily assemble to create one unit with more room. The two pieces can also be detached, adjusted, and rotated to meet your needs.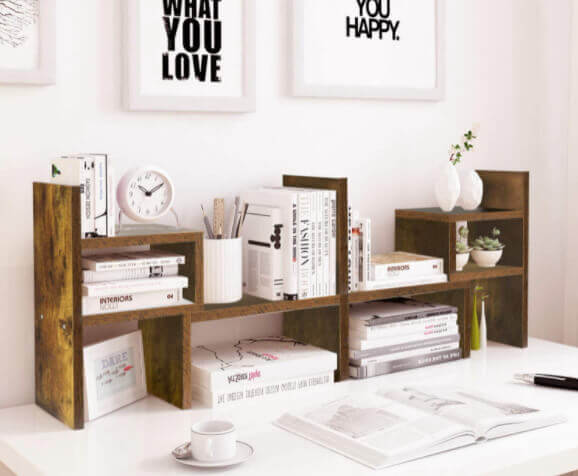 What's more, the natural wood finish and the excellent craftsmanship exhibited by this unit adds a classical touch to your space.
Overall, this product from Jerry & Maggie is a great option for individuals looking for a desk shelf with a minimalistic design.
Pros
Easy assembly
Sturdy and durable
Great option if you have limited tight space
Can be adjusted to your liking
Inexpensive and also looks good from afar
Cons
Doesn't come with anything to cover the screw heads
Check Price on Amazon
Another highly rated yet affordable desktop bookshelf is this unit by PAG. Uniquely designed and compact, this unit delivers style and elegance and adds functionality to your desk.
Made from a robust melamine board, this desk shelf unit is formaldehyde-free, which means it's completely eco-friendly. It's also recyclable and wear-resistant thanks to the edge sealing.
To help you save up on space as well as change on style, it comes with two separate pieces.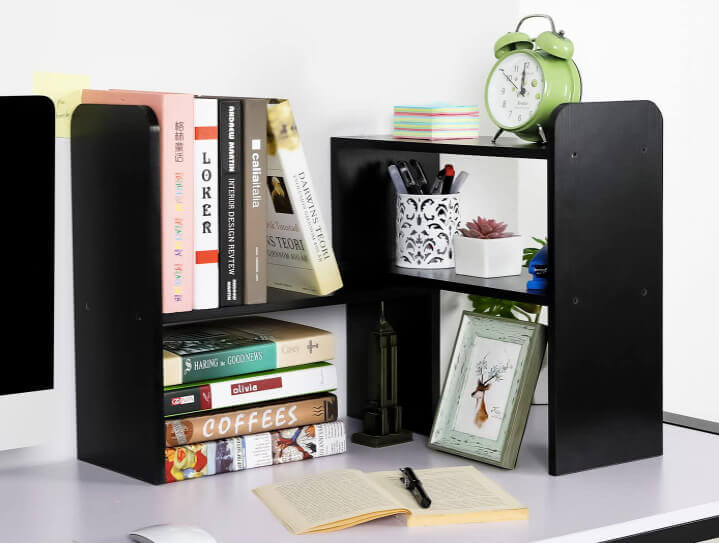 These pieces can be pulled together to create a small shelf-rack or apart to create a long one. The two pieces can also be set at an angle to fit your style or your space.
What's more, the unit features rounded corner design, which adds to its overall and more importantly helps prevent scratches.
Installation is super easy and fast. It comes with screws and a double-headed screwdriver to make the installation process a breeze.
Pros
Installation in less than 10 minutes
Space saving design
Beautifully designed
Can be adjusted to fit your style
Value for money
Cons
It's a bit small if you are looking to arrange many items
Check Price on Amazon
Tribesigns are well-known for their sleekly designed and eco-friendly home products. This desktop bookshelf from Tribesigns lives up to the company's ethos.
Featuring a minimalistic design, this multipurpose desktop bookshelf is carefully crafted using 100 percent solid bamboo.
The material is environmentally friendly and sturdy, which means it does not emit toxins, crack, sag, or deform.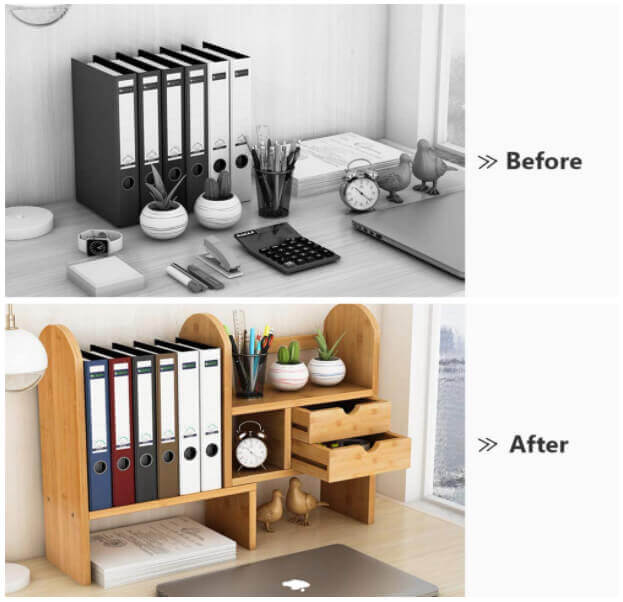 The unit comes in two separates parts, which makes it very flexible. For example, it can be angled at 180 degrees to allow efficient utilization of the corner space.
Similarly, it can also be extended or stacked together to increase or decrease the width.
Apart from that, it comes with two drawers for storing small items and features a safety back panel that helps prevent your items from falling off.
Another notable feature is the sleek arc edge that gives this unit a sleek finish and more importantly helps prevent accidental scratching or bruising.
Pros
Quick assembly
Sleek design that blend with your room décor
Arced edges to prevent accidents
Very easy to clean
Very sturdy. Does not sag or crack
Cons
No major issue could be found
Check Price on Amazon
This is another desktop bookshelf from PAG. It's a great choice for individuals with limited desktop space who are looking to spice up as well as de-clutter their space.
To begin with, the unit is made from high-quality melamine board with sealed edges to ensure that it does not wear. It's also free from toxins such as formaldehyde.
In terms of design, this unit features a free-standing design that allows you to take full advantage of the vertical space hence saving on space.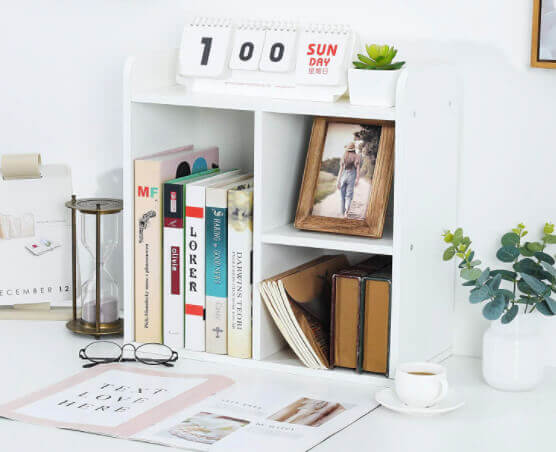 Furthermore, it has a flat bottom surface to ensure that it maintains its stability. The edges are also rounded to prevent accidental scratches and augment the units' overall design.
Pros
Easy installation. Comes with screws and double head screwdriver.
Free standing helps save on space and keep your desktop clutter free
Looks great on your desk
Rounded edges help prevent accidents
Very affordable
Cons
The instructions are not the easiest to follow
Check Price on Amazon
If you are looking for a desktop shelf unit that embraces nature-inspired textures and colors, then look no further. This unit by MyGift offers just that and more.
To begin with, this unit is made from natural wood, which guarantees that the unit is sturdy and environmentally friendly.
Apart from that, the vintage whitewash finish gives a rustic flair to your space. It comes with two pieces and features three adjustable shelves for organizing and displaying your items.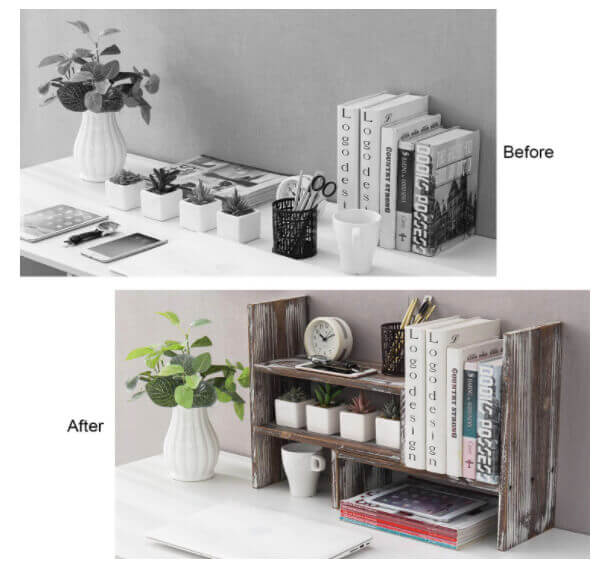 Like most other units in this list, this desktop shelf can be transformed to an L-shape, compacted, or expanded to fit your storage needs.
Pros
Easy installation
Vintage wood finish give your space that countryside flair
Can be set in different positions and angles
Saves of space
Very affordable
Cons
The wood is unfinished and can cause splinters
Check Price on Amazon
This is another vintage-looking desktop organizer shelf unit from MyGift. It's an ideal choice for individuals who want both functionality and décor.
Sale
Made from rustic distressed wood, this adjustable shelf unit comprises of two separate pieces that can be expanded or brought together to fit various spaces. They can also be angled to fit your space and style.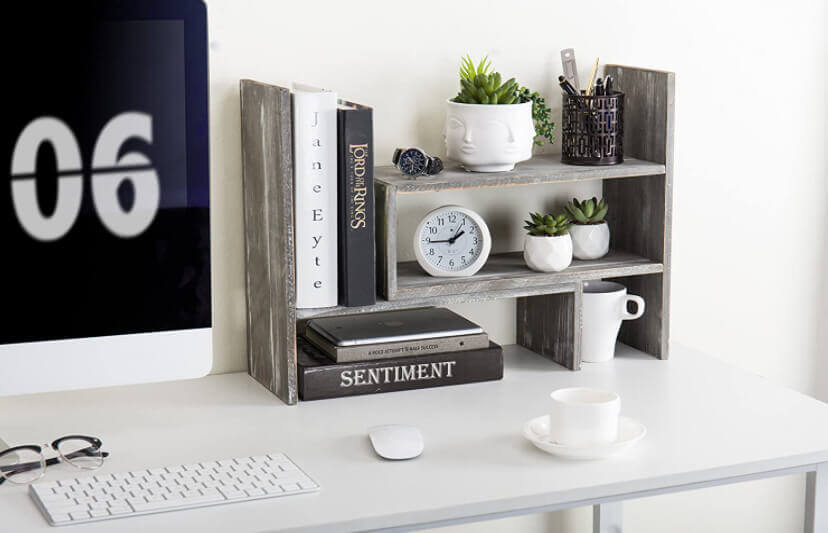 Apart from that, the vintage wood finish gives this unit a countryside flair that blends seamlessly with modern designs. The unit is ideal for small spaces, offices, dorms, kitchen, or bathroom.
Pros
Quick and easy assembly
Vintage finish blends well with modern design
Fits well in different spaces
Additional corner storage saves on space
Great value for money
Cons
Splinters can arise since the wood is unfinished
Check Price on Amazon
Important Features to Consider When Shopping For a Desktop Shelf
Material: The material used in constructing the unit should be durable and sturdy. It should also be free from toxic materials such as formaldehyde. We recommend units made from 100% natural materials such as natural wood or bamboo. Wood also adds a rustic vintage flair to your space.
Size: Size is another very crucial factor that you need to consider. Remember that this is a desktop shelf. So, it should not exceed the size of the desk. Consider something adjustable, compact, and lightweight.
Purpose: What's the main reason you need a desktop shelf? Is it to declutter? Do you want some additional space on your desk? Or do you want to improve the look of your working space?
If you want to improve the space on your desk, for example, you can consider buying a shelf that can be angled and placed on the corners. Similarly, if you want to get more space for your laptop, monitor or cabinet you can go for one with a wide-open space.
Aesthetics: Of course, you want a desktop shelf unit that compliments with your décor. Colors such as brown, gray, black, and white are known to stand out when blended with both classic and modern styles.
The number of shelves: If you have more documents, books, stationaries, and other items you'll need ample storage. Consider going for a unit with adequate shelves as this will help you organize your stuff tidily.
Wrapping Up
Desktop shelves come in different designs and sizes. It is up to you, to decide which one best fits your storage needs and the space available.
We hope that our buying guide and reviews will make help make your choice for the best desktop shelves for books and storage easy and hassle-free.
Last update on 2023-11-25 at 15:45 / Affiliate links / Images from Amazon Product Advertising API