In this post, we would help you choose the best Wok burner.
Nothing beats the comfort that comes with the outdoor ambiance. And if you are like some of us who love Chinese and Asian cuisine, you undoubtedly understand the convenience that comes with an outdoor wok burner.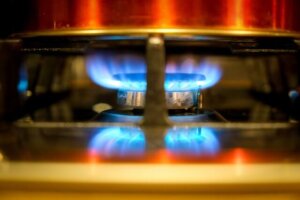 These burners are designed to be used with a wok or other compatible cookware.
While they are not different from the typical burners, what makes them unique is their portability.
Some are quite compact that you can backpack them when going fishing or on a camping trip.
However, it's important to note that while these units are designed to give you the best outdoor cooking experience, they are not created equal.
Some are powerful, heavier, sturdy, wider, or taller than others. In this post, we will help you choose the best outdoor wok burners.
As such, the choice on which the best outdoor propane burner depends on your unique needs.
In this article, we've reviewed the 8 best outdoor wok burners in the market. We hope you'll find one that suits your needs.
8 Best Outdoor Wok Burners:
Best Outdoor Wok Burners for 2022 – Detailed Reviews
Not all manufacturers deliver what they advertise but this outdoor wok burner from GasOne exceeded our expectations for all the right reasons.
Sale
Firstly, this burner is compact. It measures 15.5 x 15.5 x 12 inches (L x W x H) and weighs just about 27 pounds.
This means it quite portable, which makes it a perfect choice for any type of outdoor cooking since you won't have problems moving it around.
The burner's four-legged frame features a black glossy finish and is made of cast iron to ensure that it lasts for long.
The hose which connects to the butane tank is also silver braided for extra durability.
When it comes to heat output, GasOne is a beast. It sports a whopping 200,000 BTU of heating power making it one of the most powerful burners in the market. As such, preparing your meals with this burner should never be a problem.
But with such much heating power problems such as burnt food, chipped paint, and accidents can arise. Fortunately, GasOne knows this too well and takes safety seriously.
For this reason, the burner comes with a 0-20 psi CSA certified regulator for adjusting the gas and pressure flow as per your needs. Along with that, the regulator use an O-Ring to help avert any accidental gas leaks.
Pros
Very portable
Sturdy and durable design
High heat output for faster cooking and heating
Comes with a regulator knob for controlling gas and pressure
Produces a great flame that burns evenly on your pot's bottom
Cons
The regulator knob feels flimsy
Check Price on Amazon
Bayou Classic SP10 is undoubtedly another top choice for a portable propane wok burner for all outdoor cooking adventures. You can use it for steaming, frying, boiling, or home brewing.
Compact in design, this outdoor burner weighs approximately 13.1 pounds and measures 18 x 18 x 13 inches (L x W x H). This shows how portable this burner is compared to others listed on this list.
The burner's frame is made of the welded steel frame for maximum strength and durability and features a three-legged design, which gives it that traditional look. The three wide-set legged design guarantees maximum stability due to the lower center of gravity.
In terms of performance, this outdoor wok station pumps up to 59,000 BTUs of heat and can support stockpots with a maximum capacity of 102-qt on its 14-inch wide cooking surface.
You also don't have to worry about burning your food or too much heat chipping your stove's paint.
This is because the burner comes with a 10-psi regulator with a brass valve for controlling gas and pressure. The 48-inch steel braided LPG hose also helps keep the propane tank at a safe distance.
Pros
Very affordable
Great build quality with a classical touch
Great heat output at full power
Regulator for better flame control and 360-degree windscreen for protecting the flame from outside elements such as wind
Large cooking surface to accommodate large stockpots of up to 102-qt capacity
Cons
Paint burns off under extreme heat
Check Price on Amazon
The Eastman Outdoor brand is popular for its top of the range of cooking products. One of their most innovative outdoor wok burner models is the 90411 portable kahuna burner.
While it might seem pretty basic, this propane burner is a small powerhouse. To begin with, it has a heat output of up to 65,000 BTU, which is more than what most small-sized burners can offer.
At the same time, it's quite versatile thanks to its tripod-like leg design. For instance, you can adjust its legs from a height of 18 inches to 26 inches for woks, skillets, and small pots. Similarly, you can adjust the legs to a lower height for safe use with larger pots of up to 36qt.
What impressed us most about this remarkably portable propane burner is its fuel-saving nature and clean burning. The burner is also CSA approved for safety.
Pros
Worth the price
Very convenient. You can connect it to a 20lb propane tank
Very hot. Generates up to 65,000 BTUs
Adjustable legs help with stability when cooking with large pots
Very compact, portable and economical
Cons
The spot welds on the leg sleeves can easily break apart
Check Price on Amazon
KING Kooker 24 WC outdoor propane burner is what most would likely refer to as a perfect blend of size, power, and affordability.
It's a great option for beginners, skilled hobbyists, and professionals who would like to explore outdoor cooking.
Sale
For starters, this outdoor propane wok burner stands at 24 inches tall and delivers an incredible 54,000 BTUs of heating power, which is undoubtedly sufficient for most stir fry recipes.
Along with that, the burner comes with some of the most impressive standard features. For example, it comes with an 18-inch wide wok with a recessed ring to prevent accidental spills or tipping.
Moreover, the built-in wind guard ensures that flame originating from the 3-inch burner gives you a brilliant concentrated flame without blowing out when the wind picks-up.
You'll also love to know that this unit is very easy to assemble. It shouldn't take you more than 15 minutes. It also comes with a gas flow adjustment knob and an inbuilt regulator so you won't have problems controlling the heat.
Pros
A bang for your buck
Includes a recipe and some accessories such as a wok, wooden spoon, and a wooden spatula
Excellent heat output. Generates up to 54,000 BTUs
The recessed top ring hold the wok in place
It has type 1-connection, which means you can use it with a variety of propane tanks
Cons
You will have to clear off the rust resisting resin after shipment, which is quite cumbersome
Check Price on Amazon
The Concord Banjo Single Burner is another outdoor wok burner from Concord Cookware. It's incredibly feature-rich and one of the most powerful outdoor burners in the market today.
Standing at 12 inches tall, this outdoor powerhouse, the burner features a three-legged heavy-duty cast iron frame for extra durability and stability. The burner stand is 16.5 inches wide while the burner is 10 inches wide, enough to hold a 60qt or 100qt stockpot.
The burner is quite compact and portable and weighs 29.5 pounds, making it a perfect option for outdoor excursions. However, despite its small size, this burner outputs a massive 200,000 BTUs from its single propane jet. This is plenty of heat than you would need for any cooking.
Unlike other burners in the market, this burner comes with a regulator. The regulator helps control the BTU depending on what you want to cook.
You can use the regulator to moderate heat for low heat cooking, such as steaming and pan-frying and increase the flame for instances like boiling and deep-frying.
Other features that we liked about this burner is the LPG hose and the 20 PSI regulator that comes with a brass control valve.
Pros
Value for money
Wide cooking surface accommodates both large and small stockpots
Extremely high BTUs for all types of cooking
The paint on the frame is heat resistant hence does not chip
The hose is long enough
Cons
It burns loudly. Also, the paint burns off when you light it for the first time
Check Price on Amazon
The GYMAX Out is another heavy-duty outdoor propane burner that comes highly recommended by many in the community. Surprisingly, it's quite affordable given the numerous features it offers. But what does it offer?
For one thing, this outdoor single burner comes with a sturdy and durable four-legged frame made from superior cast iron. The frame is also coated with powder to ensure that it's resistant to rust.
What's more, this unit is quite versatile. Its legs are adjustable in case you want to achieve different cooking heights. You can also detach them if you want to store or transport it.
Away from its design, this stove is a monster when it comes to performance. It outputs a whopping 200,000 BTUs of heat. This is an overkill for most cooking needs. Luckily, it comes with a CSA regulator for adjusting the heat output according to your needs.
The stoves cooking surface is adequate to hold both large and small stockpots. Safety is another thing that this stove is designed for. It comes with an overvoltage protection system and an O-ring on the regulator to ensure that there are no unintentional gas leaks.
Pros
Quite affordable
It has a high heating capacity
Adjustable and detachable legs hence quite portable
Sturdy and durable construction design
Has numerous safety features
Cons
Paint around the windshield ring burns off when you use it the first time
Check Price on Amazon
If there is one thing that Eastman Outdoors has been able to do is to impress its customers by not failing on their promise of manufacturing high-quality wok kits.
The Eastman Outdoors 37212 is another model from their huge inventory of outdoor wok kits and burners. If you are a home-foodie that likes to try different stir-fry recipes or Chinese cuisines this is worth a try.
For starters, this carbon steel wok pumps out 65,000 BTUs of heat power, which is enough for excellent stir-frying, braising, deep-frying of boiling.
What's more, it features a three-legged design that mimics a camera tripod. These three legs are adjustable for added stability on uneven surfaces and also to lower the center of gravity when handling large pots.
One thing you'll love about this unit is that it's very portable. It just weighs 25 pounds. Furthermore, it comes with heat adjustments and an AccuZone thermometer for maintaining proper temperatures.
The package also includes a 22-inch deep dish-carbon steel wok and a stainless steel spatula and spoon. Thus, it is a complete wok kit which you can take for all outdoor adventures.
Pros
It burns 75% clean than industry standards
Outstanding heat output
Adjustable legs for stability
Very economical and convenient
Compact and lightweight
Cons
You have to remove the protective coating before cooking on the wok
Check Price on Amazon
Last on our list is this outdoor propane wok burner from King Kooker. It's compact and weighs just about 27 pounds.
Just like other outdoor wok burners from King Kooker, this particular model is a small powerhouse. It delivers a massive 54,000 BTUs. So, whether you are boiling, deep-frying, or stir-frying, this wok burner has got you covered.
What's more, this particular model is solidly built to ensure that it can withstand both small and large pots. It also comes with a large bottom ring and a recessed top ring for safety. There's also a flame guard that prevents the flame from going off when the wind blows.
Other incredible features include a listed LP hose with Type-1 connection, which allows you to use it with a variety of propane tanks. The package also includes a 6-qt cast iron pot with an aluminum lid.
Pros
Portable and lightweight
Generates sufficient heat
Has a large bottom ring attached to the legs for stability and safety
Type 1 connection allows it to be used with a variety of propane tanks
Flame protection wind guard
Cons
Depth of the pot is small
Check Price on Amazon
How to Choose the Best Outdoor Wok Burner?
Size
An outdoor wok burner should be portable and compact given that you'll need to carry it along when going on an outdoor trip.
Note, however, that it should not be too tiny that it's incapable of supporting average-sized stockpots and woks. You should, therefore, consider parameters such as the wideness of the cooking surface.
Height
Moving on, another factor you need to consider is the height. Every propane wok burner sits at a particular height off the ground based on its intended purpose and design.
Typically, most outdoor burners have longer legs. This helps especially because you don't have to break your back when tending to your pots.
However, when dealing with large pots, you'll want to choose a burner with adjustable or shorter legs to create a sturdier base to prevent the pot from toppling over.
Construction Material
Outdoor propane wok burners are either made from stainless steel, steel, or cast iron. If you want something sturdier, heavier, thicker, and one that does not bend, go for one made from cast iron.
On the downside, cast iron tends to rust over time when stored poorly. Similarly, if you want something lightweight and one that does not rust, go with steel or stainless steel frame.
Burner Windscreen
Given that the burner you are buying is intended for outdoor use, you'll want to make sure that the one you choose has some kind of wind guard. The wind guard helps protect the flame from going off.
Number of BTUs Generated
Of course, the number of BTUs is a major selling point for outdoor propane burners. BTU, short for British Thermal Units is a non-SI unit used to measure the heating power or the heat capacity generated by a propane cooker.
Most outdoor propane wok burners will sport anywhere between 30,000 BTUs and 200,000 BTUs.
While a bigger BTU does not always indicate that the burner is the best, you should consider what you intend to achieve with the burner.
For example, if it's for stir-frying or general cooking, a lower BTU of between 30,000 to 65,000 BTUs would be ideal.
However, if it's for home brewing a higher BTU of between 100,000 to 200,000 would get the job done.
Frequently Asked Questions (FAQs)
How do you make a wok burner?
In order to make a wok burner out of your normal stove, you'd need a wok ring that you can easily fit above your stove and use your wok pan.
Just make sure that the wok ring/rack which you purchase should fit on your stove, so, do check the diameter of the wok ring before buying it.
How do you season an outside wok?
For seasoning, you first need to remove all the factory oil and dust that is accumulated in the pan.
Give a good scrub to your pan using sponge and washing detergent. You'd need a hard abrasive sponge to remove the residue from your wok.
Some easy steps to do so:
Step 1: Fill the wok with hot water and leave overnight.
Step 2: The next day, fill your sink with warm water mixed with washing detergent.
Step 3: Remove the water from your wok which you filled the earlier night. Dip your wok in the sink.
Step 4: Scrub inside out in circular fashion using a hard scouring pad.
Step 5: Use a dry towel to soak and remove all the water. Further, keep the wok on a slow flame so that all the remaining water gets evaporated.
Do I need a wok burner?
You perform the same task using a simple wok ring if you are using a wok indoors on a regular stove.
Though, for outdoor camping and activities, we'd recommend you to definitely buy a wok burner.
How many BTU do I need to cook a wok?
It depends on what item you want to cook. If you just want to give a stir fry or normal cooking, a wok burner with 50,000 – 100,000 BTU is a good option. Though for outdoor cooking you should go for a higher BTU. Something between 125,000 – 200,000 BTU would be a good option.
Wrapping Up
As you can see, each outdoor propane wok burner comes with its own set of weaknesses and strengths. For this reason, it's hard to nail down which one is best for everyone because we all have our own unique set of needs.
We, however, hope you'll get the ideal burner that best suits your needs from the ones we've reviewed above.
Our Recommendation:
It's tough to recommend one specific product given that all have their strengths and weaknesses. However, during our search for the best outdoor wok burners, we found the GasOne Heavy-Duty Square Stove to be quite appealing.
It is sturdy, works well for outdoor activities, and whatnot. We highly recommend it as it has got a ton of positive reviews from customers across the globe.
What made us pick this wok burner is that it's quite portable making it ideal for outdoor cooking. Its also made from a tough material, which guarantees its durability.
The high heat capacity is also a great selling point and more importantly, the burner offers value for money.
8 Best Outdoor Wok Burner Reviews
GasOne 200,000 BTU Heavy-Duty Square Stove

Bayou Classic SP10 High-Pressure Cooker

Eastman Outdoors 90411 Portable Kahuna Burner

King Kooker 24WC Outdoor Cooker

Concord Single Burner Stove

The GYMAX Outdoor Stove

Eastman Outdoors 37212 Burner

King Kooker 22PKTC Outdoor Burner
Summary
When it comes to outdoors, especially long treks and camping trips, you would definitely need a reliable wok burner to prepare food on the go.
We have done a detailed research to find out the best wok burners where we did a detailed review on the basis of BTU, size, built quality, customer reviews and price. Do check these detailed reviews to make the right buying decision.
Last update on 2022-05-12 at 09:16 / Affiliate links / Images from Amazon Product Advertising API