Over the past few years, the use of smart beds has been on the rise especially among people with chronic back problems.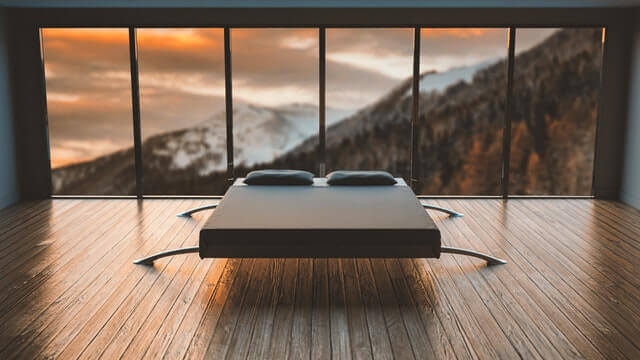 One common sleep bed that has attracted a lot of attention is the Sleep Number that's best known for its unique and technologically advanced adjustable airbeds that feature SleepIQ technology, sleep tracking sensors and custom support among other features.
However, since the product is relatively new and a bit costly to most people, some mattress brands have done a good job at producing mattresses and beds that serve as alternative options to the Sleep Number beds.
In this guide, we share the 11 best alternatives to a Sleep Number bed as well as our best pick.
11 Best Sleep Number Alternative Beds
11 Best Beds Similar to Sleep Number – Detailed Reviews
Everyone deserves a good night's rest, and that's exactly what you'll get with the Tempur-Pedic Tempur ProAdapt adapt mattress. It is few of those trusted bedding options which comes along with years of trust and reliability.
While it differs from the Sleep Number Bed when it comes to construction and performance, this premium medium-foam mattress offers exceptional features.
If you are the kind of person who prefers to sleep on a firm surface or on a soft surface, this mattress brings together the best of both. Thanks to its highly supportive foam layers that respond to the individual shape of the body while providing remarkable back and neck support.
Below the cover, the mattress comes with an ultra-pressure-relieving support layer that's topped up with an original TEMPUR-ES comfort layer for a more balanced and firmer feel.
Unlike most foam mattresses that are known to sleep hot, the TEMPUR-ProAdapt is designed with a removable SmartClimate dual cover system that aids in temperature regulation allowing you to sleep cool and comfortable.
Best of all, the mattress is designed to offer excellent motion transfer that minimizes movement to a significant extent. This feature is especially beneficial to couples who awaken easily due to movement.
Another excellent feature is the strong edge support. And since most people are susceptible to sitting at the edges of their mattresses when reading or preparing to go to work, the TEMPUR-ProAdapt provides stable edge support that prevents lagging and falling towards the edge.
Pros
Very durable
Excellent motion isolation
Does a good job when it comes to pain and pressure relief.
Sleeps cool and comfortable
Excellent edge support
10-year warranty
Cons
Slightly heavy and you might need support to move the bed
If you are looking for a bed that's dedicated to providing adjustable rest, then the Personal Comfort A2 bed is worth a shot.
No products found.
Designed to compete against the Sleep Number C2 model, this basic model boasts most of the features and advantages that you would expect from premium adjustable beds at a significantly low cost.
Similar to the Sleep Number Bed C2, the Personal Comfort A2 comes with dual control options that provide you with insights on how to manage and track your sleep quality and adjust your mattress to it.
In terms of construction, this model includes a patented inflatable 6-inch air chamber support core that acts as the primary comfort layer. The air chamber uses a pump system that allows you to select up to 45 firmness levels in real-time using an attached remote or an app.
Besides the inflatable air chamber, it is worth to note that the mattress's design elements can be modified. This means that you can remove and replace most of its components and modify or upgrade the mattress to your liking.
What's more, the Personal Comfort A2 comes with a breathable damask quilted cover and solid foam framing materials that provide lasting comfort and support for the mattress. The mattress's comfort layer also ensures that the mattress does not sleep hot.
Another feature that makes this mattress stand out is its excellent edge support and motion control thanks to its layered construction design.
Although this model boasts some of the best features you'd expect to find in adjustable beds, its only downside is the possibility of failing to provide enough support for sleepers weighing well over 230 pounds.
Pros
Great quality of materials that are CertiPUR-US certified.
Quite affordable
45 firmness levels
The bed is modifiable to your liking
Buyers enjoy a solid warranty period of up to 25 years.
Cons
Limited weight range. Can only support up to 230 pounds of weight.
As one of the highly-rated mattress brands in the market, Casper offers a unique line of mattress models in its name. One most notable model is the Casper Sleep Foam Twin 10" mattress.
The Casper Sleep Foam Twin features a 4-layer construction and is available in one firmness option in all the standard sizes, each 10" in width.
The 4-layer design is made up of a support core, a comfort layer, a transition layer, and the base which is constructed using heavy-duty polyfoam. The principle behind this design is to add extra support and also allow the mattress to conform well to the shape of your body.
What's more, the layers help in balancing the softness as well as absorb and minimize motion. The mattresses edge support is fairly excellent compared to most foam mattresses.
In addition to these many benefits, its comfort layer is carefully engineered to counter the heat retention issue common with most foam mattresses.
But what about firmness levels? The mattress falls around a 4 on the firmness scale of 1-10. This mid-level range makes a great choice for individuals who like changing sleeping positions.
Pros
Great motion isolation thanks to the 4-layer construction.
Comfort layer ensures that there is no heat retention.
You get a 100-night risk-free trial.
A+ rating from the Better Business Bureau.
Great customer service.
Cons
Some off-gassing needed when unpacking for the first time
Designed by the well-known Leggett and Platt Company that produces both high-end and budget-friendly adjustable bases, the 2019 Prodigy 2.0 Split King is another adjustable bed in their line-up that offers a vast array of refined features similar to the Sleep Number Bed.
First, the 2019 Prodigy 2.0 comes with the usual core head and foot tilting mechanisms available in all the other models. This remotely controlled mechanism has the capability of lifting persons with up to a maximum weight of 850-lbs (386kgs).
Besides the head and foot articulation mechanism, Prodigy 2.0 Split King incorporates supplementary pillow tilt articulation.
This feature lets you adjust the position of your head for greater comfort when sleeping, reading a book, or watching your favorite program.
Motion control is achieved on a fashionably designed capacitive touch screen that feels more like a smartphone than the traditional raised-button remotes.
We, however, feel that the capacitive screen would have been much better if it had a lock screen feature because of the highly sensitive nature of the capacitive touch screen which can lead to unintentional button presses causing accidents.
If you are the kind of person who has a hard time finding the perfect sleeping position, you can use the remote to set two programmable positions or use the smartphone app to set four more positions.
What's more, this bed comes with wall-hugging technology feature that ensures that you stay at the center of the bed's motion and close to the wall of your room regardless of the position assumed by the bed.
To augment the overall quality of your sleeping experience in your bedroom, the bed packs under-bed lighting, 4-way USB port for powering your devices, and a dual wave massager for luxurious relaxation.
If you are the type of person who wants more superior adjustment capabilities and convenience features than those offered by the Sleep Number Bed, it goes without saying that this bed is designed for you. Furthermore, you get a 10-year warranty with this product.
Pros
Fairly priced compared to the Sleep Number Bed
Operates quietly
Programmable remote control
Dual wave massager for extra relaxation
Wall hugging technology keeps you close to the wall at all times
Cons
The capacitive touch screen can cause unintended accidents
Whether you are looking for a modern or an affordable quality foam mattress that provides excellent pressure relief, then the Gel-Lux Easy Rest 12'' surely fits the bill.
No products found.
Made by Easy Rest Adjustable Sleep Systems, this mattress impresses with how it caresses the body with a cooling touch.
The extra cool layers of decadent premium foam memory ensure that your body weight is fully supported while maintaining a plush feel.
Furthermore, the mattress's middle layers are designed to offer extra support and enhanced comfort even to bigger than average individuals.
Another aspect we noticed is the excellent motion isolation and edge support offered by this mattress. Therefore, if you like to sit on your mattress with your legs dangling off the sides or waking up in the middle of the night while sleeping with a partner, this mattress is a perfect choice.
When it comes to durability, this mattress scores an A. Thanks to the 550 GSM fabric that stretches all the way around the mattress.
Last but not least, the mattress features an anti-microbial and anti-dust mite cover with a contemporary design, which helps keep your mattress clean and healthy at all times.
Pros
Very comfortable mattress thanks to the decadent premium memory foam
Use of Gel memory helps dissipate heat hence the mattress sleeps cool
Excellent motion isolation
550 GSM fabric is highly durable
We cannot talk about mattresses without mentioning Tuft and Needle. Although it's one of the few youngest bedding companies, Tuft & Needle has been at the forefront for the past few years because of their unique custom adaptable "T&N Adaptive" foams.
Being one of the products in their production line, the Tuft and Needle Queen Mattress features a supportive layer that creates a superb foundation for the rest of the mattress.
The T&N adaptive foam design offers a supportive yet bouncy feeling that makes it ideal for all sleeping positions.
Quality-wise, T&N uses a high-grade foam that's superior to memory foam and latex. From our testing, we found that the T&N adaptive foam has some cooling properties that prevent the mattress from retaining heat hence allowing you to sleep cool. Furthermore, it's neither too hard nor too soft.
When it comes to motion isolation, T&N does a pretty good job too. The "localized bounce" as T&N calls it prevents you from disturbing your partner while sleeping.
Packaging is also easy, thanks to the compressible adaptive foam that make it easy to fit into small boxes when you want to move.
Overall, Tuft and Needle's unique structure and its value for money makes it a great alternative for the Sleep Number bed.
Pros
Full refund guarantee along with a sleep trial of 100 nights.
You get a limited warranty of 10 years.
Among the cheapest and unique brands in the market.
Great customer reviews online.
Offers comfort in both bounce and support. Thanks to T&N adaptive foam technology.
Cons
Some reviewers say it has a limited firmness range.
If you are willing to commit the next twenty years of your life sleeping on an ultra-breathable high-quality foam mattress, then the Snuggle-Pedic is the answer. But how does this mattress live up to your expectations?
First, the Snuggle-Pedic comes with a Kool-Flow bamboo knit outer covering that's hypo-allergic, and stretchable. Most importantly, the bamboo cover offers exceptional thermal regulation as it's well ventilated.
Moving on, its design features two layers. The Snuggle-Flex comfort layer and the Channeled Support layer. The Snuggle-Flex layer, which makes up about ¼ of the mattress height and resembles the traditional memory foam provides a buoyant and lofty sensation when you lay on the mattress.
The Channeled Support layer on the other hand, which is the bottom layer offers resistance and support compared to the other layers.
Moreover, this layer has multiple rows of horizontal grooves that run throughout the entire length and on the sides of the mattress. This design ensures that there is continuous airflow with minimal resistance.
The two layers together with the Kool-Flow bamboo covering form the patented Airflow Transfer System. Together, these layers work as a unit to ensure that air does not get trapped between the cover and the other layers.
While it might look simple, the Snuggle-Pedic's unique approach to ventilation combined with the use of premium quality materials is what makes it stand out and comparable to airbeds like sleep number. In fact, this mattress flexes perfectly with an adjustable bed.
We also noticed that the mattress delivers low motion transfer, thanks to the thick memory foam comfort layer that works to contain and absorb motion.
The only downside we noticed with the Snuggle-Pedic is the lack of solid edge support, which is an important consideration for couples since they might need to use the entire surface of the mattress.
Overall, the Snuggle-Pedic is an exceptional mattress that combines support, comfort, and unsurpassed cooling properties at an affordable cost.
Pros
Exceptionally cool mattress
Customizable firmness
Comes with a 20-year warranty
Made from premium quality material hence highly durable
Great customer support
Cons
Lacks a solid edge support
While most memory foam mattress companies fall short when it comes to delivering unsurpassed quality and comfort, the Live and Sleep mattress lives true to its word.
The first noticeable property is its extremely responsive foam and its bounciness that makes it conform to your body's structure with minimal sinkage. A property that's hard to find with most foam mattresses.
Next up is the open cell format technology that greatly helps with the flow of air in and out of the mattress. This patented technology helps keep the mattress cool at night since it prevents the mattress from trapping heat and air like most traditional foam mattresses.
In terms of construction, the Live and Sleep mattress features a three layer design that includes the top comfort layer, the transition layer, and the support layer.
The top comfort layer is made of responsive foam memory to provide body hugs while gently releasing pressure points.
Next is the the transition layer that comprises of a 1-inch gel infused memory foam. This layer together with the open cell format technology helps in keeping the mattress cool at night.
Below the transition layer is the support layer, which is made of 8.5-inches of dense polyurethane foam. This layer acts as the core support layer of the mattress and prevents you from sinking.
What's more, the mattress does a good job in minimizing motion control which is a great aspect especially if you have a partner and tend to wake up several times or move around at night.
Another selling point is that the Live and Sleep mattress can be paired with an adjustable base for added lifestyle and health benefits making it a perfect Sleep Number alternative.
In our review we found the cover to be nicely knit, resilient, breathable, and stretchy as it would quickly snap back into position when moving on the mattress.
Overall, the Live and Sleep mattress offers exactly what it says it does. And more importantly, buyers get a 20-year warranty period.
Pros
Great comfort thanks to the high-quality and responsive memory foam
Breathable and stays cool at night
Made with premium quality and environmentally friendly materials
Great value for money
100-nights risk-free trial
Touted as one of the best memory foam mattress for people with back pain problems, the Sweetnight Queen 10-inch Gel memory foam has gained quite a substantial following both online and at home.
Sale
To begin with, the mattress features a sturdy construction design that consists of three distinct layers covered by a well-knitted and stylish cover.
Each of these layers performs different roles as you'll soon find out. The first layer which is a 2-inch memory foam features gel infusion technology to boost in air circulation and solve the unrelenting problem associated with memory foams of sleeping hot.
The next layer is the middle layer with a 5-inch comfort foam. This layer features a 3-zone engineering design that includes a middle firm density region and a head and foot section with a medium-firm feel.
The principle behind this design is to offer extra support around the heavy lumbar region while ensuring a perfect balance.
Below the middle layer is the 3-inch high-density support layer that holds the two layers together while providing an even and firm sleeping surface. The Sweetnight mattress is incomplete without this layer.
What's more, the mattress makes an excellent choice for couples. First, because the medium-firm side offers excellent support with a plush feel and secondly because it does a very good job in separating movement while still allowing some bounce.
While the mattress doesn't have any extra material to bolster edge support, it does pretty well in keeping its shape and does not slope off near the edges.
In its entirety, the Sweetnight mattress offers some of the best features for any type of sleeper at an affordable price making it perfect sleep number alternative for individuals on a tight budget.
Pros
Very comfortable with good support layers below
Stays cool at night thanks to the gel infused foam
Great motion isolation
CertiPUR-US certified
10-year warranty
Cons
Slightly heavy so you might need some assistance to carry it upstairs
The other Sleep Number bed alternative is the LUCID 12-Inch Latex Hybrid mattress.
What sets it apart from other mattresses is the infusion of gel beads into the memory foam. This unique design ensures that it's able to distribute excess heat while allowing air to flow throughout the special TENCEL Lyocell cover.
More still, it's made up of multiple layers for enhanced comfort. The bamboo layer, for example, helps keep your spine aligned, which is ideal for people with back problems. The funny thing about this layer is that it's hard to notice it since it's packed in between the main layer and the base layer.
When it comes to support, LUCID does a pretty good job. The mattress packs pocketed coils that act as the primary support core along with a 2-inch support foam that helps in reducing motion transfer.
To add icing onto the sugar, the two upper layers are infused with Aloe Vera to keep the mattress smelling fresh and bamboo charcoal to enhance temperature regulation.
In terms of firmness, we found the LUCID 12-inch to be more of a medium-plush spectrum mattress. It's however important to note that how firm or soft the mattress is highly dependent on your weight.
Pros
Medium plush feeling with desired firmness levels.
It's a great choice for people who suffer from back problems
TENCEL cover protects against allergens and mites.
CertiPUR-US certified.
10-year U.S warranty against manufacturer defect.
Cons
Cases of bad odor stemming from the latex.
The Classic Brands Gramercy 14-inch is a classic hybrid mattress that provides the benefits of an innerspring and memory foam mattress.
The mattress offers a 14-inch profile with several comfort foam layers, a gel memory foam layer, and a heavy-duty base layer of individually wrapped innerspring coils.
The comfort layers provide additional comfort and work hand in hand with the base layer to provide conforming pressure relief regardless of the size of your body.
With memory foam becoming an industry standard, the inclusion of a gel-infused memory foam layer creates a memory foam experience that is cooler, letting you enjoy a comfortable night's sleep.
On the other hand, the base layer, which acts as the foundation, combines the conforming response of gel-infused memory foam with the superior support offered by the innerspring system.
What's more, the mattress's contour feature conforms to the curves of your body while maintaining that plush feel.
Motion transfer is also reduced, thanks to the 13 gauge innerspring steel coils and the gel-infused memory foam that ensures that your spine stays in a neutral and cool position.
Pros
Excellent edge support thanks to the innerspring system
Gel-infused foam layer provides maximum breathability
Excellent motion transfer
Superb pressure relief hence a good choice for people with back problems.
CertiPUR-US certified
Cons
Off-gassing which is common with new mattresses
A bit heavier than most foam mattresses
Final Verdict
While you'll find numerous beds similar to the Sleep Number beds, the above were the best alternatives.
Our top pick, however, was the LUCID Queen Latex Foam Mattress because of its durability, excellent support for all sleeping positions, and better breathability that gives you a comfortable sleeping environment.
Buy on Amazon
Regardless of your choice, the mattress you select should spruce up your sleep. We hope that this guide will help you make an informed decision that's solely influenced by your needs.
Last update on 2023-09-25 at 15:15 / Affiliate links / Images from Amazon Product Advertising API