Do you spend quality time in the shower, or is it just a routine? If it's all about habit and necessity, your showerhead might be playing a role in this.
For instance, take adjustable height showerheads. They are flexible and can be customized to any height, making them suitable for both tall and short people.
Besides, they have different water settings that can moisturize your skin, relieve aching muscles, or provide a sensational rain spray.
The main question is, how to choose the best height adjustable shower head?
We did a detailed research on the same and have picked the top rated adjustable height showers heads for you.
15 Best Height Adjustable Shower Heads
No products found.
Best Height Adjustable Shower Heads Reviews
Are you ready to revolutionize your shower time? Look no more than the Waterpik adjustable height showerhead.
No products found.
Polished with an appealing chrome finish, this showerhead has sturdy yet luxurious spray modes to choose from. With a 5-foot ultra-flexible hose, you can set the handheld 4″ diameter showerhead for power spray, full-body, or pulsating massage spray mode.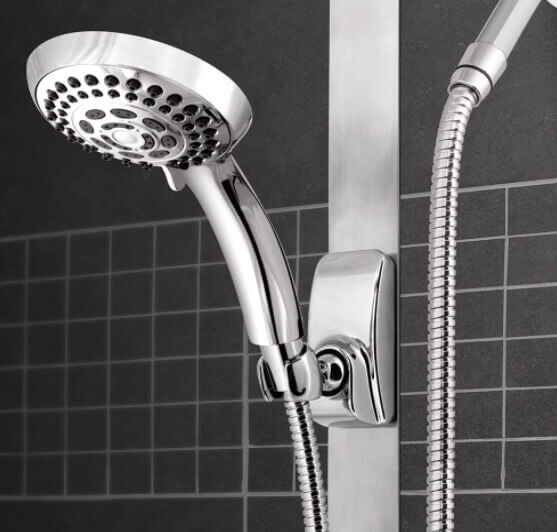 The Waterpik showerhead is adjustable, thanks to the magnetic bracket that can be pulled up and down to customize the height. The maximum height that can be achieved on this rust-resistant slide bar is 18″.
Besides that, installing the VSS-563MT only takes a few minutes since no drilling is required. Provided in the package are firm adhesive pads that will hold the shower strip in place.
Pros
It is made of rust-resistant materials
Has an 18″ adjustable magnetic bracket
It consists of 5 luxurious spray modes
No drilling is required
It is designed to last for years
Cons
The 18″ height can be low for tall people
Check Price on Amazon
The Lordear Hand Held Combo showerhead is a unique, fashionable, and elegant adjustable showerhead. It comprises of two distinct showerheads; a handheld and a fixed showerhead.
No products found.
Both showerheads measure 5″ in diameter and can be used together or separately. Either way, they offer high-pressure water release from the 60inch stainless hose that does not kink.
This combo showerhead has 5 shower settings that consist of massage, spray and massage, bubbles, spray, and spray and bubbles.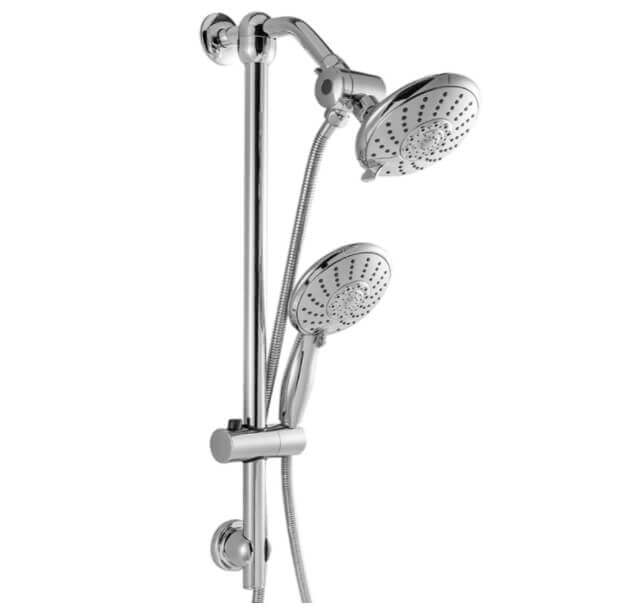 The best part is that these flexible showerheads are ideal for both tall and average height people. The 23.6″ adjustable, magnetic slide bar makes it easy to slide the shower up and down to a convenient height.
Pros
Made of stainless steel ABS material with an elegant Chrome finish
It consists of two showerheads that can be used together or separately
You can select your preferred shower mode from the 5 functions
It consists of two showerheads that can be used together or separately
Easy installation
Cons
Suction cup does not form a tight suction
Check Price on Amazon
The PULSE ShowerSpas Kauai III is another high quality and well-designed adjustable showerhead that you should consider.
No products found.
The product has garnered numerous positive review online, which has seen it being awarded the Amazon's choice badge. But what makes it so special?
To begin with, the showerhead has five functions to choose from for a relaxing bath. You can opt for massage, jet, wide and massage or wide and jet.
With the 59″ double-interlocking hose, you will literally enjoy taking a hot bath calming your nerves and relaxing your body after a hectic day.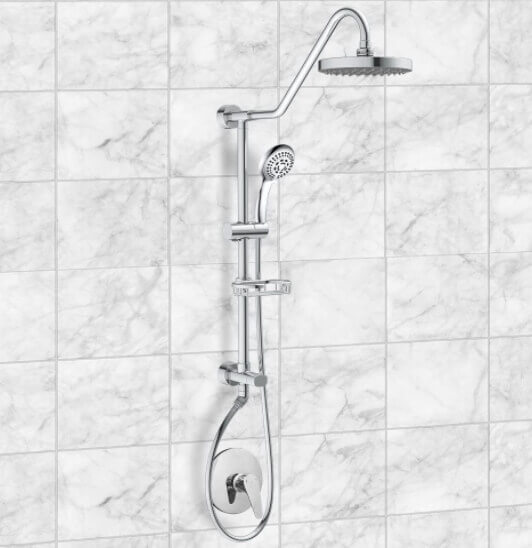 When it comes to quality, the adjustable slide bar is made of brass to guarantee its longevity. Apart from that, the showerheads are made of polished chrome, which makes it easy to clean off any mineral build-up.
But that's not all, the Kauai III showerheads are also very easy to fix even in old models. You only need a connection to the water supply, then choose the cold or hot shower valve since the product is pre-plumbed. You can do all this without any hassle or drilling.
Pros
It's completely pre-plumbed making it easy to set up
There is no drilling required
It includes five shower settings
The 59″ stainless steel hose is adjustable to different heights and angles
Easy to clean
Cons
The control discs limit the amount of shower water
Check Price on Amazon
Made with exceptional beauty, the Moen 3669EP Eco-Performance Handheld is versatile and is engineered to meet your daily shower needs.
No products found.
The Moen 3669EP works with any bathroom décor, thanks to its chrome finish, which is extremely reflective.
Apart from the chrome color, you can opt for nickel finish or bronze finish as they are equally sleek.
Along with that, this Eco Performance adjustable shower head is perfect for disabled people. It has met specifications from Americans with Disability Act (ADA).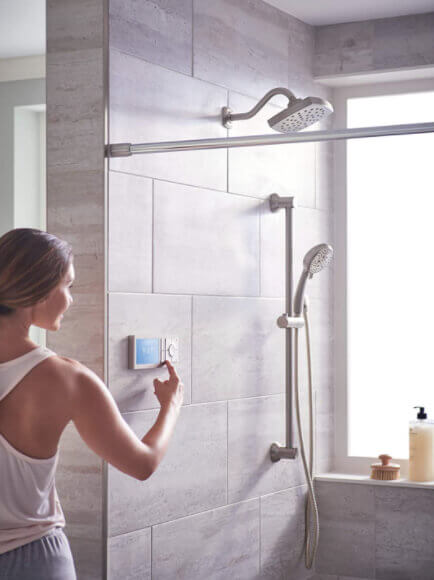 It has also complied with standards from Water Sense in regards to water efficiency and conservation.
This handheld shower delivers 2.0 gallons of water per minute from its 4″ diameter head. Its slide bar can be adjusted up to 30″ to accommodate both adults and kids.
The showerhead comes with 4 spray modes that include full spray, vigorous spray, combination spray, or targeted massage.
Pros
The highly reflective chrome finish blends well with any bathroom
The slide bar allows you to adjust its height
It meets Water Sense Standards as well as ADA specifications
Features four spray modes
Backed by a limited lifetime warranty that covers against drips, leaks and finish defects
Cons
The showerheads are not entirely metal. The wall brackets are made of plastic.
Check Price on Amazon
Are you looking for a height adjustable showerhead that combines style and practicality? The Speakman VS-3311 Alexandria Anystream Handheld Shower system is what you need. Do you want to know what made us include it in this list?
No products found.
For starters, the VS-3311 showerhead features 360-degree faceplate technology where the user has the freedom to switch from therapeutic massage shower to full flood shower or both.
Moreover, it comes with an adjustable 22″ slide bar where you can customize the handheld height by moving it up and down.
Along with that, the VS-3311 includes a 60″ durable, metal hose that features a vacuum breaker.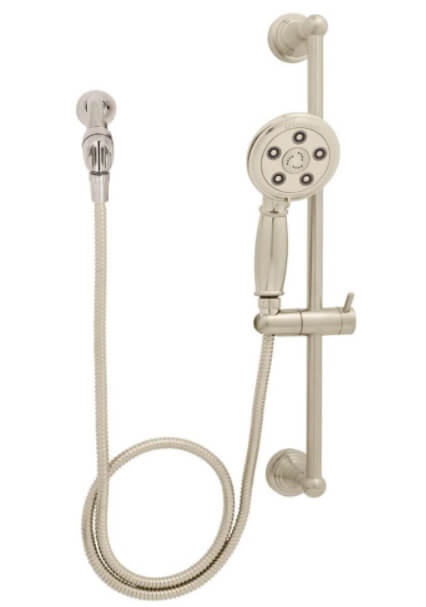 The finish on the Speakman Alexandria Anystream is polished chrome that radiates elegance in your bathroom.
The slide bar, handheld shower and the showerhead are all made of durable materials and are compatible with US plumbing.
Pros
Stylish look that augments with your bathroom décor
The 360 degree spray adjusting faceplate gives a full-flood needling spray
Includes a 22″ slide bar and 6″ durable hose
It utilizes 8 patents per shower engine for maximum efficiency
Can be used by everyone in the household regardless of height thanks to the adjustable slide bar
Cons
None found. Works perfectly
Check Price on Amazon
The Delta Faucet Chrome 57530 bridges the gap between style and durability. Featuring a minimalistic design, this intensely powerful bathroom faucet features a chrome plated finish with a modern touch.
No products found.
The faucet comes with a 4-spray setting that allows you to customize your shower experience.
For maximum relaxation, you can adjust the faucet to the H2OKinetic spray setting. This setting allows you to achieve a deep and massaging cleanse on your body.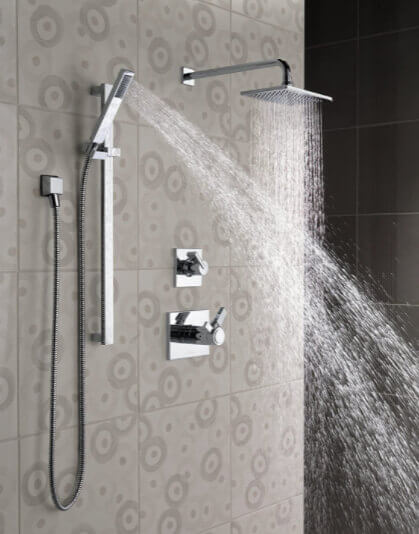 Apart from the kinetic spray setting, there's the kinetic droplets and pause setting. With this setting, you can pause the water from falling to shave or lather then restart once you are done. The pause setting maintains the water temperature for added convenience.
Cleaning is also super easy. A finger is all you need to wipe off any calcium and lime build-up from the spray holes. You no longer have to invest in chemical cleaners to get the dirt out.
Pros
Stylish look with a minimalistic design
The finishing on this handheld shower shows no signs of tarnishing, corrosion, and discoloration even after a long period of time
Has four settings that deliver relaxation, massage, and relief to aching muscles
Includes a stretchable metal hose
The spray holes are easy to clean with a finger
Cons
Unfortunately, the wall elbow is not included in the package and has to be purchased separately
Check Price on Amazon
Since 1996, KES has made it a top priority to deliver quality and innovative bathroom solutions. As such, the brand has gained popularity in Asia, Europe, and North America.
It's therefore, not surprising that the KES Slide bar is one of the best adjustable height showerhead in the market today.
No products found.
To begin with, the shower head comes with a stainless steel and rustproof sliding bar to ensure that it lasts even after several years of use. The bar holding the shower head is also engineered to be extra thick to make it resistant to bending or any other form of damage.
Along with that, this handheld showerhead has 5 function settings that include: drip, rainfall, shower, power massage, and gentle bubble.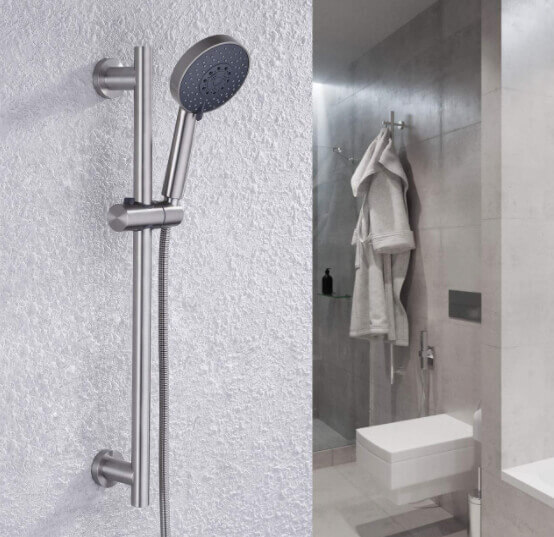 With the drip function, you get to stop the running water for a while. In turn, you save on water while the temperature remains constant. This feature helps you lather and shave in peace.
For a better shower experience, the KES slide bar includes a 1.5 meters long stainless steel hose that covers your body well. Besides, this hose features a double-interlock, which is spiral to achieve maximum length.
A unique feature about this showerhead is that you can choose to mount it or glue it on the wall. Either way, a glue pack, and a hardware pack are included in the package, and there is a detailed pictogram on how to go about it.
Pros
The sliding bar is made of durable, stainless steel
The showerhead consists of 5 settings including drip that stops water from running as you perform other tasks
Can be mounted or glued to the bathroom wall
The shower bracket is adjustable hence convenient for both adults and kids
It comes with a stretchable shower hose
Cons
The detailed guide only features pictograms and lacks explanations
Check Price on Amazon
For the last 15 years, Bright Showers has seen to it that the quality of your bathroom shower heads match the amount you paid. The Bright Showers Stainless steel showerhead is no exception.
No products found.
Polished with a nickel finish, the showerhead is easy to clean and is an added piece of decoration to your bathroom. It also has ABS plastic that is sturdy, and when combined with nickel, the product becomes more durable.
Also, the Bright Showers showerhead has a removable and adjustable shower arm that helps you adjust the height to suit your needs.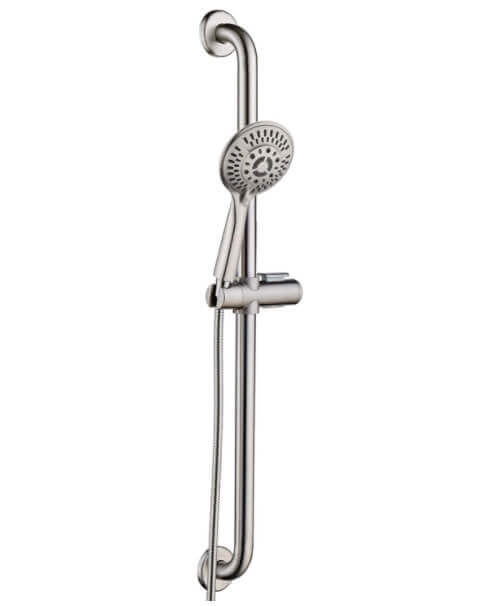 The adjustable grab bar measures 23″ and can hold up to 500lbs. This coupled with a 5-foot hose, makes it suitable for both adults and kids.
Additionally, the showerhead has met ADA specifications and can be used by people with disabilities or the elderly.
The stainless steel shower head features two settings – rain and massage. The massage setting is known for the immense relaxation it offers.
Pros
Great for disabled and elderly people
The nickel finish is rust-resistant and durable
Features rain and massage settings for a relaxed shower
The grab rail can hold up to 500lbs
It comes with 5-feet stainless steel hose
Cons
The showerheads lack a drip button, so one cannot pause the unit.
Check Price on Amazon
Bring home the sound of the raindrops to your bathroom with the Bright Showers Rain Showers Heads Systems.
No products found.
This product features a shower head and a hand held shower. The shower head comes with a 9″ shower head that is both adjustable and can tilt at an angle for a better bathing experience.
The handheld shower, on the other hand, has three shower settings making it a great choice to use with kids and pets.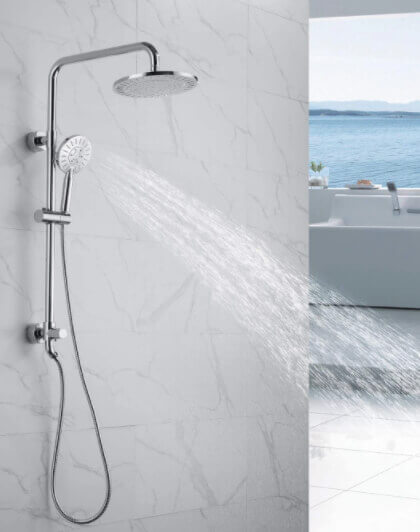 Furthermore, this adjustable height shower head is engineered to last. It is made of sturdy ABS plastic on the shower heads while the bar rail is made of solid brass.
The 60″ hose is no different as it is stainless steel and made of nickel. The showerhead restrictors too are made of stainless steel and are prone to high pressure.
Installation is easy and quick as you can use the current wall plumbing.
Pros
Quick and easy 30 minutes installation
Made of sturdy, durable materials
Features a flexible 60″ hose that can also be used with pets
You can use the showerhead and the handheld shower together
Rust free and easy to clean
Check Price on Amazon
Create a drenching shower experience with the Ana Bath Dual Shower Head. Committed to delivering quality, fashionable, and functional products for the past 20 years, this dual shower head will transform your shower time.
No products found.
Choose one of the five settings to customize your shower needs. From rain spray to mist pray or massage spray to bubbling spray, create new shower experiences with the 5″ diameter showerhead.
There is a ball joint to help you switch between the settings to achieve your preferred setting.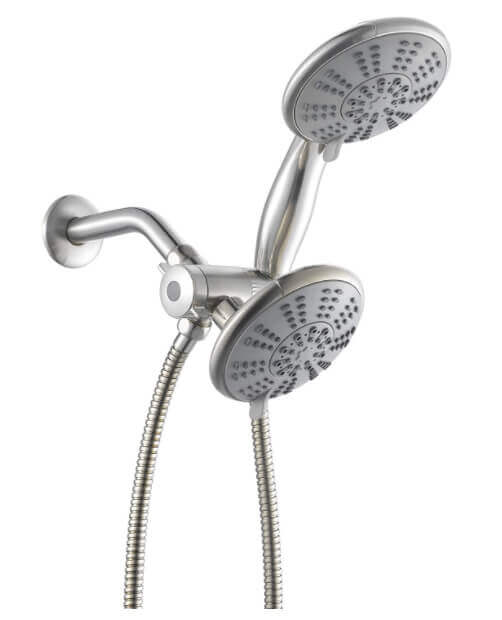 These settings can be delivered through the 60″ hose that is not only flexible but also durable.
This shower hose is made from stainless steel and does not tangle, making it perfect for use with kids and pets. It also consists of metal fittings for longevity.
Moreover, the Ana Bath Dual Shower Head has anti-clog nozzles that help remove any lime, calcium, and mineral build-up.
For easy cleaning, open the tap, direct the water towards the nozzle and remove the minerals.
Pros
The showerhead needs no plumbing
The 60″ hose is tangle-free making it ideal for kids and pets
It features anti-clog nozzles for easy cleaning
One can use the showerhead together with the handheld shower
5-Functions for different shower experiences
Check Price on Amazon
Delta Faucet believes that water contains magic and power to transform and uplift your feelings each day.
Based on this belief, the company has taken upon itself to deliver simple yet innovative water solutions, and the Delta Faucet shower head is one of these quality innovations.
No products found.
Unlike other adjustable showerheads, the Delta Faucet showerhead has nine spray settings.
You have the option to choose between: full body spray with or without massage, drenching spray with or without massage; shampoo spray with or without massage, fast massage spray; full soft spray, and pause.
The massaging setting helps relieve tired and sore muscles while the full-body spray setting releases intense and powerful jets of water.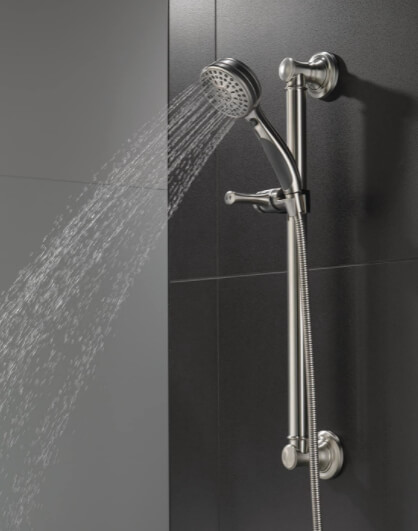 To keep this showerhead clean, all you need is your finger to wipe away calcium and lime off the spray holes.
Having complied with ADA specifications, this showerhead is ideal for the elderly and people with disabilities. What's more, with the 60-82″ hose, you can easily cover your body without a second thought.
Pros
Comes with a lifetime-limited-warranty
The slide bar can hold up to 500lbs
It is equipped with nine spray settings
One can use the showerhead together with the handheld shower
The spray holes are easy to clean
Cons
The package does not include a wall elbow.
Check Price on Amazon
You no longer need a plumber to install your shower system. With the Homelody Retrofit Shower system, you can install it yourself to save time and money.
No products found.
This retrofit shower system will fit into your bathroom without the need of a remodel. It consists of high-quality SUS304, corrosion-resistant showerhead as well as a handheld showerhead.
The showerhead has a 90 degree rotation that switches the water settings. High-pressure jet emission moisturizes the skin, boosts your mood, and rinses off any harmful sticky substances that may be on your skin.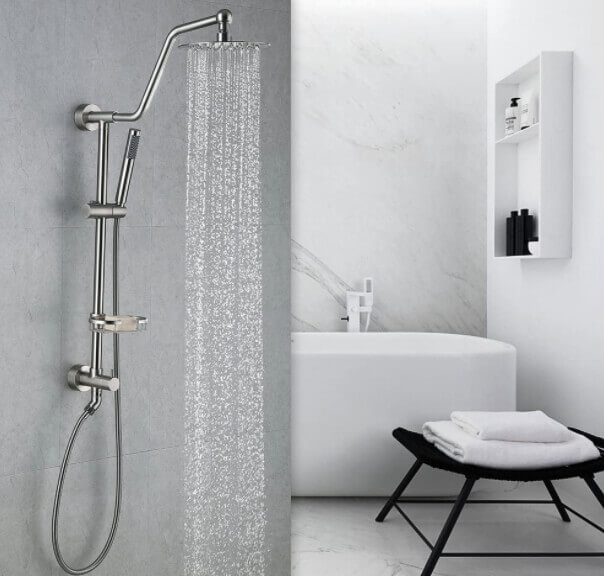 The quality of this design is durable and will withstand the test of time. The showerhead is made of brass but polished with nickel for an appealing finish.
Besides, for healthy living, the Homelody shower system features high-quality brass that kills any bacteria in water.
This shower system can be used by people with different heights as it has an adjustable brass slide and a 70″ retractable, stainless steel hose.
Pros
Made of quality brass materials and nickel finish
Easy DIY installation and can fit on existing shower
Features anti-scalding design
Switch between the spray settings with 90 degree rotation
The high-quality brass helps kill bacteria found in the water
Cons
The shower system lacks a hot/cold mixing setting
Check Price on Amazon
Have you ever considered showering with a 48 setting shower head? If you haven't, the Hotel Spa Station Shower Head includes 48 different water settings making shower time the best time of the day.
No products found.
This adjustable combo height shower head has a 34″ slide bar that moves up and down to suit different heights.
It is reinforced with a 5 foot heavy-duty steel hose that makes it easy to clean important parts of the body.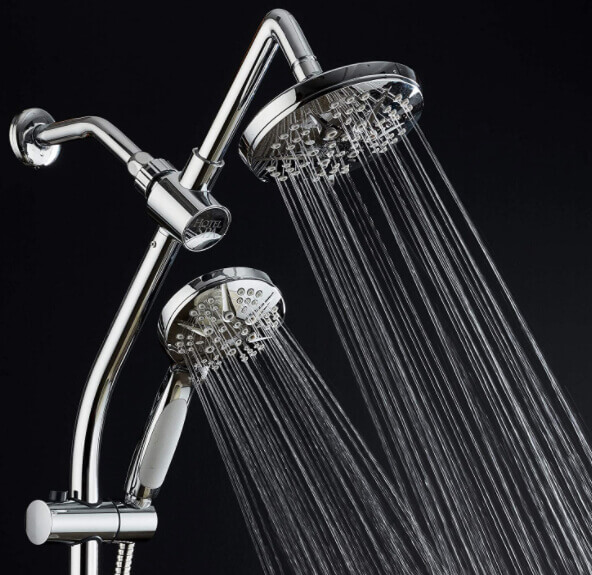 This handheld shower can be tilted at any angle for maximum convenience as it includes a 3 way water diverter.
There are six water settings to choose from that include rain massage, pulsating massage, rain mist, power mist, power rain, and water-saving mode.
It is important to note that one can use both the showerhead and handheld shower together.
Pros
Modern design in all chrome finish
Easy tool free connection; no plumber needed
Features a 34″ adjustable stainless steel slide bar
It has 48 different water settings
It includes a water-saving mode where you can stop water from flowing as you shave or lather
Cons
Might have to call a plumber for setting up the shower
Check Price on Amazon
Gotonoco Company is all about producing classic and improved home products that are affordable without compromising quality.
This is why the Gotonovo Shower Fixture displays both classy as well as vintage standards.
No products found.
The shower is made of brass but polished with gold for a unique finish. The gold finish is not only scratch-resistant but also has minimal chances of discoloration.
On the other hand, the brass construction is of high quality and durable for more dependability.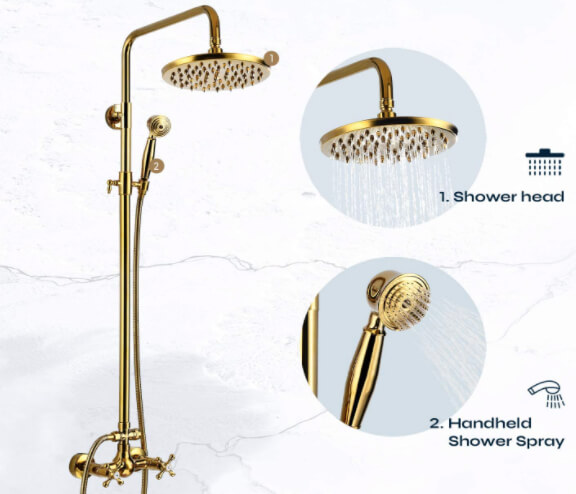 The Gotonovo shower fixture is equipped with two shower heads, the overhead and handheld shower.
The included sidebar is adjustable to 31.4″ – 47″ length. In addition, the attached hose is 59″ long, thus making the product ideal for both tall and short people.
Pros
The gold finish displays a vintage yet unique décor
The shower features cross knobs and holders to switch between water settings
The adjustable slide bar and long hose make the showerhead convenient for both adults and kids
It backed by Gotonovo's Faucet Warranty so you can install with confidence
High quality brass construction for extra durability
Cons
The overhead and showerhead do no work simultaneously
Check Price on Amazon
Create a natural spa at home with the Egret Shower Combo Spa. It lets you feel relaxed and refreshed once you step in.
No products found.
There are five water settings on this combo spa that include: rain, rain and massage; massage; rain and bubbling massage, and bubbling massage.
The bubbling massage is ideal for kids as it contains air bubbles that are soft on baby's delicate skin.
Besides, the massage spray is the best water setting for relieving fatigue as it soothes sore and tired muscles.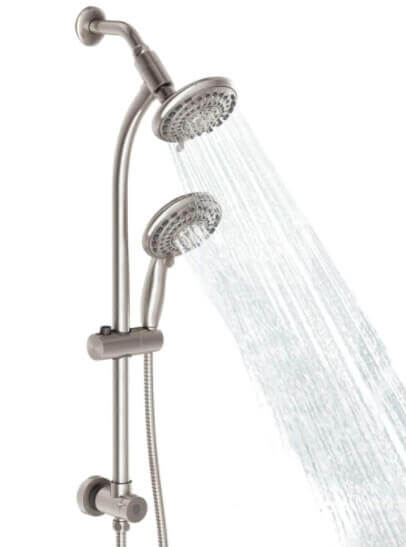 Furthermore, the showerhead has self-cleaning nozzles that are lime and calcium-resistant. This makes it easy to wash any mineral build-up with water.
If you are concerned about fixing this combo spa, worry less as no plumbing is required. Included in the package is a detailed manual that will help you through the 5 minute installation process.
Pros
It features a 60″ adjustable, flexible hose
It includes 5 water settings and is suitable for kids and adults
Easy 5 minute installation that needs no plumbing
The nickel finish is beautiful and stylish
5-year free replacement
Cons
Doesn't stick to the shower wall. It needs adaptor.
Check Price on Amazon
Best Adjustable Shower Heads – Buying Guide
Spray patterns
Spray patterns vary with every type of showerhead. It can have rain, full spray, massage, rain and massage, bubbling spray, bubbling and massage, mist, and the water-saving mode.
When looking for an ideal height-adjustable showerhead, go for one which has 4or more water settings since it will have a better shower experience.
Design
Adjustable showerheads are available in different designs. You can choose the dual/combo where you can use two different shower heads simultaneously or the adjustable-height shower where you can customize the height of the shower as well as angle.
Alternatively, you can pick handheld showers that come with a 5foot or more hose for more shower possibilities.
Durability
Water contains lime, calcium, and other minerals that build-up and wear steel in time. It is, therefore, crucial that you check whether a shower head is made of rust-resistant or corrosion-resistant materials. You can also check for super-cleaning nozzles that enable you to wipe the mineral build-up easily.
Installation
Before clicking the purchase button, it is important to understand whether the adjustable height shower head of your choice needs a plumber to fix it, or you can do it yourself. Most showerheads are easy to mount, and they even fit on the current shower without the need to drill through walls.
Wrapping up
Gone are the days when taking a shower was a habit. With adjustable height shower heads, transform your bathroom into a spa and relax as the water drops fall on your skin.
With the convenience of the adjustable handheld shower or sliding bar, your family no longer has to argue about the height of the shower.
We recommend the Delta Faucet shower head as it offers you 9 different water settings to choose from. Besides, it saves on water as you can stop water from flowing as you lather and restart with the same temperature.
Additionally, you can look into PULSE ShowerSpas Kauai III, which has received plenty of positive reviews from consumers. Not only it is stylish, but it also includes five water settings that will help create new bathroom experiences.
It is time to revolutionalize your bathroom for better shower experiences with adjustable height shower heads!
Height Adjustable Shower Heads Reviews
Waterpik Adjustable Height Shower Head

Lordear Hand Held Combo Showerheads

PULSE ShowerSpas 1011-III-CH Kauai III Shower Heads

Moen 3669EP Eco-Performance Handheld Shower Head

Speakman VS-3311 Alexandria Anystream Handheld Shower Head

Delta Faucet Chrome 57530 Handheld Shower

KES Slide Bar with Handheld Shower Head

Bright Showers Stainless Steel Showerhead

Bright Showers Rain Shower Heads Systems

Ana Bath Dual Shower Head

Delta Faucet Shower Head

Homelody Retrofit Shower System

Hotel Spa Station Shower Head

Gotonovo Shower Fixture

Egret Shower Handheld Showerhead and Rain Shower Combo Spa
Summary
A good shower energises your body to its core so that you spend a great and fresh day ahead. In this post, we have jotted the best height adjustable shower heads.
These shower heads are adjustable and thus can be used by short and tall people. Some of these shower heads even support elderly and disabled people.
Last update on 2022-11-30 at 08:08 / Affiliate links / Images from Amazon Product Advertising API