As a beginner, we know how difficult it is to choose that perfect tattoo machine that would uplift your skills and make you a pro tattoo artist.
This is the ultimate guide for picking the best tattoo machines for beginners.
As a beginner tattoo artist, not only do you need the motivation to practice your tattooing skills but you also need proper guidance so that you use the right tools and techniques that would help you become a pro tattoo artist in your segment.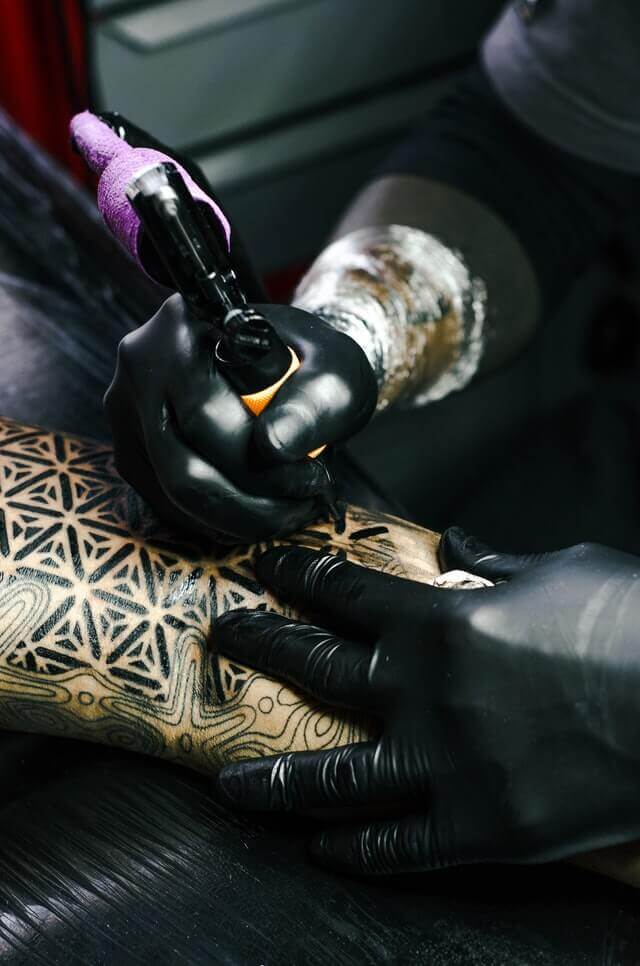 Finding the right tattoo machine has never been easier.
Honestly, we have done all the dirty work for you!
We have scoured the web and took a closer look at more than 30 top-rated tattoo machines on the market.
So whether you are confused between choosing a normal coil machine vs rotary, or, maybe you want to know about the top options available in the market, in this post we have given it all.
Though, honestly, we could only find ten tattoo machines only which are worth reviewing in detail.
Although there are so many new brands that are coming up with their own products, we have tried to stick to the original brands that have been manufacturing great tattoo products for over a decade.
10 Best Tattoo Machines for Beginners
FYI, before jumping on to the detailed reviews, we'd suggest you choose the machine which fits in your budget but as well, helps you to excel in your skills.
While selecting the machine, do look for multiple ink options, practice skins, and existing customer reviews so that you have a complete idea about the product.
Let's jump right in!
If you are looking for a tattoo machine that ought to be considered an excellent tattoo starter kit for beginners, this rotary machine might just be what you are looking for.
A wide array of features at a reasonable price is something that tattoo kits for beginners must offer, and this tattoo pen machine gun delivers outstanding features in every aspect.
Why is it our top pick?
Features:
The tattoo machine is built out of high-quality space aluminum. One of the best features of this tattoo starter kit is its custom motor that can compete with any other motor of any of the tattoo machines out there on the market.
The Dragonhawk rotary tattoo machine comes with 50pcs of extreme tattoo needles. The tattoo needles you will find within this tattoo machine are 1203RL, 1205RL, 1207RL, 1203RS and 1205RS.
Among all other features, this tattoo kit has a one-piece tattoo needle and plunger overmold, which ensures maximum stability and control for the tattoo artist.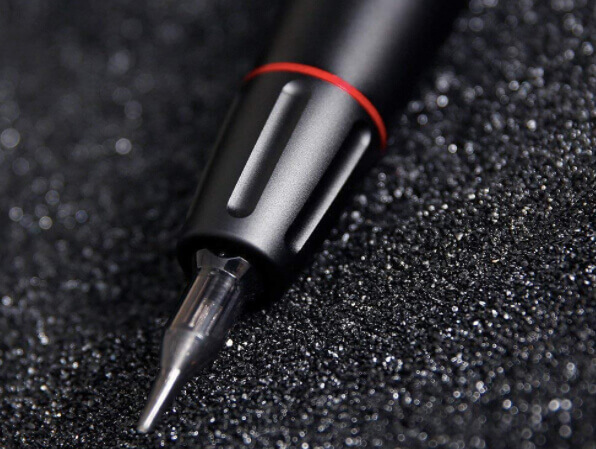 This tattoo machine's membrane mechanism is among the best in the business, offering tattoo ink spitback prevention.
With this Dragonhawk Mast, you get a power supply that is super-easy to connect and use. The flow of electricity is guaranteed to be stable, which something that you would genuinely appreciate.
Another great thing about this high-quality tattoo kit is the fact that it does not overheat! If you plan to work for prolonged hours, you can rest assured that this gear will not cause you any skin burns.
Tattoo kits for beginners should be easy to use, setup, and clean. This rotary tattoo pen will provide you with just what you need.
Final Verdict
This one truly is among the best tattoo machines for beginners, and it will provide you with everything you need. It comes with a high quality build and works promisingly for any beginner level tattoo artist. If you are new to this job, we recommend this one highly!
Pros
High-quality build.
Very well equipped.
Beginner-friendly.
Cons
No shader tattoo needles come with this tattoo gun.
The tattoo inks you will get with this beginner tattoo kit are high quality, and thus come in a less quantity.
This Stigma Tattoo pen machine is another one of the best tattoo starter kits for beginners.
This starter kit truly does justify the "complete tattoo kit" moniker with numerous accessories that any tattoo artist would appreciate.
STIGMA Tattoo Kit Rotary Tattoo Machine Gun
This tattoo machine is highly versatile and adjustable.
As with all the best tattoo kits within this price range, it is incredibly user-friendly and easy to setup.
Very well equipped comes with everything you need from a starter kit.
Features
This Stigma tattoo machine features the EM125 rotary machine. As one of the best pens currently on the market, this black pen comes with a DC connector.
It is made out of high-quality space aluminum, and Japanese motor power it.
As this machine kit was intended for beginners, it is ergonomically designed and weighs adequate for better gripping in the hands of a newbie tattoo artist.
The advanced gear system of the machine provides a very stable and quiet operation with little to no vibration whatsoever.
Like the other tattoo machines that pride themselves in being easy to use, this one comes with a convenient set of two rechargeable batteries.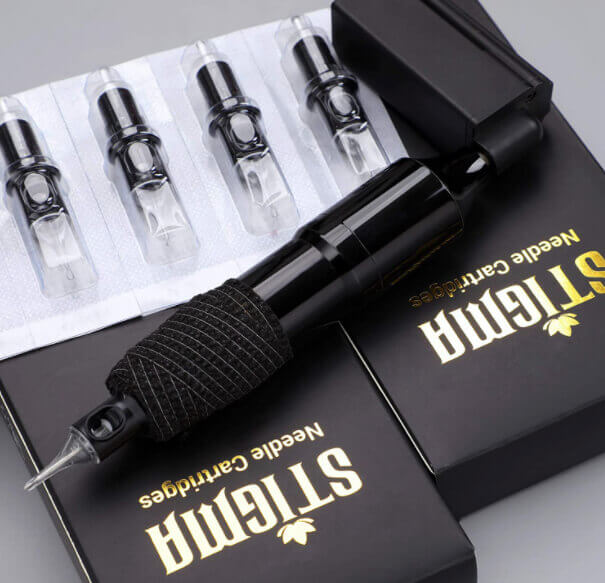 It is of the utmost importance that if you do not possess a foot pedal (that you would traditionally get with a coil machine), that you have two batteries that you can use interchangeably. While you are working with one, you can charge the other one to not interrupt your workflow.
The batteries found in this tattoo kit will last for about 4 hours if the tattoo machine is used at an optimal voltage level. Like the other tattoo machines, this one is also recommended to be used up to 12V, so you don't damage the motor and the tattoo kit in general.
You will also get 20pcs cartridges and EO gas sterilized individually packed tattoo needles with these tattoo machines. Another feature of this tattoo kit is its compatibility with all other types of needles made by all other tattoo needle manufacturers.
Final Verdict
Highly versatile and very easy to use! If you can stomach the fact that this one does not come with an instruction manual, this just might be the perfect starter kit for you!
Pros
CE certificate and a one-year warranty.
As with all other best tattoo machines in this category, the kit is excellent for lining and shading.
Very stable power supply and the fact that the pen is easily adjustable (just by whirling the handle portion) qualify this one to be in our "best tattoo machine" category, at least within this price range.
What we have here is another fantastic tattoo machine intended for beginners, but like most of the machine kits on this list, it can be used even if you are a professional tattoo artist.
Dragonhawk is one tattoo machine brand that makes great machines for beginners and professionals alike.
Features
The Dragonhawk Atom tattoo kit comes with a powerful DC motor that guarantees quiet operation with no vibration.
This tattoo kit's lightweight design with a uni-body construction place this one in the "best starter kit category" for sure.
Every tattoo machine intended for beginner use must be ergonomically built, and this one is no exception.
This tattoo machine is a light, pen-style product, guaranteed to serve you well even in the scenario of stretched working hours.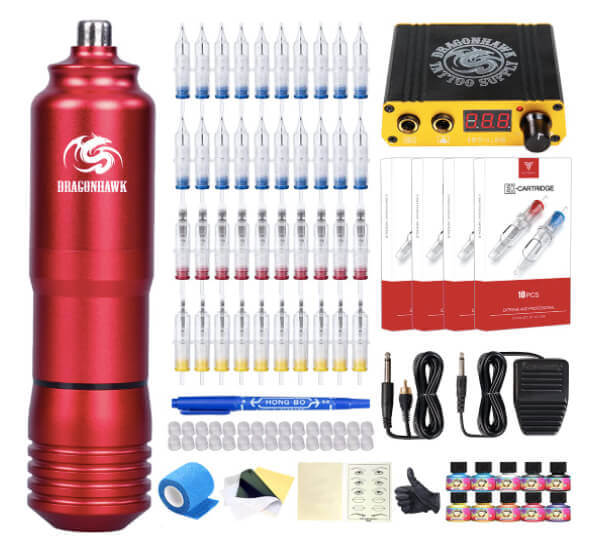 The high-quality needle cartridges that come with this one are easily adjustable. You rotate the machine grip of your tattoo kit, and voila! That's how you adjust your needle depth.
Better yet, as aforementioned, this tattoo machine is compatible with needle cartridges produced by other tattoo kit companies. However, the needle cartridges you get with this tattoo machine are 3RL, 5RL, 9M1, and 7RM.
This tattoo kit is equally usable for both lining and shading.
The optimal power supply setting is anywhere between 6 and 9V. The power supply is powered via an RCA cord connection.
Tattoo inks that come with this tattoo machine are highly versatile but not optimal for professional tattooing on human skin.
Final Verdict
The advanced features of this kit and its high compatibility with accessories made by other tattoo brands make up for the sub optimal ink that you are getting within this tattoo kit.
If you invest just a tad bit more money in professional tattoo ink, you will get yourself an incredible tattooing option!
Pros
This tattoo machine comes with a variety of highly replaceable needle cartridges.
One of the best features is its powerful motor that produces little to no noise and no vibration.
Like the other, top rated tattoo machines, this one is also great for both lining and shading.
Cons
Tattoo inks that you get here are more like your practice inks and not for professional tattooing.
If you're a coil machine enthusiast, we're sorry to have kept you waiting for this long. However, we genuinely do believe that the sheer excellence of this tattoo machine will warm your heart and soul, so you can forgive us for neglecting you a bit.
Features
With this tattoo kit, you get two pieces of the coil tattoo machine. It comes with a digital power supply, controlled by a foot pedal with the accompanying clip cord.
What truly qualifies this one to be amongst the best tattoo machine kits for beginners are the incredible features and accessories it offers. With the kit, you will get 20 tattoo tips, one tattoo practice skin, and two tattoo grips made out of aluminum.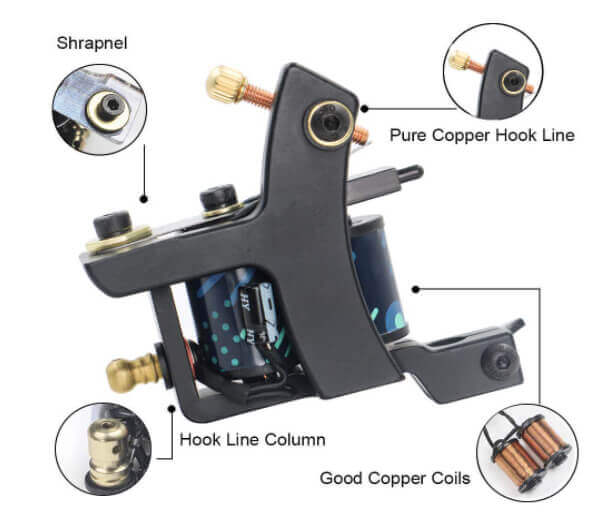 This tattoo machine also offers 20 needles which are all EO gas sterilized. With this starter kit, you are also getting 20 tattoo caps and seven bottles of tattoo ink.
Now, what would a great tattoo kit be without a suitable power supply circuit? The tattoo kit's power supply is made of alloy, which is a high-quality material that is also very light.
Final Verdict
The two coil tattoo machines made of cast iron with a ten wrap coil are the real superstars. This tattoo machine's anti-fatigue properties truly promote it to be among the best starter kits for beginners.
Pros
A great starter kit, equally adept at both lining and shading.
Highly durable yet lightweight build.
Two coil tattoo machines.
Cons
Unadjustable needle depth.
Want to use your tattoo machine as a tool for microblading? We have a perfect starter kit for you, look no further!
Sale
Features
The main forte of this tattoo kit is its highly powerful motor. It can spin up to 9000 rounds per minute which enhances its incredible work capacity.
Among all other tattooing techniques that you can also perform with this great starter kit, this tattoo machine is a great piece of gear for shading and lining,
This tattoo kit comes with the DC cord connection, making it all that much more of a precise tattooing tool. Another thing worth knowing is that this tattoo kit's optimal voltage range is anywhere between 6V and 9V.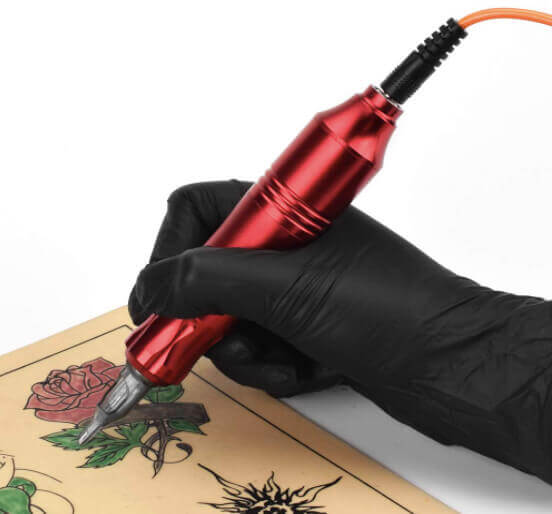 For a tattoo machine to be considered among the best tattoo kits, it has to be well made and easy to use. This tattoo gun was made of zinc alloy, which is an excellent material for this use.
Whether we are talking about tattoo machines for beginners or any other type of tattoo machines for that matter, if you have the best tattoo machine that is too loud, that is not going to be fun, even for a short while use. Thankfully, this tattoo starter kit is very low-noise and lightweight, vital for any beginner tattoo artist.
Another important aspect of this tattoo machine for beginners is the fact that the needle is adjustable in terms of length. To adjust the needle length you just need to rotate the tattoo machine, and there you have it! It is that simple.
Final Verdict
Of all the tattoo machines for beginners we have mentioned in this list so far, this one stands out in terms of the precision you get by working with it. This tattoo machine kit provides you with great value in terms of its motor's sheer power and its extremely low working noise coefficient.
Pros
Of all the currently mentioned starter kits, definitely the most precise.
Low noise and no vibration.
Cons
Although easy to use, it does not come with everything that you need. You need to buy needle cartridges, a power supply, and a foot pedal separately. That is not that big of a deal if you consider the jaw-droppingly low pricing point of this tattoo starter kit.
When you see the outer package of a tattoo gun this beautiful, you can't help but fall in love instantly. Of course, we should not judge a book by its cover, but this one is something.
This tattoo starter kit can be sent as a gift without any additional wrapping. But let's get into some specs, so you don't say that all we care about is looks.
Sale
Wormhole Cartridge Tattoo Kit for Beginners
Continuous operation, high voltage motor, and general high quality are what makes this tattoo kit stand out.
The needle cartridges of this tattoo machine are compatible with all other tattoo cartridge needles, no matter the manufacturer.
This tattoo gun is CNC carved, making it truly feel pen-like.
Features
This complete tattoo kit has a real powerhouse up its sleeve in the form of its high-energy motor. It is very low-noise while being very stable in terms of the flow of electricity.
For beginners, this tattoo machine comes with one rotary machine tattoo pen with a DC cord and one power supply cable.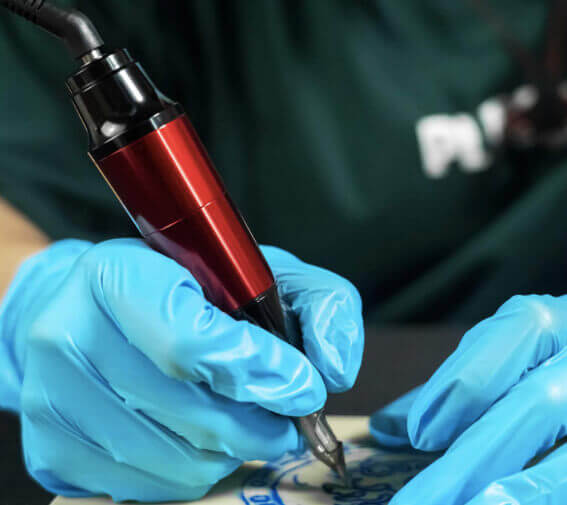 This high quality tattoo kit comes with a set of 40 cartridge needles, 1 foot pedal, and one bandage! Now, how's that for a feature? Those needles that you are getting with this tattoo kit are 5x 3RL, 10x 5RL, 10x 5RM, 5x 7RM, and 10x 5M1.
One of the most essential features that tattoo machines for beginners must have is working for a long time and not getting hot. That is precisely what you are getting with this tattoo gun.
This tattoo machine's starting voltage is 5v, while the optimal voltage is anywhere between 8V and 10V.
Final Verdict
This is yet another incredible tattoo kit that deserves to be in the "best tattoo starter kit" category. It is easy to use and has fantastic accessories.
It is equally adept at providing you with the right tools for shading as well as lining and it is made out of the high-quality aluminum alloy carved by a CNC machine.
Pros
People at Wormhole tattoo guarantee that any parts that have been damaged in transport will be replaced with no additional fee.
This machine kit comes with an incredible set of needles and other essential accessories.
CNC carved, made of aluminum alloy, and very easy to use.
Cons
Tattoo kits for beginners tend to provide less than perfect tattoo inks, and this one is no exception. No ink cups.
Of all the rotary machines on this list, this machine kit is the best rotary tattoo machine if your work demands many large-area coloring.
In conjunction with the pebble modeling, all aforementioned truly make this rotary tattoo machine a unique item on this list.
Features
This machine kit is made out of highly durable and sturdy space aluminum. A tremendous Japanese motor provides the heartbeat of this lovely tattoo kit.
One of the main things that make this tattoo machine user-friendly is its measures. It is 12 cm long and weighs 140g.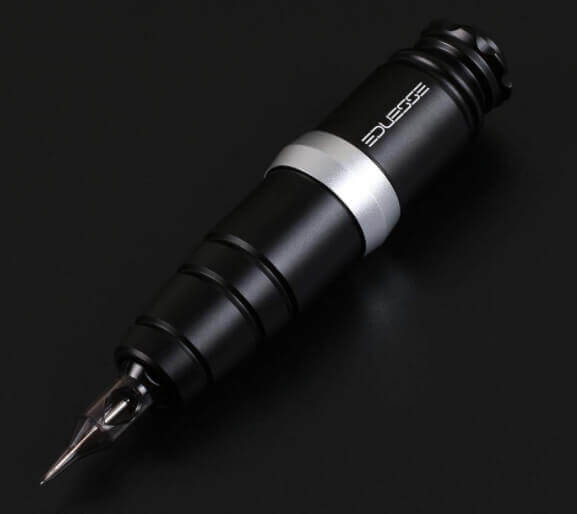 No beginner tattoo piece of gear is truly complete without the low noise and vibration minimizing properties, and this one is no exception.
Perhaps the best feature that you get with this starter kit is its quick and accurate voltage adjustability. In a matter of milliseconds, you will change the voltage to the desired rate with no interruption to your artistic process.
The power supply is powered via an RCA cord connection.
Final Verdict
The incredible versatility that this complete tattoo kit possesses allows you to be equally equipped for lining, shading, and large area coloring patterns. The working voltage of 6V and 9V gives you the much-needed stability, ensuring that your artistic process is not interfered with.
Pros
Incredibly precise and well-timed voltage adjustments.
Pebble modelling.
Perfect, pen-like feel and dimensions.
Cons
No ink as well as ink cups.
You can pretty much rest assured that at least a couple of Dragonhawk products will be featured on any "best tattoo gun" type of list.
You may think that we are somewhat biased, but no, that is not the case. People at Dragonhawk raised the bar in terms of tattoo gear production, and it shows in every product they make.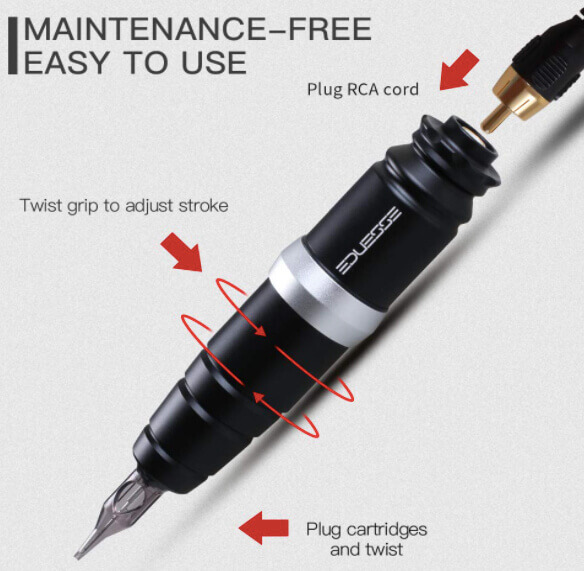 Features
This tattoo machine is powered by a Japanese motor that makes all the difference in power stability.
The pen is ergonomically built, and it is very lightweight. That is of the utmost importance if you need to work long hours. The anti-fatigue properties are life-saving in those situations, and this tattoo kit delivers in that area, no doubt about that.
Yet another essential property of this lovely tattoo machine is its low-noise level and no vibration features. In that sense, nothing is standing in the way of your artistic expression, and the neighbours are not going to get irritated. It can't hurt.
The consistent power output from the Dragonhawk power box is just another in the series of features that enable you to do your job without any unwanted side effects.
Final Verdict
The best thing about this tattoo machine is that there is almost nothing that messes with your workflow. People at Dragonhawk always deliver in that sense, but this one took it up a notch.
Pros
RCA cord connection.
Great for shading, lining, and large-area coloring.
Powerful Japanese motor.
Cons
No real cons here. However, the only question is if you can stomach the price.
Finally! The legendary Solong tattoo company makes its first appearance on our list. Well deserved, we must admit.
If you are looking for a great tattoo kit that is tailored to a tattoo beginner's needs, then look no further!
Features
This tattoo kit is made out of aircraft aluminum alloy. The wonderful curves of this tattoo machine are CNC carved. The special addition to this great Solong product is the anodized finish that rounds up this tattoo machine's impeccable looks.
Within this tattoo package, you are getting 20pcs of tattoo cartridges and sterilized needles individually packed.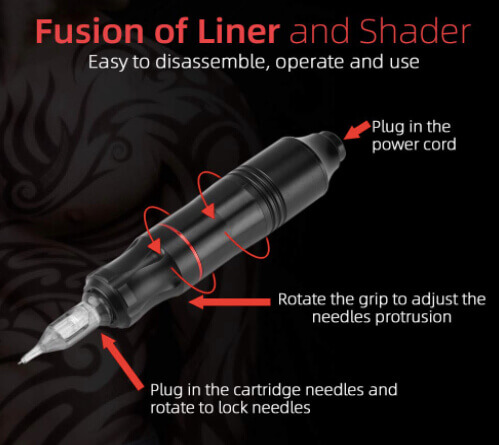 However, this tattoo kit's main rockstar is the shape inside of the pen that ensures the perfect ink flow. Speaking of which, eight tattoo inks come as an integral part of this tattoo machine, all in different colors.
Rounding off this truly great package is the CE certificate and a one-year warranty.
Final Verdict
This is an incredible package that will serve you well for years to come if you follow certain guidelines. Namely, the recommended voltage for this one is anywhere under 12V. If you respect that, you will have yourself a great servant in your artistic endeavors.
Pros
CNC carved with the anodized finish.
Incredible ink flow due to the inner shaping of the tattoo pen.
CE certificate, one-year warranty.
Cons
According to some users, the foot pedal is somewhat not well constructed.
The guys at Atomus indeed did something amazing here in terms of placing this product on the market.
Namely, this tattoo kit comes in two different variants in terms of looks, conveniently named – old and new.
Rotary Tattoo Machine Kit
Tremendously well-equipped with numerous useful accessories.
Highly adjustable and adaptable to your different tattooing needs.
Equally good at both lining and shading.
The two variants are shipped randomly to make things more interesting, and you can't choose the preferred look.
So, besides being a great product, this one also has sort of a collectible quality to it.
Features
This package comes with one tattoo pen, power supply, one power cable, one-foot pedal, and one DC cord.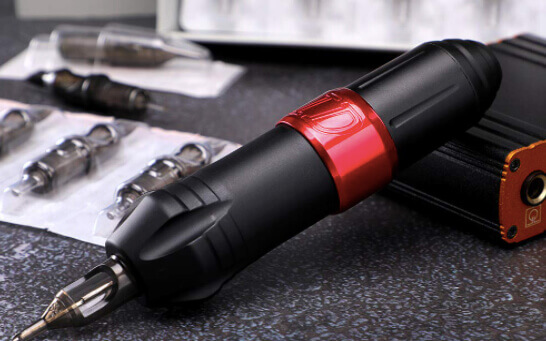 The pen is beautifully constructed with ergonomic value and lightweight properties.
One thing that is sure to keep you well satisfied is that the needle length is highly adjustable. The needles that come with this package are 10pcs of each 3RL, 5RL, 7RL, 3RS, and 5RS.
Final Verdict
This one is highly versatile and incredibly well-equipped with equally potent shading and lining possibilities. The optimal voltage range between 6V and 9V keeps the power supply steady and reliable, which is a must for any good complete tattoo kit. Great value for the price!
Pros
Highly adjustable.
Incredible quality-price ratio.
Different design variants are available.
What is the best tattoo kit to buy?
Like all of life's essential questions, there is no cookie-cutter answer to this one. We have narrowed down the choice to 10 for this list, and it is now up to you to find which product is the best for your individual needs.
What is the best tattoo machine brand?
You have your usual suspects who are all included in this list. However, as we've mentioned in the previous paragraph, it's not about buying a product from the "best brand".
What is "best brand" anyway? It is all arbitrary. We have narrowed down the choice to the best ten products for beginner tattoo artists, and now it is up to you to find what best suits you.
Every brand has incredible effects, and what is best is actually what is right for you.
What is the best cheap rotary machine?
All of the products that we have covered here are pretty inexpensive. Define what you are looking for and pick anything from this list, you won't regret it.
Best Tattoo Machines for Beginners Reviews
Dragonhawk Tattoo Kit Mast Rotary Tattoo Pen Machine Gun

STIGMA Tattoo Kit Rotary Tattoo Machine Gun

Dragonhawk Complete Tattoo Pen Machine Kit Atom

Tattoo Kit CINRA

Rotary Tattoo Machine ATOMUS

Wormhole Cartridge Tattoo Kit for Beginners

Dragonhawk Essence Tattoo Pen Style Rotary Tattoo Machine

DragonHawk Rotary Tattoo Machine Kit Essence

Solong Tattoo Kit Rotary Machine Pen

Rotary Tattoo Machine Kit, ATOMUS
Summary
Choosing the best tattoo machine for beginners and newbie tattoo artists is a tough task. Either you need guidance from a pro artist who has been working in the industry for a long or, you have to do your own research to make the right purchasing decision. 
Well, we have done all the dirty work for you and jotted the 10 best tattoo machines which will be really good for you if you are just starting out being a tattoo artist. 
Last update on 2023-11-26 at 07:57 / Affiliate links / Images from Amazon Product Advertising API